You can only travel from Santorini to Mykonos by ferry, and there are 4 ferries a day. The quickest ferry takes just 2 hours and 5 minutes!
Travel from Santorini to Mykonos
Mykonos is one of the most popular islands to visit after Santorini. It's often included on the 'classic' first time visitors to Greece itinerary of Athens – Santorini – Mykonos.
Information about getting from Santorini island to Mykonos isn't always easy to find though, so I'll summarize it here: – You can't fly from Santorini to Mykonos, so you'll need to take a ferry trip.
Check the latest ferry timetables, ticket prices, and book online at Ferryhopper.
Santorini Mykonos Ferries
Santorini and Mykonos are two of the most well known Greek islands in the Cyclades, and many people think they are neighbors. This is not the case however as you'll see from this map.
Ignore the travel times shown on that map though – Google maps doesn't deal particularly well with Greek ferries and travel times, hence travel information on the Santorini Mykonos ferry route being a little confusing.
In fact, the quickest ferry rides will take you between Santorini and Mykonos in a around two hours. Not bad, and if you've never taken a ferry in Greece before, it will be a fun experience!
Book ferry tickets: Ferryhopper
Santorini to Mykonos Ferry Schedules
One thing you should be aware of though – there is not a year round ferry schedule for the Santorini to Mykonos route. This means that if you want to travel between these two popular islands in the shoulder season or off season, you may find limited, or perhaps even no ferries sailing.
Typically, the first ferries that visit Mykonos from Santorini start sailing in the last week of March. They might start off at a frequency of three ferries per week until reaching the high season when there will be 4 or 5 ferries a day sailing between the two islands.
The number of ferries starts to taper off in the second week of October, with the last ferry sailing on October 30th.
As with all popular routes, the ferry schedule may be adjusted according to seasonal demand. This means extra crossings might be laid on if it's a particularly busy year.
Take a look at timetables and book a ferry ticket at: Ferryhopper.
Ferry Companies Sailing between Santorini and Mykonos
SeaJets are the main ferry company who offer ferries that travel from Santorini to Mykonos. During August, they provide 3 high speed ferries a day on this route. They have the most expensive tickets, and passengers should expect to pay 79.70 Euro for the ferry trip.
Minoan Lines offer 3 ferries per week leaving on Fridays, Sundays, and Tuesdays. This is the best ferry from Santorini to Mykonos if you're looking for the cheapest ferry ride as tickets start from just 59 Euro.
Golden Star Ferries offer one direct ferry a day which leaves at 14.05 and arrives at Mykonos ferry port at 17.45. This is the slowest crossing at 3 hours and 40 minutes, and the Mykonos ferry ticket starts from 70 Euro.
Note that Blue Star Ferries do not operate on this route. Compare prices and see availability at Ferryhopper.
Can you take a day trip from Santorini to Mykonos?
Whether or not you can make a round trip on the same day between Santorini and Mykonos is a commonly asked question. And the simple answer is no.
Even if you take the first ferry out from Santorini, you'd have only 30 minutes in Mykonos, because that ferry is also the last ferry back from Mykonos to Santorini.
It's a better option to just include Mykonos on an island hopping itinerary and spend a couple of days there. Only have time for one island? Take a look at my comparison of Mykonos vs Santorini.
Are there really no direct flights from Santorini to Mykonos?
Although Santorini airport is international, there is no direct flight with Mykonos. If for some reason you don't like the idea of being on the small ferries (which is understandable on windy Meltemi days!), you could fly via Athens.
Basically, you'd have to get a flight from Santorini to Athens, and then take another flight from Athens to Mykonos. If everything lines up you might arrive in Mykonos within five hours. It would be more expensive though.
Take a look at Skyscanner for flight options.
Santorini Departure Port
The Santorini ferry to Mykonos departs from Athinios Port in Santorini. The best way to get to the port is either by public transport (bus), or to pre-book a taxi. If you've rented a car, you might be able to leave it at the port.
It's important to remember that it won't just be your boat to Mykonos that is sailing from the port – there will be many other ferries coming and going to other Greek islands.
This means that you can expect Santorini port to be busy. Very busy! There may also be heavy traffic heading down to the port from the main road.
I would advise you plan to be at the port at least an hour before departure. There's only about 25 taxis on the island, so I recommend using Welcome to book taxis in Santorini.
The Santorini ferry to Mykonos departs from Athinios Port in Santorini. The best way to get to the port is either by public transport, or to pre-book a taxi.
I recommend using Welcome to book taxis in Santorini.
Arriving in Mykonos
Ferries arrive at the New Port of Mykonos (the Old Port is no longer in operation). There are bus services that will take passengers from the port to Mykonos Town and other popular areas to stay.
Somewhat confusingly, you may need to take a bus from the Old Port to reach places like Elia beach. Welcome to Greece!
Take a look at Mykonos bus timetables here.
Mykonos Island Travel Tips
A few travel tips for visiting the Cyclades island of Mykonos:
---
The type of vessel used by all companies on this route is a high speed ferry. This means that you can't go out on deck. If prone to sea-sickness, take something before you sail!
---
Ferryhopper has a great website where you can clearly see ferry schedules, prices, and book Mykonos ferry tickets online.
---
Try to be at the port in Santorini an hour before your Santorini to Mykonos ferry is due to depart. There are a couple of cafes where you can get a coffee (little overpriced!) whilst you wait.
---
Using Welcome you can pre-book taxis to drop you off at Santorini Port, and pick you up again in Mykonos port to take you to your hotel.
---
What to see in Mykonos Greece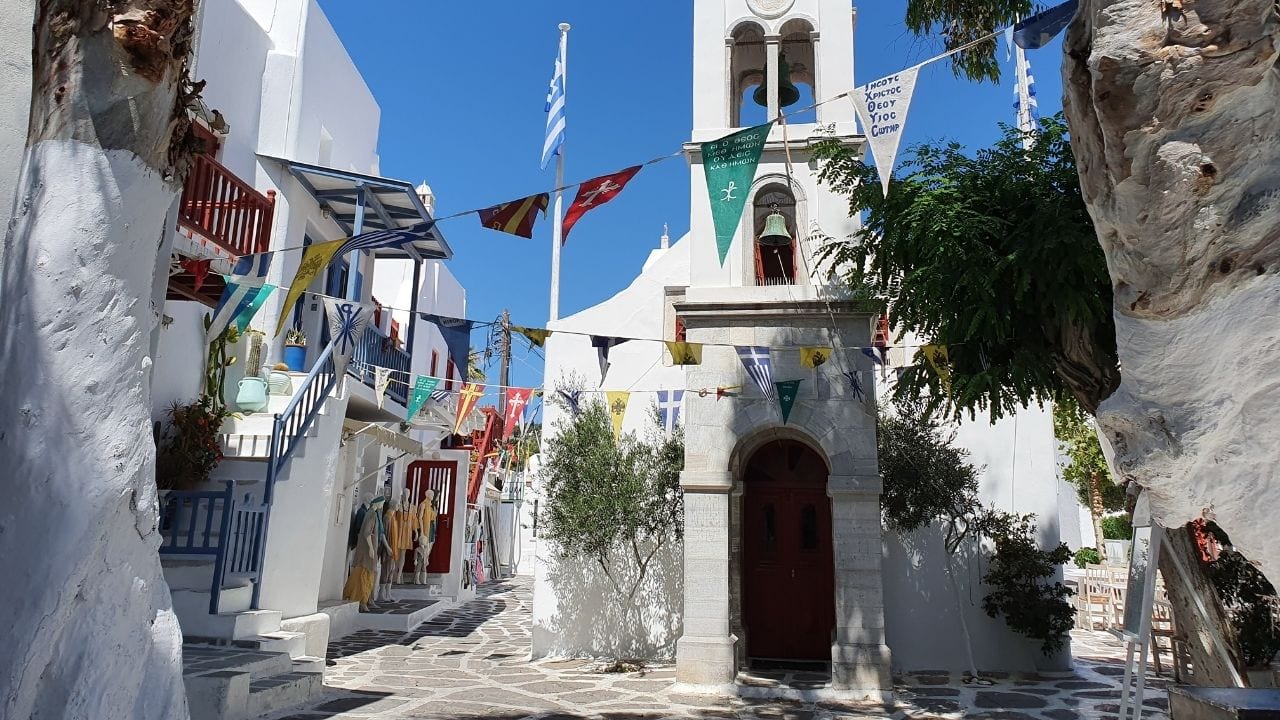 There's a number of experiences and highlights you shouldn't miss when in Mykonos. Some of the best things to do include:
Check out the windmills and Little Venice
Explore the Old Town
Party like there's no tomorrow (if you can afford it!)
I've a handy guide here you might want to check out: How to spend 3 days in Mykonos
How to to make a trip from Santorini to Mykonos FAQ
Questions about about traveling to Mykonos from Santorini include:
How can we get to Mykonos from Santorini?
The best way to make the trip from Santorini to Mykonos is by ferry. There are up to 3 or 4 ferries per day sailing to the island of Mykonos from Santorini.
How far is Mykonos from Santorini?
64 nautical miles or 118km is the distance between Mykonos and Santorini by sea, as measured from the port of Athinios in Santorini and the port of Mykonos.
Is there an airport in Mykonos?
Even though the Greek island of Mykonos has an airport, flying from between Santorini and Mykonos is not something you can do. If you want to fly from Santorini to Mykonos island you'd need to go via Athens should flights be available.
How long is the ferry ride from Santorini to Mykonos?
The ferries to Mykonos from Santorini take between 2 hours and 15 minutes and 3 hours and 40 minutes. Ferry operators on the Santorini Mykonos route may include Seajets and Minoan Lines.
How do I buy ferry tickets to Mykonos?
Ferryhopper is perhaps the easiest site to use when it comes to booking ferry tickets for Mykonos online. I think it's better that you book your Santorini to Mykonos ferry tickets in advance, but you might prefer to use a travel agency in Greece when you have arrived.
Ferry from Santorini to Mykonos
If you have any other questions about taking the ferry to Mykonos from Santorini, please leave a comment below. I'll do my best to answer them straight away, and add the information and travel tips into this Santorini Mykonos ferry guide!
---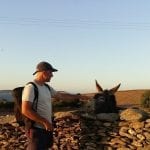 – Dave Briggs
Dave is a travel writer who's been living in Greece since 2015. He's spent many months traveling between the Greek islands researching blog posts such as this one on how to get from Santorini to Mykonos. His goal is to visit every inhabited Greek island – there's over 220 of them so how realistic this is remains to be seen!
Follow Dave on social media for travel inspiration from Greece and beyond: