There are normally 2 or 3 daily ferries from Athens to Amorgos island during the summer months. The journey takes between 6 and 9 hours.
Essential travel information on taking the Athens to Amorgos ferry, including where to buy ferry tickets and tips on traveling to Amorgos island in Greece.
Amorgos in Greece
The island of Amorgos in the Cyclades achieved some international recognition due to Luc Besson's movie "The big blue" being filmed there. Thankfully though, mass tourism has yet to irrecoverably alter the island.
As a result, Amorgos is a great destination for anyone that loves beaches and hiking, and the Chora is considered to be one of the most stunning in the Cyclades.
Perhaps one of the reasons that Amorgos has kept its charm, is that it is still relatively difficult to reach. This means that it attracts a different sort of person than more famous islands like Mykonos or Santorini.
Some people choose to visit Amorgos after spending time on another island like Santorini. If that sounds like an option that appeals, check out my guide on how to get the ferry from Santorini to Amorgos.
If you want to get to Amorgos from Athens though, here's how.
Ferries from Athens to Amorgos
The only way to get to Amorgos from Athens is by ferry as the island has no airport. It's quite a long journey, with ferries from Athens taking around 5.5 hours for the high speed boats, and between 8 and 10 hours to reach Amorgos on the slower vessels.
During the summer months, there are sometimes two daily ferries from Athens to Amorgos, although the times are not always incredibly convenient.
Ferries leave from Athens Piraeus Port. This is the biggest port of Athens, and can be quite a busy and somewhat chaotic place.
You'll want to make sure which departure gate in the port of Piraeus your ferry leaves from, and to be there at least an hour before the ferry ride is scheduled to sail.
Amorgos Ferry Schedules and Tickets
To find up to date ferry schedules, ticket prices and other information, use Ferryhopper when planning your trip from Athens to Amorgos in Greece. You can also book your ferry tickets with the ferry companies websites.
The prices for ferry tickets to Amorgos from Piraeus, cost from 20€ for a conventional ferry and from 70€ for high-speed ferries. Various discounts and travel incentives can make the high speed ferries cheaper on occasion.
Ferry Ports of Amorgos
It should be noted that Amorgos has two ferry ports – the main port in Katapola, and Aegiali port in the north part of the island. You may want to consider booking hotels in Amorgos based on which ferry port you will arrive at.
Both Katapola and Aegiali have plenty of accommodation to choose from. My personal choice, would be to arrive in Amorgos by ferry at Aegiali and stay there. The beach there is much nicer!
When departing from Amorgos, you'll want to check which port you are due to leave from – just in case! A taxi from Katapola Port to Aegiali can take 40 minutes and cost around 50 Euro.
Travel Tips For Going To Amorgos
---
---
---
---
---
---
My experiences taking the ferry from Athens to Amorgos
I visited Amorgos at the end of May. As we were traveling with a car, we decided on the Blue Star Ferries option as the ticket costs were cheaper. The downside was that the ferry ride was a long one of 10 hours.
In fact, the journey to Amorgos by ferry ran over by 1 hour – something to keep in mind if you're planning island hopping in Greece on a tight schedule.
The Blue Star Ferries Naxos vessel is one of the large ones with plenty of garage space for cars. It does have lots of outdoor deck space, but I would suggest paying a little extra for a place in the air seat lounges as they are more comfortable and your seat is guaranteed.
As mentioned earlier, there are 2 ports in Amorgos. We decided to arrive at Aegiali Port, and so pre-booked our accommodation there. The ferry arrived at 03.00 in the morning, so we were very glad we did!
As normal, we booked our tickets in advance. Usually, we plan ferry connections and buy a ferry ticket using the Ferryhopper site. This time though, we booked directly through the Blue Star Ferries site as we have a loyalty card which made the ticket prices cheaper.
FAQ About Travel To Amorgos From Athens
Here are some of the most commonly asked questions regarding traveling from Athens to Amorgos island in the Cyclades.
Can I fly to Amorgos?
There is no airport on Amorgos, so you can not fly directly to the island. Some people do choose to fly to a neighboring island such as Santorini or Mykonos, and then take a ferry to Amorgos from there.
Which ports in Athens do ferries to Amorgos leave from?
Ferries to Amorgos island depart all the year through from the main port of Piraeus in Athens. During the summer tourist season, there may also be additional ferries from Rafina to Amorgos, but this does vary from year to year.
What is the distance from Athens to Amorgos?
It is approximately 320 kilometres from Piraeus Port in Athens to the Greek island of Amorgos in the Cyclades chain.
How long is the ferry from Athens to Amorgos?
The ferry journey from Piraeus port in Athens to Amorgos takes between 8 and 10 hours. The ferry may make other stops between Athens and Amorgos at other Cyclades islands along the way. More expensive highspeed ferries have a quicker time of 5.5 hours.
Where can I book ferry tickets to Amorgos?
The easiest place to book Greek ferry tickets to Amorgos and other destinations in the Cyclades is through Ferryhopper. You can also use local travel agencies when traveling in Greece to book tickets for the ferries to Amorgos and beyond.
---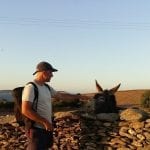 – Dave Briggs
Dave is a travel writer originally from the UK and now living in Greece. He's been travel blogging at Dave's Travel Pages since 2005. Over the years he's produced hundreds of blog posts and guides about Greece and the Cyclades islands. He has a somewhat ambitious goal of visiting every Greek island (there's over 200!) and writing about them.
Follow Dave on social media for travel inspiration from Greece and beyond: