Naxos to Ios ferry information. Everything you need to know about travel between the Greek islands of Naxos and Ios in the Cyclades.
What's the best way to travel between the Greek islands of Naxos and Ios? How long does it take to get from Naxos to Ios? How much does it cost?
Naxos and Ios are two of the more well known Greek islands in the Cyclades chain. While Naxos is known for its family-friendly atmosphere and authentic nature, Ios has more of a reputation as a party island for twenty somethings.
In this guide, I'll show you the best way to travel from Naxos to Ios, and where to easily book tickets online.
How to get from Naxos to Ios
The only way to get to Ios from Naxos is by ferry, as Ios has no airport. During the summer months (when most visitors travel), there are one or two daily ferries between Naxos and Ios.
During the winter months (when there are virtually no tourists), there may be no direct ferries between the two islands. Instead, a stopover at another island such as Paros may be required.
The boats which sail from Naxos to Ios vary from year to year. In the summer of 2020, for example, the SeaJets WorldChampion Jet made daily crossings from Naxos, with the journey to Ios taking just 45 minutes.
Other vessels which made the crossing once or twice a week during the summer included the Blue Star Patmos, and SeaJets Caldera Vista.
Booking Naxos Ios ferry tickets
The easiest way to book ferry tickets from Naxos to Ios online is by using Ferryhopper. I use this site all the time when island hopping in Greece, as it's quick and simple to use.
You'll find current ferry timetables and schedules, and you can also buy your tickets online.
Two notes on booking ferry tickets in Greece:
Firstly: The Greek ferry network is slowly transitioning to allowing E-Tickets. If that's the case with the ferry you book to Ios from Naxos, you'll simply have to show a QR code when it's time to board.
If the ferry operator is not allowing E-Tickets, you'll have to get a physical ticket printed from an agency on the island – typically in the port area. Your confirmation email will have more details.
Secondly: If you are looking for ferries months in advance (like planning in November for the following August), don't expect the schedules to be online. Typically, ferry schedules are released a few months in advance. Don't worry though -in the summer months there will always be one if not two ferries from Naxos to Ios per day.
Departing from Naxos Island by ferry
Ferries to Ios island depart from the main port of Naxos which is in Naxos Town. There are buses which go around the island making connections near the Port. Another option on how to get to Naxos Port would be to take a taxi.
It is suggested that passengers arrive at the Port of Naxos and hour before the ferry to Ios is due to depart. If you have to pick up tickets at the port in the summer months, you may want to arrive a little earlier than that so you have plenty of time.
Arriving at Ios by ferry
All ferries into Ios arrive ta Ios port on the west side of the island. It is about a half kilometre away from Chora, but you should be advised that it is all uphill. If you have lots of luggage you might prefer to take a bus or taxi.
Where to stay in Ios
If you don't have a vehicle, it will probably make the most sense to stay in Chora. There are plenty of hotels in Chora to suit all budgets, and it is a good place to be if you're there for the nightlife.
There are also plenty of affordable self-catering rooms and budget hotels all over the island of Ios if you want to stay further out. I stayed at the family-run Sunshine Studios. It was a great value for money place, and they even kindly did my laundry!
Things to do in Ios
Ios may be known for its party scene, but there's also plenty to see and do. I found the island to have some of the best sunset spots in Greece, and the beaches were fantastic.
Some of the best things to do in Ios include:
Wander around the streets of Ios Chora
Check out the churches (there's 365+!)
Relax on amazing beaches
Spend time at the Archaeological Museum
Walk to Homer's Tomb
Hike to Paleokastro
Enjoy a sunset at the lighthouse
Celebrate in a bar or nightclub!
FAQ About Traveling from Naxos to Ios
These are some of the commonly asked questions about travel between the Cyclades islands of Naxos and Ios in Greece.
Does Ios have an airport?
No, the island of Ios does not have an airport. The only way to travel from Naxos island to Ios is by ferry. The closest airport to Ios is on the nearby island of Santorini.
How long is the ferry from Naxos to Ios?
The quickest boat take just 45 minutes to make the crossing from Naxos to Ios. The larger, slower boats can take between one and two hours.
How much does the Naxos to Ios ferry cost?
The ticket prices for ferries from Naxos to Ios can cost between 35 Euro and 100 Euro depending on ferry operator, type of ferry, and type of seating. For latest prices and schedules check Ferryhopper.
Naxos Ios Ferry Guide
If you found this guide on how to travel from Naxos to Ios useful, please share it on social media. You can find the buttons in the right hand corner or your screen.
You might also like to check out other island you can visit after Naxos: Island hopping from Naxos.
You may find these other Greek travel blogs also help you plan out your trip.
---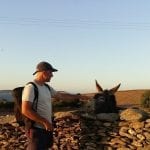 –
Dave Briggs
Dave is a travel writer originally from the UK and now living in Greece. He started this travel blog in 2005, and over the years has written hundreds of travel guides about Greece and the Greek islands. He has a somewhat ambitious (perhaps impossible) goal of visiting every Greek island and writing about it.