Everything you need to know about how to get from Athens to Hydra by ferry or day trip. Here's how to visit the beautiful Saronic island of Hydra made easy!
Hydra Island Near Athens
The Saronic island of Hydra is an easy day trip from Athens, and a popular destination with visitors and Greeks alike.
Combining rich history with a cosmopolitan vibe, its traffic free nature is a stark contrast to busy Athens.
If you're looking to take a side trip from Athens to a nearby Greek island for a day or two, Hydra is a natural first choice.
In this guide, I'll show you how to get from Athens to Hydra by ferry, where to buy ferry tickets, and also give options for organized day trips.
How to travel to Hydra from Athens?
Hydra is about 68 kms away from Athens, and so the only way to get there is by boat. There are regular direct ferries as well as day trips from Athens, so there's plenty of choice!
Depending on which option you take, getting to Hydra can take anywhere from just over an hour to a couple of hours. First off, here's how to get to Hydra Greece from Piraeus, the port of Athens by ferry.
Athens to Hydra Ferry
All the ferries from Athens to Hydra leave from Piraeus Port. During the summer season, there can be five high-speed ferries daily on the Piraeus to Hydra route.
Most of the services on this Athens Hydra ferry route are run by Blue Star Ferries / Hellenic Seaways. You may have used this company before when travelling to the Greek islands.
Some crossings are also provided by the Alpha Lines ferry company. Alpha Lines tend to have the cheaper ferry tickets at around 38 Euros per person one way.
You can check the Athens to Hydra ferry schedule and book your Hydra ferry ticket at: Ferryscanner.
If you are planning to take the ferry at high season, a specific time or if you are not flexible, it's best to book your e-ticket at least a few days in advance.
Ferry Piraeus – Hydra
For spring and early summer 2023, there are two types of ferries travelling to Hydra. There are the Flying Cat 6 catamaran, and the smaller Flying Dolphins.
The Flying Cat 6 is a relatively small vessel. At 40 metres in length, it fits up to 336 people and its maximum speed is 28 knots.
The Flying Dolphins are a little smaller, around 35 metres, and fit 130 passengers. They are quite fast, reaching a top speed of 35 knots. As they are very small, they are the bumpiest options, and the least likely to depart if the wind picks up.
If you are prone to sea sickness, you might prefer to travel on the FlyingCat 6 between Athens and Hydra instead.
Ferry ticket prices for the Athens Hydra route range between 38 Euro and 40 Euro.
I find that Ferryscanner is the most convenient platform to look at ferry schedules and book a ferry to Hydra from Athens.
Ferries to Hydra from Piraeus – Gate E8
The boats to Hydra depart from Gate E8, a short walk from the Piraeus metro / suburban station. Once you have come out of Piraeus metro, cross the street and follow the coast to the left. More information here on how to get to Piraeus from Athens.
Day trips to Hydra – DIY Version
It is entirely possible to plan a day trip to Hydra on your own, by catching the first ferry of the day from Piraeus to Hydra, and the last ferry back from Hydra island to Pireaus.
This will allow you about 10 hours on the island, which will give you plenty of time to stroll around the main town, admire the unique architecture and the cobbled streets, and perhaps go for a quick splash in one of the beaches closest to the town.
If you are interested in history and art, you can choose to visit either the Historical Archive of Hydra, or the Koundouriotis Mansion, that has been transformed into a museum.
If you are more attracted to the outdoors, you can either hike or hire a water-taxi to take you to a beach far from the town, where you can swim and snorkel.
Whatever you do, don't forget to enjoy a meal and coffee by the coast, watching the world go by. That's really the essence of visiting Hydra in Greece!
Organized Athens Hydra Day Trip
If you can't decide whether to visit Hydra, Poros or Aegina, another option is to take an organized day trip to these three Saronic islands. This day cruise includes lunch, and it's a good introduction to all three islands, though you won't have much time on them.
These organized tours do not typically use the regular ferry service, but have their own boats.
I've got a review about a similar full-day cruise I took in the Saronic Gulf here – 3 island cruise from Athens.
Staying overnight in Hydra
Just like every other place in the world, if you want to fully appreciate Hydra it's best to spend a couple of days, or maybe more.
The island has 11 lovely hiking paths, and as cars are not allowed, it really feels like you have escaped from it all. Following the hiking trails you will spot many different types of flowers, and you will also come across the island's unique monasteries.
Water taxis, taking you to the beaches around the island, are available at the port. It is also possible to rent a private boat for a day and explore the hidden bays of the island, or organize a dive through the Hydra Diving Centre.


If you decide to stay in Hydra for a few days, make sure you book your accommodation well in advance, especially if you are planning to go for a weekend getaway or during the summer months.
Some of the best hotels on Hydra are Phaedra Hotel, a renovated 19th century mansion also recommended by Rick Steves, and Mistral Hotel, a traditional stone mansion. Both hotels are located very centrally in Hydra town, and close to some great restaurants.
Athens to Hydra FAQ
Readers looking at where to buy Athens – Hydra ferry tickets, and planning what to do on this gorgeous Saronic island often ask questions such as:
How do I get from Athens to Hydra?
The ferry ride from Athens to Hydra leaves from Piraeus port and takes around 1 hour and 30 minutes to reach its destination at Hydra Port. The Athens Hydra ferry is a year round service, with more crossings in the high season.
How long is the ferry from Athens to Hydra?
The ferry trip from Athens (Piraeus) to Hydra takes between 1 hour 30 minutes and 1 hour 50 minutes depending on weather conditions and the ferry type.
Where can I book ferry tickets to Hydra and other Greek islands?
The best place to see which ferry companies sail to Hydra and to book tickets online is the Ferryscanner website. They have the latest timetables and ticket prices are the same as if you book directly with a ferry company.
Is Hydra worth visiting?
The traditional architecture, lack of motor vehicles, and relative proximity to Athens all add towards Hydra being a popular destination to visit from Athens.
How do you get to the Hydra on a boat?
You have the choice of planning your next trip to Hydra using the Greek ferry system, or by taking an organized tour on a private boat.
Pin this Hydra Greece guide for later
Use the image below to pin to one of your boards. That way, you'll be able to easily find this guide on getting to Hydra Island later on.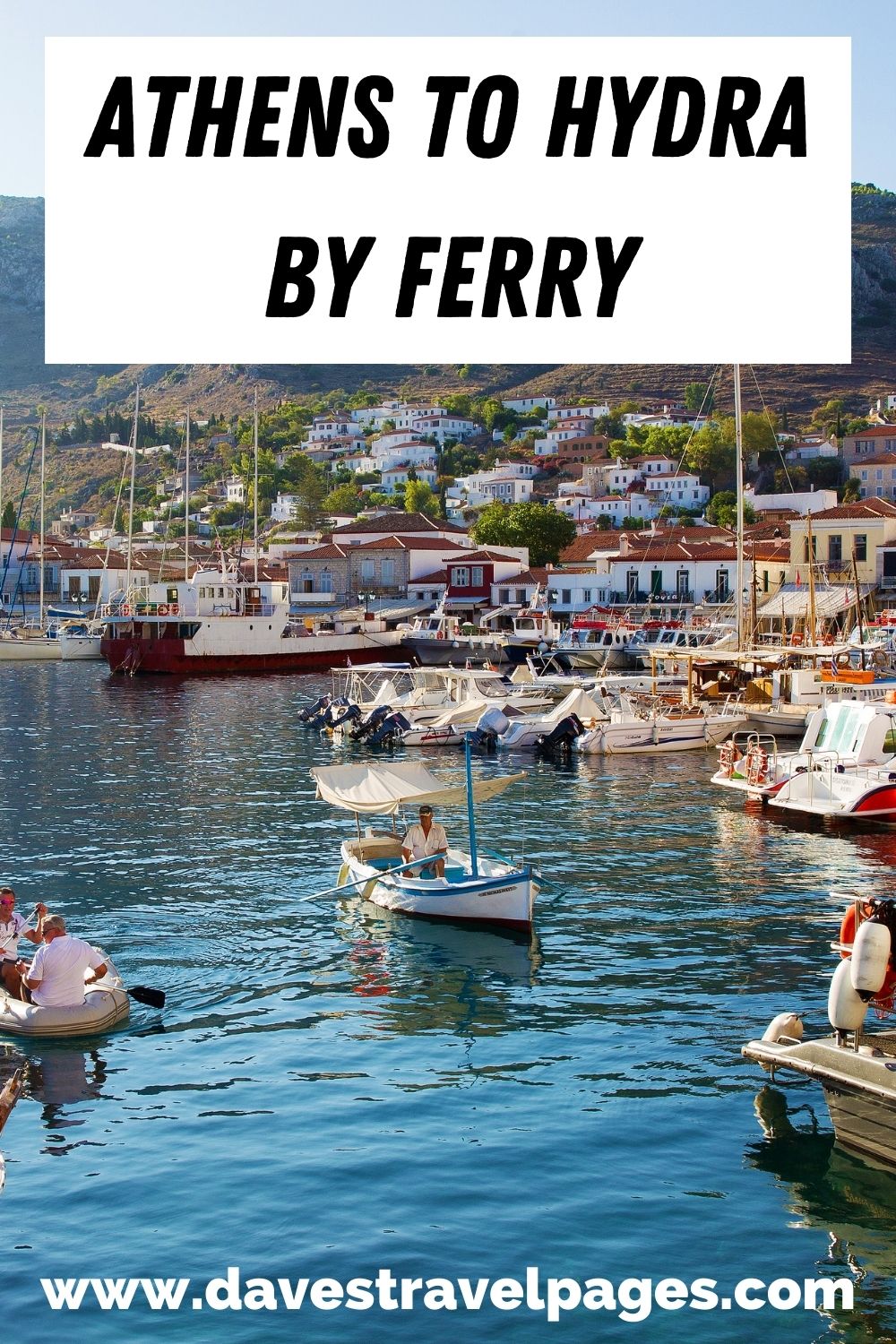 Hopefully this guide on how to get to Hydra Greece will help you plan your trip. If you have any other tips, please leave a comment below!
More Greek Island-Hopping Guides
If you are planning to do more island hopping in Greece, you might want to check out these other guides:
---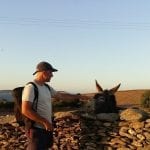 –
Dave Briggs
Dave is a
travel writer
from the UK who has been living in Athens, Greece since 2015. In addition to writing this transport guide on how to get from Athens to Hydra island, he's written many more guides and travel tips to Greece and the islands. Follow Dave on social media for travel inspiration from Greece and beyond: