Here's over 50 of the best motivational hiking quotes to help inspire you to take a walk in nature and enjoy the beauty of the trail.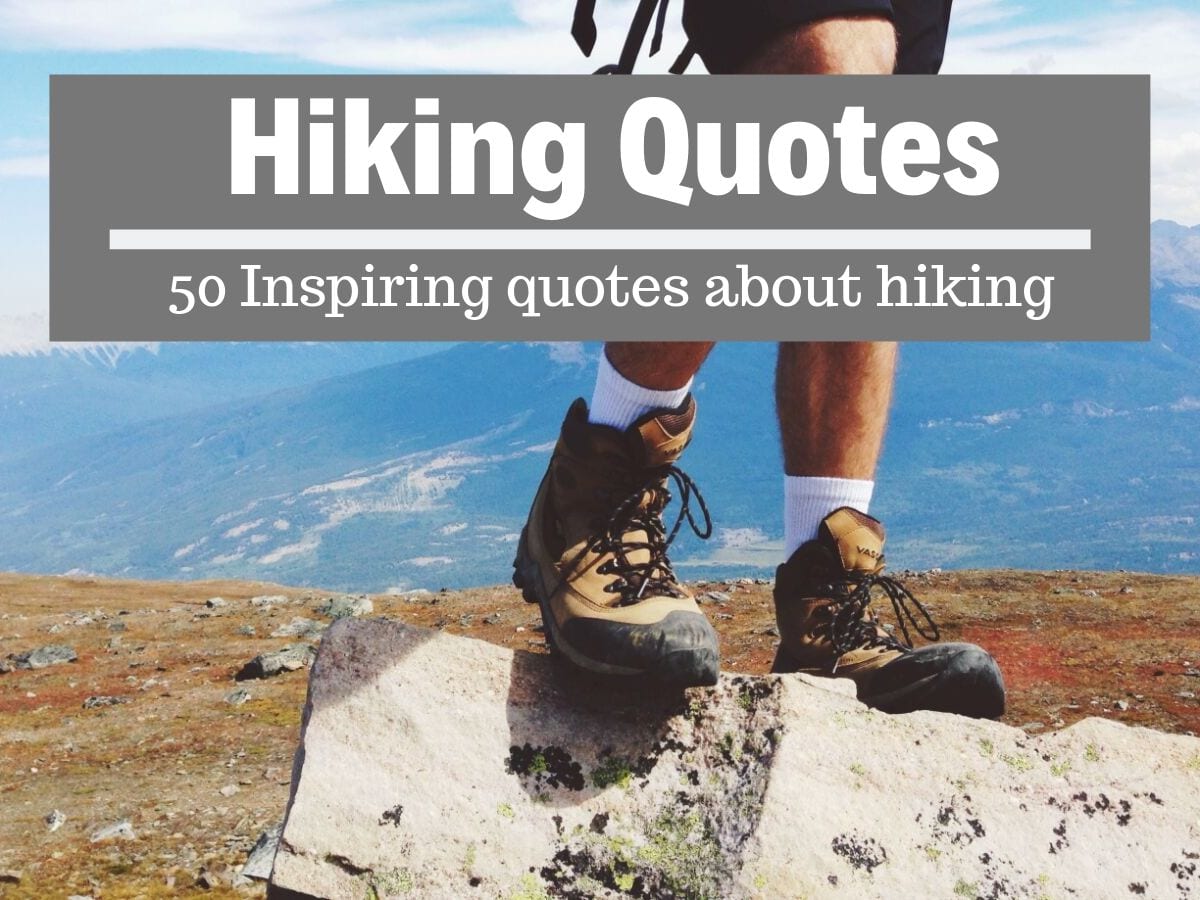 Inspiring Quotes About Hiking
I've chosen some of my favorite hiking quotes, sayings and captions for this collection.
They're perfect for going with photos you want to post on Instagram of your latest hiking trip, or if you're just looking for a little inspiration to get you back out on the trail.
So, let's put one foot forward and get to these amazing hiking quotes!
Hiking Inspirational Quotes
"An early morning walk is a blessing for the whole day."
– Henry David Thoreau
---
"There is always an adventure waiting in the woods."
― Katelyn S. Bolds
---
"The world reveals itself to those who travel on foot."
– Werner Herzog
---
There's no such thing as 'too much fresh air
---
Always take the scenic route
---
"On a hike, the days pass with the wind, the sun, the stars; movement is powered by a belly full of food and water, not a noxious tankful of fossil fuels. On a hike, you're less a job title and more a human being….A periodic hike not only stretches the limbs but also reminds us: Wow, there's a big old world out there."
― Ken Ilgunas
Related: Camping Captions
---
Mountain Hike Quotes
The experienced mountain climber is not intimidated by a mountain he is inspired by it.
– William Artur Ward
---
"There is wisdom in climbing mountains… For they teach us how truly small we are."
– Jeff Wheeler
---
Life is better in hiking boots
---
"Each fresh peak ascended teaches something."
— Sir Martin Convay
---
You Can't Climb Up A Mountain, With Downhill Thoughts.
---
The long distance hiker, a breed set apart,
From the likes of the usual pack.
He'll shoulder his gear, be hittin' the trail;
Long gone, long 'fore he'll be back.
---
There is no such thing as bad weather, only inappropriate clothing.
– Sir Rannulph Fiennes
---
I like being near the top of a mountain, One can't get lost here.
– Wislawa Szymborska
---
You need mountains, long staircases don't make good hikers.
– Amit Kalantri
---
"Of all the paths you take in life, make sure a few of them are dirt."
– John Muir
---
May your trails be crooked, winding, lonesome, dangerous, leading to the most amazing view. May your mountains rise into and above the clouds.
– Edward Abbey
---
In every walk with nature, one received far more than he seeks.
---
The best view comes after the hardest climb.
---
DEET is nature's cologne.
– Every Hiker
---
"Hiking is not escapism; it's realism. The people who choose to spend time outdoors are not running away from anything; we are returning to where we belong."
– Jennifer Pharr Davis
---
Inspiring Hiking Quotes
Here's another 10 hiking quotes to give you inspiration and motivation. Are you ready to hit the hills soon, and cover some miles trekking through nature?
Check out my blog post about hiking the Poon Hill – Ghorepani trail in Nepal!
And into the forest I go, to lose my mind and find my soul.
---
I went to the woods because I wished to live deliberately, to front only the essential facts of life, and see if I could not learn what it had to teach, and not, when I came to die, discover that I had not lived.
– Henry David Thoreau
---
Now I see the secret of making the best person, it is to grow in the open air and to eat and sleep with the earth.
– Walt Whitman
---
"Everyone wants to live on top of the mountain, but all the happiness and growth occurs while you're climbing it."
– Andy Rooney
Related: Hills quotes and captions
---
The journey of a thousand miles begins with a single step.
– Lao Tzu
---
If you can find a path with no obstacles, it probably doesn't lead anywhere.
– Frank A. Clark
---
Hike Your Own Hike.
– Thru-Hiker
---
"To walk into nature is to witness a thousand miracles."
– Mary Davis
---
Walking is a man's best medicine.
– Hippocrates
---
Great things are done when men and mountains meet; This is not done by jostling in the street.
– William Blake
---
Anywhere is 'within walking distance'.
– Anonymous Hiker
---
Motivational Trekking Quotes
Here's the next 10 hiking quotes that will inspire you to conquer mountains and marvel at nature!
You won, this time. But you are as big as you are ever going to get. And I'm still growing.
– Sir Edmund Hillary
---
In all things of nature there is something of the marvelous.
– Aristotle
---
Because in the end, you won't remember the time you spent working in an office or mowing the lawn. Climb that goddamn mountain.
– Jack Kerouac
---
If the winter is too cold and the summer is too hot, you are not a hiker.
– A Bitter Hiker
Related: Summer Vacation Quotes
---
We live in a fast-paced society. Walking slows us down.
– Robert Sweetgall
---
The mountains are calling and I must go.
– John Muir
---
In every walk with nature, one receives far more than he seeks.
– John Muir
---
Mountains have a way of dealing with overconfidence.
– Hermann Buhl
---
When everything feels like an uphill struggle, Just think of the view from the top.
– Anonymous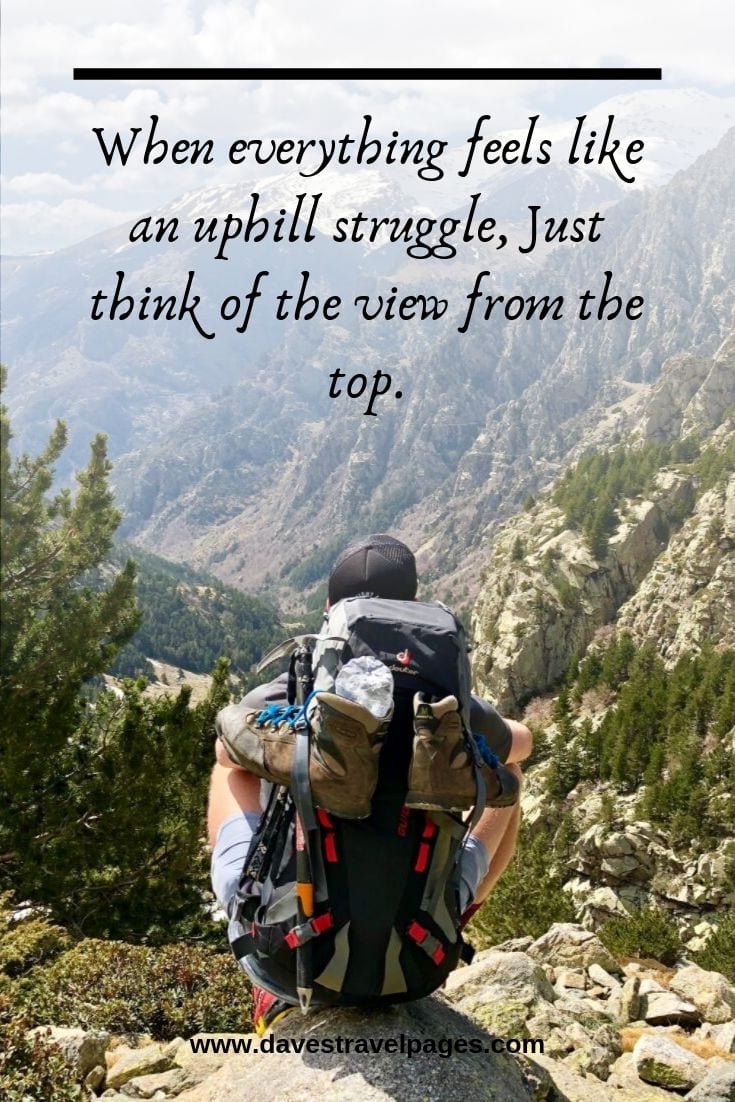 ---
Fall down seven times and stand up eight.
– Japanese Proverb
---
Great Walking Quotes
More classic hiking quotes from famous outdoors legends such as John Muir. We'll have to put a collection of the best walking quotes and John Muir quotes together at some point!
Wilderness is not a luxury but a necessity of the human spirit, and as vital to our lives as water and good bread.
– Edward Abbey
---
To travel, to experience and learn: that is to live.
– Tenzing Norgay
---
They are able who think they are able.
– Virgil
---
If you're going through hell, keep going.
– Winston Churchill
---
Thousands of tired, nerve-shaken, over-civilized people are beginning to find out that going to the mountains is going home; that wildness is a necessity.
– John Muir
---
Of all the paths you take in life, make sure a few of them are dirt.
– John Muir
---
It's not the mountain we conquer, but ourselves.
– Sir Edmund Hillary
---
Without new experiences, something inside of us sleeps. The sleeper must awaken.
– Frank Herbert
---
Walking: the most ancient exercise and still the best modern exercise.
– Carrie Latet
---
Returning home is the most difficult part of long-distance hiking; You have grown outside the puzzle and your piece no longer fits.
– Cindy Ross
---
Inspiring Outdoor Quotes
Our final section of the best hiking quotes. Are you ready to get outdoors, find a trail, and start hiking? These wilderness quotes should give you that final push!
Look deep into nature and you will understand everything better.
– Albert Einstein
---
After a day's walk, everything has twice its usual value.
– G.M. Trevelyan
---
Me thinks that the moment my legs begin to move, my thoughts begin to flow.
– Henry David Thoreau
---
I have two doctors, my left leg and my right.
– G.M. Trevelyan
---
A vagrant is everywhere at home.
---
There are no shortcuts to any place worth going.
– Beverly Sills
---
The best thing one can do when it's raining is to let it rain.
– Henry Wadsworth Longfellow
---
A crude meal, no doubt, but the best of all sauces is hunger.
– Edward Abbey
---
Carry as little as possible, but choose that little with care.
– Earl Shaffer
---
A walk in nature walks the soul back home.
– Mary Davis
---
Sleeping bags are the soft tacos of the bear world.
– Bears
Hiking Captions for Instagram
Looking to spice up your Gram feed? Here's some ideas of hiking instagram captions and hashtags you might want to use to go with your next photo from your walk in nature:
1. I am a leaf on the wind, watch how I soar.
2. The only path that leads to no where is the one you never take.
3. Let's get outside and explore!
4. Always go for a hike with the person you would want to be stranded with.
5. A picture can speak a thousand words, but not as much as just listening to your surroundings will do.
6. Keep calm and hike on!
7. Hiking is life, without it what good are we?
8. Having an adventure every day of the week isn't weird at all, it's just called fun!
9. Living the simple life means taking time to enjoy
10. I'm never lost because I'm always following my own path.
11. The only way to go is forward.
12. A day without an adventure is a day that has gone to waste.
13. Always take the hike with someone you want to be stranded with.
14. Hiking isn't about being physically fit, it's about being mentally strong enough to resist the temptation of your phone or TV screen long enough to truly enjoy this breathtaking world around us!
15. Live life by hiking every day, without it what are we?
Seeking creative ideas for hiking hashtags? Take a look at these:
#hiking #adventure #mountains #forest #cabin #nature #throughmylens #hike #photooftheday #instapic #nature_seekers #naturelovers #livethehikelife #hikingisfun #enjoythelittlethings #hikingisfoodforthought #weekendvibes #bestdayever #exploremore #keepcalmandhikeon #findyourpeace
FAQ About Hiking Sayings
If you enjoyed these hiking captions, the following questions and answers might also be of interest to you:
What are some nature quotes?
"I think Nature's imagination is so much greater than man's, she's never gonna let us relax!" "Nature to be commanded must be obeyed." "My wish is to stay always like this, living quietly in a corner of nature." "Should you shield the canyons from the windstorms you would never see the true beauty of their carvings."
Why does hiking make you happy?
Hiking is one of the most fun ways to explore the great outdoors and enjoy nature. Hiking offers a plethora of natural colors and sights that often can't be seen from just looking at them in photos, such as spectacular mountain ranges, stretching valleys with rivers running through them, open fields with swaying crops or wide open skies filled with fluffy white clouds. Hikers get to experience these amazing things up close and person which give hikers an appreciation and love for the beauty of nature.
What is trekking vs hiking?
Trekking and hiking are both recreational outdoor activities that a lot of people do, but they have a few key differences. Trekking typically involves carrying everything that you need with you, including food and water. Hiking is often done without heavy backpacks or lots of supplies. Trekking may also be considered more "pack oriented" as trekkers will often carry large backpacks to carry all their gear in.
---
More Outdoor Quotes and Travel Inspiration
For even more inspirational mountain quotes about nature and life, check these out!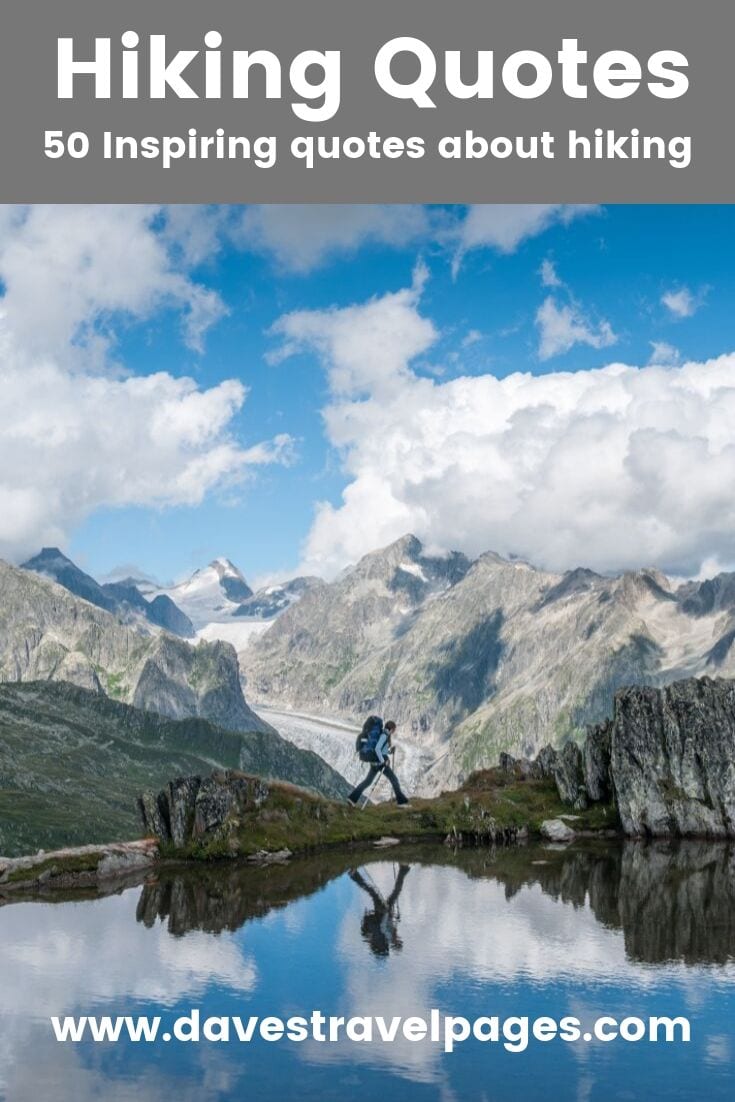 If you enjoyed this collection of trek quotes, please share it on social media as it helps support this website. Thanks!