There are three ferries a day sailing from Ios to Paros island in Greece. The travel time ranges from 1 hour and 35 minutes to 3 hours with Ios Paros ferry ticket prices starting at 9.50 Euro.
How to get from Ios to Paros
If you want to travel to Paros after spending time on Ios island, the only way to do so is by ferry.
There are 2 (and occasionally 3) ferries per day leaving from Ios to Paros.
As these two Greek islands in the Cyclades group are quite close to one another, the travel time is reasonably quick. The fastest Ios to Paros ferry takes only 1 hour and 10 minutes. Slower ferries from Ios to Paros take around 2 hours and 20 minutes.
Traveling between Ios and Paros is a popular island hopping route during the high season. It's also quite affordable, with passenger tickets for the crossing between Ios and paros starting at 24 Euros.
Find the latest timetables and schedules for this ferry service at: Ferryhopper
Ios Paros Ferry Route
The fastest Ios Paros ferry takes just 1 hour and 35 minutes. The slowest ferry to Paros takes around 3 hours.
These ferries to Paros from Ios are operated by Blue Star Ferries, Golden Star Ferries, and SeaJets.
The simplest place to search for schedules for Greek ferries between the Cyclades islands like Ios and Paros is at the Ferryhopper website.
Blue Star Ferries from Ios to Paros
The Blue Star Ferries company provides one regular ferry per day sailing between Ios and Paros.
This is typically an early morning departure, so don't oversleep!
On occasion, they supplement this with one additional ferry crossing per week, normally according to demand.
Check schedules and buy ferry tickets at the Ferryhopper website.
Golden Star Ferries to Paros from Ios
Golden Star Ferries also provide one ferry per day on the Ios Paros route.
This afternoon ferry is perfect if you fancy not rushing around to leave Ios.
Look at Paros ferry timetables and buy tickets online at the Ferryhopper website.
SeaJets Ios Paros Ferries
During the summer tourist season, SeaJets also have ferries going from Ios to Paros.
These are normally quite expensive tickets, but useful if the other ferries are fully booked.
Paros Island Travel Tips
I've put a few travel tips for visiting the island of Paros that might help you plan your itineraries:
Ferries sail from the main port, called Gialos in Ios. Passengers should aim to be at the port at least half an hour before departure.
---
Ferries arrive at the main port, Parikia in Paros. This is a popular area to stay if you just want to spend a couple of days on the island.
---
For apartments in Paros, I recommend using Booking. They have a great selection of rooms to rent in Paros and areas to consider staying include Chrissi Akti, Naousa, Piso Livadi, Aliki, and Parikia.
---
If you are traveling to Paros in the height of the tourist season, you'll want to book somewhere to stay a couple of months in advance. Take a look at my guide: Where to stay in Paros
---
For some quality beach time, head to these beaches in Paros: Santa Maria, Monastiri, Agia Irini, Kolymbithres, Chrissi Akti, Logaras, and Pounda. Read this travel blog post for more information: Best beaches in Paros
---
One of the best places to look at the Paros ferry schedules and to book tickets online is at Ferryhopper. I suggest you book your Ios to Paros ferry tickets in advance, especially during the busy peak travel season.
---
---
---
How to take a trip from Ios to Paros FAQ
Questions about about traveling to Paros from Ios include:
How can I go from Ios to Paros?
The only way to make the trip from Ios to Paros is to take a ferry. There are 2 ferries a day sailing to Paros from Ios during the summer tourism season.
Is there an airport in Paros?
The Greek island of Paros does have an airport. Paros National Airport (IATA: PAS, ICAO: LGPA) has regular connections with the main airport in Athens.
How long is the ferry from Ios to Paros?
The ferries to the Cyclades island of Paros from Ios take between 1 hour and 35 minutes and 3 hours. Ferry operators on the Ios Paros route may include Blue Star Ferries, Golden Star Ferries, and SeaJets.
Where can I buy tickets for the ferry to Paros?
I find that the Ferryhopper website is the best place to book ferry tickets online. Although I suggest you book your Ios to Paros ferry tickets in advance, you might also prefer to use a travel agency in Greece when you have arrived.
Do you have any questions about the ferry companies that travel between Ios and Paros as well as other islands? Have you used these routes and have any tips to leave other tourists to make their sea trip easier?
Leave a comment below!
---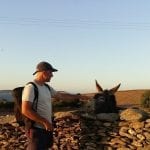 –
Dave Briggs
Dave is a
travel writer
based in Athens, Greece since 2015. In addition to creating this guide to ferries from Ios to Paros, he's also written hundreds more travel guides to Greek destinations. Follow Dave on social media for travel inspiration from Greece and beyond: