People who visit Greece are often torn between Mykonos and Naxos. Despite their proximity, the two popular islands are quite different to each other. This article will help you decide which one to visit.
Naxos or Mykonos: Which Greek island is better for you?
The two islands belong to the Cyclades group of islands, and are close to the famous Santorini. They are only about an hour away from each other on the ferry, so you could visit them both on the same trip.
I visited the two islands in the last couple of years. I was lucky to explore both Naxos and Mykonos without the crowds, which was a really unique experience.
If I had to choose just one of the two, I would recommend Naxos. The large, mountainous island is one of my favourite places in Greece.
However, each island might appeal to different types of people. This comparison of Mykonos vs Naxos will help you decide which one is best for you.
Introduction to Mykonos and Naxos
Like most of the Cyclades, Mykonos and Naxos are overall dry, with lots of rocky terrain. You won't see any lush forests like the ones in Kefalonia, Lefkada or the Sporades islands, still you will love the beautiful scenery.
Naxos has a few olive groves and fertile areas, where farmers grow the famous Naxos potatoes and other vegetables and crops. Mykonos is drier, and much of the terrain is occupied by holiday homes, villas and resorts.
Naxos is about five times the size of Mykonos. It would take you several days, maybe weeks, to explore the whole island, even if you are driving yourself.
Mykonos, on the other hand, is possible to explore in a couple of days, not counting beach time, or party time.
If you are thinking to visit both islands, I would suggest spending longer on Naxos, as there is a lot to do.
Things to do in Mykonos and Naxos
The first thing that will strike you in both Mykonos and Naxos are the large capital towns, which are both called Chora. You will see the famous white-washed houses and blue domed churches, typical of the Cycladic architecture.
Both islands offer incredible sandy beaches, which is what made them famous in the first place. Naxos has more natural beaches than Mykonos, and you will need your own wheels to explore all of them.
Mykonos is world famous for its party scene. While Naxos isn't thought of as a party island, there is adequate nightlife in some areas. On the other hand, Naxos has several traditional villages, which isn't really the case in Mykonos.
Mykonos itself doesn't have much in terms of ancient ruins, but history enthusiasts will love Ancient Delos, a small island nearby. In Naxos, visitors can explore a few ancient sites and iconic statues.
Let's explore the two Cycladic islands in more detail.
Mykonos town vs Naxos town
The two island capitals, Mykonos town and Naxos town, are among the biggest in the Cyclades. They are both on the coast, and Naxos town is also the island's port town.
You can literally wander around the narrow, white-washed alleyways for hours, and explore the Cycladic architecture.
Naxos town is defined by the impressive Venetian castle. Tou will find numerous tavernas, cafes, souvenir shops and travel agencies all around. Chora Mykonos is more upscale, with several gourmet restaurants and exclusive shops.
Apart from the main town, Mykonos has very little to show in terms of traditional villages, as most of the other settlements are tourist resorts. Naxos, on the other hand, has several interesting inland villages, most of which are up on the mountains.
Naxos towns and villages
A few kilometres south of Naxos Town, you will find the coastal towns of Agios Georgios, Agios Prokopios, Agia Anna and Plaka. These settlements are popular with visitors because of their long, sandy beaches that provide many services.
People who like exploring local villages should visit Apeiranthos, Filoti, Chalki and Koronos. The traditional stone houses and Venetian towers are very typical of Naxos, and you will get the chance to observe the local life.
Sightseeing and activities in Mykonos and Naxos
When it comes to sightseeing, both islands have a lot to offer. Due to its much bigger size and many villages, Naxos will take much longer to fully explore.
In addition, Naxos offers plenty of opportunity for wild hikes. Some of them end up in natural beaches and old, abandoned emery mines.
Sightseeing and activities in Mykonos
When many people think of Mykonos, the first thing they come up with is a party island with lots of wild nightlife. This is definitely true, and some of the beach bars and clubs are world-famous.
Strictly speaking, most of the sightseeing in Mykonos is located in Chora. The iconic Mykonos windmills and the picturesque Little Venice are walking distance from the centre of the old town.
Mykonos also has an abundance of churches and chapels. You will see them everywhere on the island, including Chora. In addition, you will find a few monasteries, the most important of which is the Monastery of Panagia Tourliani in Ano Mera.
My favourite activity when I visited Mykonos was the day trip to Ancient Delos, a short boat ride from Mykonos. You can see Roman houses and villas that have been exceptionally well preserved, and offer a glimpse into the ancient world.
Many visitors, including those from cruise ships, visit the ancient site on a daily basis. It's recommended to book your tickets in advance. Here is some more information on how to visit Ancient Delos.
Sightseeing and activities in Naxos
Given the size of Naxos, people visiting for only a couple of days will be overwhelmed by the choice of places to visit and things to see.
Besides the quaint towns and traditional villages, Naxos island has a few historical sites. The Portara of Naxos, an easy walk from Naxos port, offers lovely sunset views towards the Aegean Sea.
In addition, you can visit the temple of Demeter at Sangri, and the archaeological site of Yria.
Naxos is also famous for the ancient, supernatural Kouroi statues, dating from the 7th – 6th century BC. They are located near Apollonas village, on the north coast, and in the area of Melanes.
For a more off-the-beaten track activity, don't miss the abandoned hotel close to the cedar forest and Aliko beach, where you will see some outstanding street art.
Where can I find the best beaches, Mykonos or Naxos?
Both Mykonos and Naxos are well-known for their wonderful beaches. There is a large variety, from well-organized sandy beaches with many tourist amenities to more remote bays and coves.
Overall, Naxos has a much bigger selection of wild, natural beaches. By contrast, Mykonos is famous for its lively beach bars, and the majority of beaches are full of umbrellas and loungers.
You will probably know this already, but it's always good to bring up: beach weather in Greece lasts from late April to October. While some people might be able to swim in the off season, Greece's great beaches are best enjoyed in the summer months.
Beaches in Mykonos
Mykonos has about 30 fantastic sandy beaches with crystal clear waters. Many of them offer facilities like umbrellas and loungers, often at a very high price.
Some of the most popular beaches in Mykonos include the famous Paradise, Super Paradise, Paraga and Psarou. This is where many of the island's notorious parties are organized.
While Mykonos isn't exactly a family island, most of the beaches have shallow waters, and are ideal for young children. In addition, water sports like windsurfing, kite surfing and kayaking are very popular during the summer months.
If, like me, you prefer natural, quiet beaches, you will need to have your own vehicle and explore the island. This guide to the best beaches in Mykonos will help.
Beaches in Naxos
Naxos has a large variety of beaches, which are scattered all around the island. The most popular beaches in Naxos are located south of Chora, on the west coast of the island.
From north to south, they are St George beach, Agios Prokopios, Agia Anna and Plaka beach. These beaches offer many tourist facilities like restaurants, cafes and umbrellas.
As a rule, the more south you go, the quieter the beach, so you are unlikely to find crowds on beaches like Kastraki, Pirgaki or Agiassos.
Overall, Naxos has probably over a hundred beaches and coves. Most of them, especially the ones on the east coast, would only be accessible in your own vehicle.
Here is some more information about the beaches in Naxos.
Mykonos nightlife vs Naxos nightlife
If you are looking for nightlife, you can't go wrong with Mykonos. After all, this is one of the main reasons why people have been visiting the island of the winds for decades.
You will find the best nightlife in Mykonos town, and on many of the famous beaches on the island.
Some of the best places for drinks and nightlife in Mykonos include the following:
Mykonos Town: Skandinavian Bar / Galleraki / Katerina's Bar / 180° Sunset Bar / Astra
Paradise Beach – Cavo Paradiso Club / Paradise Beach Club
Super Paradise Beach – Super Paradise Beach Club / Jackie O' Beach Club
Paraga Beach – Scorpios / SantAnna / Kalua Beach Bar
Note that the beach club parties happen during the peak season, from late June until early or mid September. Also, note that many of the above bars and clubs are notoriously expensive.
When it comes to Naxos, Chora has several relaxed bars and a couple of music clubs in Chora. In addition, there are more bars and a few nightclubs in Agios Georgios, Agios Prokopios and Agia Anna.
Overall, if your main goal is to enjoy a few nights of partying, Mykonos is the best of the two Greek isles.
Does Mykonos or Naxos have better restaurants?
For most visitors, traditional Greek food is a huge part of their Greek vacation.
In my experience, Naxos wins hands down. You will find dozens of fantastic traditional tavernas and restaurants, with delicious local meats, fish and cheeses. As the island has its own produce, meals are filling and inexpensive.
Mykonos, on the other hand, is known for its gourmet restaurants. As these come with a price to match, I have no personal experience.
I was also underwhelmed with the quality at the local tavernas and grill houses that I tried, so I can't really recommend any of them. After having lived in Greece for seven years, I think I'm spoilt!
Here are a few of the many restaurants I enjoyed in Naxos:
Maro's taverna, Naxos Town – Huge portions of amazing home-made food
To Kati Allo, Naxos Town – Lovely food at the backstreet alleys
Paradiso, Agia Anna – Famous for the iconic tree offering plenty of shade
Axiotissa, Kastraki – One of the most famous tavernas in Naxos
Apollon, Apollonas – A local, no-frills taverna on the coast
Day trips from Mykonos and Naxos
While both Mykonos and Naxos have plenty to do, many visitors will want to take a day trip to another island.
As mentioned earlier, if you are visiting Mykonos you should absolutely take a day trip to Ancient Delos. This is one of my favourite activities in all of the Cyclades.
If you only want to have a relaxed day exploring the pristine beaches and hidden sea caves, there are plenty of sailing tours around both islands.
Naxos or Mykonos for couples
As not all couples are the same, it is difficult to say whether Mykonos or Naxos is better for couples.
Mykonos will appeal more to couples looking for nightlife and tourist infrastructure, as long as they are comfortable with the high prices. It might also appeal for people on their honeymoon trip, as there is more choice of luxurious accommodation.
Naxos is more suitable for couples who enjoy nature, pristine beaches, traditional villages, hiking and exploring.
As a couple who prefer quiet beaches and authentic experiences, we were delighted to visit Mykonos without the crowds. From what we've heard, we would probably not enjoy its busy, crowded beaches and wild party scene in the peak season.
Mykonos or Naxos for families
While Mykonos is not a family island, most of its beautiful beaches are sandy, with shallow waters, and are therefore ideal for young children.
Some beaches in Mykonos are more family friendly than others, as there are no loud bars or beach clubs.
With that said, families planning a beach holiday in Greece should look into Naxos rather than Mykonos. You will find plenty of beaches with facilities like loungers and umbrellas, with a wide range of inexpensive tavernas nearby.
The best areas for family accommodation in Naxos include Agia Anna and Agios Prokopios.
Which island is easier to get to, Naxos or Mykonos?
It is easy to reach Mykonos or Naxos from abroad. Both islands have airports: Mykonos International Airport (JMK), and Naxos Domestic Airport (JMX).
If you are flying in from Europe, check if there is a direct flight to Mykonos from an airport near you. Or you can fly into Athens, take a ferry to Mykonos, and then take an international flight home.
Some people will fly into Athens airport and take a 40-50 minute domestic flight to either island. If this is your plan, make sure you reserve the onward flight as early as possible. Last-minute prices tend to increase a lot.
Check Skyscanner for flight deals.
Ferries to Naxos and Mykonos – Greek island hopping
Some travelers spend a couple of nights in Athens, the Greek capital, and then take an onward ferry to the islands.
There are two ports in Athens, Piraeus port and Rafina port, from where you can travel to both Mykonos and Naxos.
Ferries to Mykonos take anywhere from 2.5 to 6 hours, whereas ferries for Naxos take between 3 h 15 minutes and 5.5 hours. Some ferries will pass by Mykonos on their way to Naxos.
As a rule, the fastest, smallest ferries may be bumpier in case of windy weather. I personally prefer to use the Blue Star ferries, which take longer, but offer a more comfortable trip.
It's best to reserve your ferry tickets in advance, especially if you are travelling during high season. While there are many ferries per day, some of them often get fully booked.
Ferry schedules are usually announced a few months in advance. A fantastic website to check all itineraries and book your tickets is Ferryhopper.
These guides provide more information.
Apart from the ferries from the mainland, there are several daily ferry connections between Naxos and Mykonos. International visitors could look into flying into Mykonos and taking a short ferry trip to Naxos.
Getting around Mykonos and Naxos
When it comes to getting around the islands, you will need some form of transportation.
There is an extensive bus network, known as KTEL, on both Mykonos and Naxos. If you are only planning to visit the most popular areas, you will probably find that the buses are fine.
Note that bus timetables change often, so check the latest information a week or so before you travel.
If you are happy to drive yourself, the best way to get around is by car, quad or motorbike. You can rent a car at the main towns and the beach resorts. That said, Mykonos is not the easiest island in terms of parking spots.
Another alternative is to hire one of the many taxis available on the islands. Shop around, and make sure to also ask your hotel.
Finally, a sea taxi connects the main beaches on the south coast of Mykonos. For more information, check this website.
Accommodation on Mykonos and Naxos
As you would expect, there is plenty of accommodation on both islands. There is a selection of places to stay, including campsites, budget rooms, family friendly hotels, boutique hotels and villas.
If you are looking for luxury accommodation, Mykonos is queen. You will find a wide selection of exclusive villas with luxurious swimming pools, offering outstanding privacy even during peak season.
On the other hand, as Naxos is much bigger, there are more hotels and rooms to let. It is also easier to find affordable accommodation.
If budget is an issue, you should aim to travel outside peak season (July and August). You could also consider skipping Mykonos, unless you are going in the shoulder season.
These guides offer in-depth information on the best areas to stay on the islands, along with hotel recommendations.
Conclusion: Mykonos or Naxos?
Let's summarize all the above, to help you choose between Mykonos and Naxos.
Naxos wins when it comes to authenticity, nature and exploration, sightseeing, towns, villages and local Greek food.
If you are more interested in nightlife, tourist infrastructure and luxury accommodation, go to Mykonos – and don't forget to visit Ancient Delos.
In terms of beaches, both islands are great. Naxos offers more natural beaches, where Mykonos has more exclusive beaches.
If you are still undecided and can take a week trip or longer, you can visit both. This will offer the best of both worlds, and you will then have your own opinion.
In fact, you can even take a day trip from Naxos to Mykonos. If you take the early ferry, you should even have time to visit Ancient Delos.
If you have been to both Mykonos and Naxos, I'd love to know which one you preferred and why. Feel free to leave a comment below.
Frequently asked questions about Mykonos and Naxos
People trying to plan their Greek vacation often ask questions similar to these:
Is Naxos better than Mykonos?
It depends what you are looking for. Naxos is better for budget travelers, authentic villages and Greek food. Mykonos is famous for the exclusive villas, beach bars and party life.
Which is the nicest of the Greek islands?
There is no one-size-fits-all when it comes to the Greek islands. They are all different, and each of them will appeal to different types of people.
Is Naxos very touristy?
Compared to some other islands, Naxos is refreshingly authentic. While some areas have lots of tourist infrastructure, you will also find quaint mountain villages, secluded beaches and fantastic food.
How far is Naxos from Mykonos by Ferry?
Depending on the type of ferry you choose, it can take you anywhere from 40 to 80 minutes to get from Mykonos to Naxos.
Can you do a day trip from Naxos to Mykonos?
As the islands are fairly close to each other, it is possible to do a day trip from Naxos to Mykonos during summer. Ferry timetables vary by season, so it's always best to check itineraries on Ferryhopper.
---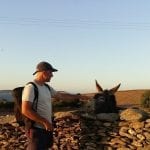 –
Dave Briggs
Dave is a
travel writer
who has been based in Greece since 2015. In addition to creating this travel blog which compares the islands of Naxos and Mykonos, he's written hundreds of other insightful travel guides and itineraries to Greek islands and destinations in Greece. Follow Dave on social media for travel inspiration from Greece and beyond: