As there are no direct Ios Donoussa ferries, the best way to get from Ios to Donoussa is to go via Naxos first. This guide shows you how.
Traveling between Ios and Donoussa
When you look at a map, the Cyclades islands of Ios and Donoussa are relatively close to one another. It might come as a surprise then, that there are no direct ferry connections between these two Greek islands.
Don't let that put you off though! You can still reach Donoussa, you'll just have to go indirectly via another island first.
The best choice here would be Naxos, although Paros may also be a possibility.
Ios Donoussa ferry routes
Exploring Greece by ferry means you have to get creative sometimes, and this will be the case if you want to go to Donoussa as your next island after Ios.
The first part of your journey is pretty easy, as there are three daily ferries sailing from Ios to Naxos. The quickest services take just 45 minutes, so it really is just a short hop away.
Once you reach Naxos, you'll then need to swap vessels for one sailing to Donoussa. The Express Skopelitis is one such ferry, and it also pays a visit to other islands in the Small Cyclades group.
Blue Star Ferries are likely to be your other option, although they may not sail so frequently.
I suggest you start to plan out your itinerary using Ferryhopper. You'll be able to see the latest ferry timetables, and make your ferry booking online.
You might also want to read these guides: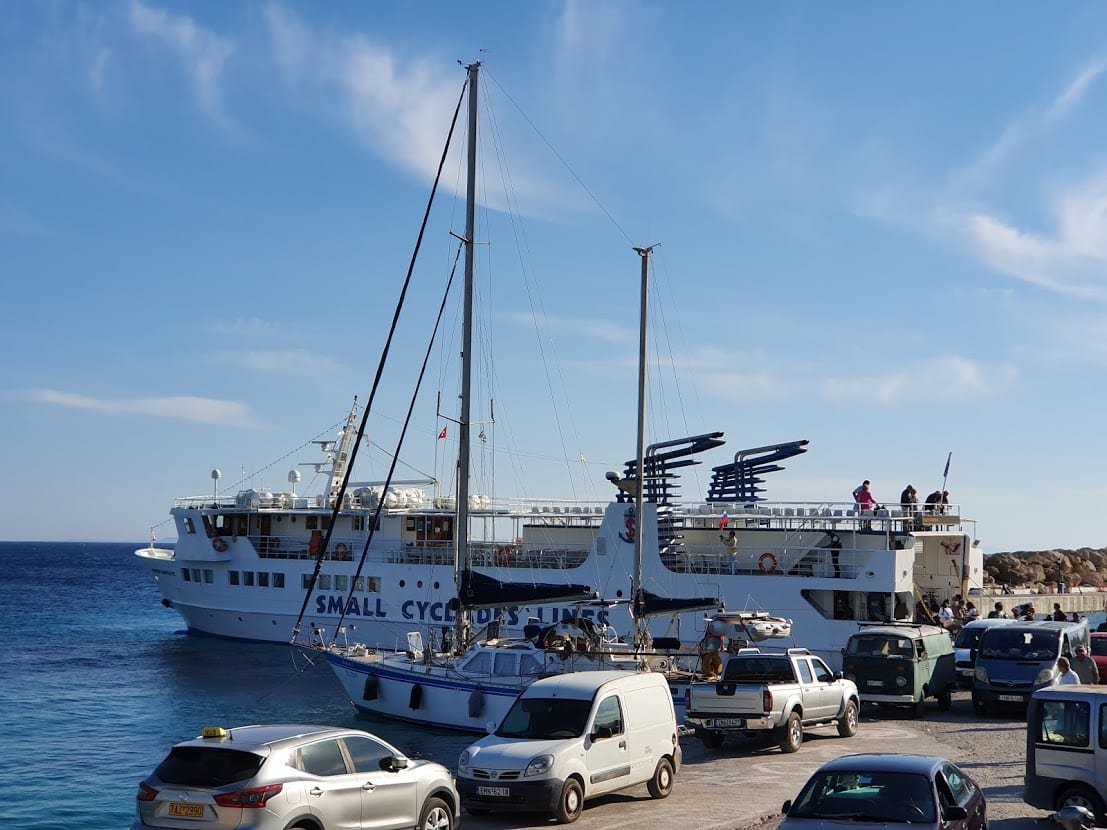 Donoussa and Cyclades Islands Travel Tips
A few travel tips for visiting Donoussa island on your vacations include:
Passengers should be at the departure ferry port in Ios at least a half an hour before the ship is due to sail to its destination.
---
For accommodation in Donoussa, I suggest looking at Booking. They have a great choice of hotels in Donoussa and areas to consider staying include Chora.
---
If you are traveling to Donoussa in the tourist season, I advise reserving places to stay in Donoussa a month or so in advance.
---
Ferryhopper is perhaps the easiest site to use when it comes to booking Ferry tickets online. I think it's better that you book your Ios to Donoussa ferry tickets in advance, especially during the busy summer months.
---
---
How to take a trip from Ios to Donoussa FAQ
Some commonly asked questions about the route traveling to Donoussa from Ios include:
How do I get to Donoussa from Ios?
There are currently no direct ferries sailing to Donoussa from Ios. The means that the only way to travel from Ios to Donoussa is to go via another island first such as Naxos.
Is there an airport in Donoussa?
There is no airport in the island of Donoussa. The closest airport to Donoussa is at Naxos which has domestic flights to and from the main airport in Athens.
How long is the ferry crossing from Ios to Donoussa?
With no direct ferries going to the Cyclades island of Donoussa from Ios, it is hard to calculate the exact travel times. If connections line up perfectly, it could be 6 hours or less. In the worst case, you may need to stay over night on Naxos.
How can I buy tickets for the ferry to Donoussa?
One of the best places to look at ferry schedule details and to book your ferry ticket online is at Ferryhopper. I think it's better that you book your Ios to Donoussa ferry tickets in advance, but you might also prefer to use a travel agency in Greece when you have arrived for your holidays.
---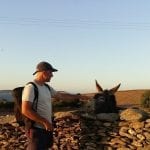 –
Dave Briggs
Dave is a
travel writer
who has been based in Greece since 2015. As well as writing this travel guide about ferry companies who sail from Ios to Donoussa, he's written hundreds more guides and itineraries to other destinations in Greece. Follow Dave on social media for travel inspiration from Greece and beyond: