These top Naxos tours and day trip ideas all offer unique ways to experience your vacation in Greece. Sail to Greek islands, take an historical tour, learn how to cook traditional food and more!
Things to do in Naxos
Naxos is a popular island for families and couples alike. It has a real mix of things to do, boasting incredible archaeological sites, beautiful beaches thanks to its miles of mainly sandy coastline, and lovely villages and towns.
As the largest of the Cycladic Islands, Naxos also has a range of day trips and tours to choose from.
Whilst I've already covered a lot of things to do in Naxos in this Naxos Travel Guide, I think these Naxos tours will give you a deeper experience of both the island and the culture.
I've divided some of the best activities into sections. These include tours on Naxos, day trips from Naxos to other islands, and cultural experiences.
Naxos Tours
Interested in finding out more about the island of Naxos? These tours and activities are a great way to explore Naxos!
Naxos Island: Full–Day Naxos Highlights Bus Tour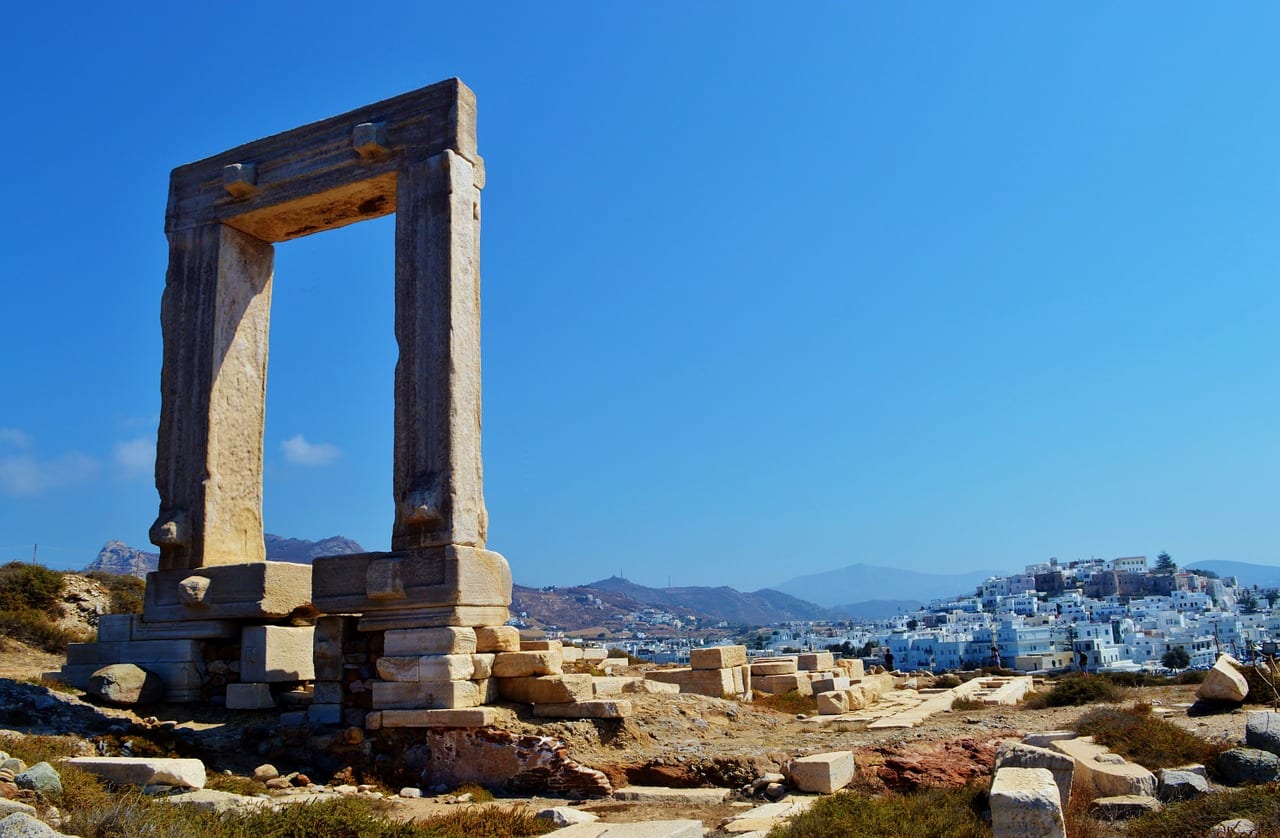 If you only have limited time on Naxos, this highlights bus tour of the island is a great way to get the most out of your stay. Lasting for about 8 hours, this Naxos island tour you will take you to traditional villages, see important archaeological sites, taste local cuisine, and even visit a pottery workshop.
For people who don't want to hire a car, and who want to see a snapshot of the island in one day, this Naxos bus tour offers incredible value for money. There's even time for a refreshing swim at Apollonas Bay during the day!
Naxos: Greek Cooking Class & Dinner at a Village House
Greek cuisine is one of the best in the world, and Naxos is especially famous for its traditional dishes. This Greek cooking class gives you the opportunity to discover the secrets behind the healthy Mediterranean cuisine.
Lasting for about 4 hours, you will be able to create your own Greek meal under the watchful eye of a friendly local. A great experience, especially for families!
Full-Day Sailing Cruise and Rina Cave Visit
This full day sailing tour from Naxos is great fun! As with all Naxos sailing tours, the exact itinerary changes due to weather conditions and time of year, but you can expect plenty of opportunities to swim, snorkel, and get all the Instagram shots you could ever dream of!
During this full day cruise, you get to visit incredible places like the Rina Cave, Kalados Bay, Schinoussa Island or Paros & Antiparos and enjoy a day on the sea. It can be a long day for families with young kids, but perfect for couples and families with teens!
Best Day Trips From Naxos
Due to its central location in the Cycladic island chain, Naxos is a good place to take day trips to other islands such as Santorini and Mykonos. Each one of these day trips from Naxos is a great way to get a taste of some other beautiful Greek islands.
Naxos to Mykonos Day Trip
If Mykonos isn't already on your Greek travel itinerary, then this day trip from Naxos to Mykonos is a great idea. The entire day is around 10 hours long, and gives you 6 free hours when in Mykonos.
There's plenty to see and do around Mykonos Town, including the Little Venice area, climbing up to the windmills and walking around the whitewashed alleyways.
Note: You can also just about put your own day trip to Mykonos together by taking a ferry from Naxos to Mykonos.
Naxos to Delos and Mykonos Full-Day Boat Trip
This is a nice variation on the sailing trip from Naxos to Mykonos described above, as it includes a visit to the UNESCO World Heritage Site of Delos along the way.
This Naxos to Delos day trip does of course reduce the amount of time spent in Mykonos to 3 hours though – but it's a nice balance especially if you want to see the ancient ruins at Delos and tick a UNESCO site off your list!
Naxos to Santorini Day Trip
If Santorini is not on your travel itinerary, you can still visit on a day trip from Naxos. The total length of the tour is around 12 hours, and it also includes a bus tour of the island.
If you'd love the chance to take photos of the pretty towns of Oia and Fira, this Naxos to Santorini day trip is for you!
If you want to visit Santorini for longer, here's the Naxos to Santorini ferry information you will need.
Naxos to Koufonisia Day Trip
Koufinisia is a collection of 3 main but very small islands. These are barely inhabited, but incredibly beautiful. This day trip is basically just the tickets over, and then you are left to your own devices. I'd suggest renting a bike to get around, or just taking it easy.
We loved taking a walk along the sandy beaches backed by turquoise waters!
Naxos to Paros Island Day Trip
Paros is the island right next door to Naxos, and you could say that the two islands are rivals in some way! If you don't plan on spending more than a night in Paros, there are a few options available to you to take a Naxos to Paros day trip.
Check the local travel agencies in Naxos Town and by the port to see if they are running any trips out to Paros. Alternatively, you can always take the first ferry out from Naxos to Paros and then the last ferry back from Paros to Naxos to put your own trip together.
If you decide to do it yourself, you may need to limit your time to sightseeing in Parikia, which is the island's main capital. Remember to stop by the Panagia Ekatontapiliani church, sometimes known as the Church with a Hundred Doors!
FAQ About The Best Day Trips You Can Take from Naxos
Readers who plan to visit the beautiful Greek island of Naxos and want to check out all the popular spots as well as to spend time on tours to other places, often ask questions similar to:
How long is the ferry from Naxos to Mykonos?
These two popular Greek islands are very close to one another, and the quickest ferry journey between Naxos and Mykonos takes just 40 minutes.
Can you do a day trip from Naxos to Santorini?
You can either take an organized tour from Naxos to Santorini, or alternatively, put your own day trip together by taking the first ferry out from Naxos to Santorini and the last one back from Santorini to Naxos.
Is Naxos better than Mykonos?
Naxos is a much more family-friendly destination than Mykonos. The beaches on Naxos are amazing, the food wonderful, and as the largest island in the Cyclades there is plenty to see and do.
Is Delos worth the trip?
Delos is a stunning island that should not be missed when visiting Greece. Delos was an important place in the Ancient Greek world, being a center of trade, commerce, and religion. Today, it is one of the most unique UNESCO World Heritage Sites in Greece.
What are some Greek islands to visit after Naxos?
If you're looking to extend your Greek island hopping adventures, then islands that are near Naxos you can visit after include all the the Small Cyclades islands, Paros, Mykonos, and Amorgos.
Naxos Vacations For An Unforgettable Experience
If you would like to pin this to your board for later, just use the image below. For travel planning, take a look at more articles on my travel blog such as my Athens to Naxos ferry guide and also how to get from Naxos to Ios. You may also want to read my where to stay in Naxos travel guide, along with some background information to the famous Portara of Naxos.
Interested in more specific Greece sightseeing itineraries? Check out these 10 Greece itinerary ideas.
---