These top Naxos tours and day trip ideas all offer unique ways to experience your vacation in Greece. Sail to Greek islands, take an historical tour, learn how to cook traditional food and more!
Things to do in Naxos
Naxos is a popular island for families and couples alike. It has a real mix of things to do, boasting incredible archaeological sites, beautiful beaches, and lovely villages and towns.
As the largest of the Cycladic Islands, Naxos also has a range of day trips and tours to choose from.
Whilst I've already covered a lot of things to do in Naxos in this Naxos Travel Guide, I think these Naxos tours will give you a deeper experience of both the island and the culture.
I've divided some of the best activities into sections. These include tours on Naxos, day trips from Naxos to other islands, and cultural experiences.
Naxos Tours
Interested in finding out more about the island of Naxos? These tours and activities are a great way to do just that!
Naxos Island: Full–Day Historical Bus Tour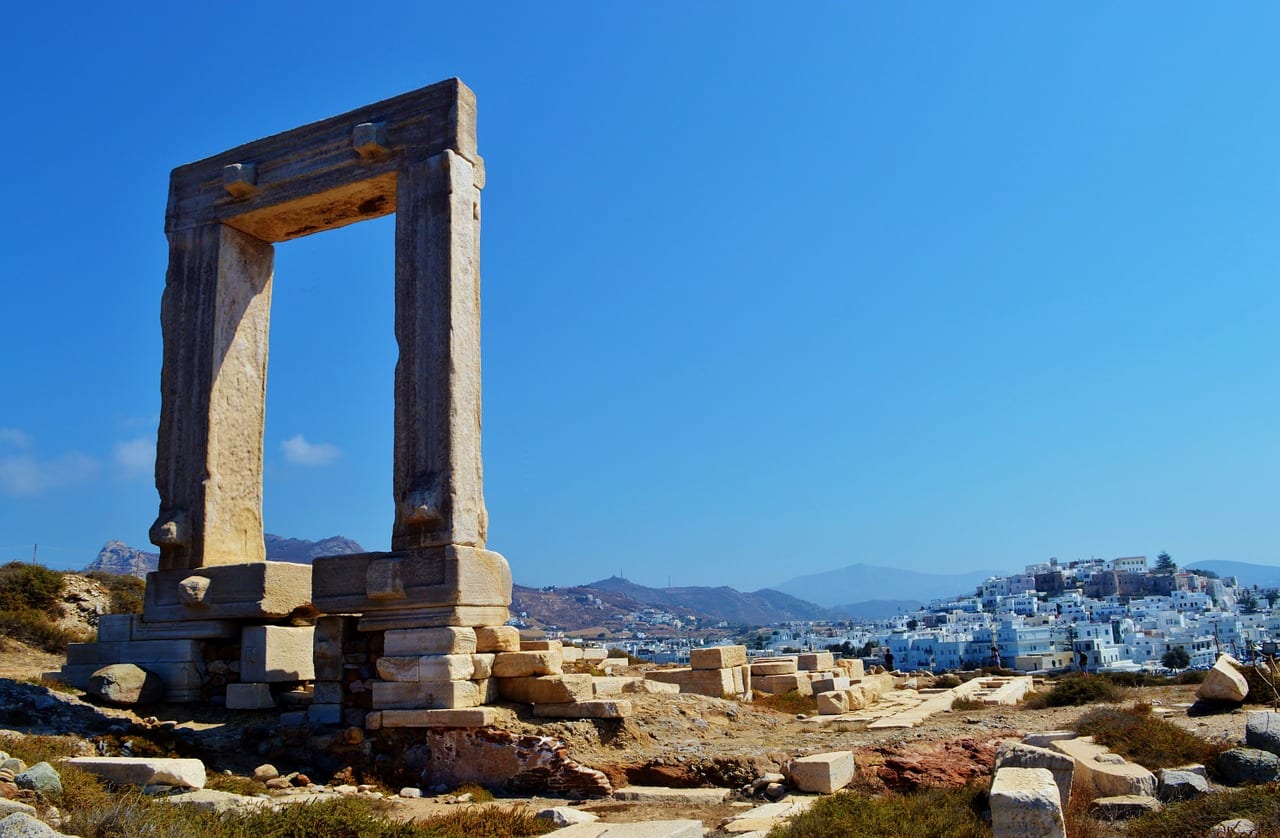 If you only have limited time on Naxos, this historical tour of the island is a great way to get the most out of your stay. Lasting for about 8 hours, you will be taken to traditional villages, see important archaeological sites, taste local cuisine, and even visit a pottery workshop.
Naxos: Greek Cooking Class & Dinner at a Village House
Greek cuisine is one of the best in the world, and Naxos is especially famous for its traditional dishes. This Greek cooking class gives you the opportunity to discover the secrets behind the healthy Mediterranean cuisine.
Lasting for about 4 hours, you will be able to create your own Greek meal under the watchful eye of a friendly local. A great experience, especially for families!
Full-Day Sailing Cruise and Rina Cave Visit
This full day sailing tour from Naxos is great fun! The exact itinerary changes due to weather and time of year, but you can expect plenty of opportunities to swim, snorkel, and get all the Instagram shots you could ever dream of!
Visit incredible places like the Rina Cave, Kalados Bay, Schinoussa Island or Paros & Antiparos and enjoy a day on the sea. It can be a long day for families with young kids, but perfect for couples and families with teens!
Day Trips From Naxos
Due to its central location in the Cycladic island chain, Naxos is a good place to take day trips to other islands such as Santorini and Mykonos. Each one of these day trips from Naxos is a great way to get a taste of some other beautiful Greek islands.
Naxos to Mykonos Day Trip
If Mykonos isn't already on your Greek travel itinerary, then this day trip from Naxos to Mykonos is a great idea. The entire day is around 10 hours long, and gives you 6 free hours when in Mykonos.
There's plenty to see and do around the old town, including the Little Venice area, climbing up to the windmills and walking around the whitewashed alleyways.
Note: You can also just about put your own day trip to Mykonos together by taking a ferry from Naxos to Mykonos.
Naxos to Delos and Mykonos Full-Day Boat Trip
This is a nice variation on the sailing trip from Naxos to Mykonos described above, as it includes a visit to the UNESCO World Heritage Site of Delos along the way. It does of course reduce the amount of time spent in Mykonos to 3 hours though – but it's a nice balance especially if you want to tick a UNESCO site off your list!
Naxos to Santorini Day Trip
If Santorini is not on your travel itinerary, you can still visit on a day trip from Naxos. The total length of the tour is around 12 hours, and it also includes a bus tour of the island.
If you'd love the chance to take photos of the pretty towns of Oia and Fira, this Naxos to Santorini day trip is for you!
If you want to visit Santorini for longer, here's the Naxos to Santorini ferry information you will need.
Naxos to Koufonisia Day Trip
Koufinisia is a collection of 3 main but very small islands. These are barely inhabited, but incredibly beautiful. This day trip is basically just the tickets over, and then you are left to your own devices. I'd suggest renting a bike to get around, or just taking it easy.
Pin these Naxos Tours for later
If you would like to pin this to your board for later, just use the image below. For travel planning, take a look at my Athens to Naxos ferry guide and also how to get from Naxos to Ios. You may also want to read my where to stay in Naxos travel guide, along with some background information to the famous Portara of Naxos.
Interested in more specific Greece sightseeing itineraries? Check out these 10 Greece itinerary ideas.