There's only one direct ferry a week sailing the Milos Tinos ferry route, and the crossing takes 6 hours and 50 minutes.
How to get from Milos to Tinos
If you've decided that you want to visit the Greek island Tinos straight after Milos, you have a couple of different options.
With only one direct ferry sailing from Milos to Tinos every week, it may be better to take an indirect route between the two Greek islands. This guide shows the different options on traveling from Milos to Tinos by ferry.
The first, is to wait for the once a week ferry leaving from Milos to Tinos. This is a Blue Star Ferries vessel, and takes about 6 hours and 50 minutes to complete the journey.
Typically, this ferry runs on a Wednesday, but the day of the week may change depending on seasonal demand.
Perhaps the better option for most travelers would be to take an indirect ferry. This would mean sailing to another island first, swapping ferries, and then sailing on to Tinos.
Ferries to Tinos
There's a couple of choices of indirect route you could take to get to Tinos from Milos.
The first, would be to take a Milos to Mykonos ferry, and then take a Mykonos to Tinos ferry.
Another idea, would be to first take a ferry from Milos to Syros, and then wait for the Syros to Tinos boat.
Whilst the overall travel time might be about the same once you have taken into account waiting between ferries, you are able to travel everyday between Milos and Tinos using the indirect options.
The best place to look at up to date schedules and book tickets online is Ferryhopper. You'll find they have an island-hopping option which is ideal for planning the Milos to Tinos route.
Tinos Island Travel Tips
Tinos is an island few foreign visitors spend much time at when compared to other islands on the Cyclades. This is a shame, because I think you could easily spend a week there and feel you've barely scratched the surface.
A few travel tips for visiting the Greek island of Tinos:
---
---
---
---
What to see in Tinos Greece
I've co-written a book about Tinos which you can find on Amazon: Tinos and Andros travel guidebook.
I've also got lots of information here on the blog about it. You can find the different sections by using the links below:
Travel from Milos to Tinos FAQ
Some commonly asked questions about traveling to Tinos from Milos include:
How do you get to Tinos from Milos?
The best way to make a journey from Milos to Tinos is by ferry. There is a once a week direct ferry sailing to the Cyclades island of Tinos from Milos, with daily indirect options available if you travel via the islands of Mykonos or Syros first.
Does Tinos have an airport?
The island of Tinos does not have an airport, and so you can not fly there from Milos. The closest airport to Tinos would be on Mykonos island.
How many hours is the ferry from Milos to Tinos?
The ferries to Tinos island from Milos take around 6 hours and 50 minutes. Ferry operators on the Milos Tinos route may include Blue Star Ferries.
How do I buy ferry tickets to Tinos?
The best place to look at Greek ferries for Tinos online is Ferryhopper. Although I think it's better to book your Milos to Tinos ferry tickets in advance, you could also wait until you are in Greece, and use a travel agency.
---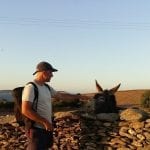 –
Dave Briggs
Dave is a
travel writer
living in and writing about Greece. In addition to creating this guide to ferries from Milos to Tinos, he's created many other Greek island travel guides. Follow Dave on social media for travel inspiration from Greece and beyond: