The Syros Tinos ferry crossing is one of the quickest in Greece, taking just half an hour. There is one ferry per day sailing from Syros to Tinos, with some additional services around 3 times per week.
How to get from Syros to Tinos
The Greek island of Tinos is quite literally a short hop away from Syros, as the journey takes barely half an hour on the ferry. In fact, you will probably spend more time waiting for the ferry at the port than on the boat itself!
During the busy summer months, there is a baseline of one Syros Tinos ferry per day. This is supplemented by an additional 3 ferries per week which leave on different days from Syros to Tinos.
These ferries to Tinos from Syros are operated by Blue Star Ferries, Minoan Lines and SeaJets. I've seen ticket prices as low as 4.00 Euro per foot passenger during the off-season travel period. You could probably expect to pay a little more than that during the summer.
The simplest place to look at schedules for Greek ferries and prices is at the Ferryhopper website.
** Travel Guide to Andros and Tinos now available on Amazon! **
Blue Star Ferries
Although there are three ferry companies on the Syros Tinos ferry route, it's Blue Star which provide the backbone of the schedules.
They offer a regular daily ferry from Syros to Tinos even during the low season. This year round ferry schedule normally departs at 11.30 in the morning, but may vary from season to season.
Tinos Island Travel Tips
A few travel tips for visiting the Cyclades island of Tinos after Syros:
---
---
---
---
---
---
---
---
Syros Tinos Ferry Route FAQ
A few of the questions readers ask about traveling to Tinos from Syros include:
How can you get to Tinos from Syros?
The best way to travel from Syros to Tinos is to take a ferry. There is normally one ferry per day, with an additional 3 ferries per week sailing to the island of Tinos from Syros.
Is there an airport in Tinos?
The island of Tinos does not have an airport, so you can't fly there. The closest airports to Tinos are on the islands of Syros and Mykonos.
How many hours is the ferry from Syros to Tinos?
The ferries to the Greek island of Tinos from Syros take between half an hour and 50 minutes. Ferry operators on the Syros Tinos route may include Blue Star Ferries and SeaJets.
Where do I buy ferry tickets to Tinos?
Ferryhopper is perhaps the easiest website to use when it comes to booking Tinos ferry tickets online. Although I suggest you book your Syros to Tinos ferry tickets in advance, you might also go to a travel agency in Greece after you arrive.
More Cycladic Islands To Visit From Syros
Other popular destinations with direct ferries from Syros you might ant to consider during your Greek island hopping vacation include:
---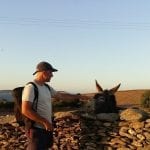 –
Dave Briggs
Dave is a
travel writer
currently based in Greece As well as writing this travel guide about ferries from Syros to Tinos, he's written hundreds more guides to other destinations in Greece. Follow Dave on social media for travel inspiration from Greece and beyond: