There are 2 or 3 direct ferries sailing from Milos to Ios island in Greece per week. This travel guide has information on schedules, crossing times, and more.
Travel from Milos to Ios
One of the fun things about traveling around the Cyclades islands in Greece, is taking ferries between the islands. Nothing quite beats waving goodbye to one island, and then welcoming the next!
If you want to visit Ios island after Milos, you have two options when it comes to planning your ferries. The first, is to take a direct ferry between Milos and Ios, and the second is to take an indirect ferry.
Note: Even though Milos has an airport, flying from between Milos and Ios is not possible as Ios does not have one. The airport in Milos connects only with Athens.
Check the latest ferry schedules and buy ferry tickets at: Ferryhopper
Direct Ferries to Ios from Milos
During the peak months of summer, you might expect up to 2 or 3 direct ferries per week from Milos to Ios. These ferries to Ios from Milos are operated by Blue Star Ferries and Zante Ferries.
The quickest ferry from Milos going to Ios takes around 3 hours and 45 minutes. The slowest ferry sailing to Ios from Milos island takes around 4 hours and 10 minutes.
You can generally expect faster ferries to have more expensive ticket prices, although in this case, there's probably not that much difference as all the ferry companies are about the same. Typically, fares for this route between the popular destinations of Milos and Ios have a price of around 15.00 Euros for passengers.
The best place to look at up to date schedules and book tickets online is Ferryscanner.
Indirect Milos to Ios Ferries
Taking an indirect route to Ios from Milos will give you the flexibility to travel on any day of the week. Just keep in mind that overall, it will probably take a little extra time (as you'll need to wait between ferries), and may be more expensive.
The most logical route to take, would be to first take a Milos to Paros ferry. Once there, you would then take a ferry from Paros to Ios.
As I mentioned, Ferryscanner is a good place to start planning out Greek island-hopping routes.
Milos Ios Ferry Route Notes
Passengers should know that the Zante ferry company operating on this route often does not release their timetables very far in advance.
This means that if you are looking for ferries in April, but plan to sail in August, you might not find any trips available.
It can be rather annoying for visitors especially if they want to get the logistics of their vacations in the Cyclades group organized well before they go. That's life though unfortunately!
Ios Island Travel Tips
A few travel tips for visiting the Cyclades island of Ios:
---
---
---
---
---
Some of my Greek travel blogs and videos about Ios island in Greece might be useful when deciding what to see and do:
How to get from Milos to Ios FAQ
Some commonly asked questions about traveling to Ios from Milos include:
How do you get to Ios from Milos?
The best way to make a journey from Milos to Ios is by ferry. There are 2 or 3 direct ferries per week sailing to Ios from Milos, with the option of taking indirect routes every day via Paros.
Is there an airport in Ios?
The Greek island of Ios does not currently have an airport, so the only way to reach the island is by ferry. The closest airport to Ios is on the island of Santorini.
How many hours is the ferry from Milos to Ios?
The ferries to the island of Ios from Milos take between 3 hours and 45 minutes and 4 hours and 10 minutes. Ferry operators on the Milos Ios route may include Blue Star Ferries and Zante Ferries.
How do I buy ferry tickets to Ios?
The best place to look at Greek ferries to Ios online is Ferryhopper. Although I think it's better to book your Milos to Ios ferry tickets in advance, you could also wait until you are in Greece, and use a travel agency.
How far is Ios from Milos?
The distance between Ios and Milos Island is 74 km or about 46 miles.
---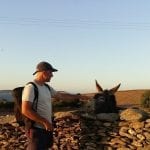 –
Dave Briggs
Dave is a
travel writer
who has been based in Greece since 2015. As well as writing this guide about ferries from Milos to Ios, he's written many more guides to Greece and the islands. Follow Dave on social media for travel inspiration from Greece and beyond: