There is only one direct ferry a week sailing from Milos to Andros, but there many indirect route options available. This guide gives you the best options for Milos Andros ferry travel.
Milos Andros Ferry Route
Both Milos and Andros are popular destinations in the Cyclades group of islands, but they aren't very well connected by direct ferries.
The reason for this, is that they are not on the same logical ferry route. As a result, there's only one direct ferry sailing the route Milos to Andros, and travel times are a whopping 9 hours!
You should also note that this ferry sailing from Milos to Andros doesn't go every week, month or even year!
So, let me say straight out of the gate that I think you are better off visiting another destination directly after Milos instead. You can take a look here for the islands near Milos which might make better choices.
Things do change from time to time of course. Take a look at the latest ferry schedules and timetables at: Ferryscanner
Ferries to Andros from Milos
The first option is to take a direct ferry. Unfortunately, there's only one of these per week operated by Blue Star ferries. The crossing time is around 9 hours, so you'll need to factor this into your travel plans.
If you're on a months long backpacking tour around the Cyclades in Greece it might not bother you. It would be a big chunk of a week long vacation though.
The second option is to go via another island first. I think it makes the most sense to take a Milos to Mykonos ferry, and then a Mykonos to Andros ferry.
Another possibility, would be to take a ferry from Milos to Syros, and then another boat from Syros to Andros.
Whichever of these suggestions you go for, keep in mind that you'll need to work out how much waiting time you have between boats. You may find it easier to just spend a day or two on an island between Milos and Andros.
In short, unless you absolutely have to visit Andros directly after Milos, you might be better off thinking of going to another island instead.
The best place to look at up to date schedules and book tickets online is Ferryhopper. They have an island-hopping option that makes it quite easy to plan trips.
Andros Island Travel Tips
Don't discount visiting Andros however, because it is a fantastic island! In fact, I loved it so much I co-wrote a guidebook about it which you can find on Amazon here: Andros and Tinos Guidebook.
A few travel tips for visiting the Greek island of Andros:
---
---
---
---
Milos to Andros by Ferry FAQ
Some commonly asked questions about traveling to Andros from Milos include:
How do you get to Andros from Milos?
The best way to make a journey from Milos to Andros is by ferry. There is a once a week direct ferry sailing to the Cyclades island of Andros from Milos, with options for indirect routes if you choose to swap ferries at Mykonos or Syros.
How many hours is the ferry from Milos to Andros?
The direct ferries to Andros from Milos take between and 9 hours. Ferry operators on the Milos Andros route may include Blue Star Ferries.
How do I buy ferry tickets to Andros?
The best place to look at Greek ferries online is Ferryhopper. Although I think it's better to book your Milos to Andros ferry tickets in advance, you could also wait until you are in Greece, and use a travel agency.
---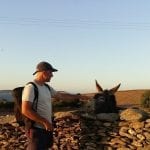 –
Dave Briggs
Dave is a
travel writer
based in Athens, Greece since 2015. As well as creating this guide to ferries from Milos to Andros, he's written many more travel blog posts about destinations in Greece. Follow Dave on social media for travel inspiration from Greece and beyond: