Ferries run from Oropos (Skala Oropou) on mainland Greece to Eretria on Evia island every half an hour between 07.00 and 20.00. Oropos – Eretria ferries operate all year through.
Oropos – Eretria Ferries
The ferry crossing between Oropos and Eretria is convenient for people planning a day trip from Athens to Evia, or anyone who wants to spend longer on the Greek island of Evia.
Oropos (sometimes referred to as Skala Oropou) is located about 50 kms away from Athens center, and it takes an hour to drive there. A taxi ride from Athens would cost about 65 Euros with Welcome Pickups.
There are public transport options thanks to the KTEL buses provided by Ktel Attica. No trains from Athens run to Oropos.
The last time I went there, I actually cycled from Athens to Skala Oropou to take the ferry over to Eretria! It took me just over 3 hours with my fully loaded touring bicycle – there's a few hills to cross along the way! Read more here about my shakedown bicycle trip.
Ferries sail from Oropos every half an hour between the hours of 07.00 and 20.00 in the summer. The operating hours may be shorter in the winter, but ferries do sail on the Oropos Eretria route all the year around.
Oropos Eretria Ferry Route
Ferries between Oropos and Eretria are operated by two ferry companies. Each company leaves every hour on alternate half hours. This effectively means there's a ferry from Oropos to Eretria every half an hour.
I like to think of these ferries as the red ferry and the white ferry! The red ferries between Oropos and Eretria are operated by Tsokos Lines, the white ferries from Oropos to Eretria are operated by Oropos-Eretria Ferries.
Unlike many ferry routes in Greece, you can not pre-book ferry tickets from Oropos to Eretria online with Ferryhopper. Instead, you just buy them from the ticket booth when you arrive at the port of Skala Oropos.
Current ticket prices are 3.00 Euro for adults one way. Probably better to have some cash ready than pay by card. Cars and motorbikes cost extra – My bicycle traveled for free on both trips!
There is a small waiting area at Skala Oropos, and also a kiosk and cafes close by for any last minute snacks.
Ferry Ride Between Oropos And Eretria
The ferry trip itself between Skala Oropou and Eretria takes about 25 minutes. Boarding is very quick, and the turn-around takes 5 minutes.
Both ships sailing on this route have a similar design. There is a single vehicle deck, and up a couple of flights of stairs, an indoor seating and cafe area with toilets. There's also some seating outside if you prefer the fresh air on the ferry journey.
The procedure to get off the ferry is as swift as the embarking procedure – it's one of the easiest and smoothest ferry rides in Greece!
Once in Eretria, you can decide to visit the excellent museum and archaeological spaces, or venture on into different parts of Evia island. Did you know that Evia is the second largest island in Greece?
There is plenty to see and do there, especially for people who enjoy nature and outdoor activities! Read more here: Things to do in Eretria
There is a campsite about 1 kms from the ferry port, and a number of hotels to choose from if you want to spend a night or two in the town. The town has supermarkets if you want to stock up before driving to more remote parts of the island.
As you might expect from a port town, there are also plenty of places to eat and drink in Eretria.
Latest Travel Posts
---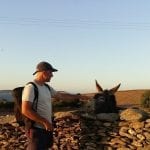 – Dave Briggs
Dave is a travel writer who's been living in Greece since 2015. In addition to this guide on traveling from mainland Greece to Evia using the Oropos Eretria ferry, he's written hundred's of other ferry travel and Greek destination guides.
Follow Dave on social media for travel inspiration and more Greece travel secrets: