The walk from Kamari to Ancient Thera and on to Perissa in Santorini gives you the opportunity to visit an archaeological site few people have heard of, and enjoy some stunning views.
Hiking from Kamari to Ancient Thera and then Perissa
Santorini may be more well known for its white-washed buildings, blue-domed churches and caldera views, but there's much more to this beautiful Greek island. For example, few visitors realize that Santorini has some great hiking trails.
I've already written about the Fira to Oia hike, but another lovely walk to take in Santorini, is the path from Kamari to Ancient Thera to see the archaeological site, and then on to Perissa.
This easy to follow trail is ideal for people staying at the black sand coastal resorts on the east coast of Santorini. You can also take a bus from Fira to Kamari if you are staying in another part of the island.
Anyone with average fitness will be able to make the walk, which is non-technical in nature. There are some steep sections, but this just gives more opportunity to catch your breath and take photos of the views!
One tip for the Kamari – Ancient Thera – Perissa hike: You'll want to do this walk as early as you can. Whatever you do, don't try it in the midday sun during the summer!
Starting the hike from Kamari to Ancient Thera
The walk to Ancient Thera can be made in either direction. I'll be writing about the Kamari to Ancient Thera direction. It's the one my girlfriend and I took when making the hike in late March (we love off-season travel to Santorini!).
As we were staying in Fira, we took the bus in to Kamari, and then walked to the beginning of the trail. Walking from the stop to the trailhead can take another 10 minutes or so, but allow longer if you want to walk along the beach first as we did.
If you look here on Google maps, you'll see that there is a zig-zagging road that leads up to Ancient Thera. While you could walk that, it is quite boring (although useful if you want to come back down instead of going on to Perissa).
Instead, the hiking path is a much more interesting way to walk from Kamari to Perissa. Unfortunately it is not directly marked on Google maps, so keep your eyes peeled for these two signs as you approach the part where the tarmac road starts to climb.
It is more or less where Antinea Suites & Spa Hotel is marked on the map.
Then you'll see the start of the path. As we hiked in March, the path was a little overgrown at the start, but in the summer, it will be a lot more barren and easy to spot!
For the most part, the path leading from Kamari to Ancient Thera is cobblestone.
Onwards and Upwards!
Now, I'm not going to lie, at this point, you have a lot of uphill in your future! This is because ancient Thera is set at around 365 metres high, and you'll be basically starting at sea level.
There's little shade along this section, so keep in mind in the summer you want water, sunhat, and sunblock. A pair of sneakers rather than flip-flops will also make your life easier, although you'd probably cope in good sandals.
The footpath continues up, through a rock-climbing area (who knew that rock climbing was a thing in Santorini – you live and you learn!), and on to the Church and Spring of Zoodochos Pigi which is about the halfway mark.
Spring of Zoodochos Pigi
This welcome little oasis provides a good opportunity to cool down for a few minutes. The spring itself was once the main water source for Ancient Thera, and also an important water source for the rest of Santorini in ancient times.
Don't get too comfortable though, you've still got some stairs to climb!
The trail now continues on to Ancient Thera, and passes through the Necropolis of the city. You'll get some great views of Kamari along the way, which also provides opportunity for cheesey selfies!
At some point, you join the zig zagging road for a short distance, and will spot a park bench underneath a tree. This is a great place to have a snack and rehydrate from the walk. The entrance to Ancient Thera is just a minute away.
Ancient Thera in Santorini
Just before the entrance to the archaeological site is a snack bar (closed in the off-season), and a signpost which indicates the path to follow if you want to carry on to Perissa. There's also a small information board, and some car parking for those lazy (sensible?!) people who chose to drive up to Ancient Thera instead.
Ancient Thera is open throughout the year (closed on Tuesdays).Opening hours are 08.30 – 15.30 with a last admission of 15.00. The admission price is 6 Euros with some concessions for children, seniors and students.
Although there are toilets onsite, they were closed for use during our visit ( and in the off-season completely) which we didn't find very helpful at all!
One of my little niggles about Santorini, is that it positions itself as a premier destination in Greece, and yet fails on the simplest things such as providing toilets for its visitors. And let's not get started about the giant open-air landfill outside Fira!
Anyway, I digress… back to Ancient Thera.
City of Thera
The origins of the city are documented as a mix of historical findings and Greek mythology/legend – as many places in Greece are!
After the explosion of the volcano that destroyed Akrotiri, the islands was deserted for many years until 1200 BC when a coastal settlement developed.
In the 8th century BC, Dorian settlers from Sparta lead by their leader Theras created a city state which was the named after him.
The continued rebuilding from this period through to the Hellenistic-Roman times means that few original buildings survived. What are left though are from mixed periods still at least 2000 years old!
As a result, there's an early Christian basilica, an Agora, a Ptolemaic Garrison Post, Apollo Pythios Sanctuary, a Gymnasium, Roman Baths and Sanctuary of Egyptian Gods.
The archaeological site is very big and you can easily spend an hour there. You also get great views from the top!
Exit the archaeological site, and then you have a choice. You can walk back down to Kamari, or go on to Perissa.
Ancient Thera to Perissa path
You should allow about 40 minutes for walking the section from Ancient Thera to Perissa. Although this path is clearly marked on Google maps, the irony is that it is in much worse condition than the section from Kamari you will have just walked!
Expect loose gravel and a reasonably steep descent as you head to the other black sand beach resort in Santorini – Perissa.
It's always easier going down though, and soon enough you'll be able to head to the sea and go for a dip if you want to cool off!
From Perissa, it's an easy bus ride back to Fira. If you are going back to Kamari, keep in mind that buses don't usually run between Perissa and Kamari. You may need to get one to Fira, and then another to Kamari. Apparently, Vanessa's Dad swam back to Kamari from Perissa in the 1970s, but I don't recommend it!
Want more Santorini travel ideas and tips? Take a look at these guides:
---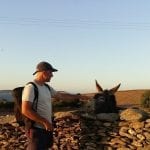 – Dave Briggs
Dave is a travel writer who's been hiking in Santorini many times during the years he's lived in Greece since 2015. In addition to this guide to the hiking path between Kamari, Ancient Thera, and Perissa, he's hundreds of other Greece travel tips and insights in his guides and blog posts.
Follow Dave on social media for travel inspiration from Greece and beyond: