Traveling to Greece? Here's some essential Greece travel tips from an expat and a local, who present all the things to know before traveling to Greece.
Greece Travel Tips
I've now been living in Greece for just over 8 years… time flies! During that time, I've enjoyed traveling around Greece by bicycle, car, bus, ferry, and train.
I've been to most of the popular places like Santorini, Meteora and Delphi, but I've also explored off-the-beaten-path-places, wild mountains, lakes, and little islands like Iraklia and Schinoussa.
So, whilst I haven't been everywhere, I've got a good idea for what traveling in Greece is about. And, being a non-Greek, I have a pretty good idea of what other people might need and be looking for when planning their own trips to Greece.
I've had a little help along the way – namely from Vanessa my Greek girlfriend who has also contributed to this travel blog about things to know about Greece before your go.
Combining our knowledge as an English expat and a Greek native, we've come up with perhaps THE most extensive list of travel tips and things to know before traveling to Greece.
Let's dive in on what to know when traveling to Greece.
---
Rules are Guidelines
Before we start on these travel tips for Greece…
If there's one thing that will help you to understand the Greek mentality it's this – rules are guidelines.
Unlike the UK or Germany where laws are there to be followed or there are consequences, rules in Greece are there to be subtly bent and interpreted to the benefit of the individual.
You'll see examples of this everywhere when travelling in Greece. – Cars left parked on the pavement blocking pedestrians, vehicles running red lights, motorbike helmets not worn, receipt machines mysteriously not working.
I mean, we're talking about a country where the ex-health minister smoked at an anti-smoking press conference!
So, keep this in mind when you read sections on smoking, driving, and being a pedestrian further down in this article about Greek travel tips. It will help you make sense of things!
Packing for Greece
The first and most important piece of advice we have to give you – pack light for your vacation in Greece! There is no reason why you should bring too much stuff, especially if you are here for summer.
Your knees will be thanking you, as you won't have to drag heavy suitcases around cobbled streets and several flights of stairs on the Greek islands.
In fact, some people who visit Santorini and similar hilly islands, comment that they would have preferred bringing a backpack rather than a suitcase because of the stairs. Perhaps a wheeled backpack might be worth considering?
What clothes do I need for Greece?
In terms of clothes, all you need as a guy would be a few t-shirts, perhaps a more dressy shirt, a couple of pairs of shorts, one pair of trousers, underwear, one jacket for air-conditioned spaces, a pair of walking shoes and some flip-flops for the beach.
There is really no reason to bring more clothes, as you genuinely won't need them.
For ladies, a couple of tank tops and skirts or shorts, a couple of dresses, plus a pair of leggings or trousers, some underwear, a jacket and a shawl, pashmina or sarong for the beach are more than enough.
Make sure you bring a bikini or two – US / UK readers should know that Greek swimsuits might be a bit skimpier than what you are used to, so make sure you bring your favourite with you.
Women's shoes deserve a special mention. It can be hard to walk on the cobbled streets that are almost everywhere in Greece, so just leave your heels at home and bring comfortable, non-slip shoes and a pair of flip-flops for the beach. Vanessa swears by these light, anti-slip Teva sandals that are suitable for the ancient sites but also for the beach.
To be fair, both the Mrs and I are quite good at packing light .We only had hand luggage for our recent 5-month trip to Asia. So, if we can do it, you can do it!
Pro Tip: Choose light fabrics that are easy to wash and dry quickly, and avoid dark colors – you don't want to be wearing a black t-shirt in the midday sun.
Related: Best time to visit Greece
Do I need to bring toiletries to Greece?

If you are travelling with hand luggage only, you will need to pack all your liquids in a small transparent bag, and each bottle should be no bigger than 100ml. For most people this is fine, and most hotels provide toiletries anyway.
If you are travelling with checked luggage, you can take as much as you want, keeping in mind our packing light for Greece tip mentioned before.
In terms of sunscreen, a few visitors have found that it can be too expensive in Greece. This is true only if you look for sunscreen at touristic places or on the islands. It's understandable as everything has to be transported to the islands, adding to the cost.
Our advice is to bring sunscreen with you if you can. If you need to buy more in Greece, try bigger supermarkets or pharmacies.
Prices can start at less than 5 euro for 200 ml, so it's not exactly going to break the bank. You are obviously going to want to avoid buying sunscreen anywhere near a touristic place or near the beach – prices can be double or triple!
Another thing that you might find useful is mosquito spray. Mosquitoes in Greece aren't really dangerous, they are just incredibly annoying.
There are many brands of mosquito spray readily available everywhere in Greece. Failing that, always travel with someone who is more attractive to mosquitoes than you are!
Bottom Line: You can find plenty of brands of toiletries and cosmetics in Greece, and there are also some great local brands that you might want to try. If you are particular to a specific brand though, feel free to ask us for advice before you travel.
Athens Airport To The City Center
If you are flying into Athens, you may be spending a few days in the capital, or leaving directly for the islands or another destination in Greece. Unless you are flying to one of the islands, you will need some form of transportation to your hotel or the port.
While the cheapest way from Athens airport is the bus, it might also be the slowest, or you can take the Athens Airport metro or the suburban railway. In both cases, take care of your belongings as some thefts have been reported over the years.
If you have a backpack, it's best to wear it in front of you or at least keep it close to you.
In this article, I have described in detail how to get from the Athens airport to the city centre, or to Piraeus port. However, it might be easier to get a pre-booked taxi, especially if you've just had a very long flight.
Getting around Athens
Depending on your decision where to stay in Athens, you might actually be able to avoid transportation altogether, as the centre is in fact fairly compact. Certainly, the historic centre is easily and best covered on foot, and you can't drive to the Acropolis in any case.
Alternatively, you can use public transport such as the bus or metro (1.40 per person, valid for 90 minutes), or a taxi.
Taxis in Athens
The taxis in Athens are easily identifiable due to their yellow colour. All taxis are officially registered with licenced drivers. That doesn't mean everything is perfect though.
Taxi Scams in Athens: Apparently, you might still come across the old taxi scam in this day and age. The best way to deal with that is to have a rough idea of prices before you get in, and make sure the meter is on.
If you are going around the centre, you really shouldn't pay more than 4-5 euro. Just bear in mind that charges are higher between midnight and 5am, and there is a small surcharge during holiday periods.
If you want to know in advance what you are paying and avoid surprises, you can use an app called Beat. In Greece, the well-known Uber app doesn't give you an estimate of what you will pay, so it's not really very useful.
Outside of the historic centre and into the neighborhoods of Athens, finding your way might be harder than you think. The city was built haphazardly for the most part, and this is reflected on the charming little streets, especially around Plaka and Psyri areas. Don't consider it being lost, more like visiting streets you hadn't planned to!
Pro Tip: Download the Google Maps app, and then download the offline map for Athens. You can also use maps.me, once you familiarize yourself with it.
Related:
Life as a pedestrian in Athens
As a pedestrian, do not assume that you can cross a zebra crossing straightaway! Look both ways, even if you are on a one-way street, and cross quickly and carefully. Cars are for the most part unlikely to stop if you go to cross. Wait for a gap in the traffic.
The same goes if there is a green traffic light for pedestrians – just make sure there are no cars coming before you cross, especially from around corners.
The only areas of Greece where pedestrians are given any thought by motorists, seems to be the city of Trikala in north Greece, the zebra crossing at the Athens airport, and one crossing from Syntagma Square Athens towards Ermou Street.
Last thing – pay attention to the motorcycles! There are all sorts of motorbikes, vespas and mopeds in Athens. It might not be as bad as Hanoi, but it might be something new to you.
Getting around Greece
Getting around Greece isn't always straightforward, mostly because sometimes it's hard to find the information in English. That's why we've included a few extra notes about transportation in these tips for travelling to Greece. I've also a deeper look here at how to travel in Greece.
In general, there are five main ways to move around the country without taking a tour – ferries, airplanes, the train, KTEL buses and driving.
Ferries in Greece
Greece has allegedly over 6,000 inhabited and uninhabited islands. As you can imagine, there are hundreds of ferries and smaller boats sailing all around the country on an everyday basis.
Greece's biggest port is Piraeus, a few kilometres away from Athens. Getting from Piraeus to the islands is fairly straightforward if you have done it before, but it can be very confusing if it's your first time. We've written an extensive article about ferries from Piraeus to help you out.
Athens also has two other ferry ports, which are Rafina and Lavrio. I personally find Rafina port to be easier to use and less stressful when I have a choice of where to depart from.
Not all of the Greek islands can be reached Piraeus port and the other Athens ports. As an example, the Sporades islands can be reached through Agios Konstantinos on the east side of the mainland. The Ionian Islands such as Corfu and Kefalonia can be reached from the port of Igoumenitsa.
Greek Island Hopping Tips
If you want to island hop in Greece, our best advice is to choose islands that are directly connected to each other. This is basically what makes the Cyclades islands an ideal island hopping destination.
As an example, Mykonos and Santorini, Naxos and Mykonos, are great combinations as they are in the same Greek island chain. Take a look at how to get from Athens to the Cyclades islands for more details.
You only need five minutes looking at a map to realise that trying to combine islands like Crete, Zakynthos and Skiathos together probably isn't going to work. Although you would be surprised how many times I am asked if it's possible!
To book ferry tickets online, use Ferryhopper. I love how easy this site is to use!
Types of Greek ferry
Ferries differ a lot – there are big ferries that also carry vehicles, and there are smaller boats, catamarans and sea dolphins that only take passengers.
The best website to check out ferry prices in Greece and to book tickets is Ferryhopper. This is the site we use ourselves as it is so straightforward.
In most cases, you will not be able to print your ticket, but you will have to collect it from the port before your departure, so allow extra time for that.
If you need a specific type of seats or your dates are not flexible, it's best to book in advance, as ferries can be booked out sometimes.
Local ferries between islands, or smaller boats, can generally be booked on the spot. These ferry schedules often change during high season, and they might be hard to find online, or even at all – they are sometimes announced last minute. This is Greece, baby!
Domestic flights in Greece
There are quite a few companies flying domestically in Greece. The biggest one, the partnership between Aegean Airlines and Olympic Air, serves the most routes.
There are only limited direct flights between the islands, so if you want to go from one island to another, you will normally have to go through Athens.
This means that depending which islands you are travelling to and from, the ferry might be the best and quickest option.
As an example, the popular Santorini – Mykonos route is served by several ferries, the fastest one taking only a couple of hours.
If you wanted to fly between those islands, it would take you at least three to four hours.
In other cases though, for example if you want to go from Rhodes to Crete, a domestic flight with a layover in Athens is the best option.
I've a guide here on Greek islands with airports.
Trains in Greece
The train network in Greece connects Athens, Thessaloniki and other cities further north in Greece and the neighbouring countries. It is also one of the easiest ways to get to the town of Kalambaka and visit the amazing UNESCO Heritage Site of Meteora.
Although I have yet to take the train, Vanessa has taken it plenty of times, and apparently the route is really lovely.
KTEL buses in Greece
The long-distance buses in Greece are known as KTEL buses. Each area of Greece has its own KTEL bus company, therefore the relevant information isn't always easy to find as every company has its own website – There's about 80 of them!
Confusingly, KTEL buses from Athens depart from two distinct bus stations, Liossion and Kifissos, neither of which are very close to a metro station. They can both be reached on bus X93 from the airport or by taxi.
Make sure you know which of the two stations you are departing from. Buses for the Peloponnese (e.g. Nafplion or Mycenae), Northern Greece (e.g. Thessaloniki) and Western Greece (e.g. the Ionian islands) depart from Kifissos. Buses for central Greece (e.g. Delphi or Thebes) depart from Liossion station.
Most of the islands also have their own buses, with schedules often depending on the season. They are available online in English – at least for the most popular islands.
If you are going to Greece somewhere you can't find information for, just leave a note in the comments or email us, and we'll try to help you out!
Driving in Greece
If you want to explore mainland Greece, in my opinion the best way is to rent a car. Google Maps works great overall – just download the offline maps of the areas you are planning to go. Some car hire companies also hire out GPS units if you prefer.
Driving in Greece can be an interesting experience, for several reasons that have to do with both the infrastructure and the drivers themselves.
Note: Most of the cars in Greece are stick shift. So, if you are only used to driving an automatic, you may have a learning curve.
Additional Note: Ensure your driving licence is valid for Greece. The EU style licence works fine, but North Americans may have to apply for an International Driving licence for their car rental.
Roads in Greece
Many of the main highways in Greece are actually brand new and in great condition. There is one thing, however, that will surprise you and probably annoy you – the tolls.
There are many toll stations almost everywhere around Greece, and if you are driving for 4-5 hours you are likely to stop quite a few times. And of course pay each time! One of our tips for visiting Greece and using the tollways is to have some coins handy for the tolls.
Off the main highways, you'll notice that Greece has many mountains. If you are coming from a flat country, you might find it tricky to drive on some of the winding mountain roads in Greece. I still remember driving to the temple of Epicurius Apollo in the Peloponnese – crazy!
In terms of gas stations, note that they are all full service – they will even check the air pressure and water level for you. If you are planning to drive a long distance on a Sunday, make sure you have a full tank, as you never know where the next open gas station will be.
Keep in mind that gas on the islands is 10-20% more expensive than in the cities.
Greek Drivers
Now as for Greek drivers – remember when I said Greeks are wonderful friendly people? They are, until they sit behind the wheel.
Then, they undergo a Jekyll and Hyde transformation.
They often speed way beyond the limit, and change lanes all the time. Honking is quite common, especially in the cities.
My advice is to let them drive as they want, and just go on your way. Consider it an opportunity to learn some new and interesting words!
If you can, avoid driving in the big cities, especially Athens. Not only is the driving chaotic, but parking is also a nightmare.
Opening times in Greece
Shops in Greece have really obscure opening times. Coming from the UK, I was really surprised to find that most stores, supermarkets and malls in Athens and other cities are closed on Sundays.
Also, many stores are only open until 15.00 or 16.00 on Mondays, Wednesdays and Saturdays, and from 9.00-14.00 and 17.30-21.00 on Tuesdays, Thursdays and Fridays.
And I genuinely never remember when is a shorter day, or when are longer opening hours. Additionally, shops are open on some seemingly random Sundays, which I'm sure makes sense to someone, but it never has to me yet!
Exceptions
However, there are exceptions to that – as an example, shops around Plaka and Monastiraki area in Athens are open pretty much all day, every day. In some places, there are also mini-markets that will be open on Sundays. If all else fails, try a bakery or the closest kiosk.
Kiosks deserve a special mention – they are small stores on the pavements and they are one of the best things in Greece.
They sell drinks, snacks, cigarettes, newspapers and a few other things, while the biggest kiosks often sell things like umbrellas, handbags, and other things you are likely to need when everything else is closed.
Kiosks are typically more expensive than all other types of shops, but it makes sense as they are often open 24 hours.
Restaurants in Greece also have strange opening times. If you normally have dinner at 18.00, make sure you have some snacks available, as many of the restaurants might be preparing for the evening, especially if you are somewhere remote.
Greeks typically have dinner after 21.00, and you will often see small children up until midnight. In touristy areas and on the popular islands, you will generally find that places are open for longer hours.
Food in Greece
Greek food is a huge chapter. With plenty of vegetarian dishes, but also tons of meat and fish, Greek cuisine is one of the most diverse I've encountered. In fact, the Mediterranean diet is considered to be one of the healthiest in the world.
One thing that defines food in Greece is the attitude towards eating. Dining is really a chance to have a chat and get together – it's a social activity in itself.
Although Greece has its own fast food, the souvlaki, the culture is more geared towards slow food – even a souvlaki lunch can take over an hour.
With coffee in mind, you will soon realize that it's almost a ritual in Greece. Among the most popular types are frappe and freddo, which are served iced cold. Try also the strong Greek coffee, but take care not to drink the sludge at the bottom of the cup. You can find more about the Greek coffee culture here.
Don't put paper in the loo!
One thing that will surprise you if you haven't been to Greece before is that loo paper doesn't go down the toilet, but in the bin. The reason is that drains in Greece are quite narrow, and you don't want the system to overflow – trust us on this!
There are some exceptions, especially in newer buildings in the bigger cities, however if in doubt always use the bin.
The plastic issue
We all know the world has a plastic issue. Unfortunately Greece isn't at the same level with some other European countries you may have been to when it comes to recycling.
We can (and should!) all do a little bit to help. For example, tap water is Athens is fine to drink, so there's no need to buy plastic bottled-water every 5 minutes.
When shopping at a grocery store, you can opt to bring your own shopping bag, and refuse the plastic bags offered for a small fee at markets and supermarkets.
I've got some great tips here: How to use less plastic when you travel
Where to go in Greece?
There is no right or wrong answer to this. So far, there is no place in Greece where we have been and wouldn't go back to. Choose depending on your interests, your budget and time of year.
I like to combine my interests every time I travel in Greece. So, on a 2 or 3 week vacation, I will include archaeological sites, beaches, and outdoor activities.
One piece of travel advice is to not rush around. Greece is a tiny country, but the logistics of travelling from A to B can be quite challenging.
If you have five days in Greece, do not try to fit in Athens, Meteora and Santorini, as you will end up spending most of your time in airports and trains. Choose the places that you really want to see, and leave the rest for your next visit.
How difficult is it to learn Greek?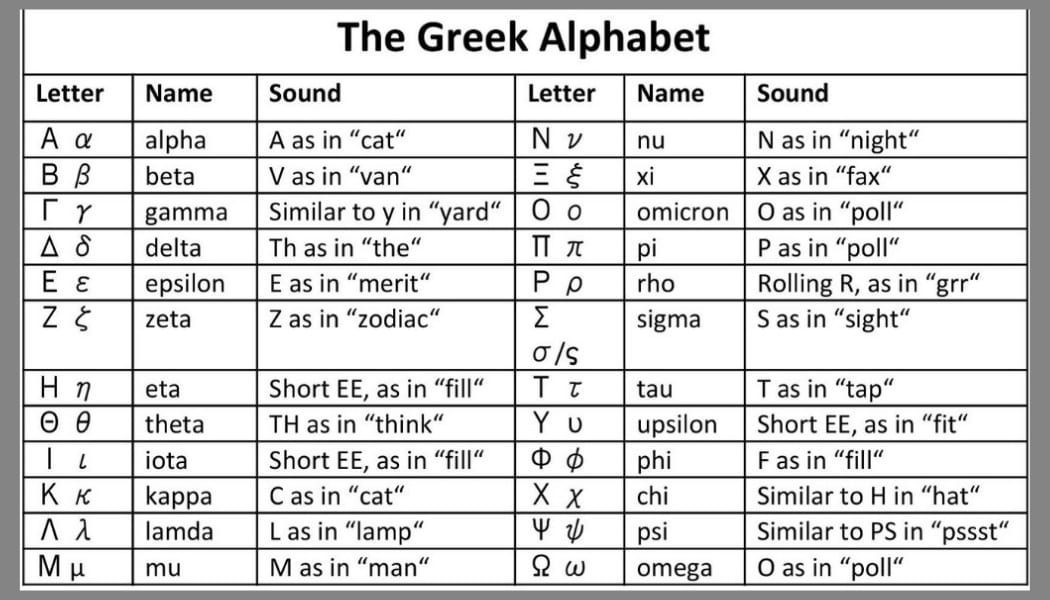 It's not easy! My failures at grasping the language are legendary, but my excuse is that Vanessa's English is great so I don't need to learn Greek.
As a regular tourist, it's unlikely that you won't be able to communicate while in Greece, as most people speak English to a certain degree.
That said, do learn a couple of Greek words – people appreciate it. It will also be very useful to try and understand the Greek alphabet, as you will occasionally find signs that are only written in Greek.
For a short list of key Greek words, have a look at this blog post.
What should I do when changing money in Greece?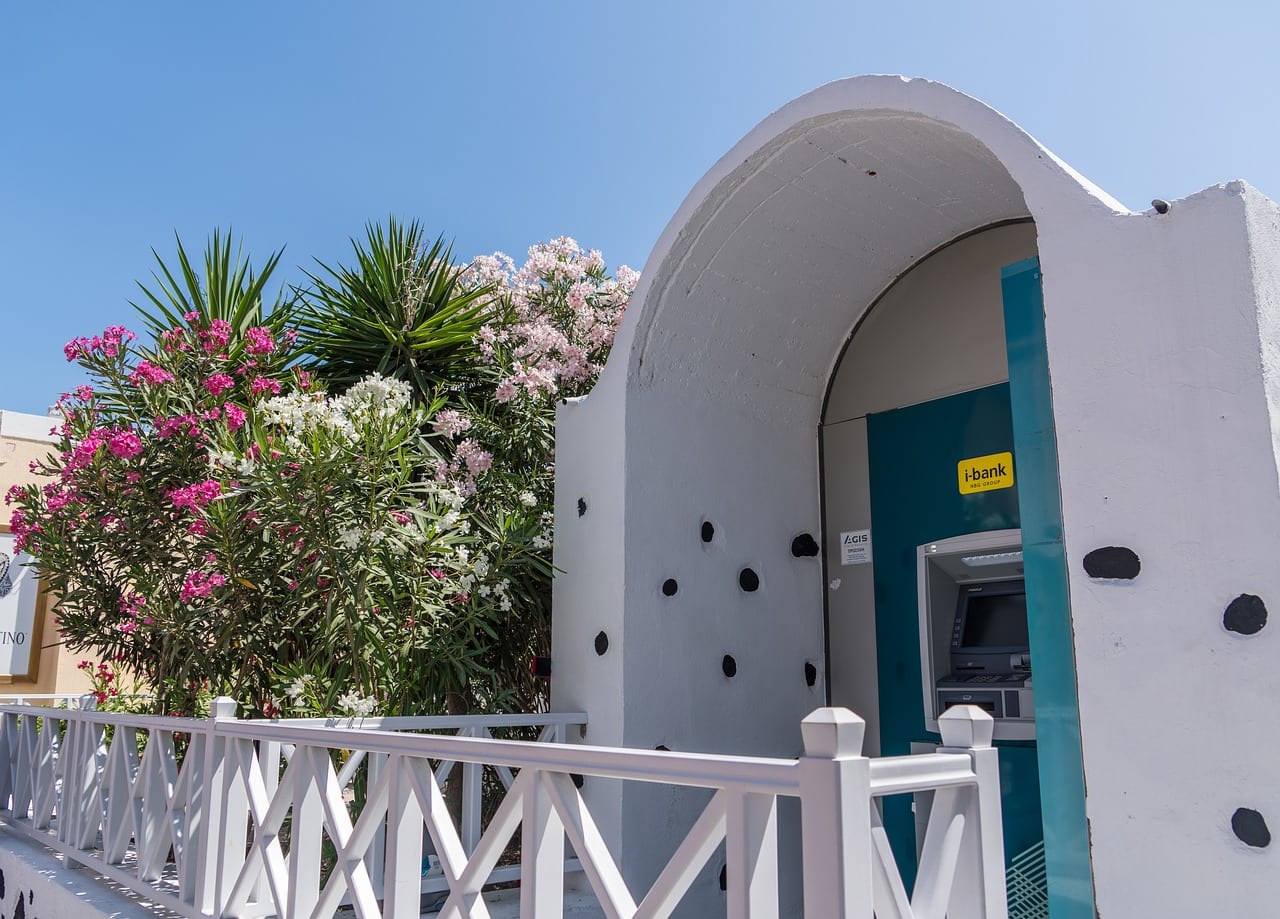 Greece has been using the Euro since 2002. If you come from a country outside the Eurozone, you can change money in your country, but my suggestion is to use ATMs in Greece.
These days there is a flat fee of 2.5 euro per transaction, which is something fairly new to Greece, but I've seen it in many other countries around the world.
Before your trip, ask your bank what they charge for currency conversion fees. Some banks charge 0%, but other banks charge 3% or even more. Check out alternative options, especially if you are a frequent traveler.
Never, ever EVER accept the ATM machines 'guaranteed' rate. It's always terrible! Always opt for your banks rate.
Credit cards are becoming increasingly accepted in most places you might need them (taverna, bar, hotels). On the very small islands they may be more difficult to use.
Pro Tip: I have a card from the UK that offers a perfect exchange rate. Revolut and Transferwise cards are also a good option.
This article has lots of information on money in Greece.
Check out my detailed Revolut Card Review here.
Smoking in Greece
One of the things to know about traveling to Greece, is that Greeks smoke. A lot.
When visiting local cafes or restaurants in winter, it feels like going back to the 1950s because of the smoke!
The anti-smoking law exists, but just like many other laws in Greece it's not fully respected at the moment. Be prepared for this, or even better sit outside – chances are it will be warm enough anyway.
Note from January 2020: For some reason, with a recent change of government, the anti-smoking law seems to finally be respected in places in Athens and other areas of Greece. This is a genuinely exciting prospect. Let's hope it holds!
Anything else I should know about Greece?
There are lots more we could write about this lovely country, but it's best to leave some things for you to discover. However, you can always sign up for my Greece travel guides for some more insights into things to know when traveling to Greece.
You might also be interested in this travel guide to the best cities in Greece.
And budget traveler should definitely read this: How to travel cheaply in Greece.
Greece Itinerary Ideas
These itinerary suggestions should help you your Greece travel planning a little more:
Have you got any travel tips to Greece you'd like to add to help people planning a vacation?
Leave them in the comments below, as I'm sure your tips for traveling to Greece will be appreciated!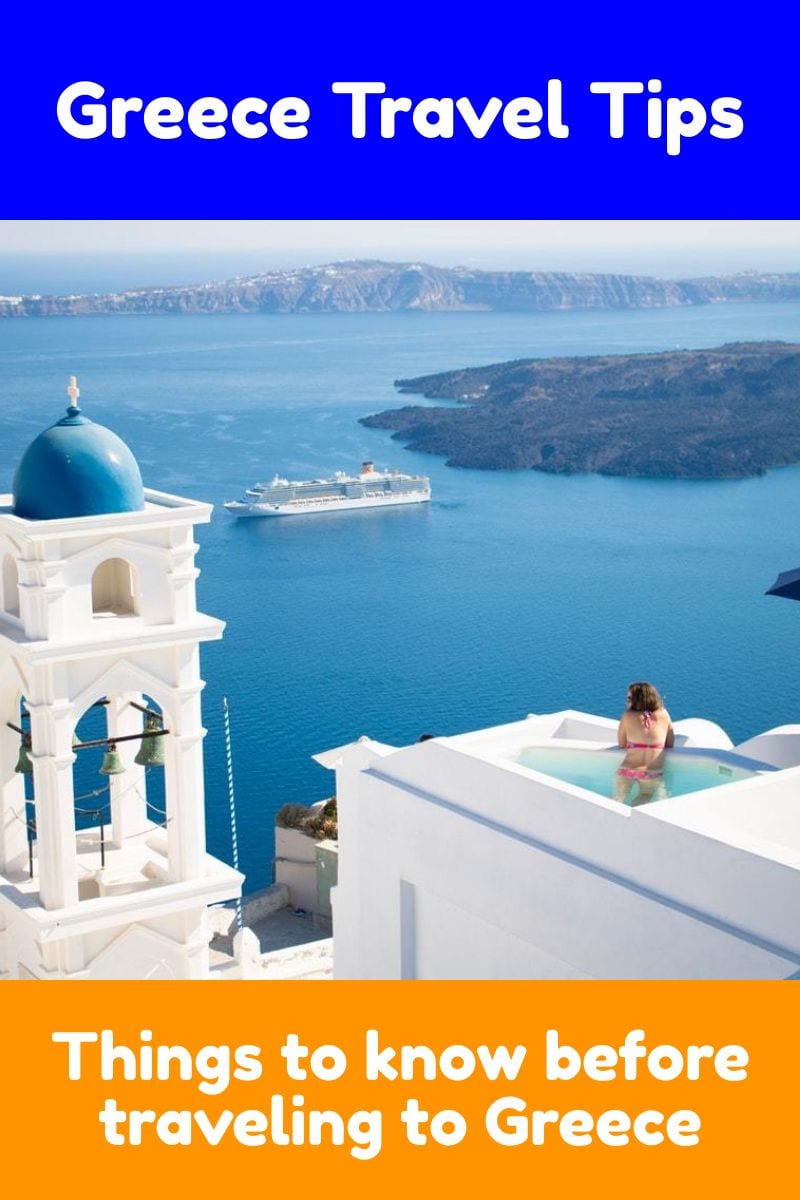 What to know before going to Greece – FAQ
Here are some commonly asked questions about things to know before going to Greece.
What do I need to know before traveling to Greece?
These tips for traveling to Greece will help you have a more enjoyable time.
Avoid peak season
Pack lots of sunscreen!
Eat and drink like a local
Embrace Greek time – Siga Siga!
What is the best time of year to visit Greece?
Early summer and autumn are the best seasons to go to Greece. Where possible, try not to travel to Greece in August as this is peak season. Everything is twice as busy and hotels are twice as expensive!
Is the water safe to drink in Greece?
In the capital city of Athens and other major urban centers the water from the tap is fine to drink. On the small islands though, you should avoid drinking the tap water. Always ask at your accommodation about water drinking quality in your location.
What is the best way to travel the Greek islands?
The Greek ferry network is the best way to travel between the Greek islands. There are literally hundreds of ferries in Greece connecting the different islands and the mainland. I recommend using Ferryhopper to look at schedules for Greek ferries online.
---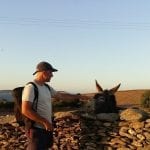 – Dave Briggs
Dave is a travel writer who's been living in Greece for the last five years. He's written hundreds of Greece travel tips and insights in his guides and blog posts over those years helping to make people's lives easier when traveling to Greece. He has a somewhat ambitious goal of visiting every Greek island (there's over 200!) and writing about them all.
Follow Dave on social media for travel inspiration from Greece and beyond: