Eretria is a small coastal port town on the island of Evia. Great to visit as a day trip from Athens, it's also an access point to the rest of Evia island.
Eretria in Evia, Greece
If you are looking for an authentic Greek experience, then Evia Island is the perfect destination for you. This beautiful island is the second largest in Greece. It's mostly untouched by mass tourism, and is renowned for its great beaches and natural beauty.
One of the easiest ways to get there from Athens, is to take the Oropos to Eretria ferry. You can reach Oropos from Athens by bus or taxi if you don't have your own vehicle.
As it takes about an hour to get to Oropos from central Athens, Eretria can make a good day trip from Athens, a weekend break, or the start of a longer time spent exploring Evia.
I last visited Eretria in Evia during my shakedown bicycle tour in April 2023. While it was still pre-tourist season, there was still plenty to see and do there.
If you're planning to make a day trip to Eretria or stay there for a couple of nights, here's some suggestions of the best things to do.
Visit the Eretria Archaeological Museum
One of the best ways to learn about Eretria's rich history is by visiting the Archaeological Museum of Eretria. This museum is home to a vast collection of artefacts, some of which are over 4000 years old.
You will get to see bronze and ceramic objects, ancient coins and jewellery, and sculptures from the Hellenistic period. As it seems to be the case with every museum in Greece, there's always something unique to see. In the Eretria Archaeological Museum, it was a rather unique looking cart and a pot with a foot!
Signage in the museum is only in Greek and French, however you can pick up a leaflet as you enter which has descriptions of the rooms and exhibits in English. When I last visited, it was a 3 Euro entrance fee.
Explore Archaeological Sites
Eretria has a remarkable number of ancient sites that are in various stages of excavation and renovation. Some of the key sites you can explore include the Acropolis hill, the theatre, and Sanctuary of Apollo Daphnephoros. As you walk in the town, you will also see various parts of walls and foundations.
Unfortunately, the Romans did a pretty good job of totally destroying Ancient Eretria, so you'll have to use your imagination!
Look at Mosaics at the Mosaic House
If you are into ancient art and architecture, then the Mosaic House is another must-visit in Eretria. Here, some mosaics dating back a few hundred years BC were discovered in the foundations of a house.
A new building has been built around them which both protects them, and enables visitors to see them in place rather than in a museum.
Hit the Beaches
Eretria is blessed with beautiful beaches that are perfect for swimming and sunbathing. The beaches are ideal for people of all ages and can provide a fun day out for families with children. There are also plenty of beach bars and restaurants where you can grab a drink or a bite to eat while admiring the sea views.
If you are staying at the Milos Camping campsite in Eretria, Evia, you'll also have access to the sea from the camp. The beach there is not so great, but it's perfect for getting in the water for a swim.
Discover the Local Gastronomy
Greece is known worldwide for its mouth-watering cuisine, and Eretria is no different. Visitors can sample the local delicacies, which include fresh seafood, juicy grilled meats, and incredibly delicious Greek yogurt.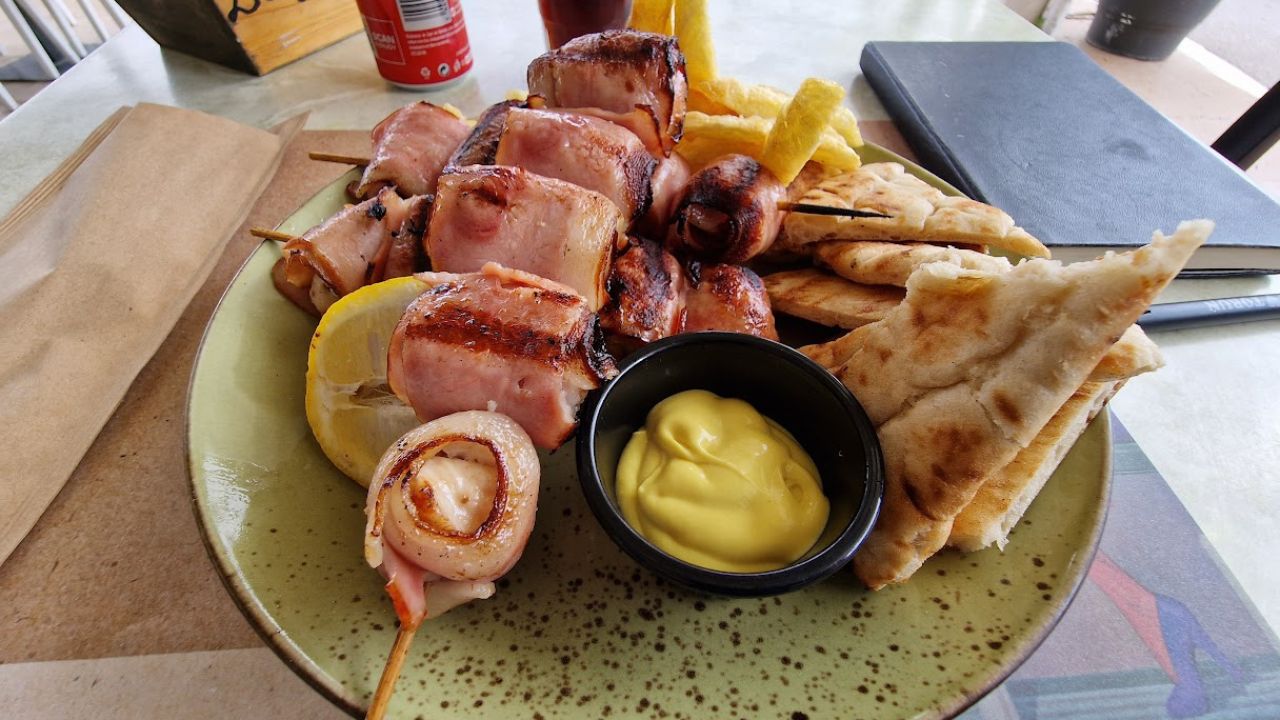 While there are a few places to eat and drink in the port area around where the ferry docks, the better places are to be found a 5 minute walk to the left along the coastline. These places also are nice for enjoying an afternoon coffee in the shade!
Hike and Bike in the Mountains
Looking to stretch your legs and get some exercise in? Evia Island boasts a mountainous landscape full of natural beauty and opportunities for outdoor activities.
If you enjoy hiking, then Eretria is the perfect base for exploring the island's peaks and nature reserves. The Dirfys Mountain, for example, is the island's highest peak, and it offers hikers an unforgettable trek through rugged terrain and awe-inspiring views. This activity requires some physical fitness, but the payoff is worth it.
While I was there I had my own bicycle with me to cycle around the area and up into the hills. If you feel like turning the pedals there is a bike hire place in town which also offers various tours and outdoor activities in the nearby area.
Take a Day Trip to Athens
Whole visiting Eretria from Athens is a choice many people take, it could be that you want to do it the other way around. It's perfectly possible to take a day trip to Athens from Eretria thanks to the public transport service courtesy of the KTEL buses.
If you take a ferry from Eretria to Oropos, there is a KTEL stand a short walk away on the right. There's also taxis available to hire that will take you all the way into the city.
Take a look here for some sightseeing tips in Athens: What to see in Athens in one day
Final Thoughts
Eretria on Evia Island in Greece is a hidden gem that every traveler should add to their bucket list. The town's rich history, beautiful beaches, and exciting outdoor activities make it a well-rounded destination that caters to everyone's interests. Visiting the Eretria Archaeological Museum, exploring the ancient sites, admiring the mosaics, hitting the beaches, and hiking in the mountains, are just some of the best things to do in Eretria.
Latest posts:
---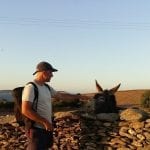 –
Dave Briggs
Dave is a
travel writer
who has been living Athens since 2015. In addition to writing this travel blog about what to see in Eretria in Evia, Greece he's written hundreds of other itineraries and travel guides to destinations all over Greece. Follow Dave on social media for travel ideas from Greece and beyond: