A shakedown bike tour is an important part of preparing for a long distance bicycle trip. It's a chance to ensure that you have all the necessary gear and know-how before embarking on your big adventure.
My Recent Shakedown Ride
Its April 2023, and I'm preparing for a 6 week cycling trip around Iceland. It's been a while since I last went on a significant bike trip (Greece to England), and during that time I've acquired a lot of new gear. I also plan to use a bike I've not used on a bike tour since 2015 in the Fens region of the UK.
It would also be fair to say that all of the above, combined with not spending enough time as I would have liked on the bike, led me to think that a shakedown bike tour for a few nights was needed before I hit Iceland.
The Benefits of a Shakedown Bike Tour
Not only did this shakedown bike tour allow me to test out the new and unfamiliar gear, it also helped me find any potential mechanical issues with my bike before leaving on the big trip.
Of course, how do you assess whether a shakedown ride is successful or not? Is it when everything goes smoothly, or is it when something goes wrong and you're still able to find a solution?
In my case, it was the latter scenario as I'll describe further on.
Cycling Athens to Evia and back
I currently live in Athens, Greece, and so my plan was to cycle out of Athens, take a short ferry ride from Oropos to Eretria in Evia by ferry, and then spend a few days cycling in Evia island before heading back home.
My idea was to take with me more or less the exact same gear I would need on the Iceland cycle trip in order to test out things like a new tent (more about that later!), sleeping pad, stove, some merino clothes and other items.
Related: Things to do in Eretria, Evia
Bike and Gear
The bicycle I used on this shakedown tour was my Thorn Nomad Mk2, which is a 26 inch steel framed Rohloff equipped touring bike.
While bikepacking with frame bags is all the rage, I'm still happy old-schooling it with my racks and panniers setup!
As I would be camping, I took with me the camping gear I would need, a stove, food for a few days, waterproof clothes, and other items. All told, the bike with panniers, water and packed gear weighed about 50kgs.
Some people might find that a lot, but it's more or less in line with how I have packed for other long distance cycling trips such as Alaska to Argentina. I expect to have to carry that amount for some sections in Iceland where I need supplies for several days at a time in more remote areas.
Obviously, I'll be stripping out anything I don't need – nobody likes cycling with heavy loads for the sake of it!
Of the items I took on the shakedown tour, I never got around to using the drone (which I hope to do in Iceland). Everything else got used, so there were no superfluous items (unless you count some of the food I brought back!).
Problems I Discovered During The Shakedown Bicycle Tour
I encountered two major problems during the week long shakedown bike trip. Well, not major major, but I am glad they happened during this practice tour rather than in the middle of nowhere in Iceland!
The first, was an issue with my front brakes (which are rim brakes). It was a total freak occurrence, but somehow, the brake and the fender I was also experimenting with became hooked up, which resulted in the brake block on the left hand side pinging off and flying up the road!
It's almost as impossible to explain how this happened as it would be to recreate it. And it made quite a noise – I thought something serious had snapped on the bike when it happened!
I was still left with my front left brake block operational, and so made my destination for the night. The next day, I tracked down a cycle hire shop in Eretria which also had a small workshop.
Thankfully, the guy there had the spare parts I needed to get the main part of the brake block back on again (which I had found in the road). One of the benefits of having universally available rim brakes!
Related: Disc brakes vs rim brakes
Hubba Hubba NX Split Pole Ends
The second problem, was actually an issue with a new tent I was testing out – a MSR Hubba Hubba NX. While putting it together, I noticed that one of the pole sections had a split end in the aluminium. As I didn't have a tent pole repair splint with me, I had to use some silver duct tape to make a repair.
It lasted the length of the shakedown cycling trip, but I was nervous that it would split further and either starting cutting the elasticated cord inside the poles, or split completely and rip a hole in the flysheet.
I have to say, that I thought this was really low quality of the MSR Hubba Hubba NX tent. I understand if after a year or two that poles may need replacing, but they shouldn't damage on day 1 of using the tent outdoors!
While I got in contact with MSR, and they are sending me a replacement section of pole, it made me realise that I need to take a spare piece of tent pole repair splint (or more than one) with me on my Iceland cycle tour, just in case. Also, can I ever truly think of this tent as reliable now?
Lesson learned that I should put together the tent poles as carefully as possible in the future, but really, outdoor gear shouldn't need to be handled as carefully as butterfly wings. Have to say I am concerned about if this MSR Hubba Hubba NX tent is going to be any good in the strong winds of Iceland.
Thoughts on my gear problems:
Both of these problems came about (at least in my head) because I went against what I knew works for me. For example, I have never had any luck with fenders on a bike tour, and I should have not bothered experimenting with them this time.
As for the tent, I went for a lightweight model rather than a slightly heavier but much sturdier design as I normally would have done. Ultralight gear for bike touring doesn't always work out to be the best choice, as it needs replacing more frequently and is not as hard-wearing.
What worked great on the shakedown cycling tour
With the problems out of the way, I am more than happy to talk about what worked great on this shakedown tour!
Thermos Flask:
If you thought that racks and panniers were old school, let me tell you about my thermos!
So, I'd been seeing a lot of videos of people cycling in Iceland and they always ended up wet and cold.
From looking at the videos, it seemed a good solution would be to take a thermos flask on the trip, and keep it filled with hot water.
Have to say that cups of coffee in the sleeping bag in the morning without having to leave the tent were awesome!
Also, it's a food flask, which means that it's perfect for cooking up noodles with just hot water.
The thermos was a winner, and I'll take it to Iceland.
Related: Reasons to bring a Thermos bike touring
Solar Panel:
Of course, the solar panel worked great in Greece for topping up my phone and powerbanks. Will it work in Iceland though? Difficult to tell beforehand, but I will take it on the tour anyway.
Related: How to charge your phone when camping
Kneeling Mat:
I bought a small mat from Decathlon for sitting and kneeling on when doing campsite tasks. It was so much better than kneeling on the hard ground, and doesn't weight very much. That's a keeper!
Unbound Merino:
I've got a few semi-merino items from Decathlon I use for cycling. The stuff from Unbound Merino is a different level though, especially the Merino hoodie. I wouldn't wear this for cycling, but as a basecamp item of clothing it's hard to beat!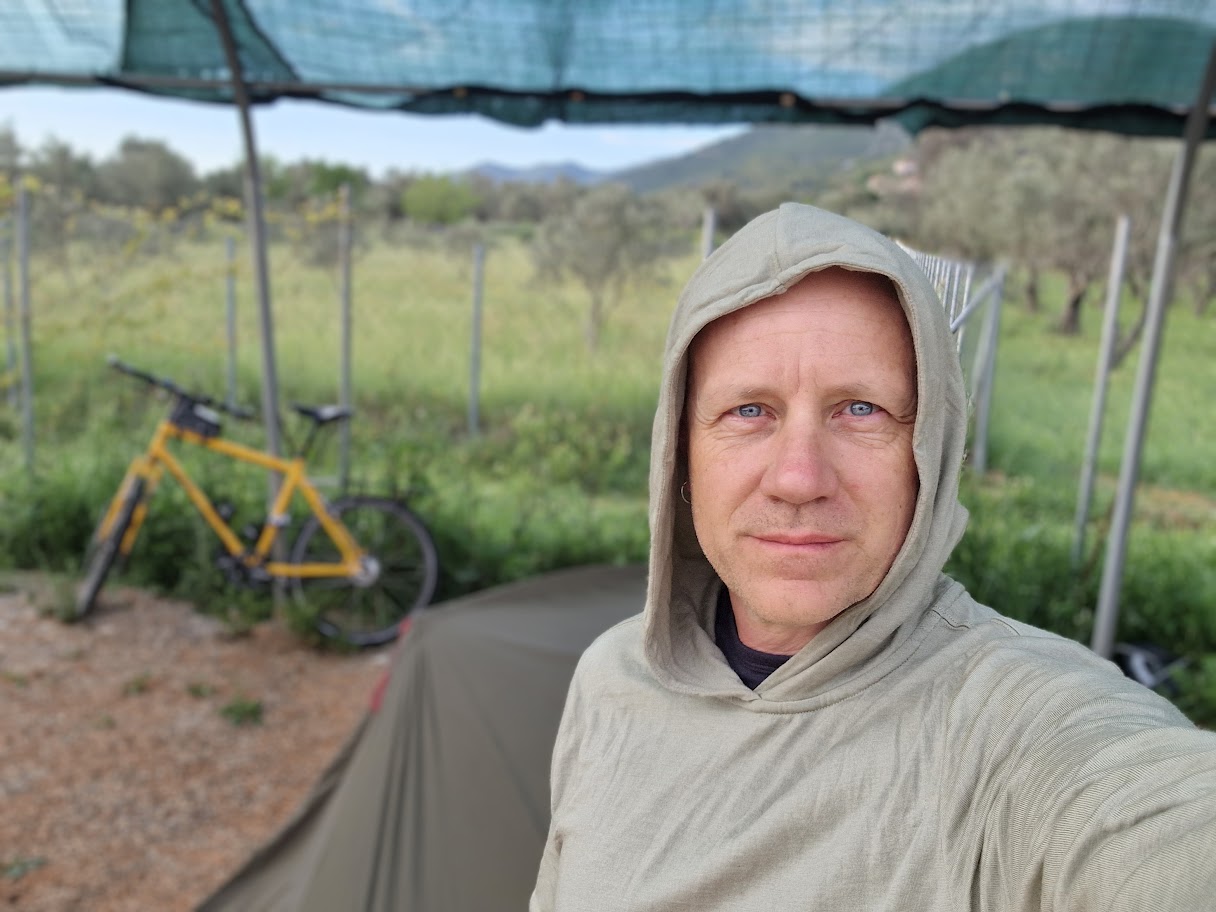 Sea To Summit Ether Lite XT Mat:
This insulated sleeping mat serves two good purposes. It keeps me insulated from the floor, but also it is thick enough for side sleepers – and that's definitely me! It also pairs well with a Sea to Summit camping pillow, making for a comfortable night's sleep.
Final thoughts
Overall, this shakedown tour has been a great learning experience. I have learned that ultralight gear is not always the best option for bike touring as it may need replacing more frequently and isn't as hard-wearing.
On the other hand, there are some items which worked really well for me like my thermos flask, solar panel, kneeling mat from Decathlon, Unbound Merino hoodie and Sea To Summit Ether Lite XT Mat which hopefully will all make cycling around Iceland much easier!