Visiting Crete in October is a great choice, as the weather is still warm and you can still swim in the sea. Here's all the things to do in Crete in October.
Crete is the Best Greek Island in October
When people talk about "the Greek islands", they mostly have in their minds a group of islands with whitewashed walls and blue domed churches.
While this is quite true for Santorini and other islands in the Cyclades group, many people haven't heard of the biggest island in Greece, Crete.
Crete is in the south of mainland Greece
, and is blessed with amazing landscapes, otherworldly beaches, fantastic food and an overall laid-back atmosphere. With somewhere between 600-700 thousand people, it's understandably an ideal place for your Greek summer holiday.
At the same time, Crete is also a great destination if you want to go somewhere in Europe off-season. The October weather has more pleasant temperatures than summer's scorching heatwaves, and it's perhaps the warmest Greek island in October.
What better place than Crete from some autumn sun?
Weather in Crete in October
After a long, scorching summer, weather in Crete in October slowly cools down. However, while other areas in Greece can get pretty cold, the weather in Crete in October is still mellow.
The average sea temperature in Crete in October is around 23C / 73F, which is slightly higher than June. This makes it one of the best places to visit in October in Europe for some autumn sun.
Crete Weather October
In fact, Crete enjoys two types of climate – the northern part has a Mediterranean climate, while the southern beaches and Gavdos are significantly warmer and drier, as they are quite close the African continent.
So, if you don't like very high temperatures, one of the best time to go to Crete is October.
Does it rain in Crete in October?
If there is rain, it mostly happens towards the end of the month when it gets cooler and cloudier. You could expect approx 40mm of rain in Crete during October.
I've got a guide here to the October weather in Greece you might also find interesting to read.
Crete Holidays October
Another bonus to visiting Crete during October, is that hotel prices will be at some of their lowest of the year.
Many travel agents offer cheap holidays to Crete from the UK. You might even be able to pick up some significant and of season discounts on hotels in Crete at this time when booking yourself.
If you're planning to go to Crete after visiting Athens first, you can find information here: How to travel from Athens to Crete
What is Crete like?
Crete is one of the largest islands in the Mediterranean, after Sicily, Sardinia, Cyprus and Corsica. Considering that it's 26 times the size of Malta, it could be a country in itself.
In terms of landscape, Crete is really varied. There are long sandy beaches with crystal clear water, but also smaller coves and rocky cliffs.
And don't forget the mountains. The White Mountains and Psiloritis, that dominate the island, are among the ten highest mountains in Greece.
Scattered around all this, are seaside towns and many charming mountain villages where time seems to have stood still. Forests, sandhills, lagoons, a few rivers and many gorges, of which the most famous is the popular Samaria gorge.
Food and Drink in Crete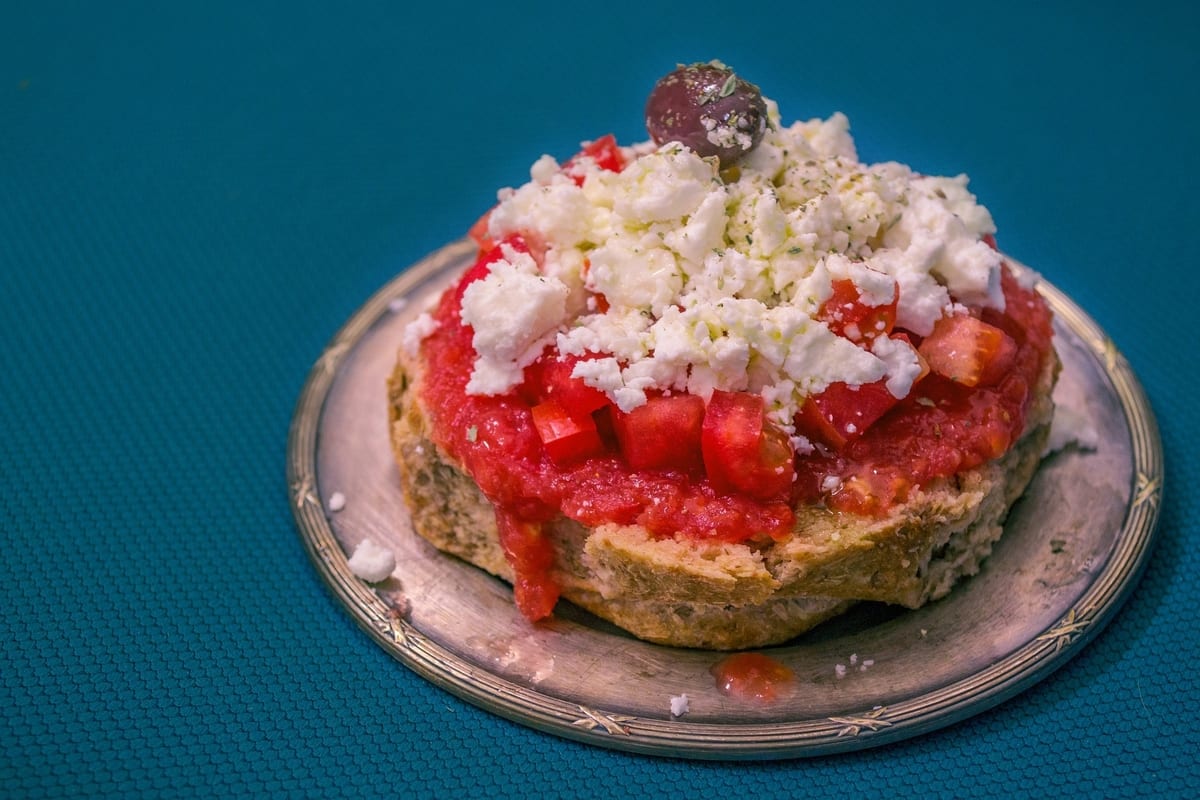 Unlike many other Greek islands that have to import products from the mainland, Crete is pretty much self-contained, as it produces lots of fruits, vegetables, olives and olive oil, cheeses and meat. This means there is plenty of traditional Cretan food!
The island also produces a strong distilled alcoholic drink called tsikoudia or raki, made from what's left of the grapes after wine production – more on this later.
Cretan food is famous around Greece and beyond, and the Cretan dakos, made with a barley rusk, tomato and a salty soft cheese is almost as common as the Greek salad.
Related: Best time to visit Greece
Meet the Minoans
Crete has a very rich history. In ancient times, it was home to the Minoan civilization, the earliest civilization in Europe. As such, there are several superb ancient palaces and archaeological sites for you to explore.
The best known is the Palace of Knossos near Heraklion, but there are also Phaistos, Gortyn, Malia, Zakros, Kommos, Lissos, Falassarna and a few more scattered around the island.
As Crete became a part of the mighty Byzantine Empire for almost 1,000 years, there are over 300 Byzantine churches and other constructions all around. The most famous ones include Arkadiou Monastery, Chrissoskalitissa Monastery and Toplou Monastery, which produces great quality wines.
In the 13th century, the Venetians arrived in Crete, and built fortresses all around the island. Many of them still stand in very good condition, such as the Fortezza in Rethymnon, the Venetian walls in Chania town, and the Koules fortress in Heraklion. Even if you are not overly interested in history, there is no way you won't be impressed.
Crete also has plenty of archaeological museums, of which the best is in Heraklion. Make sure you allow a couple of hours to explore the superb collection.
In a nutshell, Crete has it all, and probably more. Try to have enough time to explore it, and you will definitely enjoy it.
Things to do in Crete in October
With Crete being so big, you will always find plenty of things to do. From sightseeing, to exploring the ancient sites, to swimming, to enjoying the lovely Cretan food, there are so many things to do in Crete in October that you will most likely have to skip a few, for your next trip.
You can either explore independently or take organized tours in Crete. Either way there is lots to see?
As fewer people visit Crete in October than in summer, you will generally find that the island is more relaxed. At the same time, there will still be cruise ships coming to Chania and Heraklion, so take that into account when you are planning your day-to-day itinerary in Crete.
What to do on your holidays in Crete
If you only have a week in Crete, it is best to base yourself either to the east or to the west side of the island, rent a car and see the nearby sights. Two weeks would give you more time to explore Crete on a road trip, but you still won't see it all.
At the same time, if you aren't keen on renting a car, you can try a private tour of the island. This is a good idea if you want to visit places off the beaten track, where buses don't go.
Best Places to Visit in Crete in October
---
Visit Balos lagoon and Elafonissi beach in October
Balos lagoon and Elafonissi beach have been featuring among the best beaches on the planet for several years. The landscapes are truly stunning, and they are definitely among the top places to visit in Crete.
If you travel to Crete in summer though, you will realize that these two places are really popular with visitors, and as such they get very crowded.
If you're spending October in Crete though, make your way out there. You'll enjoy them a lot more, especially the pink sand beach of Elafonisi!!
Public buses from Chania to Elafonissi run all summer long departing at 9am, and leaving Elafonisi at 4pm. If you are going to Crete in October, it's best to check the timetable closer to the time, as autumn schedules often differ.
Other options are to get there by rented car, or on a day tour to Elafonissi from Chania.
To get to Balos Lagoon and the nearby Gramvousa island, you will need to go on a boat tour. If you only want to go to the Lagoon you can also hike there, but Gramvousa is totally worth it.
Tours allow enough time to climb to the castle on top, and take in the views.
---
Visit the Preveli or the Vai palm forest in October
If someone asks you about palm forests, you will probably think of the Caribbean or southeast Asia. However, Crete has a couple as well.
Much like Cretan bananas, Cretan palm trees are smaller than the ones growing in tropical countries – but they are palm trees nonetheless!
The Vai palm forest, a half hour's drive from Sitia, is a popular landmark with a superb sandy beach, and it's best visited off-season if you want to appreciate the natural beauty. Tip – there is a semi-hidden path to the right of the bay. Hike up, and you will discover another beach that not many tourists know of.
Preveli beach, about an hour's drive to the south of Rethymnon, is at the end of Kourtaliotis river. As a result, the water can be quite cold at any time of year.
If you like rivers, you can walk along Kourtaliotis towards the mountain – if you look hard around the reeds, you will most likely spot a few freecampers.
---
Visit the less famous Crete beaches in October
With a coast length of over 1,000 kms / 621 miles, Crete has an uncountable number of beaches and coves. While Elafonissi and Balos Beach are the most famous ones, if you like exploring there are hundreds of beautiful beaches to discover.
As the weather in Crete in October can be variable, your best bet is to go to the south, and in fact the south east. Areas like Ierapetra and Makrygialos are likely to have better weather than the north, so you can base yourselves around there.
If you don't mind driving, rent a car and visit places like Palaiohora, Sougia, Loutro, Hora Sfakion, Frangokastello, Plakias, Triopetra, Agios Pavlos, Matala, and Lendas. Then get to Ierapetra, and take a day trip on a boat to Chrissi island – heaven on earth!
If you are feeling really adventurous when planning where to go in Crete, take a boat to Gavdos island, the southernmost point in Europe.
This is a place popular with freecampers and naturists, but there will only be a handful at that time of year. If you want peace and quiet, Gavdos is one of the reasons to visit Crete in October.
---
Visit Chania in October
Arguably Crete's most picturesque town, Chania (pronounced HaniA, with the stress on the second "a"), is a lovely little town. Picture a maze of cobbled streets, neoclassical mansions, Venetian constructions and the famous landmark, the lighthouse.
Not just that though – it's full of souvenir shops, bars, restaurants, and it's an overall lively, charming little town on the coast.
Though Chania can get quite hectic and too busy in summer, visiting Chania in October can be a very rewarding experience, as you will get to enjoy the ambience a lot more. By staying in the town, you can also take Chania excursions to many other places in Crete.
Highlights include the Old Town area as well as Venetian Harbour. For an off-the-beaten-track experience, walk to the old tanneries, known as Tabakaria, to the east of the town.
Chania has a port as well as an international airport. Several airline companies fly directly from many European cities, even in October. Chania is a popular arrival point by the ferry from Athens. More here: Athens to Chania ferry information.
---
Visit Heraklion in October
Heraklion is the largest city in Crete, with a population of around 140 thousand. Among Greeks, it is said that it is "as ugly as Athens", but in reality it's a truly enchanting town.
Apart from the massive Koules Venetian fortress, you can visit several Byzantine and Ottoman monuments, but also wander around the cobbled streets in search of some of the best food in Crete. Make sure you visit the Heraklion Archaeological Museum, one of the best in Greece.
The city is very lively, partly due to the presence of university students, and you will probably enjoy it more if you visit Crete in October. Note, however, that cruise boats are still running in October, so the city will be fairly busy with tourists. Check out my full guide on the top things to do in Heraklion Crete.
Like Chania, you can get to Heraklion on direct flights from Europe and Athens, or on a boat from Pireaus or Santorini in early / mid-October.
More here: Ferryhopper
---
Visit Rethymnon in October
A town often overlooked by visitors, Rethymnon is right between Heraklion and Chania, about an hour's drive from each. Rethymnon is one of the best preserved medieval cities in Greece, where all types of architecture and several religious monuments co-exist.
You can visit one of the best preserved Venetian castles in Crete, Fortezza, which offers excellent views of the sea and the town itself.
Also read: How to get from Chania Airport to Rethymnon in Crete
---
Visit Knossos Palace in October
One of the top things to do in Crete is to visit Knossos Palace, just a 15-20 minute drive from Heraklion.
The Palace of Knossos was first built around 2.000 BC, but was subsequently destroyed by an earthquake. It was later rebuilt, and the new, grandiose palace became the home of several kings.
It was last used as a palace until it was destroyed by a fire in the 14th century BC.
The Knossos Palace is the most popular site for people who travel around Crete, but also for people who come on cruise boats. As a result, this must-see attraction can generally get quite crowded, given that plenty of cruise boats arrive in Crete in October.
As the temperature is a lot cooler in October, you can visit any time during the day and avoid the masses who will mostly be arriving in the early morning.
---
Visit lesser known archaeological sites in Crete
If you want to visit some ancient sites that have not undergone excessive restoration and are less crowded, Crete has several to offer. Some of the most important and interesting ones are Phaistos and Gortyn.
Visit the Palace of Phaistos in Crete
The archaeological site of Phaistos, also known as Festos, is located an hour and a half's drive southwest of Heraklion. It is one of the finest Minoan Palaces.
The first Palace of Phaistos was constructed simultaneously with the Palace of Knossos, around 2.000 BC. According to legend, its founder was King Minos, the first King of Crete, the son of Zeus and Europa. It was destroyed due to an earthquake in 1.700 BC, but was rebuilt quickly.
The Palace kept being in use until around 1.450 BC, when it was destroyed again, though the reasons seem to be unknown. The city never lost its importance until the 1st century BC, when it was destroyed by the nearby Gortyn.
The remains that can be seen today date mostly from the period 1.700-1.450 BC. There has been extensive conservation of the Phaistos Palace, but no restoration works, as opposed to the Palace of Knossos.
---
Visit Gortyn archaeological site in Crete
Gortyn, known also as Gortyna or Gortys, is about an hour's drive east of Phaistos. Confusingly for Googlemaps, there is another Gortyna in the Peloponnese!
The area of Gortyn has been continuously inhabited since the Neolithic Period. It took over Phaistos' power, after the 5th century BC.
After the Romans invaded Crete in 67 BC, it also replaced Knossos as the capital of Crete. It remained powerful until about the 7th century AD, and was subsequently conquered by the Arabs in 828 AD. At that time, Crete's capital was moved to Heraklion and Gortyn faded.
The site of Gortyn in Crete is home to one of the most important inscriptions ever discovered in Greece, the Law Code of Gortyn, referred to as the Great Inscription.
The Law Code is set inside the walls of a public building, and is composed of 12 columns which have been preserved to a exceptionally high standard. The laws which are carved on the stones are the oldest Greek law code. They regard civil matters, and are very progressive for their time.
Within the site of Gortyn, you will also see the famous Plane Tree of Zeus and Europa, St Titus' church, ancient temples, the Odeon and the remains of some Roman buildings, such as the Praetorium.
---
Visit Spinalonga in Crete
Spinalonga Island is found to the east of Crete, next to Elounda, one of the most popular destinations in Crete.
The island, with an impressive Venetian fortress, is known for being a leper community from 1904-1957, as this is where people who had contracted the disease were sent to die.
Victoria Hislop's book "the island" offers a superb account of the history of Spinalonga and is highly recommended.
You can either take a boat trip and guided tour to Spinalonga, or get there independently taking a boat from Agios Nikolaos, Elounda or Plaka. Guided tours depart from Agios Nikolaos port.
If you go on your own, do read up beforehand, in order to appreciate better life on the Spinalonga leper community.
---
Caves in Crete
As Crete has some of the tallest mountains in Greece, it naturally has a large number of caves, which is estimated to be about 3,000!
According to legend, Zeus, the king of the Olympian Gods, was born in a cave in Crete. Two caves fight over this – Diktaion Andron and Idaion Andron.
Diktaion Andron, also known as Dikti Cave, is a massive, impressive cave in the Lassithi prefecture, just under an hour and a half's drive from Heraklion. It is full of stalactites and stalagmites, and has been used as a place of worship since ancient times. It is very close to the Lassithi Plateau, which offers superb views over Crete. You can read more information here on the Lasithi Plateau.
Idaion Andron, in the Rethymnon prefecture, is an hour and a half away from the Heraklion area and just under two hours from Rethymnon. It has shorter opening hours, but it's free to visit. This cave isn't as impressive as the Dikti Cave, but its historical and cultural significance is huge. If you drive there, make sure you stop at the traditional villages of Anogia and Zoniana, two of the most quaint villages in Crete.
Matala Caves: Another popular cave is the one at Matala, on the south coast. People used to live there since ancient times, and the area revived in the 60s-70s, when hippies from all over the world moved to live there. Today the hippies are gone, and the place is quite touristy, but interesting nevertheless. You can stay in nearby Kamilari, a half hour's drive from Festos, if you prefer.
---
Cretan Gorges – Not just the Samaria Gorge
One of the reasons to visit Crete in October is to hike the Samaria gorge, the largest gorge in Crete. There are plenty of other gorges though, so outdoor lovers have plenty of choice!
Samaria gorge, in the Chania Chania area or prefecture, is the most famous gorge in Crete. Even if you are not a regular hiker, it would definitely be an activity to consider. If you are reasonably fit, you shouldn't have an issue – I remember hiking Samaria gorge as a kid, with my parents! That said, it is around 16km / 10 miles long, and is one of the longest in Europe.
Although it's perfectly possible to visit the Samaria gorge independently, it might be easier to book a guided full day tour from either Chania or Rethymno, especially if you are not keen on organizing the logistics of getting around Crete.
Apart from Samaria gorge though, there are several other gorges worth visiting in Crete. Kourtaliotiko gorge, Imvros gorge, Agias Irinis gorge, Agiofaraggo, Tripiti gorge, Zakros gorge / (also known as Gorge of the Dead) and the gorge of Ha are just a few of the popular ones. Some of them are short, some are longer, and they offer different levels of challenge. Do your research before you decide which one to visit, as they vary a lot.
Safety first!
A word of caution though: Apart from the obvious advice of having the right shoes and bringing water, snacks, sunscreen and a hat with you, it is important to remember that some of these gorges are off the beaten track.
You might not meet any other people if you are visiting Crete in October, and as such safety should be a concern.
Coming from me, this might sound strange, but it is true that a handful of tourists disappear in Crete's gorges every year – the latest incident was in April 2019.
So, if you decide to explore a Cretan gorge on your own, make sure that you know what you are doing – otherwise, go with a local guide.
---
The Local Food
No words can really describe the quality and variety of Cretan food. From goat meat and butter to tender green salads to amazing cheeses, Cretan food is amazing.
Make sure you try the different local pies, such as kalitsounia, lichnarakia and bourekia, the dakos salad, the gamopilafo rice, the graviera and ksinomizithra cheeses, and the various lamb dishes.
If snails are your thing, you will love Crete, as they cook them in many different sauces. Or just taste everything, and find your favourite Cretan dishes.
Bonus – if you have been to places like Mykonos and Santorini before, you will be thrilled with the meal prices in Crete, as they are much lower, due to the fact that most of the food is locally produced.
Two people can easily dine with 20 euros, including the tsikoudia, which often comes as a treat – see below.
---
Cretan Tsikoudia
Special mention goes to Crete's "national" drink, tsikoudia, also known as raki, not to be confused with the Turkish raki.
This strong distilled alcoholic drink is consumed by Cretans at any time of the day, and has traditionally been used as medication.
Like olive oil, most Cretans either produce their own tsikoudia, or buy it from a relative or friend. It's an inexpensive drink, and it will cost you around 5-6 euro a liter if you buy it from a market.
Tsikoudia is offered everywhere as a treat, and you will probably come across it on day 1 of your trip to Crete. If you are not used to drinking strong drinks, you might find the flavor a little too crude, but it also depends on the quality.
In general, you will get the best raki in the least touristic places. Raki is not meant to be consumed as a shot or drunk on its own, but to accompany meals and long chats.
If you don't like the taste of raki, don't worry – just leave your glass full, as if you drink it you will most likely get another serving.
Unless you want a bad hangover, don't mix it with other drinks, like wine or beer. Even if you have a glass too many, you will be surprised at how well you will feel on the next day.
If alcohol tasting is one of your interests, the best time to visit Crete is October in order to experience the production of Cretan raki – read about this below.
---
Kazanema – Tsikoudia in the making
If you are in Crete in October / November, one of the most unique events to look for is the making of tsikoudia. This is known in Greek as kazanema. It's a social and cultural celebration that most locals expect for months as it gives them an excuse to get together. If you get the chance to go to a kazanema, you shouldn't miss it.
Tsikoudia is made out of grape residue, after wine has been produced. You could describe it as the Cretan moonshine. Seeds, grape skins and other leftovers are distilled for a few hours in large copper cauldrons. The liquid that comes out has 37-43% alcohol and it's an acquired taste, but many people get acquired with it all too soon.
During the kazanema, everyone who is present tastes the raki for alcohol content and taste. As you can imagine, a lot of food is brought along, and shared by everyone. As the tasting progresses, spirits get higher. The whole event, or should we say ritual, will stay in your memory forever. Or perhaps not, depending on the amount of raki you get through.
---
St Dimitrios traditional festival – 26 October, Chersonissos
All year round, there are traditional celebrations / festivals in Greece, called panigiria. While most of them are in summer, there are also a few off-season. Chersonissos / Malia, the summer party resort area, comes alive with the panigiri of St Dimitrios.
Expect plenty of raki, lots of Cretan food, and some live Cretan music. If you want to have an idea of what to expect, scroll through this documentary (in Greek), where some of the most famous Cretan artists play music.
"Ohi" day parade – 28 October
Just like anywhere in Greece, Crete celebrates the "Ohi" day with student parades. If you happen to be in Crete in October, don't be surprised if you see school children marching around the towns and villages.
More about the "Ohi" day here: Oxi Day in Greece
Last but not least – Run the half marathon in Crete
This annual event takes place on 6 October 2019, and attracts participants from all over the world.
If you were ever interested to do a half marathon, this would be one of your best choices. The climate is generally mellow and the landscape is amazing. For more information, click here.
Best things to do in Crete in October
This is nowhere near an exhaustive list of reasons to visit Crete in October. It should give you a pretty good idea of what off-season Crete is all about though.
Let us know if you have more suggestions or travel tips in the comments below!
You might also be interested in: Best places to go in Greece
Visit Crete October FAQ
Readers looking to visit Crete outside of the summer months and are thinking about the shoulder season instead often ask questions such as:
Is October a good time to visit Crete?
You still get lots of sunny weather and beach days in Crete if you visit during the month of October. In addition, high season is over, so there are fewer other tourists around and room rates are lower.
Is it still hot in Crete in October?
The temperatures are not as scorching in October as they are in July and August, making it one of the greatest months to go to Crete, Greece. It's still warm enough to go to the beach with an average of six hours of sunshine per day.
Which part of Crete is warmest in October?
Crete is a very big island, so for warm weather in October consider heading to the southern beaches where you'll enjoy sunny days, nice sea temperatures and the warmest weather.
Is October a good time to visit the Greek islands?
Let me share a bit of insider's knowledge with you – October is one of the best months to visit islands like Crete, Mykonos and Santorini. Average temperatures are high, there's still good weather, and as it's outside the tourist season it's a little cheaper to travel.
What are the best reasons to go to Crete in October?
October is a wonderful time to go on holiday to Crete. The weather is still warm and pleasant, making it ideal for outdoor activities and exploring the island's natural beauty. The tourist crowds have significantly decreased, allowing for a more peaceful and authentic experience. Lastly, October offers a range of cultural events and festivals, such as grape harvest celebrations, providing a unique glimpse into Cretan traditions and cuisine.
---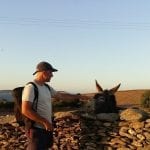 –
Dave Briggs
Dave is a
travel writer
who has been living in and writing about Greece since 2015. As well as writing this blog post about why October is an ideal month to travel to Crete, he's written many more travel blog posts about destinations all over Greece. Follow Dave on social media for travel inspiration from Greece and beyond: