There's so many things to do in Crete, it's difficult to know where to begin. These top 5 things to do in Crete will give you a good start though when planning your holiday in Crete.
Top 5 Things To Do In Crete – Travel Inspiration
The longer I spend in Greece, the more I realise just how much there is to see and do! It's an exciting country to live in, and I love encouraging other people to visit.
Crete is one of the islands that people often ask me about, and a place I'd encourage more people to see. There's plenty of things to do in Crete to suit a wide variety of tastes, making it a good destination for almost everyone!
Why Visit Crete?
If you are planning your holidays for next year, and would like to go somewhere that has sun, sea, sand, culture, and history, look no further than Crete.
Crete is located in the Mediterranean Sea, and is the largest Greek island, and boasts Blue Flag beaches, historic towns, and archaeological remains which date back thousands of years. There really is something for everyone to enjoy. Here are the top 5 things to do in Crete.
"Crete integrated map-en" by Eric Gaba (Sting) – Own work, based on Image:Crete_topographic_map-fr.svg (modified and translated) created by myself .
Top 5 Things to Do in Crete
It's always difficult to come up with the 'must-sees' for a destination, especially one as varied as Crete. So, consider this list of what to do in Crete more as a way to tickle your tastebuds, and see what appeals to you more. I've got plenty of guides which go deeper on travel in Crete you can check out later.
1. Visit Knossos in Crete
Knossos is the most famous archaeological site on the island. Of all the things to do in Crete, this is the most popular. Knossos is a bronze age archaeological complex, and dates back many thousands of years.
Legend and myth say that the Palace was the home of King Minos. This is the same legendary King which had a labyrinth constructed in which to keep his son, the infamous Minotaur. In fact, some people believe that Knossos itself was the labyrinth.
The palace, and city was the seat of power for the Minoan Empire, who ruled this part of the world in ancient times. Natural catastrophe in the form of earthquakes destroyed the civilisation, and buried the city though around 1100BC.
It was rediscovered in 1878, and Englishman Sir Arthur Evans excavated much of what we see today. It is a fascinating place to visit, and no matter where you stay on the island, trips to Knossos are easily booked. For people staying in Heraklion, visiting Knossos is easily combined with the archaeological museum as well as other great things to do in Heraklion.
If you are interested in finding out more about Knossos, this article might be useful – Tips For Visiting the Palace of Knossos In Crete.
2.Walk The Samaria Gorge
Walking the Samaria Gorge is another trip which rates among the most popular things to do in Crete. You are able to walk the 18km length of the gorge, and it takes about 6 hours.
A reasonable level of fitness is required. Along the walk, expect to see plenty of stunning natural formations, and the occasional mountain goat!
The walk finishes quite literally on the beach, and many people choose to cool off in the waters before catching the ferry back towards their bus.
Check out walking the Samaria Gorge on a day trip from Chania.
3. Try The Food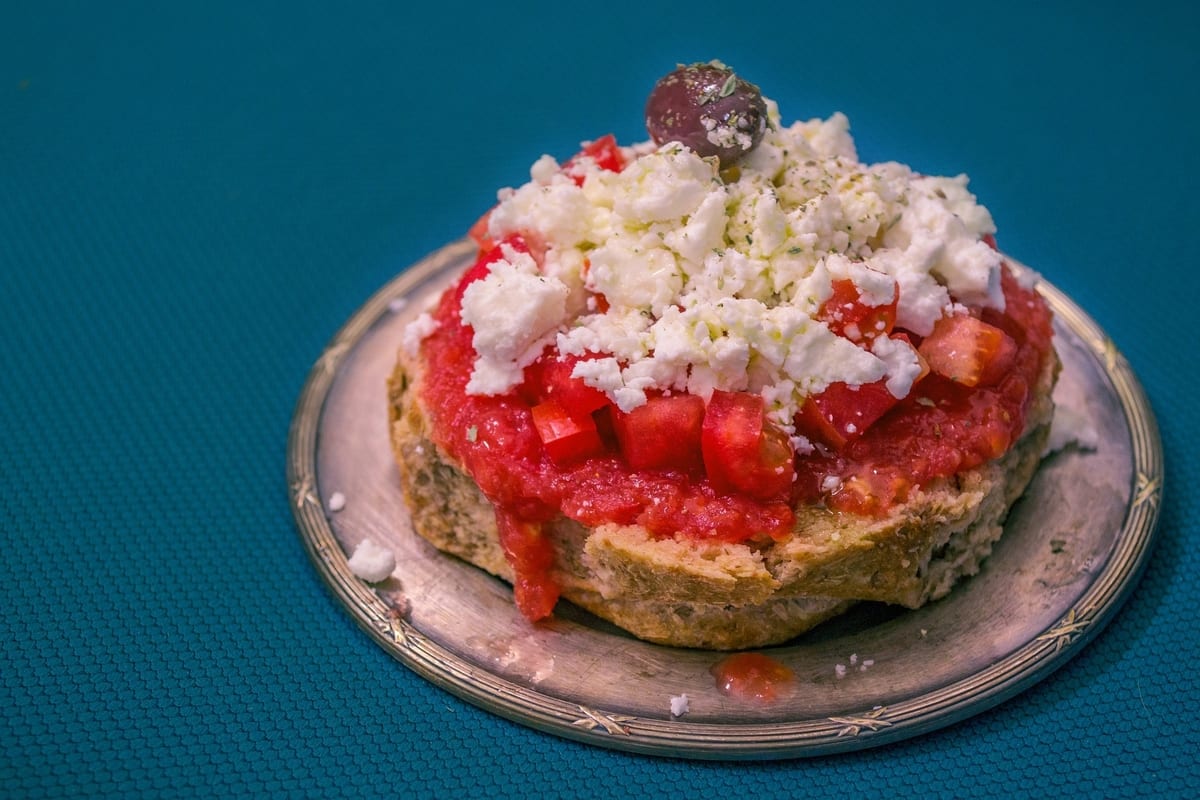 Greek food is amazing, and Crete is the place to try the very best of the best! At the end of your holiday in Crete, you should at least have tried the famous Dakos, which is a Cretan salad.
There are also numerous tasty meat dishes to sample. When it comes to drink, many people of course associate Greece with Ouzo. The slightly harder form of that is Tsipouro, or Raki. Crete also produces many good wines, and there is a fledgling micro-brewery industry creating interesting craft beers.
Check out food tours in Heraklion, Crete.
4. Enjoy The Beaches
With over 1000km of coastline, it goes without saying that Crete has its fair share of beaches! Many people plan their holidays on the island with a specific beach in mind. However, one of the great things to do in Crete, is to hire a car, and drive off to check out the different ones around the island.
Most people rate Elafonisi beach as the most stunning. It is renowned for its pink/white sand beach. Technically, it is a small island off Crete, however it is possible to walk across, through the waters at low tide.
I actually found Kedrodasos Beach close by to be better. It is an isolated place that has a castaway feel to it. You can read about my own road trip around Crete here.
5. Visit the Caves of Crete
Anyone interested in caves, should definitely find add visiting Dikti Cave to their list of things to do in Crete. It is a huge cave of over 2200m2, and it was used as a place of worship for thousands of years.
The cave is stunning, with many impressive stalactites and stalagmites. Whilst it is possible to book day tours, some people choose to hire a car, and combine this with a driving excursion around the Lasithi Plateau.
One of the other popular cave systems to visit is at Matala. This caves have been used for years. The last residents were some hippies in the 1960's!
Related: Hottest Greek island in October
And a bonus for you!
I always like to provide a little extra value, so here's an additional thing for you to consider when visiting Crete.
Visit Chrissi Island
Chrissi Island is a remote island located about an hour away from Crete by ferry. Renowned for its incredible beaches and crystal clear waters, it;s a popular day trip with intrepid types keen to make the journey. Feeling brave? Try staying overnight! Find out more about it here – Chrissi Island Crete – A Greek island paradise.
How to enjoy Crete's natural beauty FAQ
Readers who want to find out more about Cretan culture through authentic experiences in Crete, often ask questions similar to:
What do you experience in Crete?
The popular destination of Crete offers a wide spectrum of experiences. Whether you like exploring archaeological excavations, walk through the rural beauty of olive groves, hike through the Samaria Gorge, or try wine tasting at a local vineyard, you'll love Crete.
What is the most beautiful part of Crete?
Some of the most picturesque places to see in Crete include Balos Lagoon, Matala Beach, Spinalonga island, Preveli beach and the beaches along Crete's southern coast.
What is Crete best known for?
Crete is the largest of the Greek islands, and is filled with things to see and do. From Minoan art in Knossos Palace, to the natural beauty of golden beaches, Crete is probably best known for its people and their legendary Greek hospitality.
What is the best month to go to Crete?
The best weather can be enjoyed between April and October. I tend to think that September is the very best month to visit. The azure waters are still warm enough to swim in, the temperatures are warm, and it's not so busy with tourists.
Where is Crete?
Crete is located at the southern edge of Greece, and is the fifth largest island in the Mediterranean Sea.
Pin these things to do in Crete
Feel free to use the image below to pin this things to see in Crete guide to one of your Pinterest boards. This way you can come back to it later.