Crete is the largest island in Greece located to the south of the Greek mainland in the Mediterranean Sea. This article offers an introduction to the beautiful Greek island, and points out Crete's highlights, attractions and best time to go.
Where is Crete located?
The island of Crete is located in the Mediterranean basin to the south of the mainland of Greece. The sea to the north of Crete is called the Aegean Sea, and the one on the south is the Libyan Sea.
Crete, which is the biggest Greek island, is a very popular holiday destination with people from around the world.
Knowing where Crete is can be important if planning a Greek island hopping itinerary. By looking at a map, you can tell that it's not really possible to island hop from Zakynthos to Crete, but that it could fit quite nicely into a Cyclades island hopping plan. In summer, there are frequent ferry connections with the most popular Greek island, Santorini for example.
There are many ways to get to Crete. You can fly there directly from major European cities, take a 50-minute flight or a 8-9-hour ferry from Athens, and there are also connections with many nearby islands.
Is Crete the southernmost point in Greece?
Gavdos, a small island south of Crete, is considered to be Europe's southernmost point. On a clear day, you might be able to see the African coast from a distance!
Related: Where is warm in December Europe?
Travel information about Crete
Now that we've seen where's Crete, let's check out some more info, like the following:
How big is Crete island
What is Crete famous for and why you should visit
Main cities, towns and villages in Crete
Best things to do in Crete
What makes Crete so special
Cretan cuisine
Weather in Crete and best time to go
How to get to Crete
How to get around Crete
How big is Crete Greece
Crete is a pretty big island. At 8,336 square km, it is about the size of Puerto Rico, 26 times the size of Malta, or 109 times the size of Santorini.
The island has a long and narrow shape, and is divided into four administrative areas. From west to east, these are Chania, Rethymnon, Heraklion and Lassithi. Each of these areas has one or two main towns, as well as several villages.
There is a main highway connecting the cities on the north, and it would take you around 5 hours driving from the west to the east coast. Getting from the north to the south coast involves long, scenic drives through steep, winding mountain roads.
Even if you spend a couple of weeks in Crete, you will only be scratching the surface. You'd have to be pretty selective if, like most people, you only have a few days.
What is Crete famous for – Why visit Crete
Crete is where the Minoan civilization, the first advanced European civilization, developed, possibly as early as 3,500 BC. The palace of Knossos, where King Minos lived, is one of the most famous ancient sites in the whole of Greece.
The island is also known for its fantastic nature and beaches, many of which are remote and wild. Overall, the landscape is varied – you will find caves, mountains, plains and gorges, like the famous Samaria gorge.
Crete is also famous for its fantastic food, distinct local culture, and friendly, hospitable people. While some areas have definitely been affected by tourism, you can still find authentic villages and towns, where the locals welcome you with a smile.
Main towns in Crete
The capital and largest city in Crete is Heraklion, also known as Iraklio or Iraklion. With a population of about 140,000 people, Heraklion has a large city feel to it according to some visitors.
Here, you can visit the fantastic archaeological museum and the Venetian castle. The ancient site of Knossos is a short distance away.
The second biggest town is the picturesque Chania, or Hania. Visitors will enjoy the quaint architecture, narrow streets, fantastic local tavernas, souvenir shops, and lively atmosphere.
Other large towns on the north coast of Crete include Rethymnon, Agios Nikolaos and Sitia. Ierapetra is the only relatively big town on the south coast.
These guides will help you plan your time in the cities:
Mountain villages in Crete
Beyond the largest towns, Crete has dozens of beautiful villages. These are dotted around the entire island, both on the mountains and on the coast.
Some of the popular mountain villages in Crete include Vamos and Therisso in Chania, Anogia and Margarites in Rethymnon, Archanes and Zaros in Heraklion, Kritsa and Zakros in Lassithi.
Here, you can walk on the cobbled streets, take in the colorful stone houses and sit at traditional kafeneia, along with the locals.
Coastal towns in Crete
If you are looking for coastal towns and resorts in Crete, you'll be spoilt for choice.
Popular beach towns on Crete's northern coast include the following:
Platanias, Agia Marina and Stalos, three lively resorts with sandy beaches, tavernas and clubs, a short drive west of Chania
Kalyves and Almyrida, east of Chania, with lovely sandy beaches, many tavernas, cafes and bars
Bali, a small coastal village / holiday resort
Hersonissos, Stalis and Malia, three resorts with beautiful sandy beaches, geared towards water sports, nightlife and parties
Elounda, a cosmopolitan destination close to Spinalonga island.
Moreover, Crete's southern coast is full of places where you can spend a few relaxed days by the beach.
Some places to look for are Palaiochora, Sougia, Loutro, Hora Sfakion, Frangokastello, Plakias, Agia Galini, Matala, Lentas and Makrygialos.
The list is endless, and the more you stay in Crete, the more you will want to return!
Best beaches in Crete
There are literally hundreds of beaches you can visit in Crete. Here are some of the most popular ones, which you may enjoy more outside the peak tourist season:
Elafonissi, Chania: A long, sandy beach with turquoise water, famous for its pink sand and incredible nature.
Balos lagoon, Chania: A unique, exotic landscape with white sand and bright turquoise waters.
Falasarna, Chania: A long sandy beach with plenty of sand dunes, ideal to watch the sunset from.
Preveli, Rethymnon: Popular with nature lovers, this beautiful beach has a tropical feel due to the numerous palm trees. The water is cold, due to a river exit.
Agios Pavlos, Rethymnon: A unique, remote, wild beach with large dunes and sandhills. While you are here, make sure you also visit the nearby Triopetra beach.
Matala, Heraklion: Once a famous hippy destination, Matala still retains part of its character. If you are looking for something quieter, you can also drive to Kommos, nearby.
Vai, Lassithi: Another natural wonder, famous for its palm forest and pretty sandy beach. Today, it's a protected area.
Apart from those, the island has dozens of very unspoiled beaches, especially on the south. Some of them are a long drive away from the nearest village or town, so make sure you've got everything you want for the day.
Archaeological sites and museums in Crete
The Palace of Knossos in Crete was once home to King Minos and the Minotaur, a well-known creature in Greek mythology. This is the most important tourist attraction in Crete, a short drive from Heraklion.
Other ancient sites in Crete include Festos, Gortyna, Apterna, Eleftherna, Malia, Zakros, and Matala. Walk around the ancient ruins, and try to imagine how ancient Greeks lived all these centuries ago!
Crete has lots more to offer in terms of history. You can visit the massive Venetian fortress in Heraklion, plus more medieval castles in most of the big towns, both on the north and the south coast of the island. One of them, Spinalonga, also served as a leper colony a few decades ago.
The numerous museums explain more about Crete's rich past. If you only have time for one, make sure you visit the Archaeological Museum in Heraklion, one of the best historical museums in Greece.
Enjoy the tasty and healthy cuisine
Crete has one of the best cuisines in the whole of Greece. In fact, this is exactly where the whole Mediterranean diet, which offers great health benefits, is based on!
Here are some of the most common Greek dishes that you can find in Crete:
the famous Greek salad
moussaka, layers of potatoes, aubergines and minced meat in a tomato sauce
souvlaki, bite sized portions of meat on a stick
bifteki, Greek hamburger patties served with french fried potatoes
tsatziki, famous cucumber dip with garlic.
You can easily find all the above dishes everywhere in Greece. If you visit Crete, you should also try some of the Cretan specialties, and one or more mezes.
Traditional dishes of Crete
As the island is so big, it's got its own produce. Fresh vegetables, juicy fruits, goat meat, fish, all sorts of cheeses and barley rusks are all typical of Crete.
The most famous Cretan dish is dakos, a type of barley rusk topped with tomatoes, cheese and olive oil.
Another popular specialty is kalitsounia, small oven-baked or deep-fried pies, filled with different mixtures. Make sure you try the ones with mizithra (soft spring cheese) and honey.
If you like meat, don't miss the lamb / goat dish with a type of traditional pasta called sioufihta. And for something more adventurous, you could try the snail dishes, like the ones referred to as boubouristi.
As for drinks, the strong, alcoholic raki is king in Crete, and the locals consume it at any time of the day. iIt accompanies every meal, and always arrives as a treat, just when you thought you had more than enough. Yiamas!
Olive oil in Crete
One of the products that Crete is most famous for is its fantastic olive oil. Wherever you go on the island, you will see numerous olive groves.
Olives and olive oil are very important in Greek cuisine. They are used in salads, and olive oil is also used in most Greek dishes.
It is not an exaggeration to say that virtually every family in Crete owns at least some trees. When the olive harvest season occurs, Cretans take their olives to one of the olive pressing factories, where olive oil is produced.
Weather and best time to go to Crete
Being so south in the Mediterranean, Crete is one of the warmest destinations in Greece and Europe. It enjoys warm summers and fairly mild winters – which can, however, be wet and damp.
The best time to visit Crete is from April to October. Some people might find the sea too cool in April or even May, so the latest in the season you go, the better.
With that said, July and August are the peak tourist months in Greece. You may find that some parts of the island are overcrowded, and accommodation / car rental prices are usually higher during this time.
September and early October are great months to visit Crete. Many people will find the temperatures more pleasant than in summer season, and the tourist areas will be less busy.
For more information, check out this article on the best time to visit Crete.
Getting to Crete – Flights
There are two significant airports on the island, Crete Heraklion (HER) and Crete Chania (CHQ). They are both only a short drive / bus ride / taxi ride away from the respective towns.
During the summer, Heraklion and Chania receive flights from many European airports, especially Northern Europe, on a daily basis. There are fewer international connections in the off-season, but you can always catch a short domestic flight from Athens.
There is also a small airport located to the east, Sitia (JSH), which is mostly convenient if you are planning to explore east Crete.
Aegean Air / Olympic Air offers daily domestic flights to all three airports. Sky Express operates flights to Heraklion and Chania.
Ferry connections to Crete
Another way to get to Crete is by ferry. Both Heraklion and Chania are major port cities, and there are smaller ports at Rethymno, Sitia and Kissamos, outside Chania.
There are year-round daily ferries connecting Piraeus port in Athens with both Heraklion and Chania. In summer, you will also find many ferry connections from Heraklion and Rethymno to Santorini.
In addition to these popular routes, there is an occasional, slow ferry from Heraklion to and from Milos. There are also fairly frequent services from the small Kissamos port to Kythera and Antikythera islands.
I recommend Ferryhopper to look at schedules and book ferry tickets to Crete online.
Getting around Crete – How to see Crete
The best way to get around Crete is with a rental vehicle. Then you can explore the finest sandy beaches on the wild, south coast, and pass by the small mountain villages.
If driving in Greece sounds overwhelming, another option is to use the island's bus network. There are connections between the main towns of the north (note that there are two major bus stations in Heraklion), and there are also buses to certain villages on the south.
If you are pushed for time, you can always book one of the numerous tours in Crete. You will then see all the highlights, without having to worry about transportation or planning.
Best time to visit the island of Crete
Crete is a great destination any time of year. The most popular time to go is summer, when the weather is warmest. This is also the most crowded time of the year, especially in the main towns and resorts.
If you're looking for a more authentic experience, visit in the spring or autumn. The temperatures are milder, and there are fewer tourists. The downside is that some businesses may be closed, and it might not feel warm enough to swim.
Where to stay in Crete
There are hotels and apartments of all shapes and sizes all over Crete. The main towns, like Chania, Heraklion and Rethymno, offer a good selection of upscale accommodation, boutique hotels, and also budget rooms.
All around the island, you will find numerous beach resort hotels. These range from basic hostels and simple family apartments to lavish five star properties.
If you're looking for something more rural, many of the villages will have a few villas and very small hotels. Rooms to let with basic cooking facilities are also common.
Finally, if you're feeling really adventurous, you could try camping. There are several camping grounds around the island, some of which are by the coast.
Whatever your budget and preferences, you will be able to find a place to stay in Crete. I use booking.com to book accommodation in Greece and beyond.
Frequently asked questions about Crete
Here are a few questions I've been asked in the past about Crete:
Which part of Greece is Crete in?
Crete is located to the south of mainland Greece, between the Aegean Sea and the Libyan Sea.
What is Crete famous for?
Crete is famous for the palace of Ancient Knossos, the coastal town of Matala, the fantastic cuisine, the fantastic beaches like Elafonisi and Balos, and the unmatched hospitality.
Is Crete a safe island?
Crete is a very safe island in terms of crime. There's one thing you might watch out for though – local drivers!
Is Crete expensive to visit?
Generally speaking, Crete is very affordable. With that said, if you are looking for luxury, you'll be happy to know that there are several high-end boutique hotels and lavish multi-bedroom villas.
Are people friendly in Crete?
The locals in Crete, called Cretans, are among the friendliest people you will ever meet. Whether you are a couple, solo traveler, family or group of friends, you will definitely love the people!
Next read: Armchair Travel: How To Virtually Explore The World
---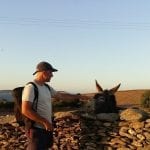 – Dave Briggs
Dave is a travel writer who's been living in Greece since 2015. In addition to writing this guide about where the island of Crete is and other travel information about Crete, he's created hundreds of travel itineraries and blog posts about Greece which you can find here on Dave's Travel Pages.
Follow Dave on social media for travel inspiration from Greece and beyond: