Ios is just 40 minutes away from Santorini on the quickest ferry. This guide shows how to book your Santorini to Ios ferry tickets, what to expect, and more!
Ios island in Greece
As you can tell on this map, the Greek islands of Santorini and Ios are located very close to one another. This makes them a natural pairing when it comes to choosing which islands to combine on a Greek island hopping trip.
Although Ios has something of a reputation as a budget party island, I found it had a lot more to offer.
The beaches were among the best in the Cyclades islands of Greece (which is up against some pretty stiff competition!), there were some nice hiking trails, cool artisan and local product stores, and the sunsets were simply amazing!
If you're after the party scene, by all means go in August. Just make sure you have your hotels in Ios organized a few months in advance.
If you're not that bothered about the party side of things, might I suggest visiting Ios in June or September instead. It's more relaxed, cheaper, and the weather and sea temperatures are still great!
I've got some travel guides here that might be useful for further planning your itinerary in Ios island, Greece:
How to get from Santorini to Ios
With the intro out of the way, let's look at how you can travel between Santorini and Ios.
As there is no airport in the Greek island of Ios, the only way to make a journey from Santorini to Ios is by taking a ferry.
During the peak months of summer, there are 4 or 5 ferries per day from Santorini to Ios. These ferries to Ios from Santorini are operated by SeaJets, Zante Ferries, Blue Star Ferries, Golden Star Ferries and Express Skopelitis.
Ferry Santorini Ios
The quickest crossing from Santorini going to Ios takes around 40 minutes, whilst the slow ferry sailing to Ios from Santorini island takes around 1 hour and 50 minutes.
The most regular company offering a daily ferry from Santorini to Ios is SeaJets, but they can be more expensive. As a general rule, you can expect faster ferries to have more expensive tickets prices.
Prices for ferry tickets to Ios change from year to year. The best place to look at up to date schedules and book tickets online is Ferryhopper.
Ios Island Travel Tips
A few travel tips for visiting the Greek island of Ios:
Wondering where to stay in Ios? Take a look at my guide to places to stay and the best hotels in Ios for all budgets.
---
Booking is my favourite platform for reserving hotels in Greece. You'll find a good selection of accommodation in both Santorini and Ios.
---
Book your ferry tickets with Ferryhopper. It's the best site to check ferry schedules for the Santorini to Ios crossing, and it's easier to get your ferry ticket as an e ticket rather than going into travel agencies in Santorini.
---
Check out the weather conditions – you might want to take something for travel sickness before your boat leaves!
---
I'd strongly suggest aiming to be at the Santorini ferry port an hour before the ferry Santorini Ios departs especially if you have to pick up tickets there.
---
There's not much shade at Santorini port, so I'd suggest diving into one of the cafes if you have some time to kill. They're a little overpriced, but at least you won't melt in the sun and you can enjoy a relaxing drink before the ferry to Ios leaves.
---
Welcome taxis offer a sensibly priced pre-booked pick up and drop off service for the airport and port in Santorini. This way you'll be on time for your ferry trip from Santorini to Ios!
---
What to see in Ios Greece
I've already mentioned my guide on the best things to do in Ios. A quick list of highlights if you haven't got time to check that travel blog post out are:
Explore Chora
Check out the churches (there's 365+!)
Relax on amazing beaches
Visit Skarkos Archaeological site
Spend time at the Archaeological Museum
Walk to Homer's Tomb
Hike to Paleokastro
Watch a sunset at the lighthouse
Enjoy watersports like paddleboarding
Celebrate in a bar or nightclub!
How to take the ferry from Santorini to Ios FAQ
Questions that people ask about traveling to Ios from Santorini include:
How can you get to Ios from Santorini?
The only way to travel from Santorini to Ios is to take a ferry. There are up to up to 3 ferries per day sailing to the island of Ios from Santorini leaving from Athinios Port in Santorini and arriving at Ios Port.
Is there an airport in Ios?
There is no airport in Ios island, so the only way to take a trip from Santorini to Ios is to use a ferry. The closest airport to Ios is on Santorini.
How long is the ferry from Santorini to Ios?
The ferries to Ios from Santorini take between 40 minutes and 1 hour and 50 minutes. Ferry operators on the Santorini Ios route may include SeaJets, Zante Ferries, and Express Skopelitis.
How can I buy tickets for the ferry to Ios?
Ferryhopper is perhaps the easiest site to use when it comes to booking Ios ferry tickets online. Although I recommend you book your Santorini to Ios ferry tickets as much in advance as possible, you might also prefer to use a travel agency in Greece when you have arrived.
How do I get from Santorini airport to Ios
Using the airport in Santorini is a good way to get to Ios for international travelers, as Santorini airport has connections with European cities. Once at Santorini airport, you'd then need to take public transport or a taxi to Athinios Port, from where you'd then take the Santorini to Ios ferry.
Is Ios cheaper than Santorini?
In comparison to popular Greek islands like Santorini and Mykonos, Ios is one of the more budget-friendly places in Greece since it targets younger visitors and backpackers. When the island is bustling with tourists during the high season, accommodation costs can go higher, but they remain relatively inexpensive in comparison to Santorini.
You might find these Ios and other Greek island ferry guides to be of use if you're planning an island hopping trip in the Cyclades:
If you found this guide on the ferry Santorini to Ios useful, please share on social media. You'll find some buttons in the bottom right corner of your screen. The image below would look great on one of your Greek island Pinterest boards!
Ios is a beautiful island worth exploring. If you're looking for a more relaxed experience with less parties and crowds of people, try visiting in the off season-June or September. You'll enjoy warmer weather, fewer people and lower prices without sacrificing any amazing scenery!
Have any questions about how to book ferry tickets or how to reach Ios? Leave a comment below, and I'll get back to you!
---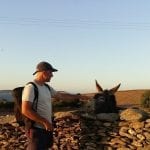 – Dave Briggs
Dave is a travel writer who's been living in Greece since 2015. In addition to creating this guide about taking a ferry to Ios from Santorini, he's written hundreds of other blog post and itineraries about other islands in Greece.
Follow Dave on social media for travel inspiration from Greece and beyond: