The island of Ios has some of the most memorable sunset spots in Greece. Here's the best places you can watch the sunset in Ios island, Greece.
Ios Sunset Guide
Why is it that we only seem to sit up and take notice of a sunset when we're on vacation?
Whatever the reason may be, it makes a holiday sunset much more magical, and that's certainly the case on the Greek island of Ios!
Perhaps more well known for its party scene, Ios has some incredible sunset locations. Panoramic views, Cycladic architecture, and clear skies offer a perfect recipe for a unique experience.
If you are looking for
things to do in Ios
, be sure to include catching a sunset in your travel itinerary!
After spending a week in Ios and making it a mission to watch a sunset every evening, here are my favourite places in Ios to watch the sunset.
Area near Teatro Odysseas Elytis
In my opinion, this little area overlooking Chora is the best place to see the sunset in Ios. In fact, it was so good, I watched the sunset from here twice!
The reason I've labelled it as Teatro Odysseas Elytis is so you can easily find it on Google maps. You might also find this area referred to as the Old village of Ios, Ekklista Panagia, or Gaitis Museum.
I found that the best views of the sunset were from the roof of the never-opened and practically abandoned Gaitis Museum. If you wait for about half hour after sunset, you can also see the lights turn on in Chora.
Note: When I visited in September, I was fortunate to see not only the Ios sunset from this area, but also a full moon rising over the Teatro Odysseas Elytis!
Panagia Gremiotissa and Hill Churches
Perhaps the most popular sunset spot in Ios island, is from the famous Panagia Gremiotissa church, and the three other smaller churches above it.
A winding path takes you from Chora and up to the hill, from where you get some incredible views of the horizon all around.
You should note that in high season, and particularly August, this area is incredibly busy. You'll want to arrive at least an hour before sunset in order to get a decent position to watch the sun go down.
Beach Sunsets in Ios
It's also possible to get a beach sunset in Ios. Any of the beaches on the west of the island are good candidates.
Whilst we did watch a sunset from Mylopotas Beach on our first day, it wasn't spectacular. It wasn't bad either, as the sunset photo shows above!
Instead, I'd suggest you head to Lorentzena Beach, which is a quiet place without facilities.
You'll need your own food and water, and also shade if you visit the beach in the heat of the day. Hang around for the sunset though, as you will be well rewarded!
The Lighthouse
Many of the lighthouses in the Cycladic islands of Greece have a name. The one in Ios does not, and is simply referred to as Pharos (Greek for lighthouse).
Curiously, the Lighthouse in Ios is not really mentioned in tourist literature. Perhaps that's a good thing, otherwise it would become too popular as a sunset location in Ios!
To reach the lighthouse on the Koumbara peninsular involves a half hour hike, which I recommend wearing closed shoes for. For the return hike back to the road after sunset, you may want to bring a torch – although using one does affect your night vision.
Note: After sunset, you can wait an hour or so for the stars to come out and do a little constellation spotting at the same time!
Pathos Lounge Bar & Restaurant
If taking the hike to the lighthouse sounds too much hard work, consider the Pathos Lounge Bar & Restaurant instead. It's located on the same peninsular in Ios, and you could watch the sunset from either the pool bar (young crowd) or restaurant.
Where to stay in Ios
Looking for accommodation in Ios? Here are some hotels and places to stay in Ios that you might consider.
Traveling to other parts of Greece? You might find these Greek island travel guides useful.
---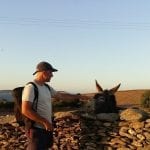 –
Dave Briggs
Dave is a
travel writer
who has been living in Greece since 2015. In addition to this travel blog post about where to watch the Ios sunset, you will find hundreds of other insights, guides, and itineraries for destinations in Greece on this travel blog.Follow Dave on social media for travel inspiration from Greece and beyond: