Looking where to stay in Ios island in Greece? I'll show you which areas of the island have the best hotels in Ios for all types of traveler.
Where to stay in Ios
The picturesque island of Ios is one of the Cyclades islands of Greece. It can make a good next island to visit after Santorini, and is famed for its nightlife and beaches.
There are three main areas in Ios which offer a convenient location for most people to be based. These are Ios Chora (the main town), Gialos / Yialos (the settlement by the ferry port), and Mylopotas Beach (one of the best beaches in Ios).
Ios Greece Hotels Map
Just below here you can find an interactive map of hotels in Ios. As you zoom in and move around, more places to stay will appear, along with a guide price.
Remember to change the dates to the time you want to visit Ios, as it will show you what accommodation is currently available.
Keep in mind that the high season month of August is the most expensive time to visit the island of Ios – but also the most fun in terms of nightlife!
Each one of these areas has its advantages and drawbacks depending on what type of person you are, and your reasons for visiting Ios.
Ios Chora
Chora is where all the action is. Here, you'll find most of the nightlife, plenty of places to eat, and one of the most famous sunset spots in Ios. Even if you choose not to stay in a hotel in Ios Chora, you'll probably make your way here at night.
The advantages to staying in the Chora are that it is a central location from where to easily explore the island, and you have easy availability to all services and public transport. Staying at on of the hotels in the Chora also means you don't have far to get home at night!
The downsides of staying in Chora are that it can get fairly noisy due to the nightlife, especially in August. You'll want to read guest reviews and choose your hotel room with care!
Gialos Village
Gialos, sometimes written as Yialos, is where the Ios ferry port is located. There's some accommodation here ranging from cheap hotels to luxury hotels such as the Relux Ios.
The small Yialos beach is ok but not really comparable to some of the other beautiful beaches in Ios.
The advantage of staying near the picturesque port, is that you may find cheaper places to stay, and it's great for inconveniently timed ferries.
The disadvantage, is that while Chora is only 2 kilometres away and within walking distance, it's all uphill. After doing the walk once, it's likely to lose its attraction!
Mylopotas Beach
The famous Mylopotas Beach also has some good accommodation options, and the location is perfect if you see yourself spending a lot of time at the beach. You can either relax on the sun loungers, find yourself a quiet area, or indulge in all manner of watersports.
To its advantage, you'll be able to find quieter places to stay in Ios and the beach really is fantastic. At night, you can take a bus into the island's main town, but you may need to get a taxi back to your room again.
There's not may downsides to staying here, but you'll want to acquaint yourself with the bus timetables or get a car rental in order to explore further.
Hotels in Ios
There are well over 40 popular hotels and places to stay on the Greek island of Ios.
Look for a hotel with a good reputation. Read reviews from other guests to get an idea of what it is like to stay there.
Feel free to browse through some of these hotels/accommodations choices in Ios:
Hotels Ios
Here's a closer look at some of the accommodation on offer. These include the best cheap hotels in Ios as well as the best luxury hotels in Ios. Almost all hotels in Greece nowadays offer free wifi access and air conditioned rooms, but check before you book!
If you're happy to pay the money, you'll love staying at Liostasi Hotel in the Chora. There's a pool and spa center, elegantly decorated rooms, and a lot of attention to detail. Choose a luxury suite with a private pool if you really want to treat yourself!
More information here: Liostasi Hotel
Popular with people in their 20s, this is a basic hotel but does have a swimming pool. If you're traveling to Ios to party, it's worth looking at. Quad rooms and even places with 7 beds mean its a good option for groups of friends backpacking.
More information here: Armadoros Hotel / Ios Backpackers
Boasting 3 swimming pools, spa, and a new restaurant, the Ios Palace Hotel has a great location right on the beach in Mylopotas. If beach time is a priority, this is definitely the best hotel in Ios for you!
More information here: Ios Palace Hotel & Spa
Just 50 metres from the beach at Mylopotas, if you're after boutique hotels to relax and unwind during your Greek island hopping holidays, this is a good choice. The Levantes Ios Boutique Hotel has great facilities, and the beautiful beach is ever present!
More information here: Levantes Ios Boutique Hotel
The Lofos Village Hotel gets good reviews at Booking, with a score of 9.6. There's a lovely outdoor pool, and clean, well furnished and modern rooms. It is centrally located, and might make a good option for couples who don't want to stay at a party hotel.
More information here: Lofos Village Hotel
A very clean, bright and modern hotel with Cycladic chic architecture. It's located in a vary quiet area, and is a luxury hotel for those that enjoy facilities and beauty sleep! During August when prices go higher the Relux Ios Hotel might seem a little overpriced compared to other accommodation in Ios.
More information here: Relux Ios Hotel
Foe people seeking a hotel in Ios Chora which has close access to the nightlife but is also quiet, this is a good option. Basic but clean rooms at a reasonable price. The bus stops right outside Hotel Mediterraneo which is useful for getting around Ios.
More information here: Hotel Mediterraneo
Beaches in Ios
So, once you've chosen a hotel in Ios, which of the island's beaches should you visit?
Mylopotas Beach: The picturesque Mylopotas Bay is located about 3kms from Ios Town. This long sandy beach is the most busy on the island, with lots of watersports and good swimming. Some of the most popular hotels and resorts in Ios can be found around here.
Kalamos Beach: Kalamos is a beautiful wild beach that is accessible only by way of a dirt road. The rocky ride is well worth the effort.
Psathi Beach: This is another beach on the island's eastern shore that may be reached via a long concrete road.
Papas Beach: Only accessible by boat, but a hotel is being built in the area.
Gialos Beach: Simple port beach good for a quick swim.
Want to see as many beaches as you can in one day? Try this tour: Ios Beach Cruise + Snorkel
Travel from Ios to other nearby islands
There are a number of neighboring islands you can visit either before of after spending time in Ios. Santorini normally makes a nice pairing, but so too does the sleepy island of Sikinos.
Ios port is quite small, with just a couple of gates. If you already have your tickets, aim to be there a half hour before your ferry is due to depart. If you need to buy tickets, and hour before is better.
Here are some guides on how to get from Ios to other popular destinations close by:
When island hopping in Greece, I recommend using the Ferryhopper platform where you can easily see the latest ferry schedules and book tickets online.
Hotels in Ios Greece FAQ
Other travelers planning to stay in Ios often ask questions such as these when it comes to choosing a great hotel and planning an itinerary:
What is the best hotel in Ios?
Ios has a number of very good luxury hotels to choose from, with popular ones being the Ios Palace, Relux Ios Hotel, and Levantes Ios Boutique Hotel.
Where is the cheapest place to stay in Ios?
In this guide you'll find an interactive map of hotels on the island which also display prices. The price is not determined by the area, but rather the facilities the accommodation offers.
What is there to do in Ios?
While Ios is well known for its nightlife and club scene, there's plenty more to this pretty island in the Cyclades. It has some stunning sandy beaches, incredible sunsets, and lovely hiking trails.
Where should I stay in Ios?
While many people stay in the port area of the island, the walk up the hill to the Chora is off putting after a while. If you want the nightlife, stay in the Chora, but if the beach is your priority, choose a hotel near Mylopotas.
Is Ios Greece cheap?
When compared to the Greek islands of Santorini or Mykonos, Ios can seem very cheap. It is partly due to this that it has something of a reputation as an affordable party island for 20 somethings.
Best place to stay in Ios
There are many great places to stay on the island of Ios, Greece. Three of the best hotels on the island are Agalia Luxury Suites, Liostasi Hotel & Spa, and Levantes Boutique Hotel. All three of these hotels are located in different areas of the island, so you can choose the one that best suits your needs. If you're looking for a place to stay that is more budget-friendly, there are also several great options, such as Ios Backpackers and Lofos Village Hotel.
So, whether you're looking for a luxurious stay on Ios or want to find the best deal on a place to sleep, our guide to Ios hotels has got you covered. With so many amazing beaches and things to do on the island, you'll be spoilt for choice when it comes time to book your holiday accommodation. Have we missed anything? Let us know in the comments below!
---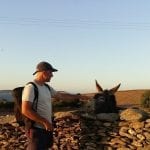 –
Dave Briggs
Dave is a
travel writer
who's been living in Greece since 2015. In addition to this guide on where on the island to stay and the best hotels in Ios Greece, he's written hundreds more destination guides and travel blog posts. Join Dave on social media for travel inspiration from Greece and beyond: