Looking for a Greek island itinerary for 14 nights? I recently answered a reader's questions regarding a Greek island itinerary for late September. Here's a few ideas I came up with.
Planning a Greek Island Holiday
I was recently asked by a reader for some suggestions regarding their Greek island itinerary for 14 nights / 16 days. Somehow, what started as a quick answer morphed into this blog post!
As a result, I hope other people also find this suggested Greek island hopping itinerary to be of some use.
Their questions were:
We are planning to visit Greece in late September for 14 nights/16 days. We are interested in Athens, Naxos, Santorini and Rhodes, and if possible to add Paros in the itinerary.

1. Which island would you suggest to start/end (via ferries or flight) and fly back home to North America?

2. If we need to choose between Naxos and Paros, which island would you recommend?

3. Is it easy to get around via buses within each of the islands?

4. Also would love to hear your hotel/area suggestions for each of the islands.
Here's my answers.
Greek Island Hopping Routes
Greece is a small country, but as you will see it can be quite time-consuming to get around, especially for islands that belong to different island groups.
In your case you have Santorini – Naxos – Paros that belong to the Cyclades group, and also Rhodes which is one of the Dodecanese islands of Greece.
Depending on your interests and how much time you want to spend in each place, four islands plus Athens is quite a challenge, and you will most likely end up running around ports and airports.
My suggestion would be three islands max plus Athens. Check out my tips for Greek island hopping.
Weather in Greece in September and October
Take into account that September / October is when the weather starts getting worse, so there may be fewer sunny / beach days.
Out of the places you are going, Rhodes is the place where you are the most likely you are to have good weather – there are also many archaeological and historical sights so you definitely need more than 3 days to get a good idea of the island.
1. Which island would you suggest to start/end (via ferries or flight) and fly back home to North America?
In general, ferry schedules for that time of year can be announced later on in the year. You can check Ferryscanner for itineraries and tickets – there are some already, but there may be more added later on.
As you will see, Rhodes in particular is a little tricky to get to from the Cyclades. There will be a connection once or twice a week and it would take a pretty long time. I've a guide here on ferries in Greece.
As for flights, the domestic air carrier Aegean / Olympic is great, but again you will find that you won't be able to fly from one island to the other, and you will have to go through Athens.
Make sure you read luggage specifications in advance (though they are not really strict, it's better to be safe than sorry).
I've a guide here to Greek islands with airports.
Starting and finishing in Athens
If you are coming from North America into Athens and are planning to use ferries, it is best to leave Athens as your final destination, in case of boat strikes or bad weather / no departure (it's not so uncommon).
I would suggest starting with Naxos (great beaches, and a chance to get some good weather, though it's debatable), going on to Santorini (the beaches there are not that great, focus on other activities instead like this incredible hike or the volcano tour), then Rhodes (for a chance to spend some time on the beach) and leave Athens at the end.
Or even just three destinations – Santorini, Rhodes and Athens.
I would suggest leaving at least 2 days to see Athens.
2. If we need to choose between Naxos and Paros, which island would you recommend?
Naxos is a much bigger island than Paros and there is much more to do, plus the beaches are great. Also, at that time of year, Paros will have started shutting down for winter. Check out my introduction guide to Naxos.
3. Is it easy to get around via buses within each of the islands?
All of the islands have buses, however schedules are not always easy to find in advance and they change for high and low season. Quite frankly, it is much better to rent a car and be independent – driving on the islands isn't as bad as you may have heard.
Related: Cheapest Greek Islands
4. Also would love to hear your hotel/area suggestions for each of the islands.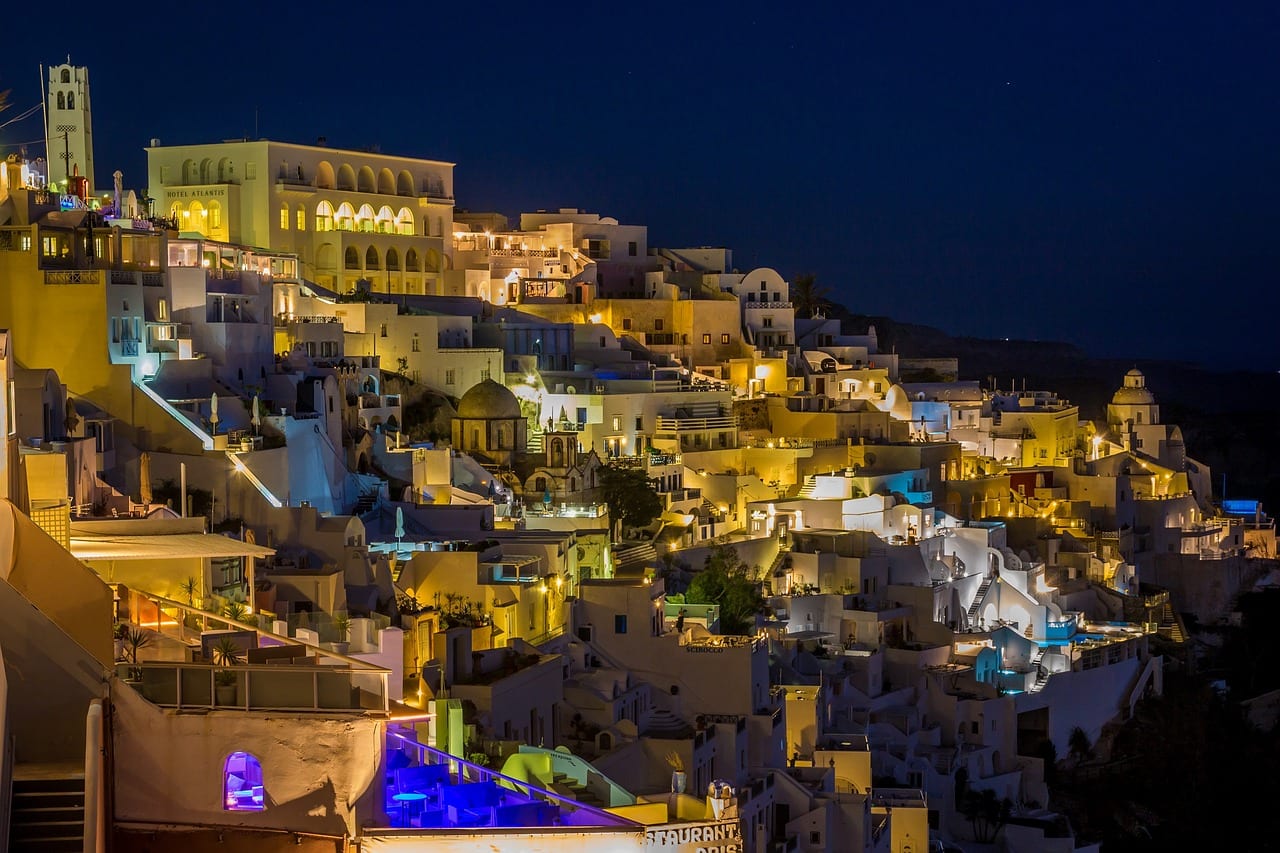 For that time of year, I would recommend the following areas:
Santorini – Stay in the main town, Fira (this is where I stayed when I was there in November), or perhaps nearby Imerovigli. The famous sunset spot, Oia, will not offer that many options for meals etc, and it's a little far to get around from. Just visit for an evening, you can get there by bus and get the last bus back just after sunset or taxi. I've also got a list here of sunset hotels in Santorini.
Naxos – either the Chora (old town) or one of the beaches, maybe Plaka. If you like mountains and are prepared to rent a car and drive around, Apeiranthos will also be a great choice.
Paros – Most likely Parikia, some people prefer Naoussa but I think this is more suitable for summer months. Check here for hotels in Paros.
Rhodes – Definitely the main town, it is pretty amazing and you will need at least a couple of days to see the main sights.
Athens – The area close to the Acropolis is the best if you are staying for just a few days, I've put down a guide for the best hotels near the Acropolis here.
A Greek Island Hopper Itinerary
Personally, I love putting my own trips together. Everything might not be perfect, but it's an adventure! There are 'done for you' solutions available though through some companies, and I've included some Greek island hopping packages below.
I hope all this information helps get you a step further to planning your Greek island hopping trip! Here's some more ideas for you:
---
---
Check out this 2 week Athens – Santorini – Crete – Rhodes itinerary – 2 Weeks in Greece
---
---
---
---
---
I recommend Ferryhopper when looking for which ferry companies can make a boat trip between islands.
---
Get Your Guide have a great selection of day trips you can take while traveling around Greece and the islands.
---
High Season (August) is the most expensive time to take a vacation in Greece. If you are flexible with what time of year you can visit Greece, September is the best month overall.
---
Greek island hopping itinerary 14 days FAQ
Here are some more questions that often get asked by people planning a Greek island hopping trip:
Is 2 weeks in Greece too long?
Absolutely not! The more time you can spend in Greece the better as there is so much to see and do. Even with two weeks, you'd only get to see a fraction of the country. Remember, there's over 119 inhabited Greek islands alone!
How long do you need for Greek island hopping?
When planning an island hopping adventure, it's best to allow at least two nights on each Greek island at the very minimum. So for example, in one week you could potentially see 3 islands, and in two weeks, you could visit between 5 and 7 islands reasonably comfortably.
How many Greek islands can you have in two weeks?
I would suggest including no more than 7 islands in a 2 week Greek island hopping itinerary. If you really want to get to know them well, make it a maximum of 5 islands.
Which Greek island groups is it easier to island hop around?
The Cyclades islands are perhaps the best island group in Greece to plan your first Greek island hopping routes. There are 24 inhabited Cycladic islands, which include well known destinations such as Mykonos and Santorini as well as lesser known islands like Schinoussa and Iraklia.
How much money do you need for 2 weeks in Greece?
Unless you absolutely have to stay in luxury hotels, drink cocktails every night, and party in the most expensive clubs, 100 Euro per person per day should cover most expenses during your time in Greece.
Pin this 14 day Greece itinerary for later
---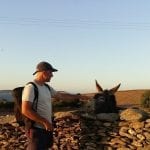 – Dave Briggs
Dave is a travel writer who's been living in Greece since 2015. In addition to writing this guide on planning a 2 week trip to Greece, he's created hundreds of other travel blog posts with valuable insights and recommendations from a local about Greece which you can find here on Dave's Travel Pages. He might not have visited all the Greek islands yet, but he's working on it!
Follow Dave on social media for travel inspiration from Greece and beyond: