The easiest way to get from Thessaloniki airport to the city centre is by taxi. This Thessaloniki Airport Taxi guide shows you how to do it the best way.
Pre-Book Your Thessaloniki Airport Taxi
The easiest way to arrange your Thessaloniki airport transfer is to pre-book it online. This way, you won't waste any time on arrival, and instead will be able to get straight to your hotel or onward destination.
In these times of social distancing, it's also far better than standing so close to people on a crowded bus!
Whilst oftentimes, it can be more expensive to pre-book a taxi to meet you at a hotel, in this case it is not. By using the Welcome Taxi Service, you pay the same price as you would if getting a taxi from the regular airport queue.
** Click here to find out more about booking Thessaloniki Taxis online **
Thessaloniki Taxi Transfers
The benefits of pre-booking your Thessaloniki airport transfer by taxi, are that it is a massive time saver. Instead of wasting time on arrival trying to work out where the bus is, or queuing for a taxi, your driver will be waiting for you.
As such, it is simply a matter of spotting your driver (very easy at Thessaloniki arrivals!), and then heading straight to the car. It's particularly suitable if you've just arrived on a long flight, have heavy luggage, or simply appreciate the convenience.
Thessaloniki Airport to City Distance
The distance from Thessaloniki Makedonia Airport to the center of Thessaloniki is around 20kms. The journey by taxi takes about 30 minutes, with the bus being 10-20 minutes slower depending on stops.
Note: Buses run about every 40 mins, meaning if you just missed one, the total bus journey time can be upward of 70 minutes. Something to consider when planning your Thessaloniki airport transfer.
Thessaloniki Airport to City Taxi Cost
Unlike in Athens, there is not a flat rate set for airport taxis from Thessaloniki airport. However, the average price is around 20 Euros from Thessaloniki airport to center depending on final destination.
Note: There is an additional night time fee between midnight and five am which takes the price to around 25 Euro.
By pre-booking online, you will know the price upfront, and have no unpleasant surprises on arrival. There are no hidden fees, and there is also free cancellation (but check their policy for details).
Taxi from Thessaloniki Airport to Halkidiki Cost
One of the most popular destinations for people landing at Thessaloniki airport, is Halkidiki. It takes just over an hour by taxi from Thessaloniki airport to Halkidiki, and during the day costs around 80 euro.
The night taxi costs more at around 104 euro.
** Book a taxi from Thessaloniki to Halkidiki here **
Taking a Taxi from the Queue
Prefer to take a taxi from the queue into Thessaloniki rather than pre-booking one? Don't worry, it's very easy! As you exit the arrivals area, you'll see the line of taxis and people waiting for them.
Thessaloniki taxis can be easily spotted due to their being blue with white roofs.
Fun Read: Airport Instagram Captions
Pin this Thessaloniki Airport Transfer Guide for later
Feel free to pin this Thessaloniki airport taxi guide on to one of your boards for later. This way, you can easily find it for future reference.
Further Reading
You might also be interested in these other travel blog posts about Thessaloniki.
---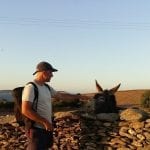 –
Dave Briggs
Dave is a
travel writer
based in Athens, Greece As well as creating this guide on how to arrange a transfer from Thessaloniki airport, he's also written hundreds more travel guides to Greek destinations. Follow Dave on social media for travel inspiration from Greece and beyond: