A complete guide on how to get from Athens to Thessaloniki using the new fast train, buses, flights and driving. Everything you need to know about the Athens Thessaloniki routes.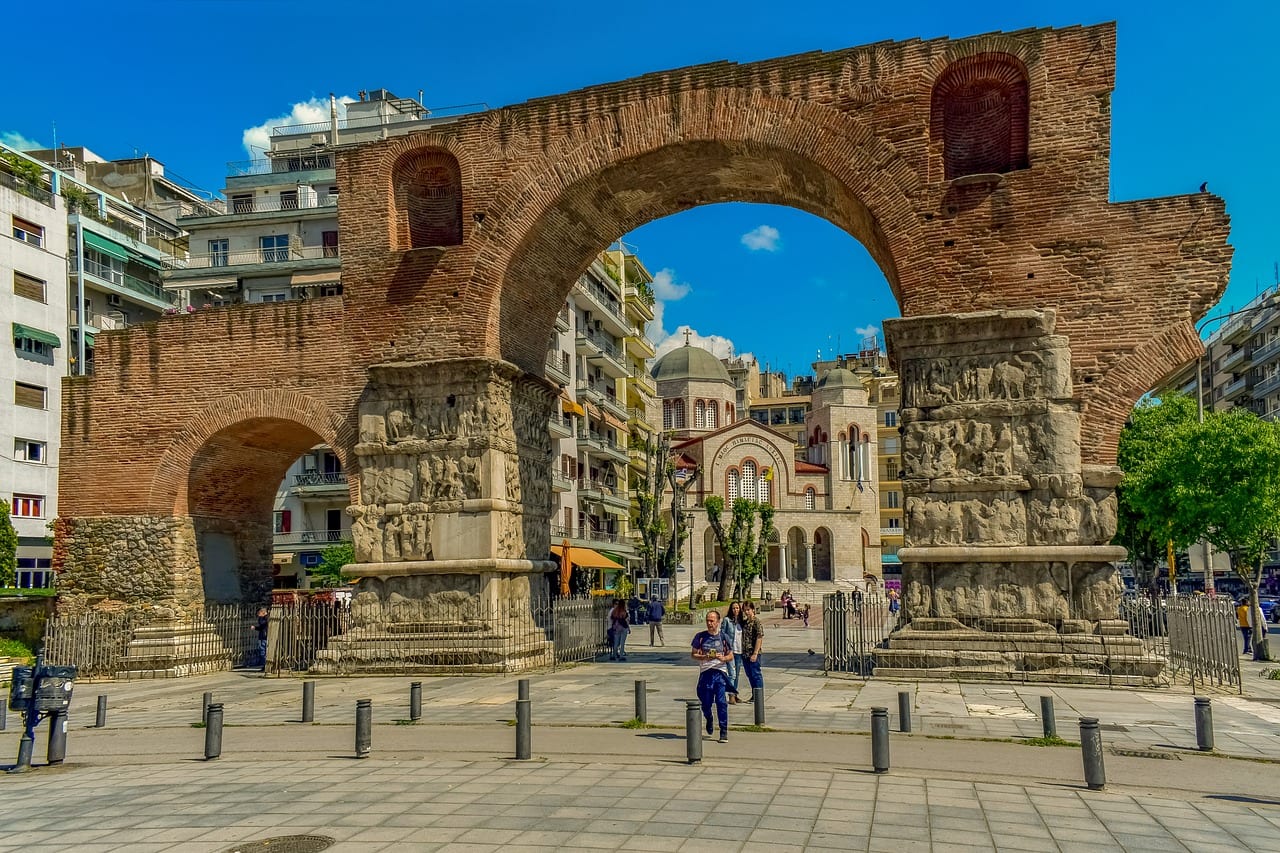 Visiting Thessaloniki in Greece
Whilst many people visit as a jump point to get from Thessaloniki to Halkidiki, too few choose to include Thessaloniki in their Greece itinerary. This is a real shame, as it's a lively city with a vibrant night life, partly due to the student population.
Thessaloniki is the second largest city in Greece and one of the most important cities on the Balkan Peninsula. It has a rich history dating back to ancient times; archaeological finds from 3rd century BC indicate that it was an important centre for trade, religious cults, and military purposes.
Thessaloniki offers many attractions for all types of tourists – there's tons of Byzantine monuments, plenty of museums and a wide selection of cafes to enjoy a frappe, and restaurants.
As such, it's a fantastic destination if you are interested in history and culture. Add on to that the fact that the centre is totally walkable and pedestrian friendly, it makes something of a contrast from Athens.
Don't believe me? Check out my guide to the best things to do in Thessaloniki for more!
So, now you want to visit Thessaloniki, how do you get there? This guide shows you how to get from Athens to Thessaloniki using all forms of transport.
Athens to Thessaloniki Distance
The distance from Athens to Thessaloniki is approximately 500 kms. You can get from Athens to Thessaloniki by train, bus, car or a short flight.
Here's how long it takes to get from Athens to Thessaloniki:
Athens to Thessaloniki time by train: Approx 4.5 hours. (New fast train service)
Athens to Thessaloniki time by bus: Approx 7 hours. (Depends on bus route/service)
Athens to Thessaloniki time by car: Approx 5 hours. (Depends who's driving!)
Athens to Thessaloniki flight time: Less than 1 hour (Allow for waiting time at airports as additional).
Which one is the best way to get from Athens to Thessaloniki? Personally, I would say the new train followed by a flight. It really depends on your circumstances.
Athens to Thessaloniki Train
If you have taken the train in Greece over a decade ago, you will most likely remember a slow journey, where the train had to stop multiple times, or perhaps even broke down at some point. This has all changed, due to ongoing infrastructure renewal that has been taking place over the last 20 years or so.
The brand new train from Athens to Thessaloniki which was launched on 20th May 2019, takes 4-4.5 hours to get from one city to the other, and it promises a safe, fast and pleasant journey. Services on board include plug sockets, WiFi (on selected trains), and additional benefits for first class passengers.
At 45 euros for a one-way ticket (and 20% discount for the return journey), the new route is one of the most affordable, fast and pleasant ways to travel from Athens to Thessaloniki. We can't wait to try the new service out!
Fast Train from Athens to Thessaloniki
There are five fast trains from Athens to Thessaloniki a day, departing at 6.22, 9.22, 12.22, 15.22 and 18.22, while there is an additional night train that takes 5.5 hours.
The trains conveniently leave from Stathmos Larissis metro station, just four stops from Syntagma metro station on the red line.
It is anticipated that by the end of the year, the total time taken for the Athens to Thessaloniki trip will be reduced further to 3 hours 15 minutes, so watch this space.
You can book tickets online here Hellenic Train
Buses from Athens to Thessaloniki
If you prefer to have more choice in terms of departure times, you might prefer to take the bus from Athens to Thessaloniki. With no less than 18 buses plying this route on a daily basis, you will definitely find a time that suits your schedule.
You can see the itineraries and book your ticket online here – KTEL
Athens to Thessaloniki Bus Stations – Athens
Confusingly, the Athens bus routes to Thessaloniki depart from two separate bus stations. There are plans for this to change, but nothing is set in stone yet.
The first bus station is on Mavrommateon Street, just behind Pedion tou Areos park, close to Victoria metro station on the green line. Just type "KTEL Attika buses station" in Google maps and you will find it.
The second station for buses going from Athens to Thessaloniki, is not too far from Agios Antonios metro station on the red line. You will find it if you type "KTEL Bus Station Kifissou" on Google maps.
Unless you have heavy luggage, you could probably walk from the metro to the bus station if you needed to, but it's not an enjoyable walk.
It is also possible to get bus 051 from close to Omonia or Metaxourgio metro stations all the way to Kifissos bus station. If you have just arrived from the airport, the express bus X93 takes you directly to Kifissos bus station.
Thessaloniki Bus Station
Similarly, there are two bus stations where the Athens to Thessaloniki bus may arrive. One of them is on Monastiriou 67, very close to the Railway Station, and the other one which is further out of the centre is on Gianitson 244. If you are staying in the centre of Thessaloniki, the first one is a better choice.
The cost of a return bus ticket from Athens to Thessaloniki is 58.50 euro. The trip will take around 6-6.5 hours, depending on traffic conditions.
You can see the locations of all bus stations in Athens and Thessaloniki in this link: Athens and ThessalonikiBus Stations
If you've never used public transport in Greece before, take a look at this guide: Public transport in Greece
Drive from Athens to Thessaloniki
If you are planning a road trip around Greece and are on your way to (or back from) Thessaloniki, the best and most convenient choice is by rented car. Google maps work great in Greece, so just get a local SIM card and use your mobile phone.
The highway from Athens to Thessaloniki is a modern national road, and depending on how fast you drive and where you are leaving from in Athens, you can reach Thessaloniki in 4-4.5 hours – or more, if you stop on the way. The total distance is around 500 kilometers / 310 miles.
What you will find rather annoying, are the toll stations – there are 11 stops for tolls on the way from Athens to Thessaloniki. The total amount you will be required to pay is just over 31 euro, and it's best to have the exact change. Petrol cost will depend on the type of car you have.
Flights from Athens to Thessaloniki
If you are pushed for time, the best way to travel from Athens to Thessaloniki is by plane. It's a short flight, just under an hour, and you will arrive at Makedonia airport (SKG) in Thessaloniki, which is a little out of the city.
You can compare prices of flights to Thessaloniki from Athens here: Skyscanner
At the time of writing, there are only two companies flying directly from Athens to Thessaloniki – Olympic Air / Aegean, which is essentially the same carrier, and Ellinair.
Note: Ryanair used to fly too, offering prices as low as 10 euro one way, but unfortunately they don't fly any more.
Prices will vary a lot, depending on how early you book your ticket and what type of luggage you want to take with you.
On arrival, you can get a Thessaloniki Airport Taxi to your hotel.
Athens to Thessaloniki Flights with Olympic Air / Aegean Airlines
Aegean Airlines / Olympic Air are the biggest airline company in Greece. They have been voted the best regional airline in Europe for many years in a row, which should give you an idea of the service and safety standards.
There are 11 flights a day for the summer season 2019, with return tickets starting at around 70-75 euro (promo fare), though you will have to be flexible with your dates to get this fare. This includes a standard hand luggage and a personal item.
Book online at www.aegeanair.com
Athens to Thessaloniki Flights with Ellinair
Ellinair is another Greek company that serves a few routes within Greece, including the Athens to Thessaloniki route. They are becoming more and more popular, possibly because they offer a free standard checked luggage on top of a hand luggage and personal item.
Ellinair fly from Athens to Thessaloniki twice a day – their timetable is a little irregular so check them out.
Book online at www.ellinair.com
Athens – Thessaloniki Flights – Which company to fly with?
In all honesty, for a flight as short as this, there is no significant difference,. Both companies are among the best airlines serving Greek airports. So you will be happy with either.
If you are flying out of Athens airport straight after your international flight into Athens, allow at least a couple of hours for immigration and to walk to your gate, especially if you have luggage to check. Athens airport has recently been renovated, and you will definitely find something to do.
A final tip – In general, ticket prices go up and they can be very expensive around certain times of the year. As an example, prices go sky high around the dates of the Thessaloniki International Fair, which is always in the first / second week of September. So if you are certain about your dates, book your tickets in advance.
Related: Why do flights get cancelled
Airport Transfer Thessaloniki
On arrival at Thessaloniki airport, you might find it more convenient to have a pre-booked taxi waiting for you. This doesn't cost you any extra than taking a taxi from the airport queue if you pre-book here – Thessaloniki Airport Taxis.
You can also use the bus to get from Thessaloniki airport to the city. Take either bus no 01X / 01N, which is normally crowded. Buses to Thessaloniki from the airport run every 20-35 minutes or so, 24 hours a day.
FAQ About Travel Between Athens and Thessaloniki
Readers looking for the best way to get from Athens to Thessaloniki often have questions similar to:
How much is the train ride from Athens to Thessaloniki?
The ticket price for the fast train between the two cities of Athens and Thessaloniki are currently 43 Euro. Round trip prices work out cheaper if both tickets are purchased together, and if you book on the app, a further discount on the train ticket applies.
Does Greece have a train system?
The Greek railway network is operated by OSE, the Greek train company. There is an Intercity Train that travels the Athens – Thessaloniki route in four hours.
How many flights a day from Athens Airport to Thessaloniki?
There are over 15 flights from Athens every day going north to Thessaloniki. The cheapest flight prices might go for as little as 20 Euro. Sky Express, Aegean Airlines, and Olympic Air airlines fly this route.
Where is the KTEL Bus Station Kifissou?
The main bus station in Athens is situated at the intersection of Kifissos and Athinon avenues. It has bus connections with Thessaloniki, and also Piraeus and the airport.
Where is the main railway station in Athens?
The Athens Central Railway Station (Larissa Station) can be reached via the red Athens metro line (Larissa stop). A taxi ride to the station from Athens city center will cost between €4.00 and €6.00.
Pin this guide in how to get from Athens to Thessaloniki
Feel free to pin this guide on getting to Thessaloniki from Athens for later using the image below. That way, you can come back to it later, and finish planning your trip to Thessaloniki!
Related Posts