There are three Tinos to Naxos ferry crossings every day during the summer, and the travel time takes between 1hr 15 mins and 2hrs 4 mins.
Tinos Naxos Ferry Route
There is no airport on Tinos, so the only way to travel to Naxos from Tinos is by ferry. Fortunately, Tinos and Naxos are quite close to one another, both being part of the Cyclades group of islands.
On the downside, the ferries that sail between Tinos and Naxos islands in Greece only operate during the tourist season – typically April through to October. Not that this will affect most people reading this travel blog!
At the beginning of the season, there may only be one ferry a day. During the high season, this ramps up to three ferries a day sailing from Tinos to Naxos.
These Naxos ferries to Tinos are operated by Blue Star Ferries, Fast Ferries and SeaJets.
You can look at the latest ferry schedules and check ticket prices at: Ferryscanner
Tinos to Naxos Ferry Travel
The quickest crossing between the Greek islands of Tinos and Naxos is the SeaJets ferry, which takes around 1 hour and 15 minutes.
The slowest vessel sailing to Naxos from Tinos island is Fast Ferries, and takes around 2 hours and 5 minutes.
As a general rule, the faster the ferry, the more expensive the ticket may be. Ticket prices start from 36.00 Euros for the fast Ferries, with SeaJets normally being at least 10 Euros per ticket more expensive.
Check out Ferryscanner to buy a ferry ticket and up to date travel times.
Note: Golden Star Ferries may once have sailed this route, but for 2022 their vessel has been redeployed to sail between other Cyclades islands instead.
Naxos Island Travel Tips
A few travel tips for when you visit Naxos:
Passengers are advised to be at the departure ferry port in Tinos Town at least a half an hour before trips are scheduled to leave.
---
It's highly advisable to book online and get an e ticket in advance, especially if traveling in the Cycladic islands in the summer season. Use Ferryscanner to check timetables, and plan which routes you want to take.
---
Ferries arrive at the port in Naxos Town (Chora) in Naxos. You'll see the Portara of Naxos as you dock at port!
---
For where to stay in Naxos, I suggest looking at Booking. They have a great range of hotels in Naxos and areas to consider staying include Filoti, Plaka, Moutsouna, Agios Prokopios, Agios Georgios, Apollonas, and Naxos Town. If you are traveling to Naxos in the busiest months for travel, I advise reserving apartments in Naxos a month or so in advance.
---
---
Naxos has some beautiful beaches to enjoy, and I recommend these beaches in Naxos: Plaka, Agios Georgios, Agiassos, Agia Anna, Aliko, Psili Ammos, and Kastraki.
---
---
The easiest way to get hold of ferry tickets in Greece is by using Ferryhopper. I think it's better that you book your Tinos to Naxos ferry tickets in advance, especially during the busy summer months.
---
---
---
How to travel from Tinos to Naxos FAQ
A few of the frequently asked questions about the direct route by ferry between Tinos and Naxos include:
How can we get to Naxos from Tinos?
You can only travel from Tinos to Naxos by ferry. There are up to 2 ferries a day making the journey from Tinos to the destination of Naxos.
Is there an airport in Naxos?
Although there is an airport on Naxos, it only has flight connections with Athens.
Which ferry companies operate the Tinos Naxos route?
There are currently two ferry companies providing a ferry trip from Tinos to Naxos. These are Fast Ferries and SeaJets.
How long is the ferry ride from Tinos to Naxos?
The ferries to the island of Naxos from Tinos take between 1 hour and 15 minutes and 2 hours and 5 minutes. The fastest crossing is provided by the ferry company SeaJets, but the fares are slightly higher.
Where do I buy ferry tickets to Naxos?
You can check which ferry operators have the best schedules and make a booking online for ferry tickets at Ferryscanner. If traveling in the high season, I recommend getting your tickets well in advance.
Wrapping up:
If you want to get from Tinos to Naxos by ferry, it's a good idea to plan ahead as there are only two ferries per day. You can check the timetables and buy your tickets at Ferryscanner for up-to-date information about travel times and prices. If you book in advance, especially during the high season, you'll be more likely to get the ferry that you want. I also advise checking out day trips in Naxos as there's plenty to see and do on this beautiful Greek island.
---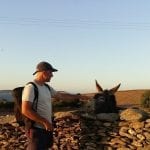 –
Dave Briggs
Dave is a
travel writer
from the UK but living in Athens Greece since 2015. As well as creating this guide to ferries from Tinos to Naxos, he's created hundreds more guides about other islands and popular destinations in Greece. Follow Dave on social media for travel inspiration from Greece and beyond: