This list of the best travel the world quotes will inspire you to live with no excuses, and travel with no regrets! 50 of the best travel quotes for ultimate inspiration.
Travel Around the World Quotes
Are you dreaming of exotic faraway places, where new experiences and adventures await? So am I. Always!
And one of the things I like to do before a trip, is fill up with a little travel inspiration by reading a few quotes.
I find that the more you concentrate on a good travel quote, the more you get from it. There's different levels of meaning that can apply to not just travel but all areas of life.
These quotes are from famous movies about travel, writers, thinkers, and prominent people.
So, here's a list of the top travel the world quotes for you to enjoy…
I want to travel the world quotes
To move, to breathe, to fly, to float; to gain all while you give; to roam the roads of lands remote; to travel is to live."
― Hans Christian Andersen
---
I haven't been everywhere but it's on my list."
– Susan Sontag
---
Wherever you go, go with all your heart!"
– Confucius
---
We travel for romance, we travel for architecture, and we travel to be lost."
– Ray Bradbury
---
Wherever you go becomes a part of you somehow."
– Anita Desai
---
Live your life by a compass, not a clock."
– Stephen Covey
---
One travels more usefully when alone, because he reflects more.
– Thomas Jefferson
---
I want to travel overseas and help out people all over the world.
– Chance The Rapper
---
Travel is a passion. I intend seeing the world.
– Anushka Shetty
---
I travel. I do a lot of traveling around the world.
– Chris Tucker
---
See the world quotes
Here's our next selection of travel sayings paired with lovely inspiring images.
The important thing for me was that the World Cup should travel round the world.
– Sepp Blatter
---
Traveling all around the world, music sounds different.
– David Guetta
---
I enjoy travelling the world, but nowhere beats Walsall.
– Erin O'Connor
---
I see travelling as a great learning process, and my biggest dream is to travel the world.
– Pooja Hegde
---
The travel writer seeks the world we have lost – the lost valleys of the imagination.
– Alexander Cockburn
---
Travel is always connected to music, as with travel, we explore the world, and by listening music, we explore ourselves.
– Shankar Mahadevan
---
Being able to travel across the world and meet all the different fans is super rewarding.
– Naomi
---
Travel around the world is amazing. New people. New-found family, really.
– Dhani Jones
---
I get to travel, see the world, meet people and be independent. I feel blessed.
– Bar Refaeli
---
The world has become more complex as technology and easy travel mixes cultures without homogenizing them.
– Norman Spinrad
---
Explore the world quotes
We've pulled 10 more quotes from famous people, philosophers and travelers for this next section.
My father's plan was, we were going to grow up and travel the world.
– Philippe Cousteau, Jr.
---
Traveling around the world to eat, it's a weird life, but I love it.
– Joey Chestnut
---
Traveling is an experience that you can always carry with you. It makes the world come together more so we understand each other better.
– Gillian Tans
---
Traveling the world was a constant thing, rich with experiences. But all of it was relative to being able to play live onstage and really stretch out.
– Jimmy Page
---
Traveling is one of few zones of experience where you are not directly plugged into the world around you. You're not part of the society you're passing through.
– Damon Galgut
---
For me, travel is one of the biggest perks of pro wrestling. You get to see the world on somebody else's dime.
– Adam Cole
---
The world is a country which nobody ever yet knew by description; one must travel through it one's self to be acquainted with it.
– Philip Stanhope
---
We don't need objects; we need adventures.
---
Have stories to tell not stuff to show.
---
Travel the world quotes
If you like these travel captions and sayings, please pin them to one of your Pinterest boards. You should be able to use the social sharing buttons on the page.
Of all the books in the world. The best stories are found between the pages of a passport
---
I want to make memories all over the world
---
Traveling—it gives you home in thousand strange places, then leaves you a stranger in your own land."
— Ibn Battuta
---
Travel is more than the seeing of sights; it is a change that goes on, deep and permanent, in the ideas of living."
— Miriam Beard
---
Travel is glamorous only in retrospect."
— Paul Theroux
---
Man cannot discover new oceans unless he has the courage to lose sight of the shore."
– Andre Gide
---
Once a year, go someplace you've never been before."
– Anonymous
---
Don't listen to what they say, go see."
– Anonymous
---
We travel not to escape life, but for life not to escape us."
– Anonymous
---
The earth has music for those who listen."
— Shakespeare
---
Wonderful world travel quotes
Here's our last batch of travel the world quotes to complete the collection. At the end, you'll find a list of other famous quotes you can check out!
Travel makes one modest, you see what a tiny place you occupy in the world."
– Gustave Flaubert
---
Travel is not a reward for working, it's education for living."
– Anonymous
---
Life is meant for good friends and great adventures."
– Anonymous
---
To awaken alone in a strange town is one of the pleasantest sensations in the world."
– Freya Stark
---
Don't tell me how educated you are, tell me how much you have traveled."
– Mohammed
---
Remember that happiness is a way of travel – not a destination."
– Roy M. Goodman
---
A true traveler's journey is never complete"
---
To travel is to discover that everyone is wrong about other countries."
– Aldous Huxley
---
The most beautiful thing in the world is, of course, the world itself."
– Wallace Stevens
I just want to travel the world quotes
Here's a final selection of the best inspirational travel quotes that will encourage you to explore the world:
Life is either a daring adventure or nothing at all.
― Helen Keller

---
The world is a book and those who do not travel read only one page.
-St. Augustine

---
I travel not to go anywhere, but to go. I travel for travel's sake. The great affair is to move.
– Robert Louis Stevenson

---
"All journeys have secret destinations of which the traveler is unaware."
― Martin Buber

---
"Life begins at the end of your comfort zone."
---
The real voyage of discovery consists not in seeking new landscapes, but in having new eyes.
– Marcel Proust
---
A good traveler has no fixed plans and is not intent on arriving.
– Lao Tzu
---
Like all great travelers, I have seen more than I remember, and remember more than I have seen.
– Benjamin Disraeli
---
"A journey of a thousand miles begins with a single step"
– Lao Tzu
---
"He who would travel happily must travel light."
– Antoine de St. Exupery
---
"To my mind, the greatest reward and luxury of travel is to be able to experience everyday things as if for the first time, to be in a position in which almost nothing is so familiar it is taken for granted."
– Bill Bryson
---
Other Travel Quote Collections
I hope these quotes on travelling the world have inspired you to go see the world! You might also be interested in these other inspirational quotes and sayings about travel:
[one-half-first]
[/one-half-first]
[one-half]
[/one-half]
---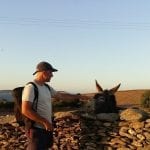 –
Dave Briggs
Dave is a
travel writer
who has been living in Greece since 2015. In addition to these quotes for traveling the world, you will find hundreds of other insights, guides, and travel itineraries on this site. Follow Dave on social media for travel inspiration from Greece and beyond: