The Paros to Naxos ferry sails 8 or 9 times a day during the summer, and the Paros Naxos ferry crossing takes less than an hour.
Paros Naxos Ferry Route
The Greek islands of Paros and Naxos are very close neighbours in the Cyclades group of islands. The distance between the two is just 20 kms, although the sailing distance from Paros Port to Naxos Port is 39kms.
You can take a ferry between Paros and Naxos all year round. In the peak season of summer, there are up to 7 or 8 ferries per day sailing from Paros to Naxos. In the low season, this may be reduced to just 2 daily ferries going from Paros to Naxos.
There's three ferry companies providing crossings on this Paros to Naxos ferry route, and passenger ferry ticket prices range from 15 Euros to 33 Euros.
Best way to travel from Paros to Naxos
These ferries to Naxos from Paros are operated by Blue Star Ferries, Minoan Lines, Goldens Star Ferries, and SeaJets. The vessels used will be a mix of conventional ferries and high speed ferries, although most ferries make the crossing in less than an hour.
My preference when it comes to ferry travel in the Cycladic Islands in Greece is to use Blue Star Ferries. This ferry company typically has larger ferries which I find more comfortable to be on when the sea is rougher. They generally offer the best price as well whether sailing Paros to Naxos or to other islands.
For the latest ferry timetables and prices, take a look at Ferryhopper.
Ferries to Naxos from Paros
Ferries leave from Parikia port in Paros. Try to be at the port around an hour before your boat is due to depart.
The quickest journey time for a ferry leaving from Paros to Naxos takes just half an hour on a SeaJets vessel. The slowest vessel sailing to Naxos from Paros island takes around 50 minutes.
The faster ferry crossings will normally have higher ticket prices, although the ticket prices for ferries from Naxos to Paros are generally pretty cheap as it's just a short trip.
Blue Star Ferries
During the summer tourist season, Blue Star operate 3 ferries per day on the Paros Naxos route.
Blue Star Ferries also typically offer the cheapest tickets on this route, with passenger prices starting at just 11.00 Euro for a one way journey.
In summer 2021, the vessels used for this ferry route between Paros and Naxos were the Blue Star Delos, Blue Star Naxos, and Blue Star Patmos.
The simplest place to look at schedules for Greek ferries is at the Ferryhopper website.
SeaJets
You could consider SeaJets to be a 'tourist' ferry. As such, they are also the most expensive, and a passenger ticket starts at 23.00 Euro.
They normally only operate on this route during the summer months. For longer trips, SeaJets can be a good timesaver and worth the extra cost.
As the Paros Naxos route is a short crossing, it's probably not worth paying the higher price unless the other ferry operators have sold out on the day you want to travel.
Look at timetables and the latest ferry schedule at the Ferryhopper website.
Minoan Lines
This ferry operator uses the Santorini Palace vessel 4 times a week on the Paros to Naxos route in the high season.
It is moderately prices at 15.00 Euro for a foot passenger, and is well timed for travelers who want to check out of their hotels in Paros at the last moment.
Golden Star Ferries
Another cheap ticket price at 11.00 Euro for a one way passenger wanting to travel from Paros to Naxos. There are six crossings per week, mainly leaving at around 07.30 in the morning.
The Golden Star ferry is a good choice for anyone planning a day trip to Naxos from Paros as you would arrive early on at Naxos.
Can I fly from Paros to Naxos?
Although both of these Greek islands have airports, it is not possible to fly between them. The airports of Naxos and Paros only have connections with Athens Airport.
Naxos Island Travel Tips
A few travel tips for visiting Naxos:
---
---
---
---
---
---
---
---
How to get from Paros to Naxos FAQ
A few of the questions readers ask about traveling to Naxos from Paros include:
How can I get to Naxos from Paros?
The only way to make a journey from Paros to Naxos is by using a ferry. There are up to 8 ferries per day sailing to Naxos island from Paros during the tourist high season.
How many hours is the ferry from Paros to Naxos?
The ferries to the island of Naxos from Paros take between less than half an hour and 50 minutes. Ferry operators on the Paros Naxos route may include Blue Star Ferries, Minoan Lines, Goldens Star Ferries, and SeaJets.
How do I buy ferry tickets to Naxos?
Ferryhopper is perhaps the easiest site to use when it comes to booking Ferry tickets online. Although I think it's better to book your Paros to Naxos ferry tickets in advance, you might also go to a travel agency in Greece after you arrive.
Is Milos or Paros better?
Milos and Paros are very different islands, and might appeal to different types of people. Milos can be more adventurous, with better opportunities for driving on dirt tracks to remote beaches. Paros has many more organized beaches with sunbeds and umbrellas for hire.
Wrapping up:
If you want to easily find a ferry ticket for the Paros Naxos ferries, look at Ferryhopper.com and compare prices from different ferry companies. It's also good to book your tickets in advance as there are many crossings each day on this route during peak summer months that may fill up before they sell out completely.
Do you have any questions about the ferry trip to Naxos? Have you been island hopping around the Cyclades islands and have any tips that could help others plan their itinerary? Please leave a comment below, and have a great trip!
Also read:
---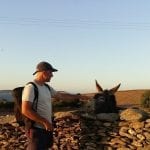 –
Dave Briggs
Dave is a
travel writer
currently based in Greece In addition to writing this travel blog post about taking the Paros to Naxos ferry, he's created hundred's more travel guides. Follow Dave on social media for travel inspiration from Greece and beyond: