Considering credit card touring for your next bike trip? Here's a look at what lightweight gear you'll need for a successful tour, plus some tips to help you get started!
Credit Card Bikepacking
When most people think of bike touring, they envision a heavily loaded touring bike with panniers crammed full of gear. And while that's certainly one way to do it, it's not the only way.
Credit card touring is a different approach, ideal for shorter trips and lighter loads.
As the name suggests, credit card touring means bringing only the essentials and relying on bank cards for lodging and food. This can be a great option if you're looking to travel light and don't mind foregoing some of the comforts of traditional bike touring.
A credit card tour is a type of cycle touring where you travel with only the bare essentials. This means no camping gear or cooking equipment – you'll be relying on hotels, hostels, and restaurants for your accommodations and meals.
Of course, this doesn't mean that credit card touring is a luxury vacation – you'll still need to pack light and be prepared for some long days in the saddle. But if you're looking for a more minimalist approach to bike touring, credit card touring could be the perfect option for you.
Note: While the name credit card touring implies buy now pay later, I definitely don't recommend that! Don't get caught in an interest payment trap – pay off bills straight away, or use a debit card.
---
Credit Card Bike Touring Packing List
Here's a look at what you'll need to get started with credit card touring:
A good quality bike – Normally, I'd recommend touring bikes for their durability and load-carrying capacity. But since you'll be carrying less gear on a credit card tour, almost any type of bike will do. You will still need to take some gear with you, so work out what you can comfortably carry on your bike.
Panniers or frame bags – Even with a lightweight load, you'll need somewhere to carry your gear. A couple of rear panniers are the traditional option for touring, but if you're trying to travel as light as possible, a frame bag may be a better option especially if using a road bike.
Clothes – Bring enough clothes to cover all weather conditions, including a rain jacket and warm layers. Remember that you'll be doing a lot of riding, so choose clothing that's comfortable to cycle in. You might also want a change of spare clothes for time spent off the bike.
Shoes – A good pair of cycling shoes will make a big difference to your riding comfort. If you don't have cycling shoes, any type of sneakers will do. Just make sure they're comfortable and won't rub when you're pedaling.
Helmet – A helmet is an essential piece of safety gear, no matter what type of riding you're doing.
Tools and spare parts – Bring along a few basic tools and some spare parts, just in case you have any mechanical issues on the road.
Navigation – A GPS device or smartphone app can be helpful for navigation, but a paper map is always a good backup.
Credit cards and cash – Of course, you'll need some money for your tour!
---
My Bike Touring Gear List For A One Week Tour
I wrote the following when preparing for a one week bike tour in Greece:
It's August, and I've got a free week here where I live in Greece. So, I've decided to put a short, week long bicycle tour together.
I've also decided to approach this bicycle tour differently.
As I have limited time, I'm going to forget about camping and cooking for myself. Instead, I'm going to travel light, and use small guesthouses and hotels along the way.
So, no sleeping gear, front panniers, water filter, or extra weight. Welcome to the world of credit-card bike touring!
What do I need to take for credit card bicycle touring?
I'm not going to need much. In addition to my bike touring essentials, I need a few clothes, some basic tools, and my cameras to take video on the road.
In fact, it turns out to be so little that it all fits in one pannier! I considered spreading it out over 2 panniers to balance the weight on the bike, but as it only comes in at 5kgs, it's really not worth it!
The weight of an additional pannier is probably near 1 kg empty, so why bother? Here's what I am taking, including a few notes as to why.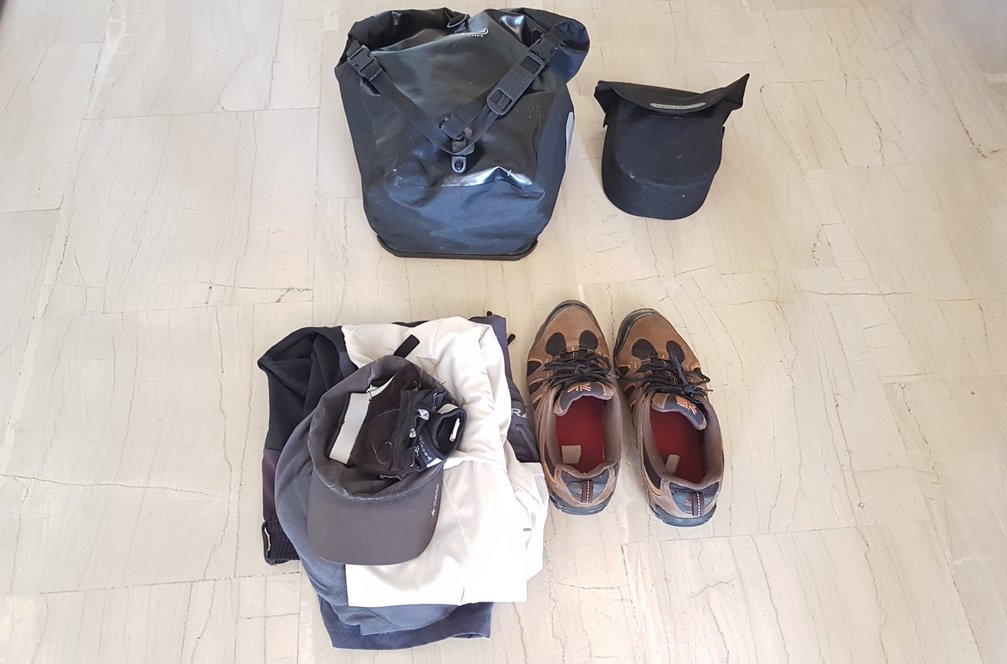 Bike touring gear list – Electronics
This is going to be only my second bike tour ever where I do not take my laptop! Even when I cycled from England to South Africa I had a laptop stashed away to update the blog on!
Instead, I'm going to rely on my phone to make any notes I need. As the tour is only a week in length, I will create all the videos and blog posts about it afterwards.
Samsung S7 phone
Random hands-free earphones with microphone
Canon Powershot SX510HS
Go Pro Hero 3+
Selfie Stick
3 USB cables
Samsung recharger
Related: How to charge your phone when camping
Bike touring gear list – Tool Kit

As this is just a short 1 week bike tour, there's no need to go crazy with the amount of tools and spare parts I take with me. In fact, I'm not even going to take a spare inner-tube. (We'll see how that works out for me later!).
In addition to the single rear pannier, I am also taking a handlebar bag. This is not for the space, as there is still plenty of room in the pannier, but for the convenience. I will most likely keep my phone, camera, and other items I want easy access to in there.
Bike lock
150mm Adjustable spanner
Puncture repair kit
2 tyre levers
Water bottle
Bike touring gear list – Clothes
I'm taking what amounts to 3 sets of clothes with me, as I plan to wash my cycling shirts and other items each night at the hotel I am staying at.
The temperatures in Greece during August range between 30 and 40 degrees. I don't think getting them dry is going to be a problem! This clothes list includes the clothes I will also be wearing, so not everything will be packed into my panniers.
Hat
Cycling gloves
1 pair of trainers/sneakers
Flip flops
Sunglasses
3 x Cycling shirts (wicking T-shirts)
2 x Padded cycling undershorts
3 x socks
1 Pair of long trousers
1 Pair of regular underwear
Bike touring gear list – Toiletries
I've never need much in the way of toiletries (See why being bald when you travel is awesome). This is probably my most minimal kit ever though, with everything being small and lightweight.
Sunblock
Razor + small shaving gel (Freebie from a hotel)
Toothbrush + small toothpastes (Freebie from hotel)
A few sheets of toilet paper
3 x Neurofen tablets
Also read: Bike Touring Toiletries
Bike touring gear list – Personal Items
Wallet
Money
Money Belt
Credit cards
The Bicycle – Stanforth Skyelander
For this tour, I will be riding a Stanforth Skyelander 700c touring bike.
Some final thoughts on my lightweight gear
Whilst the bicycle touring gear list for this one week tour may look quite big, as I said, it packs down into one single pannier.
At less than 5 kgs, the bike is going to feel almost empty, especially when compared to my other trips!
If you are interested in seeing where I am cycling, you can take a look at this article here – one week bike tour in Greece.

More Bike Touring Posts
You might also be interested in these bicycle touring blog posts: