The Piraeus Syros ferry route is the most popular way to travel to Syros. The quickest ferry from Athens to Syros is 2 hours 10 minutes, with up to 15 ferries in operation during the summer.
Syros island in Greece
Syros is the capital and administrative centre of the Cyclades, with a population and public sector to match. Its unique neoclassical architecture and cosmopolitan feel make it completely stand out.
Ermoupoli, the main town, has an almost proper city feel to it, and will not remind you of any of the other Cyclades. With the majestic municipality building, the impressive churches and even a university, it's no wonder it's been named the Queen of the Cyclades.
In terms of beaches though, Syros is rather disappointing. This combination makes it an ideal island to visit in the off-season.
There are frequent ferry connections between Syros and Athens all year round. There is also a small domestic airport.
How to get from Athens to Syros
As the capital of the Cyclades islands of Greece, Syros is one of the better connected Greek islands. Syros is also one of the few Greek islands with an airport.
If you want to fly from Athens to Syros, Sky Express operate regular services. Depending on the season and demand, there may also be additional flights from Athens to Syros on Olympic Air, and Aegean Air.
The Athens Syros flight time is just half an hour, which may at first glance appear to be quicker than the ferries. After you've taken into consideration travel time to the airport, time to check in and then pick up luggage once landed, there might not be much in it.
Most visitors to Greece will find it easier to take a ferry from Athens to Syros instead.
Taking a ferry from Athens to Syros
As the capital of the Cyclades, you can expect to be able to choose from many Syros ferries leaving from Athens. During the summer tourost season, there can be over 20 ferries per day sailing from Athens to Syros.
The Athens Syros ferry services run from three different ports in Athens:
Piraeus Port – There are Piraeus to Syros ferries leaving throughout the year. The quickest journey using SeaJets takes just over 2 hours. The slower boats such as the Blue Star Ferries take around 3 hours and 30 minutes.
Lavrion Port – Additional ferries to Syros leave from Lavrion Port in Athens during the busiest parts of the summer. These ferries can be cheaper, but they are also slower at nearly five hours journey time from Lavrion to Syros.
Rafina Port: You may also find a few ferries leaving from Rafina that sail to Syros. Rafina is my favourite port as it is less chaotic than Piraeus.
Syros Island Travel Tips
Make your Syros trip planning a little easier with these insights:
Look for hotels in Syros at Booking
---
For Syros ferry tickets, check out the Ferryhopper website.
---
Try to arrive at your departure ferry port an hour before your ship sails
---
Use Welcome to organizes taxi drop-offs and pick-ups at ferry ports in Greece
---
---
What to see in Syros Greece
Some of the highlights of Syros you'll want to experience include:
Walk around Ermoupoli
Explore the neoclassical buildings in Ermoupoli, such as the Municipality and the Apollo Theatre
Visit the interesting archaeological museum
Walk around Ano Syros (Upper Syros) and explore the small local museums
Go round the island's numerous churches, both Orthodox and Catholic
Watch the sunset from Delfini beach
I've a full travel guide you might want to read here: Things to do in Syros Greece
FAQ About Traveling To Syros
People planning to travel between Athens and Syros ask similar questions such as:
How do you get to Syros Greece?
The most common way for people to travel from Athens to Syros is by ferry. Flying is also an option, as there are local flights between Athens airport and the Syros island airport.
Is there an airport on Syros?
The island of Syros does have an airport, although it is too small for international flights. There are regular connections between Syros and Athens using local airlines, and the flight time is approximately half an hour.
Where does the Syros ferry leave from in Athens?
Most of the ferries to Syros leave from Piraeus Port in Athens. During the summer, you may also find ferries leaving from the two other smaller Athens ports of Rafina and Lavrion.
How long is the ferry from Athens to Syros?
The quickest ferries from Piraeus to Syros take 2 hours, with regular ferries taking 3 hours and 30 minutes. The journey time from Lavrion Port to Syros is longer at nearly five hours.
Is Syros a nice island?
Syros is different to many of the other Cyclades islands. It's main town has some amazing neoclassical buildings, and there are marble buildings, squares, and, a feeling of elegance. Syros has an almost regal atmosphere to it, and is known as the Queen of the Cyclades. Syros is a nice island to visit, but its beaches are lacking somewhat when compared to other nearby islands.
How do I buy ferry tickets for Syros?
In order to look at ferry schedules, prices, and to easily book tickets for a ferry from Athens to Syros online, I suggest using the Ferryhopper site. It's very easy to navigate, and takes the hassle out of Athen Syros travel planning.
Traveling from Santorini and want to go to Syros? Read my guide: Traveling from Santorini to Syros.
---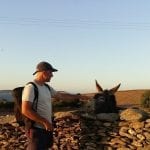 – Dave Briggs
Dave is a travel writer who's been living in Athens for the last six years. In addition to writing this guide on how to get to Syros island from Athens, he's created hundreds which you can find here on Dave's Travel Pages. He hasn't visited every single Greek island yet, but he's working on it!
Follow Dave on social media for travel inspiration from Greece and beyond: Facebook, Twitter, Pinterest, Instagram, YouTube.