There are normally four direct ferries per week from Athens to Donoussa island in Greece. The travel time is approximately 6 hours 45 minutes.
Donoussa island in Greece
A handful of beaches, mixed with a dash of hiking trails and a sprinkling of villages gives you Donoussa, one of the smallest Cyclades islands.
Positioned to the east of the larger island of Naxos, Donoussa is a picturesque and quiet island, where people go to get away from the tourist crowds.
As a low-key destination, Donoussa appeals most to those people who have visited Greece before, and who appreciate the little things that make the Cyclades islands so charming.
Donoussa is a place to relax and unwind. Whether you are there for a few days or decide to stay for a couple of weeks, you're guaranteed to remember your time in Donoussa for the rest of your life!
Related: Best Greek Islands For Beaches
How to get to Donoussa from Athens
There are normally four ferries per week sailing directly from Athens to Donoussa. These ferry boats are operated by Blue Star Ferries.
During the busy summer months, additional ferry companies may add crossings according to demand.
The easiest way to look for ferry schedules and book Donoussa ferry tickets online is at Ferryhopper.
The ferries to Donoussa leave from Piraeus port in Athens. The route is operated by Blue Star on their vessel the Blue Star Naxos.
Typically, there may be other stops on the way to Donoussa, especially at the much bigger island of Naxos.
If there are no direct ferries running to Donoussa, another option is to take a ferry from Athens to Naxos, and then get the smaller Express Skopelitis on to Donoussa. Welcome to Greek island ferry hopping!
Tips For Traveling To Donoussa
Booking is a good place to start looking for accommodation in Donoussa. Most of the hotels in Donoussa are located in Stavros town, the main settlement and port.
---
Ferryhopper is a great place to look at Greek ferry schedules, routes and book tickets online. If you are taking a ferry ride in the peak month of August, be sure to book those tickets a few weeks in advance just in case the ferry service sells out!
---
You should be at your departure port from Athens about an hour before the boat is due to sail. Piraeus Port can be a big and confusing place, make sure to take a note of which gate number your Donoussa ferry leaves from.
---
---
---
Donoussa only has a couple of ATM machines. Read this Money in Greece guide, and perhaps take some extra cash with you just in case they are out of action when you visit.
---
There is no pharmacy on Donoussa, so take any medication you need. There is also no gas station, so if traveling with a vehicle, make sure you have a full tank! Note: You don't really need a car in any case in Donoussa to get around.
---
What to see in Donoussa
The best things to do and places to see in Donoussa include:
Go to all those amazing secluded beaches in Donoussa!
Visit the Cave of Tichos
Check out the villages, particularly Mersini village
Relax in the ambient atmosphere of Chora / Stavros
Free camping on Kedros beach (maybe)
Hike around the island
Check out my Donoussa travel guide for more insights in planning your Donoussa trip.
FAQ About Traveling To Donoussa
These are a few of the commonly asked questions about how to get to Donoussa from Athens.
How do you get to Donoussa Greece?
There are direct ferries from Piraeus Port in Athens sailing to Donoussa roughly four times a week. More connection may be added in the busier summer months according to demand.
Can I fly to Donoussa island in Greece?
Donoussa does not have an airport, although the island of Naxos which is close by does. An option might be to fly from Athens into Naxos, and then take a small local ferry called the Express Skopelitis on to Donoussa afterwards.
How long does the Athens to Donoussa ferry take?
The direct ferry from Athens to Donoussa in Greece take approximately 6 hours and 45 minutes to complete the journey.
How can I book ferry tickets for Donoussa?
It's best to use Ferryhopper to book tickets for the Athens Donoussa ferry route online. You can also easily see schedules for different days, and plan more Greek island hopping there.
Thinking to travel to Santorini first? Then this guide to getting from Santorini to Donoussa might be a worth reading.
---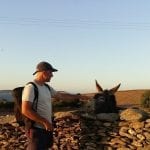 – Dave Briggs
Dave is a travel writer living in Athens, Greece but originally from the UK. He's been writing at Dave's Travel Pages since 2005, producing hundreds of travel tips, itineraries and guides to Greece and the Greek islands. This guide on the ferry trip from Athens Piraeus to Donoussa is one of a series of Greek island hopping guides.
Follow Dave on social media for travel inspiration from Greece and beyond: Facebook, Twitter, Pinterest, Instagram, YouTube.