Athens is warming up as a winter destination! Here's what to expect when visiting and things to do in Athens in winter.
Athens Winter Travel Guide
Having lived in Athens for nearly nine years, people often ask if winter is a good time to visit. It's true that Athens is predominantly a summer destination, but really, it's a year round place to visit. There's always something going on, after all!
Of course, it all depends on what you are planning to do in Athens. If you're thinking of going to the beaches around Athens, winter is not the best time! Check out my guide on the best time to visit Greece to find out when is.
However, if you are visiting Athens for the culture, sightseeing and food, or if you just want a city break, visiting in winter is actually an interesting option.
Just bring some warm clothes and an umbrella, and you will be fine. Or if you are from a Nordic country, just bring your summer clothes and pack a swimsuit too – you never know!
In this article, we show the best things to do in Athens in winter in terms of sightseeing, food, walks around the city and
day trips around Athens
.
Athens winter weather
Winter months in Greece are December, January and February, just like in the rest of the north hemisphere. They are typically the coldest months of the year in Greece, with January being the coldest and rainiest all around the country.
November is technically an autumn month, but it's significantly colder than October, and minimum temperatures in Athens can reach 7C / 44F. It normally rains on one in three days. For locals, late November feels like the beginning of winter, and it's been included in this article.
December in Athens is slightly warmer than the other winter months, but it can get quite wet, with around 12 rainy days on average. Rain in Athens can be very heavy – compared to the UK, it can be a lot stronger, and with more lightning and thunder.
Athens in winter temperature
The temperatures during the winter in Athens can be colder than a lot of people might think they would be.
Fun fact: Two days after I moved to Greece in February, it started snowing. I thought I moved to get away from all that stuff!!
Related: Snow quotes for Instagram
Weather in Athens in January and February
OK – The average temperature in Athens in January is around 8C / 46F, however it's not unusual to have below 0C / 32F. Rainfall is quite common, and there might be some snow.
February is a little drier in terms of rain, but has some of the lowest temperatures of the year. By that time, Greeks are really tired of the Athens winter weather, and can't wait for spring.
At some point in January or February, there is typically a period of 3-4 days when the Athens weather gets milder and sunny. These are known as the halcyon days, and according to legend this is when the halcyon birds lay their eggs.
Athens in February can see some variable weather. I remember my brother visited and had T-Shirt and shorts weather. Last year, there was rain and snow.
In March, the temperature starts to rise, and you will definitely get a few sunny days, while some locals start going for a swim. That said, there has been snowfall on certain years. Global warming is really a thing!
What to wear in winter in Athens
If you are coming from colder countries, such as north Europe or Canada, you will find these conditions very pleasant.
At the same time, you probably won't be able to get away with just a light jacket, so consider bringing warmer / waterproof clothes and an umbrella.
As the drainage system in Athens fails when rain is ongoing and heavy, consider bringing some waterproof shoes as well – they are ideal for walking around the archaeological sites and ancient marbles.
What to do in Athens in winter
Sightseeing in Athens in winter can actually be very pleasant, given that there are no cruise boat passengers and a large groups of guided tours are rare.
You might come across a school visit in the main attractions, but in general that will be all. Just take note of the weather, and plan to visit the outdoors sites on sunny days and museums on rainy days.
Archaeological sites in Athens in winter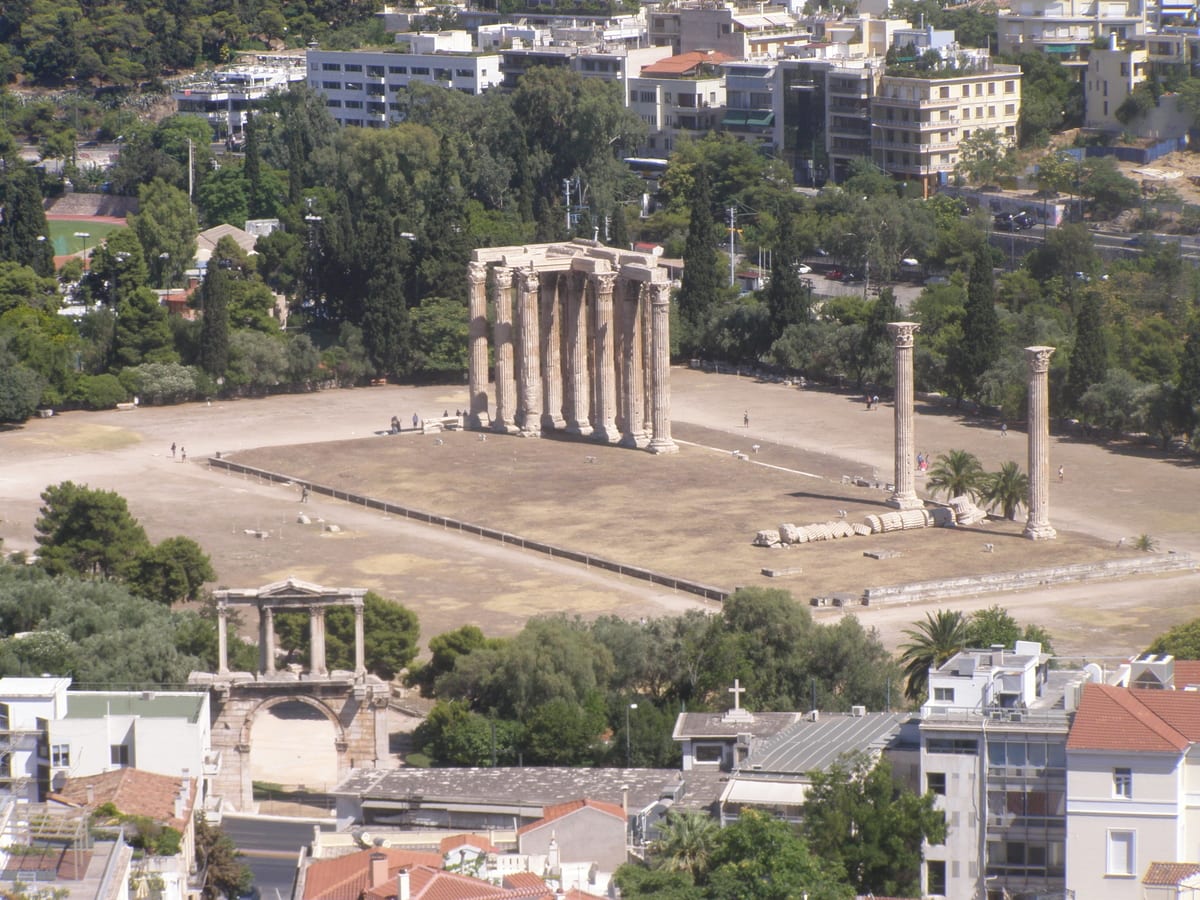 Opening hours for the archaeological sites in Greece differ between summer (April – October) and winter (November – March). In general, most of the archaeological sites in Athens are open from 8.00-20.00 in summer, and from 8.00-15.00 or 8.00-17.00 in winter.
If you are planning a winter visit to Athens, make sure you check the exact opening times for each site before you visit. You can buy a combined ticket, allowing access to all the sites, for 15 euros, and walk straight in the site of your choice.
By comparison, in summer you will generally have to queue for your ticket, which will cost you 30 euros. Tip – all sites are free to visit on the first Sunday of all winter months, and are closed on 25-26 December and 1st January, so plan accordingly.
Note that the ancient marbles are very slippery, so make sure you have good walking shoes, and try to avoid going up the Acropolis hill if it's raining.
Ancient Sites in Athens
The main archaeological sites in Athens are the following:
The Acropolis of Athens – The symbol of Athens and one of the most instantly recognizable images of Greece. The Acropolis is a large walled complex up on a hill containing several temples, of which the most famous is the Parthenon. Read more about the Acropolis here: Acropolis Guided Tour.
The Temple of Zeus – A massive temple only a 15 minute walk to the Acropolis, the Temple of Zeus is really impressive. Within the site, you can see one of the columns that collapsed in the 1850s and was never restored.
The Ancient Agora – The political, social, financial and commercial centre of ancient Athens, the Ancient Agora is a large area where you can see many ruins, including the magnificent temple of Ifestos and the byzantine church of Agii Apostoli. Within the Agora you can see the fully restored Stoa of Attalos, which used to be the equivalent of a modern mall, and is now a museum.
The Roman Agora – This is a much smaller area than the Ancient Agora, that became the centre of the city in Roman times. When you visit, make sure you spend some time to see the recently restored clock of Andronikos Kyrristos, known also as the "Tower of the Winds".
The Kerameikos – Athens' ancient cemetery can be found on Ermou street, a short walk from Monastiraki, Thisseio or Kerameikos metro stations. It offers a fascinating insight on burial ceremonies and other customs of the ancient Greeks. Don't miss the museum.
Hadrian's Library – Right outside Monastiraki metro station, this building used to host many thousands of papyrus rolls, which were sadly destroyed in 267AD, when a Germanic tribe called the Heruli invaded Athens.
Things to do in Athens on a rainy day
If the heavens have opened and you don't want to spend too much time out in the rain, then consider swapping your schedule around and seeing a few museums in the city center.
Visiting the museums is an ideal thing to do on a day when it rains in Athens.
Museums in Athens in winter
One of the best things to do in Athens in winter is to visit a museum or ten. Athens has over 70 museums, and you will definitely find a few that spark your interest.
If you visit museums in Athens in winter, you will meet very few crowds and will have the chance to explore the ancient artefacts with few other people around you.
Note that the opening hours for some museums are shorter than in summer, so check their website before visiting.
If you are interested in history, the best museums to visit in Athens in winter (or at any time of the year!) are the following:
History Museums in Athens
The National Archaeological Museum – The mother of all museums in Athens, it has artefacts from all periods of Ancient Greece, as well as a section on Ancient Egypt. Allow at least four hours if you want to see the National Archaeological Museum in Athens properly. Remember to take one or more well deserved breaks at the café downstairs!
The Acropolis Museum – Contains statues and other findings from the Acropolis, as well as casts of the famous Elgin Marbles. The originals can be found in the British Museum in London.
The Benaki Museum – A small, private collection of artefacts ranging from Ancient Greece to more recent times. It's a fantastic museum if you only want an introduction to Greece's long history. The Benaki Museum has several other branches worth exploring – check their website.
The Museum of Cycladic Art – This beautiful neoclassical building is home to one of Greece's most unique collections of Cycladic Art. There are also sections on Ancient Greek Art and Cypriot Art, as well as a display of daily life in antiquity.
The Byzantine and Christian Museum – For most people, Greece evokes images of Ancient Greece. However, Greece has a history of thousands of years. Few people realize that the Byzantine Era lasted for around one millennium, from about the 3rd to the 13th century AD! As such, the Byzantine and Christian history is very rich. If you have a special interest in Christian art, this will be your favourite museum in Athens.
Art Museums in Athens
If you like history but are actually more interested in art, you will love these museums:
The National Art Gallery and National Glyptotheque Museum – Two buildings housing collections of artworks and modern Greek sculptures. If you are interested in art, this is probably the best museum in Athens to visit at the moment. They are located a little out of the centre in the Army Park, near Katechaki metro.
Benaki Museum, Pireos Annex – This branch of the Benaki Museum hosts up to 4 rotating exhibitions at a time, mostly to do with art and culture. It's a lovely space, with an excellent shop and a cool café. Check their website out to see what's going on at the time of your visit.
Museum of Greek Popular Musical Instruments – A comprehensive collection of musical instruments used in traditional Greek music. The Music Museum is one of our favourite museums in Athens!
Ilias Lalaounis Jewelry Museum in Athens – A superb collection of modern and contemporary jewelry, inspired by Ancient Greek designs.
The Herakleidon Museum in Athens – A private museum hosting rotating art / science exhibitions. Check their website before you visit to see what's on.
Frissiras Museum – One of the few museums in Greece hosting contemporary European paintings.
There are also several smaller private galleries in Athens, generally scattered around the centre. Many of them are located in Kolonaki area.
Street Art in Athens in Winter
Walking around Athens, you will immediately notice the amounts of graffiti and street art. Athens is really a great place to spot some of the best street art in Europe – areas like Psyrri, Kerameikos and Exarchia are full of it.
There is lots of hidden meaning behind some of those artworks. You could follow this guide to Athens' neighbourhoods, or consider a walking tour with Vanessa and explore the contemporary essence of the city. If Vanessa is busy, you could choose from one of these private tours in Athens.
Syntagma Square and Changing of the Guard
Syntagma is likely to be a point you'll pass through several times during your stay in the city. In the month running up to Christmas, you may see that it is decorated and there is a tree in the square.
Opposite, the Evzones Changing of the Guard ceremony takes place on the hour, every hour. If you are there at 11am on a Sunday, you will see a huge, grandiose affair which is well worth watching.
Food and Drink in Athens in Winter
If you've been to Greece in the summer, chances are that you've had your fair share of Greek salads, fish, octopus, gyros, souvlaki, ouzo, and a few other standard dishes and drinks.
If you visit Athens in winter, however, you will discover new types of Greek food and drink that you've never heard of. Read on to find out what to eat and drink in Athens in winter!
Special Food in Athens in Winter
If you visit Athens in the winter, you will get the chance to taste some dishes that you wouldn't typically find in summer.
Don't worry, you can still find the famous Greek salad, as tomatoes and cucumbers are grown in greenhouses nowadays. However, if you go to traditional tavernas, you might be able to find some heartier dishes that are generally regarded as too heavy for summer.
If you get the chance, try lahanontolmades (stuffed cabbage leaves), frikase (meat and lettuce stew), revithia (chickpea soup), fasolada (bean soup), fakes (lentil soup), trahanas (wheat soup), lahanorizo (cabbage and rice dish in a tomato sauce), and chicken soup.
Finally, an absolute favorite Greek winter dish that kids love is called giouvarlakia – meat balls boiled in a thick egg-and-lemon sauce.
Interested in taking a cooking class during your holiday? Take a look here.
Desserts to try in Athens during the winter
In terms of Greek winter desserts, there are some that are traditionally prepared for Christmas and New Year's. They are called kourampiedes and melomakarona, and you can find them in pretty much every bakery and pastry shop, starting around the beginning of December.
Kourampiedes are crunchy shortbread biscuits, containing generous amounts of almonds, good quality butter and icing sugar. Melomakarona are cookies soaked in syrup and sprinkled with walnuts. Warning: eating either of these without making a mess is highly improbable!
Coffee in Athens in winter
We have written before about the coffee culture in Greece, which is pretty unique. It's not like the French or the Italians don't have a coffee culture, it's just that the Greek coffee culture is really different. "Let's go for a coffee" generally means "let's go for a two-hour chat", so people take their time to have a coffee, or any other drink for that matter.
There are great cafes in central Athens, such as Kimolia and Melina in Plaka area, TAF and Couleur Locale in Monastiraki, and Black Duck Garden close to Syntagma. There are also many outdoors cafes with large heaters everywhere in Athens.
The Little Kook in Athens
It's also worth venturing to Psyrri area, to visit Little Kook café. Changing decoration every few months, it's one of the most photographed cafes in Athens, and if you are travelling with children they will definitely love it. Be prepared to queue, especially on weekends.
All in all, sitting for a coffee is one of the best things to do in Athens in winter – take a seat, put your mobile phone away and indulge in people watching while enjoying your coffee.
Related: Christmas Captions for Instagram
Special drinks in Athens in winter – Rakomelo
If you like alcohol, there is one drink that you absolutely must try if you are in Athens in winter. It is called rakomelo, it's served hot, and it's made out of a strong alcoholic drink called raki, honey, cinnamon and cloves.
It's similar to mulled wine or gluehwein, but it's much stronger, as raki has an alcohol content of around 40%. You might not realize how strong it is until you get up from the table. Don't say we didn't warn you!
The best rakomelo in Athens is served in small, no-fancy places. If you are interested in enjoying this Greek winter drink, along with several Greek delicacies, consider taking a "dinner with a Greek" tour in one of our favourite places to eat in Athens.
Wine bars in Athens in winter
If all you've ever heard about Greek wine is retsina, it's time to be blown away. Greece has hundreds of types of local wines that rarely make it out of the country. If you have been to Santorini, you may have tasted some, but most areas of Greece produce their own local varieties.
There are several wine bars around central Athens where you can have a lovely glass of wine with a nice cheese plate to go along. Some of the best ones are around Syntagma – any of Oinoscent, Heteroclito, By the Glass and Kiki de Grece are great choices.
Since winter calls for red, some of the Greek varieties you should familiarize yourself with are agiorgitiko, mavrotragano, xinomavro, mavroudi, kotsifali and mandilaria. Ask your waiter for suggestions, sit back and enjoy!
Special dates in Athens in winter
If you visit Athens in winter, it's worth taking note of a few special dates, which might affect your travel or sightseeing plans.
Early November – The Athens Authentic Marathon
If you're looking for things to do in Athens Greece in November, look no further than The Athens Authentic Marathon. This is an annual event, taking place on the second Sunday in November.
It is one of the most important annual athletic events in Athens, with thousands of participants from everywhere around the world.
The competitors run the Authentic Marathon route, from the town of Marathon, 42 kms outside Athens, to the centre of the city. There are also shorter races of 5km and 10km, with participations generally filling up quickly.
If you were ever thinking to participate in a Marathon, this is one of the best, as the climate is mellow and the route is fairly flat, with few uphill parts.
If you happen to be in Athens on that day, note that certain roads will be closed to traffic, and the airport bus (X95) will not be running. The Athens airport metro will be running as normal.
In 2019, the Athens Authentic Marathon will happen on 10th November. You can check the website for more information.
17 November – The Anniversary of the Athens Polytechnic Uprising
The Athens Polytechnic uprising was a revolution against the Greek dictatorial military rule that was present in Greece in 1967-1974.
The uprising happened in November 1973 in the Athens Polytechnic University, which is located right next to the National Archaeological Museum.
Students of the Polytechnic along with other like-minded people occupied the Polytechnic building, demanding freedom from the junta.
On the 17th November, an armed tank broke into the University, bringing an end to the occupation. The military rule eventually ended in 1974.
The 17th November is a public holiday in Greece for students, teachers and all schools and universities. The commemoration of the Uprising begins with wreath offerings inside the Polytechnic University, and is followed by a march towards the US Embassy.
The march always culminates in a demonstration and, eventually, riots, Molotov cocktails and teargas until the early morning hours. If this is not your cup of tea, it would be best to avoid certain areas of central Athens such as Omonia, Exarchia and Panepistimio.
The tourist centre is perfectly safe on 17th November. However, bear in mind that some metro stations, including Syntagma Metro Station, are normally closed on the day.
You can read more about the Polytechnic uprising here.
6 December – The anniversary of Alexandros Grigoropoulos' death
On 6th December 2008, the 15-year-old Alexandros Grigoropoulos was shot by a special guard of the Greek police, and died as a result.
The demonstrations, riots and other similar activities that followed in Athens and other Greek cities were unprecedented, and reflected the anger against governments, the crisis, and the overall state of the country.
The city centre literally went up in flames, and the riots and clashes with the police were ongoing for several weeks. You can see some photos from the night of 6th December 2008 here.
In Exarchia, just on the street where Grigoropoulos died and which is now known by his name, a plaque has been put up, reminding people of his unjustified death at such a young age.
Every year, on the 6th December, there are riots starting in the area where he was shot, and spreading out towards Omonia and Panepistimio metro stations.
First-hand experience
Vanessa happened to be in Exarchia on that night in 2008.
I will never forget that night. Walking up to Exarchia, cars, trees, and seemingly whole streets were on fire. In fact, everything seemed to be on fire. There was police everywhere, stones were being thrown around, smoke and teargas everywhere. I tried to take a photo, but a policeman saw me and stopped me… I spent the night at a friend's house, and the next day there was so much smoke, as the building next door had caught fire. Demonstrations around central Athens went on for several days. The whole thing really felt like a war.
Christmas in Athens
Overall, Greeks are religious people. Though you are less likely to observe this in Athens in terms of church attendance, the Christmas spirit is there – just with a much warmer climate than you are probably used to.
During the days leading up to Christmas, there are several street performances around the city, as well as some pop-up festive markets selling traditional products. Don't expect massive markets like the ones you may have seen in other cities in Europe though.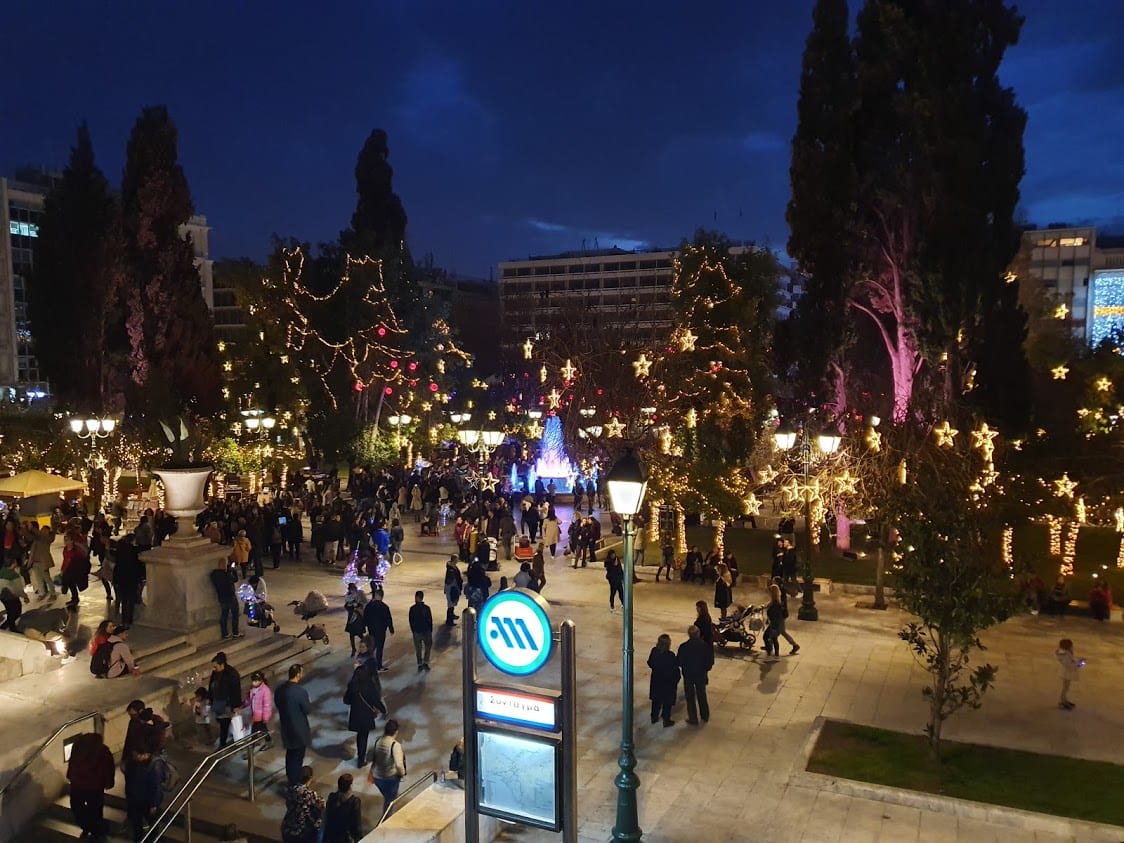 There will be street decorations and a Christmas Tree in Syntagma Square. On the whole though, Christmas is a low-key affair. In fact, it makes a refreshing change to the overly commercialised Christmas build ups in other Western countries!
Christmas Day in Greece
Christmas Day in Athens is a family affair. With all archaeological spaces, museums and the majority of stores closing down for two days, you will find that there isn't much to do in terms of sightseeing or shopping.
You can take this opportunity to go for a long walk around the ancient monuments, climb up Anafiotika, Filopappou and Observatory Hills, hike up Lycabettus Hill and admire the views, or go on a short getaway. I've got a full guide on how to spend Christmas in Athens.
Best winter day trips from Athens
If you want to combine your visit to Athens with a unique religious experience, you can travel to one of the most impressive areas in Greece, Meteora. This UNESCO Heritage Site is a mix of amazing rock formations with monasteries perched on the top.
If you are Christian, or if you are simply interested in religious ceremonies, you can visit any of the Meteora monasteries on the evening of the 24th December, when the Christmas masses are performed until 1-2 am. It will be a unique opportunity to visit this awe-inspiring site. Spend the next couple of days in Kalambaka, and explore the surrounding areas.
Find out about day trips to Meteora from Athens.
Two-day Christmas getaway from Athens – Delphi and Arachova
Another option, especially if you like skiing, is to go to a village called Arachova, which is close to Delphi archaeological site. You can then visit the Parnassos ski centre, but also enjoy Arachova's buzzing night life for a couple of days. Then on the 27th December you can visit Delphi archaeological site and museum, and return to Athens late in the evening.
More Day Trip Ideas
Whilst the suggestions above are winter themed, there are of course the normal day excursions from Athens that are available year around.
Key places of interest that people tend to visit are the Temple of Poseidon at Souion, Epidaurus, Nafplio, and Mycenae. It may also be possible to see some of the Saronic Gulf islands such as Hydra, Aegina and Poros, but it would depend on the weather.
New Year's Eve in Athens
New Year's Eve in Athens is a busy day. Most people are buying last minute presents, others are getting ready to prepare a dinner for friends and family, and the city is generally very lively. There is typically an outdoors music event that starts at 10-11pm, taking place on Dionysiou Areopagitou Street, but it's best to ask your hotel for exact information.
Many locals will spend time with their family or friends, until about 1am, and will then go out to party. There are many bars and clubs to choose from if you want a late New Year's Eve in Athens – just wander around Gazi area and you will definitely find something appealing.
The Carnival season in Athens
Much like Venice and Rio de Janeiro, Athens celebrates the Carnival. While the biggest carnival celebrations in Greece are in Patras, a couple of hours away from Athens, you can get a good taste of the Carnival in the Greek capital.
The idea of Carnival comes from Ancient Greece, but the custom has somehow survived over hundreds of years. The Carnival period is dependent on Easter Sunday – it begins 70 days before Easter, and lasts for three weeks.
During the Carnival, people, especially children, dress up and party. Central areas like Plaka, Psyrri and Gazi are decorated with masks and party streamers, and the municipality of Moschato hosts an all-day festivity with Carnival parades and other events.
A special day during the Carnival is Meat Thursday, or Tsiknopempti. On that day, Greeks go out to eat grilled meat. Tavernas get busy starting in the late afternoon, and the parties get bigger and bigger – and normally more and more drunk – as the time passes. Tsiknopempti is a good day to be in Greece, unless you are vegetarian.
The Carnival ends with Clean Monday, when people prepare special vegan dishes, in line with the Orthodox way of fasting which is really a vegan diet. The fasting period is supposed to last for 48 days, until Easter Sunday, but few people in Athens respect it nowadays. On Clean Monday, Greeks traditionally go to fly a kite. The best place for this in Athens is on Filopappou Hill.
Where to stay in Athens
I always recommend staying at one of the hotels in the city center in order to be closer to the historic sites of Athens. This way, you are really within walking distance of most of the main Athens attractions.
Check out some of the best hotels in Athens on the map below. You might also be interested in my comprehensive guide on where to stay in Athens.
FAQ about traveling to Athens in the winter
Here are some commonly asked questions about what Athens is like in the winter time:
Is Athens cold in December?
Athens can be quite cold in December, but not as cold as other northern European capitals. Day time temperatures average at 12°C (54°F), and at night dip to 9°C (48°F). It can feel chillier, as Athens has an average of 11 days of rain in December and just 3 hours of daily sunshine.
How cold does it get in Athens?
Although snow can fall in Athens (on average 4.5 days a year may receive snow), temperatures are usually above freezing in the winter. The average temperature ranges from 14°C (58°F) during the day to 6.6°C (44°F) at night.
What is the coldest month in Athens Greece?
The coldest month in Athens is January. You can expect average high-temperatures of 13.3°C (55.9°F), and average low-temperatures of 6.8°C (44.2°F).
Does it snow in Athens?
Snow usually falls just a few days a year in Athens, Greece. It's rare, but you can find photos of the Acropolis with snow on it!
Is February a good time to visit Athens?
February is perhaps the best off-season month to visit Athens. Towards the end of February, temperatures are starting to increase and depending on when Greek Easter is that year, carnival season celebrations may take place. Note that snowfall can happen during February on occasion.
Should I visit Athens in winter?
We hope that with all the above we have convinced you that winter is a great time to be in Athens! Pack your umbrella and warm jacket, and come over.
You might also be interested in this travel guide to the best places to visit in Europe in November, and the warmest places in Europe in December.
Greece Travel Guides
I'd love to help you plan your trip to Greece, and I've got tonnes of free information and travel guides to share with you. Simply sign up below, and get ready for an amazing vacation in Athens and Greece.
Before you go: Read these interesting facts about Athens in Greece and these things you must do in Athens.
All geared up for visiting Athens in the winter holiday season to see the Christmas Lights and experience something different? Sill have questions about visiting the Greek capital city in the winter season? Leave a comment below and I'll do my best to help!
Related:
---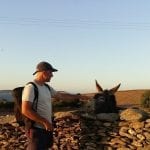 –
Dave Briggs
Dave is a
travel writer
from the UK who now lives in and writes about Greece. As well as creating this insight into what Athens in January and February are like, he's also written hundreds of other guides to Greece. Find out about incredible islands, such as
Santorini
,
Mykonos
,
Rhodes
, and
Milos
which are perfect for beach time and sightseeing. Historical sites like
Knossos in Crete
,
Delphi
, and
Mycenae
captivate visitors with their grandeur. Follow Dave on social media for Greece travel ideas: