Even though Ios and Koufonisia are relatively close to one another, there are no direct ferries between the two. If you want to travel from Ios to Koufonisia you will have to go via Naxos first. This guide shows you how.
Ios Koufonissi Ferry Route
While the two Cyclades islands of Ios and Koufonisia are located a short distance to each other, there is no direct ferry route sailing from Ios to Koufonissi. This means that if you want to travel to Koufonisia from Ios, you will need to go via another island first.
While there are a couple of Greek islands where you could potentially swap ferries, the best place to do this is at Naxos island. Naxos is a popular destination, and has many ferries going on to the other islands in the Small Cyclades, and so you will easily get a Koufonissi ferry from there.
Ios Island to Naxos Island
There's normally 3 ferries from Ios to Naxos every day. If you want to complete the journey on to Koufonissia on the same day, you'll want to get the earliest morning crossing.
I've details on how to get from Ios to Naxos here. You might also want to look at Ferryhopper for ferry schedules and the best deals on this route.
Naxos Island to Koufonisia
Once at Naxos, you'll need to get another ferry on to Koufonissi. There are two daily boats that passengers can choose from. One is likely to be the Express Skopelitis, and the other might be Blue Star Ferries.
The quickest boat might get you to Koufonissia in 40 minutes. Slower crossings can take 2 hours and 40 minutes.
I've a guide here on ferries from Naxos to Koufonssia. You should also look for ferry trip information on routes at Ferryhopper.
Koufonisia Island Travel Tips
Readers planning on island hopping by searching for travel tips on taking the Ios to Koufonissi ferry might find these useful:
Aim to be at the main port of Ios a half hour before the ferry is due to depart.
---
Ferries arrive at the port of Pano Koufonisi
---
The majority of the accommodation in Ano Koufonissi is located in or near Chora, the principal settlement. For hotels in Koufonisia, I suggest looking at Booking. If you are traveling to Koufonisia in the high season, I advise reserving places to stay in Koufonisia a month or so in advance.
---
The world leading Ferryhopper website is the best place to book ferry tickets online. I strongly advise you to make your Ios to Koufonisia ferry reservations ahead of time, particularly during the summer peak season.
---
---
---
About Koufonissi
The island of Koufonissi is all about the beaches and crystal clear waters! You'll divide your time between taking a swim, sunning yourself on the sands, soaking up the sunset, and enjoying some great meals!
One of the highlights of a stay here is to take day trips to Kato Koufonisi – don't miss it!
Ios to Koufonissi Ferry FAQ
Readers looking to spend time island hopping between Ios and Koufonissi as well as other islands in the Aegean Sea often ask similar questions which include:
How do we get to Koufonisia from Ios?
The only way to travel from Ios to Koufonisia is to go via another island first such as Naxos. There are no direct ferries sailing to the island of Koufonisia from Ios.
Is there an airport in Koufonisia?
There's no airport on Koufonisia, so the only way to make a journey from Ios to Koufonisia is by using the ferry network. The nearest airport to Koufonisia is at Naxos.
How many hours is the ferry from Ios to Koufonisia?
With no direct ferries going to the Cyclades island of Koufonisia from Ios, it is hard to calculate the exact travel time. If connections line up perfectly, it could be 6 hours or less. In the worst case, you may need to stay over night on Naxos.
Where do I buy ferry tickets to Koufonisia?
Ferryhopper is perhaps the easiest site to use when it comes to booking Ferry tickets online. Although I recommend you book your Ios to Koufonisia ferry tickets in advance, you might also prefer to use a travel agency in Greece when you have arrived.
I hope you found this travel guide useful! Have you taken a ferry on the Ios Koufonissi route or further sailings? What were the cheapest tickets? How was your experience?
Please leave a comment below to help out other travelers to Greece!
---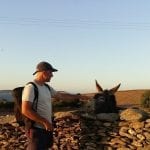 –
Dave Briggs
Dave is a
travel writer
living in and writing about Greece. As well as writing this travel blog post about options for the Koufonissi ferry route from Ios, he's written many more travel blog posts about destinations in Greece. Follow Dave on social media for travel inspiration from Greece and beyond: