Taking a Milos boat tour is an amazing experience, and one of the best ways to see this beautiful Greek island. Here's everything you need to know about choosing a sailing tour in Milos.
Boat trips are a perfect way to explore Milos
The Greek island of Milos is renowned for its beautiful landscapes, beaches, and numerous sea caves. This is best represented by Kleftiko, a former Pirate's bay, and a must-see when visiting Milos.
The best way to enjoy the awe-inspiring volcanic coastline, and swim in the crystal clear turquoise waters of Kleftiko and other hidden gems in Milos is to take a sailing trip.
I've been fortunate to have visited Milos twice now, and have taken boat tours on both occasions. They are among the most memorable experiences I've had on Milos, and I highly recommend that you consider a Milos boat tour during your own vacation.
If you're thinking about taking one or two Milos day trips when you're on the island, here's everything you need to know about choosing a sailing trip.
Tips for choosing Milos Boat Tours
As some of the
best beaches in Milos
can only be reached by boat, I'd suggest taking a
Milos sailing tour
during your vacation. This is what I did, and loved every minute of it!
There's a few different Milos sailing tours available, and I opted for a full day circumnavigation of Milos. This included highlights such as Poliegos island, Kleftiko beach, Gerakas and more.
There are plenty of other boat tours in Milos available, and most visit Kleftiko beach on Milos. Keep in mind you might prefer a non-windy day for your Milos boat cruise!
All of the boat trips leave from Adamas, which is the main port town in Milos. If you are staying in another area on the island, you'll have to work out how to get to Adamas in time to take your tour.
Best Milos Boat Tours
While you can book a boat trip when you are in Milos, keep in mind that tours do sell out, particularly in the peak season months of July and August. For peace of mind, I suggest booking a Milos boat cruise online before you arrive.
Get Your Guide have a number of interesting cruises around Milos to choose from. Most tours include stops at the pirate caves of Kleftiko, and many include lunch. It's worth comparing the differences of each one to see which you find the most appealing and suitable:
Milos Boat Tour
My experiences of a full day Milos sailing tour started at 8.30 when I boarded the boat Chrysovalandou II catamaran at Adamas port. From here, we followed the route shown around the island in a clockwise direction.
I'll try and break down the areas we visited along with some pictures of Milos, Greece. Here's a short video so you can get a taste of the Milos sailing experience!
The basic sailing itinerary looked a little like this:
Leave Adamas, and sail past the pretty fishing villages of Skinopi, Klima, Fourkovouni, and Areti with their colourful little houses.
Sail past the Arkoudes rocks which look a little like a bear. I think I saw a rabbit in the rocks too!
Sail up to the Glaronisia volcanic islands with their unique features
Sail on to Poliegos island, where there's a stop for swimming
On to Firlingos for more swimming
On to Gerakos for more swimming
Sail to Kelftiko Beach … yes more swimming!
Sail back to Adamas port
I think that is more or less what we did on this Milos tour. There was also a delicious lunch in the middle of there somewhere as well!
Kleftiko Milos
One of the real highlights of a Milos boat tour, is being able to see Kleftiko Beach. This beach is as iconic as Sarakiniko beach, and is a 'must see' when visiting Milos island, Greece.
Kleftiko Milos is also known as the 'Pirate Bay', and legend has it that one of the caves may have treasure waiting to be found. Will you find it when swimming at Kleftiko beach? Let me know if you do!
Kleftiko Beach
Is Kleftiko a beach? Good question! It often gets referred to as a beach, but in its strictest definition of the word, it's not really. Instead, it is a sheltered bay.
The cluster of naturally eroded white volcanic cliffs, rocks and caves which make up Kelftiko do provide the perfect setting for swimming and relaxation though.
If you've been wanting to get that perfect photo of you diving off the side of a boat, there is probably no better place in the world than Kleftiko Milos!
Kleftiko Caves
You can swim through and into many of the Kleftiko caves and tunnels, depending on the calmness of the sea and the tide.
For the most part, the bay is very well sheltered, and so you'll have the time of your life!
Our catamaran had snorkelling gear available for people to use so they could snorkel at Kleftiko beach. You might want to make sure that any Milos sailing trip you take has the same.
Pictures of Milos, Greece
Here's a few of the photos of Milos I took when sailing around the island. Just in case you need the extra inspiration!
How to book a Milos island sailing tour
I don't think there's a massive need to book a Milos sailing trip weeks in advance, unless visiting the island in August. This is always a busy month no matter where you are in Greece, and you can guarantee that the Milos boat tours will be busy at this time.
However, you can book ahead if you wish. Below, I've given you a few different options of sailing trips around Milos you can choose from.
West Milos and Kleftiko Beach 5-Hour Catamaran Cruise – ** Click Here **
Kleftiko Full Day Sailing Cruise with Snorkeling & Lunch – ** Click Here **
Full Day Sailing Cruise to Kleftiko – ** Click Here **
Practical advice for Milos catamaran tour
Here's a few things you should consider and keep in mind when taking the catamaran tour around Milos.
Strong winds or bad weather may mean the sailing trip is cancelled or the route altered.
Check that snacks and drinks are included in the price (it was on my tour)
Bring LOTS of sunblock! The sun reflects off the waves.
Consider taking a Go-Pro or other waterproof camera for awesome video and instagram shots!
Some tours may provide cameras at an extra charge for underwater pictures.
Be prepared for sea sickness.
Milos Boat Trips FAQ
Readers who want to see the beautiful beaches and numerous caves along the stunning Milos coastline when planning their Greek island hopping itinerary often ask questions similar to:
How do I choose a Milos sailing tour?
The boat trips in Milos are normally full or half day tours. A full day tour offers the most value, but you should ask questions about extras and what is included, such as are lunch, water and soft drinks provided, and are there any masks and snorkels you can use.
How do I get to Kleftiko Milos?
The easiest way for most people to get to Kleftiko is to take a sailing trip from Adamas, the main town in Milos. It is also possible to hike to Kleftiko Bay, but you need to drive to a remote part of the island to do so.
How many days do you need in Milos Greece?
For the most enjoyable time on Milos, aim to spend two or three days on the island. This gives you the opportunity to see the colorful little houses in the traditional fishing villages, visit the amazing beach of Sarakiniko, and take a day trip on a boat along the coastline.
Is there a guidebook available for Milos Island in Greece?
There is only one guidebook to Milos and Kimolos islands in Greece published by Real Greek Experiences. It offers valuable insights into planning a trip to Milos, including itineraries, where to stay, and more!
Milos Island Travel Guide
Looking for more information on what to do in Milos? My Milos Travel Guide has everything you need! From what to see in Milos to where to stay, it's got lots of useful and practical travel tips to help plan a vacation in Milos.
Pin this Milos sailing post for later
If you are using Pinterest boards to gather together information about things to do on the Greek islands, by all means pin this Milos boat excursion blog post for later.
Milos Boat Trip Final Thoughts
I think Milos is my new favourite Greek island when it comes to beaches. From the unique white beach of Sarakiniko to the sands of Paliorema backed by an abandoned sulphur mine, you could visit a different beach every day of your vacation, and still not see them all.
Sailing around the beautiful Greek island of Milos is a must-do activity for any traveler. The stunning scenery and crystal clear waters make for an unforgettable experience. If you're looking to explore some of the best beaches on Milos, be sure to visit Kleftiko beach – one of the most iconic destinations on the island.
---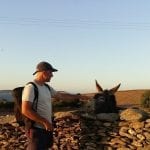 –
Dave Briggs
Dave is a
travel writer
from the UK who has been living in Greece since 2015. As well as writing this guide about taking a Milos catamaran tour , he's written hundreds of other insightful travel guides to Greek islands and destinations. Follow Dave on social media for travel inspiration from Greece and beyond: