Choose from the top 20 best things to do in Milos Greece during your Greek island vacation. Visit incredible beaches, explore catacombs, relax on a catamaran, enjoy Greek cuisine and more by planning your own Milos itinerary here.
The beautiful island of Milos is blessed with unique beaches, impressive white rock formations, dramatic cliffs, great local food and amazing sunsets. I've visited twice now, and can't wait to go back for a third time!
What to do in Milos
One of the most upcoming destinations in Greece is Milos. Less busy than the world-famous neighbouring island of Santorini, it's often described as a couples island.
This is in part due to the discovery of the Venus de Milo there, but also the fact that it's a lot more laid back and quiet than either Santorini or Mykonos.
However, Milos island isn't just for couples. The incredible beaches, laid-back atmosphere, and great food also make it suitable, for… well anyone who likes those things!
In fact, I love Milos so much, I've written a guidebook on it. You can get it on Amazon here: Milos and Kimolos guidebook
If you've never heard of this Greek island before, here's the top 20 things to do on Milos.
---
1. Take A Sailing Tour Around Milos
If you only want to take one tour in Milos Greece, this is one of the most popular choices. Milos has several amazing beaches that are not accessible by land, and the only way to enjoy them is by boat.
While on a Milos boat tour, you will see some of the best beaches in Milos mentioned below, like Kleftiko beach. This is one of the key Milos attractions you should see when on vacation.
I've taken the sailing trip around Milos myself and loved it. You can read here about my sailing experience around Milos.
There are also shorter boat tours in Milos that only take you to a couple of beaches, but in my opinion it's best to take a full day tour, as you will get to see all of the island and also snorkel and have a lovely meal on board.
---
2. Take A 4WD Tour Of Milos
This might not be the number one thing that comes to mind when travelling to Greece, however this 4WD tour is really amazing, as you will get to learn a lot about Milos, and see a side that most visitors don't see.
Milos has been mined since the ancient times, as its soil is rich in several minerals, such as sulphur and bentonite, which is still being extracted today.
This tour takes you to some of the most important mining spots, and also to some pretty unique places that you can't reach in a normal car. It's totally recommended if you want to learn more about life on the island.
3. Sarakiniko Beach Milos
Sarakiniko beach is one of the most famous beaches in Greece, because of its unique white rocky landscape. It is located on the north side of Milos, and you can reach it by public transportation or even on foot if you are staying close by.
As it is one of the most popular Milos island attractions, it is best to try and go very early in the morning to Sarakiniko, or perhaps in the late evening. It is also worth going at night, especially if there is a full moon.
Note that if there are north winds (very common in the Cyclades), the sea gets quite rough. To be fair, this is not the best place to swim in Milos, but you simply must go and check out the moon-like landscape. Don't forget your camera.
You can read an extended article here on Sarakiniko Milos.
---
4. Kleftiko Milos
Apart from Sarakiniko beach, another picturesque place in Milos is Kleftiko, at the south-western side of the island. It is not really a beach, rather a bay with large rock formations, cliffs and sea caves.
You can get to Kleftiko by boat, either on a full-day tour from the port of Adamas, or a shorter cruise from Kipos or Agia Kiriaki. More adventurous types might like to try hiking to Kleftiko.
The name "Kleftiko" dates from the times of pirates, who used those rocks and caves as their hideaway. The word comes from the Greek word "steal".
---
5. Milos Mining Museum
Whether you take the 4WD tour or not, make sure you visit the Milos Mining Museum in Adamas town. Even if you are not too interested in minerals, you will be impressed with this museum, which explains a lot about mining and life in ancient eras but also in recent times.
The museum hosts exhibits such as minerals, different tools and clothes used by the miners.
Make sure you watch the video played in the museum, where old residents of the island, both men and women, explain their role in the mining process and give details about their lives as mining workers.
---
6. Thiorichia Beach
This is an impressive settlement on the east side of Milos, where you can get either by boat or by car. Until 1971, there used to be sulphur mines in this area, along with houses for the mining workers to stay in.
After the sulfur mines closed down, the place was deserted, but the buildings remain, making this a rather spooky experience.
Enter (or not!) the buildings and caves at your own risk. If you have young kids, it might be best to avoid going inside.
Thiorichia Beach itself is a nice place to spend a few hours. If you want to stay on the beach, make sure you bring an umbrella and water!
---
7. The Town Of Plaka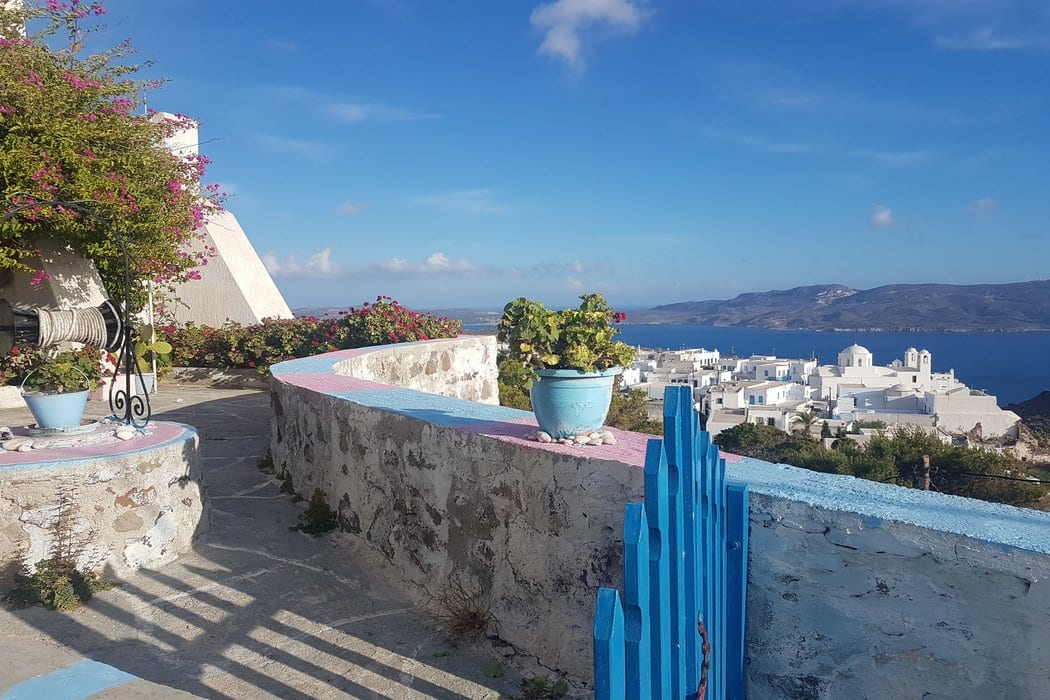 If you haven't chosen to stay in the town of Plaka, make sure you visit at least once. This small picturesque town a 15-minute drive away from Adamas port, is built on a hill, and as a result the views are amazing.
Wander around the narrow cobbled streets, and sit for a coffee or meal with a view to one of the loveliest sunsets in Greece.
---
8. The Venetian Castle In Plaka
While in Plaka, make sure you hike up to whatever is left from the Venetian castle, at the highest point of Plaka. The castle used to be a refuge, built to protect people from pirate attacks. Nowadays it is a popular spot for visitors.
From the top of the Plaka castle, you will get the best views of Milos Greece, and you will appreciate the size of the bay, which is one of the biggest and safest natural bays in the Mediterranean. Visit during sunset, to enjoy the unique views.
---
9. The Catacombs Of Milos
Milos is home to the biggest catacombs in Greece. Discovered in 1840 and located close to Plaka, these catacombs were built in the 1st century AD, to serve as a Christian cemetery. The length of the corridors is 184 meters, and they are 2-2.5 meters tall.
It is estimated that around 2,000 Christians were buried in the Catacombs until the 5th century AD, when they were closed down due to landslides.
The Milos Catacombs are the third most important Christian monument of its type, after the Mount of Olives in Jerusalem and the catacombs in Rome.
You should definitely include them in your Milos itinerary. The entrance fee includes a short guided tour. Make sure you look for the inscriptions on the walls.
---
10. Trypiti (Tripiti) Village
Very close to Plaka, you can find the traditional village of Tripiti, built on the side of a hill and overlooking the Aegean Sea.
Many of the original windmills have been refurbished and are now available to rent, but that doesn't take away from the charm of the village. If you are driving through, be extra careful as the roads are really narrow.
---
11. Klima Village
Another picturesque village, Klima is on the west coast of Milos. Klima used to be a fishing village, and is full of the traditional "sirmata" houses, with whitewashed walls and colourful doors.
Today, most of those houses are available to rent, while some of them have turned into souvenir shops. Nevertheless, Klima is a really charming little village and you should definitely visit if you are on a Milos vacation.
The famous Venus of Milos statue, which can now be found in the Louvre, was discovered near Klima village.
---
12. Ancient Theatre Of Milos
Like many other places in Greece, Milos has an Ancient Theatre built in the 3rd century BC, which few people know about. It is estimated that the theatre could host over 7,000 people in ancient times.
The theatre was excavated in the 18th century, and was offered to King Otto as a gift, at a later stage. It came into use from 1930 to around 2000, when it was found unsuitable for performances.
It was subsequently restored, and can be visited today. As it is very close to Plaka, Klima, Trypiti and the catacombs, it makes sense to visit all of them on the same day. It is possible to hike between all those places, just avoid the strong midday sun.
---
13. Pollonia Village
Unless you are already staying in Pollonia Village, at the north-east of the island, it's worth taking a day trip here. Pollonia is much smaller than Adamas, and is relatively unspoilt.
Walk to the end of the village, past the small blue church of Agios Nikolaos, and admire the views.
If you are visiting with your significant other, look out for a small chair-shaped rock just after the church. According to legend, the couples that sit on this rock will be together forever!
From Pollonia, it is possible to take a ferry to the nearby island of Kimolos. More here: How to get from Milos to Kimolos by ferry.
---
14. Agia Kyriaki Beach
Possibly our favourite beach in Milos, Agia Kyriaki is a quiet sandy beach with some shade and a few tavernas. It is ideal for children, as the water is shallow and the bay is quite protected, but it is suitable for everyone really. It is a great spot if you want to spend the whole day on the beach.
---
15. Paliochori Beach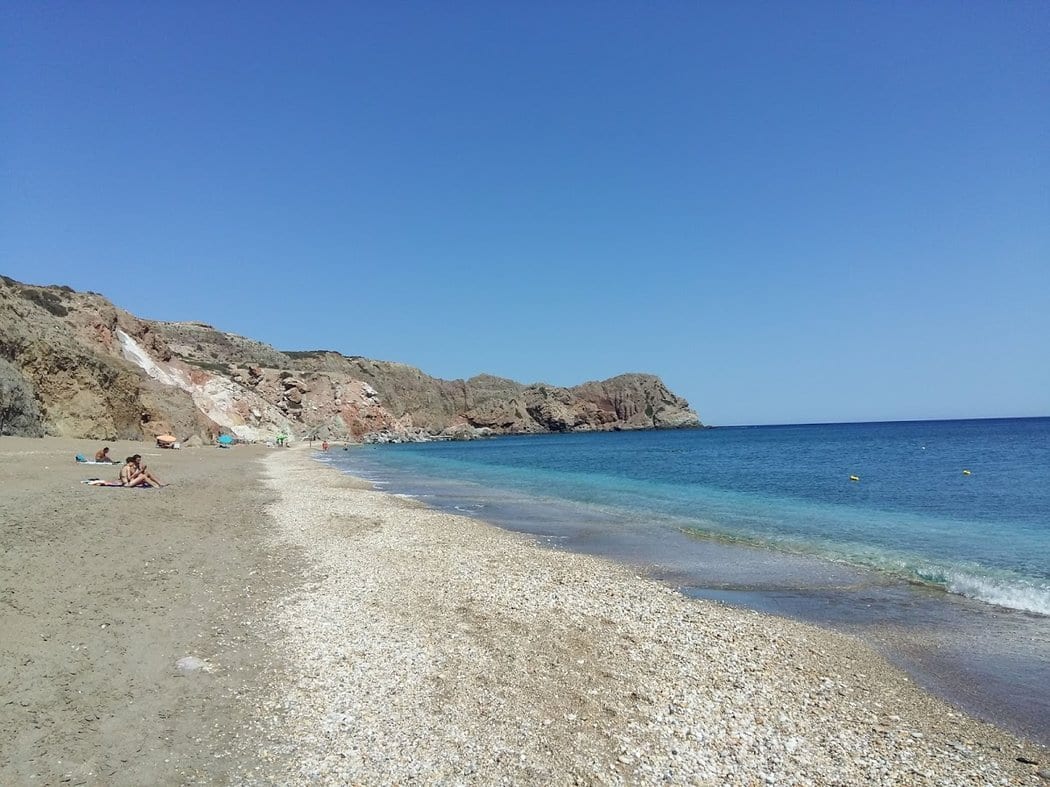 One of the longest beaches in Milos, Paliochori (or Paleochori) is roughly divided in three sections. Although it is one of the most popular beaches on the island, you can still find quiet spots, especially at the far left side of the beach. The water is really warm, due to the hot springs in the area.
---
16. Tsigrado Beach
Tsigrado is one of the best beaches in Milos, but there is one catch: getting there isn't straightforward! You can either get here by boat, or through a very steep ladder hanging by a rock. It's definitely not suitable for people with walking issues, but it's gorgeous!
---
17. German Bunker In Adamas
While in Adamas, make sure you visit the German bomb shelter, which was constructed in 1941. The bunker was originally built in order to protect the German soldiers, and was subsequently used by the locals as a shelter in 1944, when Adamas was bombed by the British.
The shelter has two entrances and 12 large chambers. It was well ventilated, and the temperature was pleasant all year round.
Today, the bunker is open to the public, and there are often art exhibitions and installations. Opening hours might be irregular, so check before your visit.
---
18. Firopotamos Beach
One of the best places to visit in Milos, and one of our favourite spots on the island, is Firopotamos, which is a fishing port, with the traditional sirmata houses, right next to a beach. There is also a beautiful church, and stunning views to the Aegean.
The landscape is pretty amazing, and the bay is quite protected, so it is ideal for swimming and snorkeling irrespective of the weather.
Even though some of the traditional fishermen's houses have become rooms to let, somehow Firopotamos felt more authentic than Klima.
---
19. Try the delicious Milos cheese
If you are a cheese lover, it's worth stopping at Charalampakis cheese-making facility, close to Pahena, on the way to Pollonia.
They offer a few different types of cheese that are all great, but our vote goes to skotyri, a soft spicy goat cheese. Find out more here – Cheese in Milos.
---
20. Sample the unique Milos wines
Due to its mineral-rich soil, Milos produces unique types of grape, much like Santorini. Stop at Konstantakis Cave Winery in Pollonia to have a taste, and perhaps buy a bottle or two. They also offer accommodation.
---
How to get around Milos
So, all these places in Milos to see sound great, but how do you get to them?
While there are buses going around Milos, if you want to be independent it's probably best to rent a car or ATV. We found driving in Milos fairly straightforward, though some of the roads, especially around Trypiti and Klima villages, are pretty steep and narrow.
Check out my full Milos travel guide for more information on how to get around Milos.
Things to do at Milos at night
Finally, you've probably noticed that these are all day time activities in Milos. What is there to do in Milos at night?
Well, if you are planning to go clubbing in Greece, you may want to visit another island instead! Milos island is pretty quiet when it comes to night activities.
You will find some nice bars in Plaka, but don't expect to party until 6 in the morning. Instead, it's a matter of leisurely evening meals, a few quiet drinks, and then getting ready to wake up early and enjoy the next day in Milos!
I've a guide here on the best restaurants in Milos.
Hotels in Milos
Adamas in Milos is a useful place to start looking for hotels when planning where to stay in Milos. Also check out my guide on the best hotels in Milos.
FAQ About Milos island in Greece
People planning a vacation on the Cyclades island of Milos in Greece sometimes ask questions such as:
Is Milos Greece safe?
Yes, Milos is a safe destination for tourists. The island has many beautiful beaches and historic sites to explore. Plus, the people of Milos are very friendly and welcoming towards foreigners.
Where should I stay in Milos?
The main port of Adamas is perhaps the best area to stay for many visitors to Milos. It is the main hub of the island, and many hotels and accommodations are located there.
How do I get to Kleftiko Milos?
Most people choose to take a boat trip to the famous Kleftiko Bay in Milos. It is also possible to hike there, but this involves driving to a remote part of Milos, and then hiking for 40 minutes along a path that crosses through a nature reserve which allegedly has some deadly snakes!
How to you get to Milos from Athens?
The Greek island of Milos is connected to Athens by both ferry and flight services. The fastest way to get there is a flight, which takes around 45 minutes and costs €60-€150 one way. Most people will choose to take a ferry though, which is around a 4 hour journey,
Where is Milos island?
The Greek island of Milos is one of the Cyclades islands. It is located quite close to the popular island destinations of Santorini and Paros.
Please Pin: Milos Things To Do
Feel free to add this guide on what to do in Milos Greece to one of your Pinterest boards using the pin below.
Travel Tips for other Greek Islands
Planning a trip to other Greek islands as well? You might find these island hopping travel tips useful for getting to other Cyclades islands.
Have you been to Milos, and did you do something that wasn't included in this list? Please leave a comment!
---