This guide on where to stay in Milos lists the best places to stay in areas such as Adamas, Plaka, and Pollonia. Accommodation choices to suit all budgets as well as travel tips.
Best Locations To Stay in Milos Island, Greece
The volcanic, picturesque island of Milos is one of the most upcoming destinations in Greece.
As it's still not completely mainstream, finding the best areas to stay needs a little a little consideration, especially for first time visitors.
I've now visited Milos twice, spending two months on the island, and have put together this guide on the best areas in Milos to stay in. Additionally, I've also includes some hotel suggestions for you to choose from.
Here's a quick overview of the main areas in Milos to stay:
Adamas – Perfect if you haven't got a car and for stays of just a night or two
Plaka – Away from the coast, amazing views, good public transport connections
Pollonia – Reasonably quiet small port town. It would be better to have a vehicle
Klima – Vacation rentals come in the form of traditional "Syrmatas"
Firopotamos – Great location at a fishing village. Own transport essential
Mandrakia – Close to Sarakiniko. Mainly Airbnb options
Tripiti – Close to Plaka. Good if other areas are sold out or pricey
Hotels in Milos
Over the last few years, the choices of accommodation in Milos have widened nicely. If a budget hotel is more your style, you can still find 30-40 Euro a night places (although maybe not in August).
Boutique hotels in Milos have also come into vogue. In particular, you'll find many of the old fishing houses in Klima converted into places to stay.
And of course, you can find a luxury hotel or two, complete with infinity swimming pool if that's your sort of thing.
These days there are plenty of options, though if you go in peak season (July – August) advance booking for Milos hotels is definitely recommended.
Map of Milos Accommodation
Zoom in so you can get a feel for where the best Milos hotels are located. Note that in the winter, many hotel owners don't have their properties listed.
So, if you are planning to book a hotel during the winter for a summer visit to Milos, be aware that more accommodation options are likely to be listed from April/May onward.


If you look at a map of Milos, you will see that its shape is quite unique. There is a big, natural bay, separating the east part of the island from the west part. All the accommodation can be found in the east side of Milos.
The west side of the island is very mountainous and there are no villages or towns. There are lovely landscapes though, that you will be able to explore in a 4WD or perhaps a quad. Some of the beaches are only accessible by boat or on foot, like the hiking trail to the famous Kleftiko Bay.
Milos Hotels
There are mainly three areas where you can find the majority of rooms to let in Milos:
Main port of Adamas
The smaller port / fishing village of Pollonia
The picturesque village of Plaka, the capital town in Milos.
Furthermore, there are more guesthouses and a few hotels scattered outside those areas. There used to be a campsite on Achivadolimni beach, but as of summer 2020 it is no longer in operation.
Where to stay in Milos will largely depend on how many days you want to spend in Milos and how you are planning to get around the island.
Although the most comfortable way would be to rent a car, you can also get around the island on a bus. In peak season there are several buses a day to and from the most popular destinations.
Where to stay in Milos – Adamas
If you are travelling from Athens to Milos by ferry, Adamas is the first place you will see in Milos. Also known as Adamantas, it's the largest town on the island, with approximately 1,400 residents out of a population of around 5,000 people in Milos.
Adamas sits right in a big, natural bay, and it has it all – rooms to let, hotels, restaurants, bars, cafes, a few shops and a couple of beaches.
Papikinou beach, about a kilometre to the east of the port, is shallow, and therefore ideal if you have children. There is also a smaller beach, Lagada, to the west of the port.
Adamas is where most boat tours and public buses depart from. It's from here you can also take a sailing trip to see Kleftiko Milos.
If you are only planning to stay in Milos for a couple of nights, and perhaps take a Milos boat tour, but not hire a car, Adamas is the best area to stay in Milos.
Adamas is where we stayed on out second visit to Milos. All things considered, we found it the best option in terms of location.
Adamas Milos – What to do in Adamas
In terms of sightseeing, Adamas has a couple of really interesting museums. Our favourite was the Mining Museum, which shows the history of mining on the island. Make sure you visit, in order to appreciate the importance of minerals for the economy of Milos.
You can also visit the Ecclesiastical Museum, with some interesting icons and other Christian Orthodox artefacts. The churches of the Dormition of the Virgin and St. Haralambos are also worth a visit.
If you only have a few days on the island, take one of the sailing trips around Milos departing right from Adamas. Here's a fuller list of day trips from Milos.
Best places to stay in Adamas Milos
Here is a list of some of the best places to stay in Adamas Milos.
Budget hotels in Adamas Milos
Antonis rooms is a great budget choice if you are happy to not be right in the middle of everything, but still walking distance from Adamas. They provide free shuttle service and the property has a garden and terrace. Some rooms have a kitchenette, if you want to make your own meals.
Eleni apartments is a short stroll from the port of Adamas, and literally one minute walk from the Mining Museum. All in all, it's a great option if you want to be close to everything. All rooms have balconies and a kitchenette, as well as free of charge access to communal washing machines.
Filippos apartments – If you are travelling with your family, Filippos apartments is a great budget option, though you need to be quick as they only have one suitable apartment. It is very close to Lagada beach, and about 100 meters from the port.
Veletas Rooms is where we stayed ourselves. The location is excellent, on a quiet street but very close to the port. The apartments are spacious, and the landlady will give you all the information you want.
Finally, if you have a car, Sarakiniko rooms to let, between Adamas and Sarakiniko, is another budget option. This is one of the two places we stayed when we visited Milos in June 2018. It's walking distance from Sarakiniko beach, which is very convenient. The rooms don't have a kitchenette, but they have a fridge.
Mid-range hotels in Adamas Milos
Liogerma is in a quiet location as close as it gets to Lagada beach, and a short walk from Adamas port. They offer sun loungers and a small pool, and an excellent buffet breakfast.
Seaside apartments are literally on Adamas beach, and can accommodate up to four people. Offering a fully equipped kitchen, they are great for shorter and longer stays in Milos.
Top-end accommodation in Adamas Milos
Villa Notos is ideal if you want to be right in the middle of everything. All rooms have a kitchenette, and they offer beautiful views over the Aegean.
The most highly rated of the Milos hotels is Deluxe Studios & Suites Ageri-Milos. Ideal for couples or families, they also provide free bicycles if you want to bike around Milos!
Finally, for something different, check out the Windmill. As its name suggests, it's an old windmill, converted to a spacious apartment with a fully equipped kitchenette and a dining area. Breakfast and local snacks are provided.
Hotels, Rooms and Suites in Pollonia Milos
If you want something quieter and more romantic, Pollonia village is ideal. Located on the northeast coast of Milos, it has enough restaurants and tavernas to keep you happy, but is a lot more secluded than Adamas. It's also ideal for families, as the Pollonia beach is shallow and protected.
From Pollonia, you can take a local ferry to visit the nearby island of Kimolos. This is a quiet, mostly unknown Greek island, which has largely kept its authenticity.
Pollonia Milos – What to do in Pollonia
Pollonia is a great place to relax, swim and eat. There are some excellent restaurants, like Yialos, Rifaki and the sushi / fusion Hanabi. Also, you can pass by Konstantakis Cave Winery to have a taste of their unique wines, and maybe buy a bottle or two.
I've a full guide here: Best restaurants in Milos.
Make sure you walk along the promenade, past the little church of Agios Nikolaos, to enjoy the beautiful views. There isn't much more to do in Pollonia, which isn't necessarily a bad thing!
Ask the locals for the chair-shaped rock. According to local legend, couples who sit on the rock will stay together forever. Just make sure you sit with the right person!
Best places to stay in Pollonia Milos
Due to the recent boom in Milos tourism, many of the guesthouses and hotels in Pollonia are relatively new. A lot of effort has been made to keep them stylish and welcoming, and there is plenty of choice.
However, early booking is advised, as Pollonia is quite a popular choice. So if you are after a particular room or suite in Pollonia, reserve it straight away!
Budget rooms in Pollonia Milos
In 2018, we stayed at Polyegos View, a short walk from Pollonia. We absolutely loved the rooms and the views. There was a lovely kitchen with fridge, and the shower was really good.
If you are budget-minded, this is probably the best hotel in Pollonia, though it looks more like a mid-range place.
Mid-range hotels in Pollonia Milos
Ostria Vento is a great choice. Located just at the edge of the village, they offer rooms with balconies and breakfast facilities.
Top-end accommodation in Pollonia Milos
If you are looking for a spacious family apartment, one of the best options is the Traditional House Milos. There is a fully equipped kitchen, and a complimentary welcome breakfast basket is included. The apartment has large balconies and the sea views over the Aegean are stunning.
Nefeli Sunset Studios is an upmarket choice with lovely sunset views (hence the name Nefeli sunset!). The location is perfect if you want to relax and spend some quiet time. Breakfast is delivered in the room daily, and rooms have a kitchenette as well.
If you feel like splurging, Milos Breeze Boutique Hotel is possibly your best option. With its own swimming pool and bar, it offers amazing sea views over the Aegean. A great breakfast is offered, and service is exceptional. The beach and the village are only a short walk away.
Finally, for the ultimate pampering and relaxation, check out Villa Lord. It has all amenities, including a hot tub, and is right next to Pollonia beach, a few metres from the restaurants. The sandy beach of Polychronis is close by.
Where to stay in Plaka Milos
If you want to stay in a traditional mountain village, then the best choice for you is Plaka.
A short drive from Adamas and close to the popular sites of the Catacombs of Milos and Tripiti village, Plaka is an enchanting little place with many cafes and plenty of quality souvenir shops.
Plaka Milos – What to do in Plaka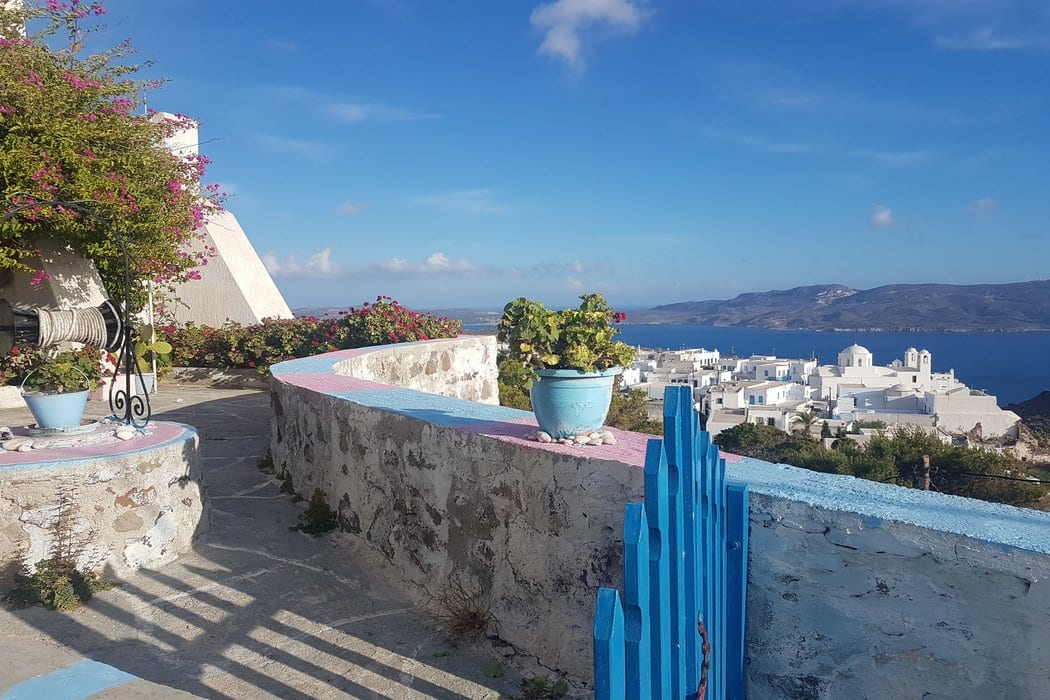 Plaka has quite a lot to do in terms of sightseeing. We liked the Archaeological Museum, where you can see a replica of the Aphrodite of Milos statue. Here, you can find out a few things about the island's long history.
Right opposite the main church of the town, you can also visit the small Folk and Historic museum. It was closed in 2020, but hopefully it will reopen next year.
It's worth stopping by the small Sand museum, tucked away in a small alley. Here, a passionate geologist / collector / artist exhibits sand from all over the world, and his unique art!
The main attraction in Plaka is the Castle, which is an easy hike all the way up from the town. Head to the top before sunset, to take in the stunning views. On the way, you will see several small churches – don't be surprised if GoogleMaps doesn't have a name for them.
There is also a lot of sightseeing to be done just outside Plaka. You should definitely visit the eerie catacombs of Milos, which were used as a cemetery during the early Christian times. Nearby, you will find the ancient theatre of Milos, dating from the 3rd century BC.
The picturesque villages of Trypiti and Klima are a short drive from Plaka. They are completely different between them, and you could visit them both. We loved the sunset in Klima – you can also have a meal at Astakas restaurant.
Most people drive to these areas, but if you are feeling energetic and the weather is pleasant it is also possible to hike.
Best places to stay in Plaka Milos
There are a few hotels in Plaka Milos, and more options in the wider area of Trypiti, Klima and Triovasalos.
Note that parking in Plaka is not easy, but public parking is offered just outside the village.
Budget rooms in Plaka Milos
If you want to stay right in the middle of Plaka, Arethousa is your best budget option. The rooms include a fridge and small balcony overlooking the picturesque village. Note that parking inside Plaka is not easy, but public parking is offered just outside the village.
Mid-range hotels in Plaka Milos
Just off Plaka, Milos Dream Life in Triovasalos Village is a good choice if you have your own transport. They offer free private parking, and there are kitchenettes in all apartments.
Halara Studios, just behind the Folk museum in Plaka, is another popular choice for parties of up to five people. There is a shared terrace with stunning views of the Aegean, and each apartment has a kitchenette, fridge and safe.
A short walk from the village, Vivere A Plakes provides rooms with private balconies. The hotel offers a range of rooms with fully equipped kitchens, including larger apartments that are suitable for families.
Top-end accommodation in Plaka Milos
If you want to stay close to Plaka, but prefer to be based somewhere quiet, Milo Milo Suites off Triovasalos village is one of your best options.
The elegantly decorated rooms and apartments have stunning views, and the apartments include a kitchenette. Breakfast is included. Tourkothalassa beach and Mandrakia village are a short walk away.
Villa de Viento in Tripiti village is a great choice for a party of up to five people. It's a large apartment with all facilities, including a dishwasher in the kitchen. Free private parking is available at a nearby location.
Where to stay in Milos off-the-beaten-track
If you prefer to get away from everything, Milos offers quite a few options. Don't worry – Milos won't get anywhere nearly as crowded as Santorini for the time being.
Still, you may still prefer to have more privacy than either Adamas or Pollonia offer. Here are a couple of choices:
Golden Milos Beach is a high-end hotel, located on Provatas beach. This the only beach in Milos awarded with a prestigious blue flag. The rooms are modern and simple, and offer a fridge and kettle.
There is a free buffet breakfast, and the restaurant is also open during lunch and dinner times. The property also has a beach bar, outdoor pool and loungers on the beach. The hotel didn't open in 2020, so watch this space.
Hotel Milos Resort, close to Achivadolimni beach, is great if you want to be close to the longest sandy beach in Milos. This is a proper hotel, offering different types of rooms with breakfast and access to pools, if you need them.
Finally, if you want to be on one of the nicest beaches in Milos, you can check out Paleochori. While there are a few budget options available, the best one is definitely Artemis Deluxe rooms, offering spacious rooms and suites just on the beach.
Stay in one of the Sirmata houses in Milos
Many of the smaller coastal villages in Milos are famous for the traditional, picturesque fishermen's houses, called Sirmata.
What might not be obvious at first, is that some of them have been transformed into stylish modern apartments. In fact, we saw many more Sirmata apartments in 2020 than we had seen in 2018.
Note that the Sirmata rooms are far from the best budget option in Milos. In addition, they are really right on the coast, which means that you are very likely to get wet at some point.
All that said, they are definitely a unique experience in Milos, and you could perhaps book to stay there for one or two nights. Klima is the most famous fishermen's village, and you can find a few options there, such as Tsakanos Sirma.
Where to stay in Milos – Final thoughts
To be fair, anywhere you stay in Milos is nice, and you won't be disappointed. If you are not planning to rent a car, it's probably better to stay in Adamas, which has better bus connections with the other areas on the island.
Otherwise, anywhere is fine really – if you want to explore the island you will have to do a fair amount of driving (or cycling), so you can choose according to your budget and availability of your favourite hotels in Milos.
FAQ About the Greek island of Milos
Readers planning to visit Greece and who want to include Milos in their travel itinerary often ask questions simialr to:
How long should I spend in Milos?
Three days is the minimum amount of time you should plan staying on the beautiful Greek island of Milos. It's an incredible island with dozens of amazing beaches. Added onto that are the charms of the traditional fishing village of Klima, a unique landscape, the awe inspiring Kleftiko Bay, and plenty of things to see and do.
Where can I stay in Milos without a car?
If you don't want to hire a vehicle when visiting Milos, the best areas to stay are in the port town of Adamas and Plaka village. You'll find a range of accommodation options in these places, and also the best public transport connections on the local buses.
What to do in Milos in 3 days?
You'll want to see the most famous beaches such as Sarakiniko Beach, take a boat trip to Kleftiko Bay, explore the catacombs and castles, and enjoy some incredible meals in the local restaurants.
Is Milos very touristy?
While Milos is becoming more popular with tourists, it has retained an authentic edge thanks largely to its wild landscape. While of course you will find souvenir shops, large resort style hotels are not a thing here, and thanks to strict building regulations, high rise hotels do not exist at all.
Is Milos or Paros better?
These two Greek islands in the Cyclades are very different than one another, but in my opinion, Milos is by far the better island. It is less spoiled by tourism, it's beaches are far better, and it feels a lot more genuine.
Milos Blog
Please pin this where to stay in Milos blog to one of your boards for later. That way, you'll be able to find it easily later on.
Have you been to Milos, and where did you stay? Let us know in the comments!
You might also be interested in:
---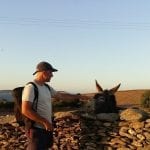 –
Dave Briggs
Dave is a
travel writer
from the UK who lives in and writes about Greece. As well as creating this travel blog post on where to stay on Milos, he's also written many more travel blogs and itineraries for destinations all over Greece. Follow Dave on social media for travel inspiration from Greece and beyond: