During the summer season there are at least 6 daily ferries sailing from Athens to Milos island. The quickest ferry trip to Milos from Athens takes just 3.5 hours.
One of the most upcoming destinations in Greece is Milos island. This Cycladic island has unique landscapes and there are over 70 amazing beaches in Milos.
Easily reached from Athens, Milos makes a great addition to a Greek island hopping itinerary, but is also big enough to stay for a week or even two as there is so much to see and do.
In this blog post, we'll share a few travel tips on booking the Athens Milos ferry, where you can find the latest schedules, and other insights.
We've also got a complete guide to Milos and Kimolos which you can find in paperback and Kindle format at Amazon: Milos and Kimolos in Greece
How to get to Milos Greece
You can travel to the Greek island of Milos by either plane or ferry.
Flying: There are a few short Athens to Milos flights that will take you there in under an hour. This is a good option if you plan to land at Athens Airport and want to go straight out to Milos. Check Skyscanner for flights.
Ferry: During the high season, the Athens – Milos ferry route is covered by 6 or 7 daily high-speed boats and conventional Greek ferries. It can take you anywhere from 3.5 hours to more than 8 hours to get to Milos from Athens.
Current ferry schedule and ferry tickets from Athens to Milos can easily be compared and booked on this website: Ferryhopper.
How to get to Milos from Athens by ferry
All of the ferries on the Athens-to-Milos route, depart from from Piraeus port which is the main port in Athens. Ferries arrive at the port in Adamas in Milos.
During the summer season (June to September), there are four daily high-speed ferries from Athens to Milos, and some additional ferries on some days of the week. On some days you can find up to 8 ferries sailing to the island of Milos!
Most of these ferry crossings stop at one or more islands on their way from Piraeus to Milos. You do not need to swap vessels though until you reach your destination.
Ferries from Athens to Milos Timetables
The ferries Athens to Milos have slightly weird patterns of running throughout the summer. So, itineraries in June are different from itineraries in August, and the routes change a lot on a daily basis.
If your dates are flexible, it's worth checking the boats for the week you are travelling in advance of your trip, in order to book the most suitable / best value for money option.
For crossings in the high season, and particularly August, I suggest booking tickets a month or so in advance.
You can book ferry tickets with Ferryhopper.
How to get to Piraeus port
All boats to Milos depart from Piraeus port, the main port of Athens. The Milos ferries from Piraeus currently leave from gates E6 / E7. These gates are walking distance from the metro and suburban railway stations in Piraeus.
To get to Piraeus port from the airport or central Athens, check out my guide here: How to get from Piraeus to Athens center.
Ferry Athens Milos – How to get to Milos
In the summer, there are three companies running a high speed ferry from Athens to Milos on a daily basis. These Greek ferry services then continue to Santorini – so if you are going from Milos to Santorini, these boats will be relevant to you.
There are also three more companies running bigger ferries on some days of the week.
Ferry from Athens to Milos – Hellenic SeaJet ferries
Among the most popular choices for the ferry Piraeus to Milos, is a company known for its speedy vessels, called Hellenic SeaJet. They run 17 boats between the Greek islands, of which two go to Milos on a daily basis – SeaJet 2, and Naxos Jet.
The SeaJets are the fastest option if you want to get from Athens to Milos.
SeaJet2 departs in the morning and takes just under 3 hours, stopping at Sifnos on the way.
NaxosJet departs in the late afternoon and takes slightly longer, as it also stops at Serifos.
Both ferries have standard and business seats, while there is no deck option. Standard seats cost 56-58 euros.
SeaJet to Milos
Both SeaJet ferries that travel between Athens and Milos are relatively small boats, and have no vehicle capacity.
While they are the fastest choice, it's probably best to avoid them if you are prone to sea sickness.
In case of very strong winds, they will generally be the first boats to get cancelled, so take that into account when booking your ferry tickets from Athens to Milos.
The SeaJets may very well be sold out long before the trip, so it's best to make your reservations early. Tickets need to be picked up from the port at any point before your trip.
Check ferry schedules and book online: Ferryhopper
For more information about these ferries, check out this page: SeaJets
Athens to Milos Ferry – Supercat – Golden Star ferries
Another high-speed Athens to Milos ferry is a vessel called Supercat, run by a company called Golden Star ferries. Similarly to the SeaJets, this ferry doesn't carry vehicles and is an all-in-all small-sized boat.
There is only one type of numbered ticket at 49 euro that you can book online and print yourself, and sometimes there are promotions (non-refundable fares).
Just like the SeaJet ferries, it might be best to avoid this boat if you get seasick easily. After Milos, the Supercat continues on to Santorini.
Check ferry schedules and book online: Ferryhopper
Ferry from Athens to Milos – Speedrunner 3 – Aegean Speed Lines

By Roban Kramer – Flickr: our ferry back to athens, CC BY-SA 2.0, Link
Another Athens to Milos ferry, run by Aegean Speed Lines, is a boat called Speedrunner 3.
Its time of departure from Piraeus changes on a daily basis – sometimes it departs in the morning, sometimes in the afternoon, sometimes in the evening. It also runs in October.
The Speedrunner 3 stops at both Serifos and Sifnos on the way, and it's the only Athens to Milos ferry running on a daily basis where you can take a car. Ticket prices start at 56 euro per person.
Check ferry schedules and book online: Ferryhopper
Ferry from Athens to Milos – Minoan Lines
Minoan Lines is considered to be one of the best ferry companies in Greece. Two of their ferries will serve the Athens-Milos route in three and a half hours, on their way to Heraklion.
Their names are Knossos Palace and Festos Palace and they will be running on alternate weeks.
These two boats are among the largest (700 feet / 214 meters long) and most luxurious ferries in Greece on domestic itineraries. If you travel on them you will have a very pleasant trip, even if the weather is bad.
Prices start from 41 euro for a deck seat, and increase for numbered seats and cabins.
The Minoan boats from Piraeus to Milos only run on Thursdays and Sundays between late June and mid-September.
If that suits your itinerary, it's definitely your best option, in terms of luxury, comfort, and also value for money. In fact, you will find that three and a half hours is barely enough time to explore the boat before you arrive at Milos.
Check ferry schedules and book online: Ferryhopper
Ferry from Athens to Milos – Prevelis boat, ANEK Lines / Aegeon Pelagos
If you are looking for the best budget ferry option, you can check out Prevelis ferry Piraeus to Milos, leaving on certain days of the week.
This is possibly the slowest ferry to Milos from Pireaus in terms of speed, but it's a direct service, so it takes 5 hours. This is one of the few ferries departing in the evening, so you can spend a half day in Athens and arrive at Milos around 23.00.
It's worth noting that the Prevelis was constructed in Japan in the 1980s and has been roaming around the Aegean Sea since 1994.
It's been refurbished over the years and it offers numbered seats and cabins.
As it runs on one of the longest domestic routes in Greece, stopping at various islands before eventually getting to Rhodes, the captains are among the best in the country, so you are in good hands.
Check ferry schedules and book online: Ferryhopper
Ferry from Athens to Milos – Zante Ferries
Zante Ferries offer the Athens – Milos route on both of their car/passenger ferries, on alternate days and on fairly irregular schedules.
The ferries are named after two of Greece's most famous literary people, the poet Dionysios Solomos and the author Adamantios Korais, and they stop at several islands before arriving at Milos. As such, the trip takes 7 hours or more.
If you are not in a hurry, this is a great choice to see more ports. This is also a good option if you are planning to island-hop on your return from Milos to Athens. Tickets start from about 40 euro for a reserved seat.
Check ferry schedules and book online: Ferryhopper
Best Ferry from Athens to Milos Greece
If your dates are somewhat flexible, by all means go for the Minoan ferries. Not only are they more stable and comfortable, but there are also better value for money than any high-speed ferry Pireaus – Milos.
If the Minoan ferries don't suit you, you would have to decide between a faster, but more expensive and possibly bumpy high-speed service, and a bigger, slower ferry.
For onward travel ideas, take a look at ferries from Milos to other Cyclades islands.
Athens to Milos island FAQ
Readers who plan to take the Athens to Milos ferry crossing often ask questions such as:
How long is the ferry ride from Athens to Milos?
The journey between Athens (Piraeus Port and Milos by high-speed ferry takes around 3 hours 30 minutes.
How do I get from Athens to Milos?
You can fly from Athens International Airport to Milos island airport on domestic flights such as Sky Express, or take a ferry trip to reach Milos. Most people tend to take one of the daily ferries, especially if they want to spend some time sightseeing in Athens first.
How much does the ferry from Athens to Milos cost?
The cost of a ferry ticket from Athens to Milos ranges from €40 to €70. High speed ferries normally have the more expensive ticket prices.
Is Milos or Santorini better?
Milos has much better beaches and even though it's one of the popular Greek islands in the Cyclades, never feels over touristy in the same way that Santorini can do.
Pin this Ferry Athens to Milos guide
If you are still in the planning stages of your vacation in Greece, feel free to add the pin underneath to one of your boards. This way, you'll easily be able to find this ferry to Milos guide for later.
Related Posts
You might also be interested in these other posts about Greek island hopping. These guides will show you ferry routes to popular islands such as Crete, Santorini, Naxos, and Mykonos.
---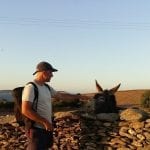 –
Dave Briggs
Dave is a
travel writer
from the UK who's been living in Greece since 2015. As well as writing this travel guide on the Athens Milos ferry and where to find the most recently updated routes and schedules, he's also written hundreds of other travel blog posts and itineraries for travel destinations all over Greece. Follow Dave on social media for travel inspiration from Greece and beyond:
---