Sarakiniko beach in Milos is a strong contender for being one of the most beautiful beaches in Greece. Here's a guide to Sarakiniko Beach Milos, and how to enjoy yourself when there.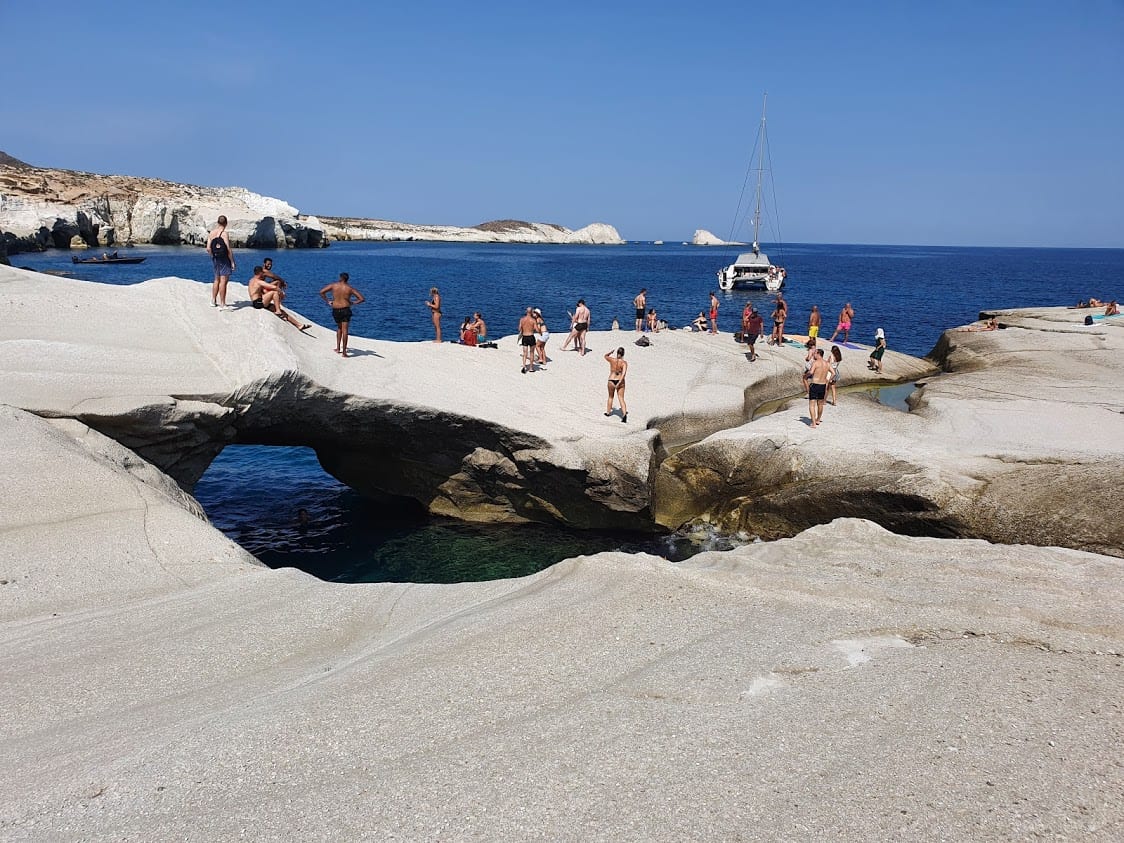 Sarakiniko in Milos Island in Greece
Santorini and Mykonos may be the headline stealers when it comes to the Cycladic Greek islands, but Milos is growing in popularity year on year.
Often marketed as a Greek island for couples, I've visited the island twice and enjoy its low key atmosphere and amazing beaches.
In fact, Milos has over 80 beaches to choose from, each one differing in some way from the last.
Perhaps the most unique beach in Milos though, is Sarakiniko beach. With an almost lunar landscape, Sarakiniko is instantly recognisable, and it's a 'must see' when visiting the Greek island of Milos.
Related: Best Greek Islands For Beaches
Sarakiniko Beach in Milos, Greece
If there's one beach that everyone wants to visit when spending time on the Greek island of Milos, it's Sarakiniko Beach.
Made famous because of its unique white landscape that has an almost lunar quality. It's certainly beautiful, but is it one of the best Milos beaches?
That's a tricky question to answer! Sure, Sarakiniko is an incredibly photogenic beach, and taking photos of the white rock formations here is going to look GREAT on your Instagram!
And of course, you can't possibly visit this Cycladic island without spending at least some time on the famous Milos white beach.
But make Sarakiniko the focus of your vacation to Milos? No, I don't think so.
Sarakiniko Beach Greece Guide
Why should you listen to me?
Good question! If you're a regular reader of the travel blog, you'll know that I have been living in Greece a few years now.
You'll also know that I've written a number of guides to Greece, including this useful Milos travel guide. If you weren't a regular reader, well, now you know!
I've got an honest approach to the places I write about, which I hope helps you to plan the best vacation to Greece possible.
As such, take a little time to read this guide to Sarakiniko Milos. It might help you plan your time better when visiting this beautiful Greek island!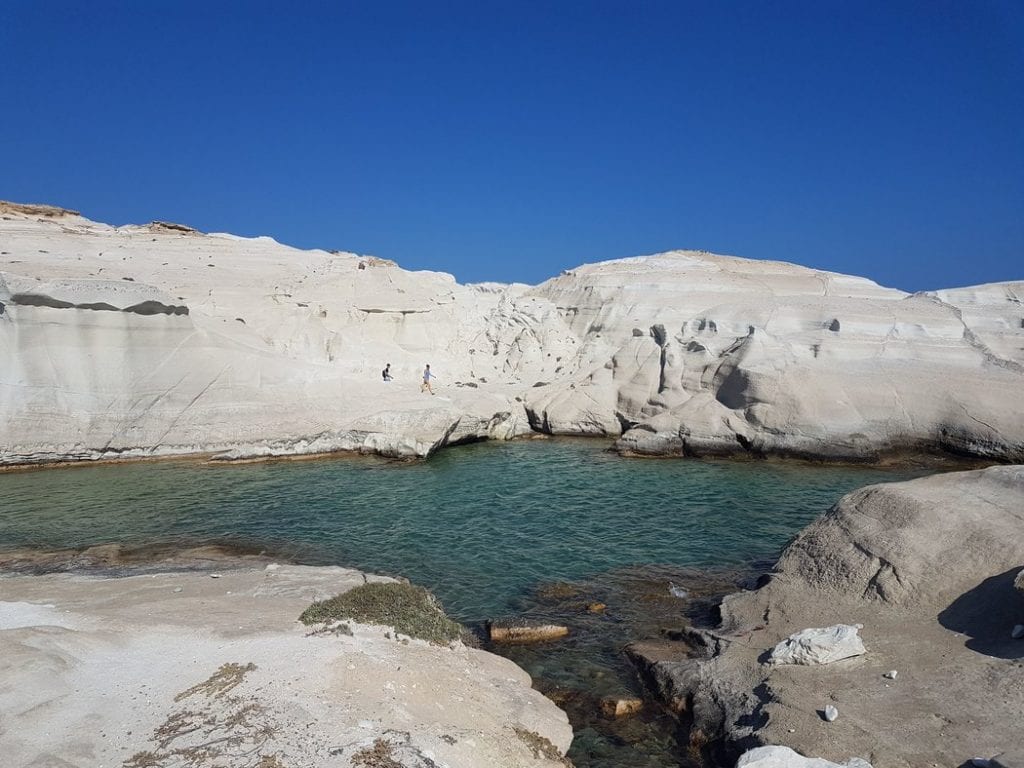 Is Sarakiniko one of the best beaches in Milos?
I've spent a total of a month or more on Milos, and have visited Sarakiniko beach many times.
I can confidently tell you that Sarakiniko is one of the most beautiful beaches on the island. It's probably the most photographed spot by people visiting Milos, and mother nature really has gone out of her way to match the white rocks and azure waters perfectly.
But, it's not the best beach in terms of relaxing or even comfort. And after midday, the heat gets crazy hot reflecting off all those chalky white rocks!
As such, I personally wouldn't want to spend an entire beach day at Sarakiniko, especially when Milos has some many other great beaches to relax on!
Some of the key points to consider when planning a trip to see Sarakiniko Beach on Milos are:
Arrive early – Like REALLY early if you want to see Sarakiniko Beach without a lot of people. Even 09.00 might be leaving it too late.
There's not much shade – I spotted 2 trees in a tiny sandy area. If you are determined to spend the whole day on Sarakiniko Beach, you want a sun umbrella. Quite how you set it up with no sand to put it into is a challenge you will face on the day!
The white rock beach of Sarakiniko is extremely reflective. Sunglasses and mega-doses of sunblock are essential!
It gets crowded quickly. In August, the beach resembles the human equivalent of seal colony!
Take plenty of water – When I visited, there were no canteens or beach bars to buy drinks and snacks. In the peak of summer, no doubt some enterprising local may walk up and down selling drinking water, but don't bank on it. Take what you think you'll need, and throw in another bottle just in case.
How to get to Sarakiniko Beach Milos
Milos Sarakiniko beach is located roughly between Pollonia and Plaka.
The beach is easily accessible by vehicle, with no serious stretches of rough road unlike some other beaches in Milos.
If you've hired a car or quad bike on the island, all you'll need to do is turn on Google maps, and follow what it says.
If you don't have your own wheels, then a local bus service picks up and drops off a couple of times a day. Ask your hotel for up to date information as the public bus system from Adamas to Sarakiniko does not run all the way through the year.
In conclusion
You definitely have to visit Sarakiniko when in Milos! Planning to spend the entire day there though is probably not your best option.
Instead, plan to arrive at Sarakiniko Beach Milos early, take your photos, perhaps spend a couple of hours there, but then get ready to move on when the tourist crowds start to build up. I hope that helps!
Here's how to get from Athens to Milos by ferry.
If you want to check out Kleftiko Beach, which is the other iconic beach on Milos, take a look at my post about a Milos boat tour.
Here are some more guides on things to do in Milos, where to stay in Milos, and the best restaurants in Milos.
Planning to visit Greece? Why not sign up for my free travel guides? They will help you plan itineraries for the popular destinations of Athens, Santorini and more. Use the link below to sign up.
** Click here to sign up for free travel guides on Greece **
Please pin this Sarakiniko Greece Guide for later
FAQ About Sarakiniko and Milos
Some of the most popular questions people ask about the popular beach of Sarakiniko and planning the best ways to explore Milos include:
How do you get to Sarakiniko Beach Milos?
Sarakiniko is located closer to Adamas than Pollonia, and is located off the main road between these two towns. Although there is some infrequent public transport, the best way to travel to Sarakiniko is with your own vehicle, such as a hired car or ATV.
Can you swim at Sarakiniko Beach?
White volcanic cliffs and a stunning landscape back a turquoise sea at Sarakiniko Beach on Milos. The moon like surface, sea caves, and rock formations tower over the waves. There's plenty of opportunity to swim at this beautiful beach, and the brave even indulge in a little cliff jumping!
Where should I stay in Milos?
The best areas to stay for most people will be Adamas, followed by Pollonia. There are some accommodation choices in other parts of the island, but they are perhaps not as convenient overall. The Sarakiniko Beach hotels for example are not particularly close to Sarakiniko or anything else either – only stay at them if you have your own transport.
How do you get around Milos?
The best way to see the island of Milos is to hire a vehicle. With a car or an ATV, you'll be able to follow challenging unsealed roads to quiet beaches where you may be the only person for miles around! If you can't drive or don't wish to hire, a bus service does cover key areas on the island, including stops at places such as Sarakiniko.
Is Milos a party island?
Not really. Milos is more famous for its landscapes such as the moonscape of Sarakiniko than its party scene. You will find plenty of places to spend evening over a long meal, a handful of bars and one or two small clubs, but you shouldn't visit Milos thinking it will be party central – Go to Mykonos or Ios instead!
---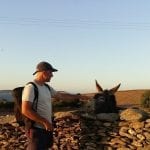 –
Dave Briggs
Dave is a
Greek travel blogger
is originally from the UK, and now lives in Athens, Greece. In addition to writing this Milos travel blog about Sarakiniko, he's written many other guides to Greece and the islands. Follow Dave on social media for travel inspiration from Greece and around the world: