There are normally between 1 and 2 ferries per week sailing from Milos to Anafi island in Greece. The journey takes between 6 and 7 hours.
How to get from Milos to Anafi
Anafi is one of the outlaying islands in the Cyclades, and connections to this Greek island are often quite complicated to line up.
While ferry travel from Milos to Anafi is possible, keep in mind that this is not considered to be a 'popular' ferry route.
In this travel guide, I'll give you two options on how to get from Milos to Anafi.
Milos Anafi Ferry Route Options
The first choice, will be to take a direct ferry, and the second will be via an indirect route.
The direct Milos ferry to Anafi is easier to organize, but only sails twice a week during the summer. The indirect ferry crossing to Anafi from Milos will involve changing ferries in Santorini.
Note that although Milos has an airport, flying between Milos and Anafi is not an option. It is not currently possible to fly between any two islands in the Cyclades of Greece.
Direct Ferries to Anafi from Milos
During the busy summer months, there might be one and sometimes two direct ferries per week from Milos to Anafi. These ferries to Anafi from Milos are operated by two ferry companies.
The first ferry company is Anek Lines (Aegean Pelagos) on their vessel F/B Prevelis. The second (normally covering August crossings) is Sea Speed Ferries.
The quickest crossing from Milos going to Anafi takes around 6 hours and 15 minutes on this direct route. The slowest ferry boat sailing to Anafi from Milos island has a sailing time of around 7 hours and five minutes.
At the time of writing this guide on how to get to Anafi from Milos, you would need to look at booking direct ferry tickets via the Anek Lines site.
Two side notes: Ferry schedules are normally only available a couple of months in advance. E-Tickets may or may not be allowed on this route. Consult your booking information to see if you will need to pick your tickets up at the main port in Milos.
Indirect Ferries from Milos to Anafi
Perhaps the most flexible way to travel from Milos to the island of Anafi is to take an indirect ferry. Using this method means you could sail on virtually any day of the week, but would also be more expensive.
The most logical options to look at, would be to first take a ferry from Milos to Santorini. Once there, you would then take a Santorini Anafi ferry.
The only problem with this option will be any waiting time between ferries. The schedules change year on year. If luck goes your way, perhaps you'll only have to spend a few hours at the port in Santorini. If not, you may have to stay overnight in Santorini, and take the ferry out to Anafi the next day.
The best place to check this indirect ferry route between Milos and Anafi is on Ferryhopper. They have a useful little island hopping function that will help you search for the best ferry connections.
Take a look here for all other ferry connections from Milos: Ferries from Milos to other Greek islands in the Cyclades.
Anafi Island Travel Tips
A few travel tips for visiting the Cyclades island of Anafi:
For accommodation in Anafi, I recommend using Booking. They have a great selection of apartments in Anafi and areas to consider staying include Roukounas, and Chora. If you are traveling to Anafi in the busiest months for travel, I advise reserving where to stay in Anafi a month or so in advance.
---
For some quality beach time, head to these beaches in Anafi: Monastiri, Klisidi, Roukounas, Katsouni, and Flamourou.
---
The best place to look at Greek ferries online is Ferryhopper. Although I think it's better to book your Milos to Anafi ferry tickets in advance, especially during the height of the tourist season, you can also use local travel agencies when you are traveling around Greece.
---
---
---
How to make a journey from Milos to Anafi FAQ
Questions about about traveling to Anafi from Milos include:
How can you get to Anafi from Milos?
In order to make a trip from Milos to Anafi the best way is by ferry. There are up to 1 and sometimes 2 direct ferries per week sailing to the island of Anafi from Milos.
Is there an airport in Anafi?
The Greek island of Anafi does not have an airport. The closest airport to the island is over on neighboring Santorini.
How many hours is the ferry from Milos to Anafi?
The ferries to Anafi from Milos take between 6 hours and 15 minutes and 7 hours and five minutes. Ferry operators on the Milos Anafi route may include Anek Lines (Aegean Pelagos).
How do I buy ferry tickets to Anafi?
You'll need to go to the Anek site for tickets for the bi-weekly direct ferry between Milos and Anafi. For the indirect route, I find that the Ferryhopper website is the best place to book ferry tickets online.
Milos Anafi Ferry Timetable
Ferries from Milos to Anafi sail approximately once a week, and the journey takes between 6-7 hours. E-Tickets are not always allowed on this route, so check your booking information carefully. If you want more flexibility in your travel plans, consider taking an indirect ferry from Milos to Anafi that goes through Santorini.
Have you sailed this route? Did you have any problems with the tickets or the journey? Any advice to add for other travelers? Let me know in the comments below. Safe travels!
---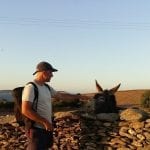 –
Dave Briggs
Dave is a
travel writer
who has been based in Greece since 2015. As well as writing this travel guide about ferries from Milos to Anafi, he's written hundreds of other insightful travel guides to Greek islands and destinations. Follow Dave on social media for travel inspiration from Greece and beyond: