There are 11 ferries a week sailing from Milos to Santorini, with at least one Milos Santorini ferry per day.
In this guide on how to travel from Milos to Santorini by ferry, you'll find everything you need to know about the Milos to Santorini ferry route. Includes essential information for first timers about ferry timetables, ferry companies, and where to buy tickets for the Milos to Santorini journey.
Traveling From Milos Greece To Santorini
Both Milos and Santorini are two popular destinations in the Greek Cycladic islands. As such, these two islands are often paired together by people planning an island hopping vacation in Greece.
The distance between Milos and Santorini is just less than 100 kms, and while there are no direct flights between these Greek islands, there are good ferry connections from Milos island to Santorini.
For the latest ferry schedules and ticket prices, take a look at Ferryscanner.
Milos to Santorini Ferry
There are regular ferries sailing between Milos and Santorini during the high season. On average, you'll find 11 ferries a week on the Milos to Santorini ferry schedule.
This equates to there being at least one Milos Santorini ferry a day. On some days you'll find two ferries a day, and on Friday's there are three ferry trips from Milos to Santorini to choose from.
The easiest way to check for ferries to Santorini from Milos and to book your ferry tickets online is to use Ferryscanner.
Choosing which ferry company to take from Milos to Santorini
SeaJets offer the most ferries sailing between Milos island and Santorini. From the beginning of May until at least the end of September, they offer one ferry a day. Outside of this timeframe, they may still have a few ferries a week, although in the winter months, they stop sailing altogether.
SeaJets operate high speed ferries, and as such, have the quickest travel time by boat from Milos to Santorini taking just 1 hour and 45 minutes. The price for these tickets is the most expensive though. Prices in 2022 start at 93.50 Euros!
Check ferry routes and book tickets at: Ferryscanner
Cheapest Milos Santorini Ferries
If you're looking for a more affordable way to travel from Milos to Santorini, consider taking the Zante Ferries boat Dionisios Solomos.
This is a slower conventional ferry, and only sails between Milos and Santorini 3 times a week. The crossing takes 5 hours, but it's the best price you'll find, with passenger tickets starting at 16.50 Euro.
Compare prices at: Ferryscanner
A quick word about off season ferry schedules
During the winter months there may be fewer ferries leaving from Milos and going to Santorini. If getting from Milos to Santorini is urgent for you in the winter, you might consider traveling to Piraeus in Athens, and then sailing back to Santorini from there.
Important note: If you are looking for ferries between Milos and Santorini months in advance, you may find that the schedules have not yet been released. This does not mean there are no ferries – it just means that the systems have not been updated yet.
My suggestion, is to check the website Openseas.gr for the dates you are looking for in the previous year. This will give you an indication if you might expect ferries from Milos to Santorini on your desired dates in the future.
Ferry tickets from Milos to Santorini
When you book ferry tickets for the crossing between Milos and Santorini online using Ferryscanner, you'll be informed if you have an e-ticket or not.
If you have an e-ticket, you simply need to show this on your mobile phone when boarding the ferry.
If your confirmation says you need to collect the tickets first, then you should prepare to collect your tickets from a ferry agent in Milos before leaving. There is a ferry agent by the port in Adamas in Milos.
Most ferry crossings are now e tickets so there shouldn't be anything to think about.
Ferries from Milos to Santorini
The ferries that go to Santorini from Milos leave from the port at Adamas. This is the main port, but it's always good to check that this is your departure port, as there is a minor port at Pollonia.
It's advised that passengers should arrive at the ferry port in Milos an hour before departure to Santorini. There is a sheltered area with shade if you get there before it fills up.
The ferries leaving from Milos to Santorini may be either direct or they may stop at other islands in the Cyclades along the way.
A typical route that involves additional island stops from Milos might include: Milos – Kimolos – Folegandros – Sikinos – Ios – Santorini. Obviously this ferry will take longer than a direct vessel.
Arrival in Santorini
Ferries to Santorni arrive in Thira port, sometimes called Athinios Port. There's a huge hill to get up to the caldera from the port, and then additional distances to the main towns of Fira and Oia. As such, it's not advisable to walk from the ferry port.
In order to get out of the port, you can use public transport. Buses are waiting for arriving ferries, and you will find them on the left hand side as you get off the boat.
The buses from Santorini port go into Fira. If you need to get to another town, village or resort in Santorini, you'll need to change buses.
Another option is to use a taxi. I'd advise against getting one from the queue. Instead, you can pre-book one so that it is waiting for you. That way you'll avoid the chaotic scrum of people as the driver will wait with your name on a board.
More here: Welcome Taxis
Milos Island to Santorini Greece FAQ
Here are some commonly asked questions about traveling from Milos to Santorini.
Are there direct flights from Milos to Santorini?
There are currently no direct flights between Milos island and Santorini. Milos airport only has connections with Athens. It is possible however, to fly from Milos to Athens airport and then fly from Athens to Santorini.
How long is the ferry from Milos to Santorini?
The quickest ferries from Milos going to Santorini take under 2 hours. Crossings on slower boats or with less direct routes can take up to 5 hours.
How many days do you need in Santorini?
With three full days, you can see and experience most of the Santorini highlights including a volcano trip, sunset at Oia, hiking from Fira to Oia, a winery tour, and more.
Which ferry companies sail from Milos to Santorini?
SeaJets and Zante Ferries are the main ferry operators on this route. Golden Star Ferries, Sea Speed Ferries, and Aegeon Pelagos may also provide ferry rides from time to time.
Can you take day trip from Milos to Santorini?
On some days of the week it may be technically possible to make a day trip from Milos to Santorini, but even with the best ferry connections, you would only have 5 or 6 hours of sightseeing time available on Santorini.
Is Milos or Santorini better?
Both Greek islands have their own unique charms. Santorini is probably more famous and well-known, but Milos is also a beautiful place to visit. Of the two, Milos is less crowded and has more of an adventurous feel.
If you liked this article on traveling by ferry from Milos to Santorini, please share it on social media. You can find sharing buttons in the bottom right hand of your screen.
Plan your time in Santorini
Check out my other Santorini travel blog posts that may help you plan what to see and do:
---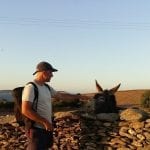 –
Dave Briggs
Dave is a
travel writer
originally from the UK, and currently living in Greece. He created this travel blog back in 2005 to record his travel adventures around the world. In addition to writing this guide to the Milos Santorini ferry schedule, he's written hundreds of other useful guides to traveling in Greece. Follow Dave on social media for travel and adventure inspiration: