There are no direct ferries from Milos to Donoussa, so you'll need to take an indirect route via Paros or Naxos in order to travel to Donoussa from Milos in Greece.
How to get from Milos to Donoussa
Some Greek islands in the Cyclades are more naturally paired than others. Unfortunately, Milos and Donoussa are not a natural pair when it comes to traveling to one after the other.
Still, if you've managed to find this page, you obviously have your own reasons on why you want to get from Milos to Donoussa, so don't let me be the one to stop you! In fact, I'll show you exactly how you can do it – All it involves is a little Greek island-hopping first.
Island Hopping Milos to Donoussa
Note that although Milos island has an airport, Donoussa does not, so you can not fly between the two islands. The only way to go between them, is to take a ferry.
The slight problem, is that no direct ferries sail from Milos to Donoussa, so you're going to have to take an indirect route and change ferries on an island halfway between the two.
Indirect Ferries from Milos to Donoussa
The best Cyclades islands to consider going via are Naxos and Paros. Which one you choose will have to do with the available onward connection, and the potential waiting time between ferries.
There is one daily ferry sailing from Milos to both Paros and Naxos. This is, in fact, likely to be the same vessel!
The following dedicated guides go over your ferry options in more detail.
I also suggest you check the Ferryhopper website. They have different options including an island-hopping one which makes planning the Milos Donoussa ferry connections that little bit easier.
Ferry Ticket Costs
As any option you choose to take between Milos and Donoussa involves more than one ferry, you can expect the ticket prices to be a little pricey. Somewhere between the 65 Euro and 90 Euro range, depending on which option you choose.
Donoussa Island Travel Tips
A few travel tips for visiting the Greek island of Donoussa:
---
---
---
---
How to take the journey from Milos to Donoussa FAQ
Questions that people ask about traveling to Donoussa from Milos include:
How can I get to Donoussa from Milos?
The best way to make the journey from Milos to Donoussa would be to go via another island first such as Naxos and Paros. There are no direct ferries sailing to the Cyclades island of Donoussa from Milos.
Is there an airport in Donoussa?
Donoussa island in Greece does not have an airport. The closest airport to Donoussa in on Naxos, which has flight connections with Athens.
How many hours is the ferry from Milos to Donoussa?
With no direct ferries going to Donoussa from Milos, it is hard to calculate the exact travel time. If connections line up perfectly, it could be 6 hours or less. In the worst case, you may need to stay over night on Naxos and Paros.
Where do I buy ferry tickets to Donoussa?
The easiest way to get hold of ferry tickets in Greece is by using Ferryhopper. I think it's better that you book your Milos to Donoussa ferry tickets in advance, but you might also prefer to use a travel agency in Greece when you have arrived.

Donoussa is a small, quiet island located in the Small Cyclades group of Greek islands. If you're looking for a relaxing and peaceful vacation, Donoussa is the perfect destination.
If you're planning to visit Donoussa on your next trip to Greece, and have any questions about what to see and do on this beautiful island, leave a comment below!
---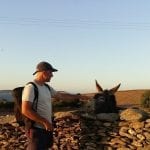 –
Dave Briggs
Dave is a
travel writer
who has been living in Greece and writing about the country since 2015. In addition to creating this guide to ferries from Milos to Donoussa, he's created many other guides about Greek islands and destinations in Greece. Follow Dave on social media for travel inspiration from Greece and beyond: