You can use a combination of Greek ferries, rental cars, local buses, trains, and domestic flights to get around Greece. This guide on how to travel around Greece will help you get around the central mainland and hundreds of islands. Greece is certainly a unique country to travel in!
Best way to travel Greece
Greece is famous for its ancient temples, great museums, gorgeous beaches and quaint towns and villages. One thing is certain: whether you decide to travel by land, sea or air, you will love the beautiful Mediterranean country.
After living here for 6 years, I've come to the conclusion that there is no single best way to see Greece. It all depends on where you are going, what you like doing and how much time you have.
If you are on a cruise or organized tour around Greece, you won't need to worry about transportation. In contrast, people vacationing in Greece independently will need to think about how they will be getting around Greece.
Let's look in detail into some ways to travel in Greece. I've also a more specific guide to public transport in Greece you might want to read after.
Travel in Greece by sea
Sea travel is one of the most common ways of touring in Greece and getting between the islands. Many people explore some of the country on an organized cruise or sailing trip.
For independent travelers, Greek island-hopping is a rite of passage. There are literally hundreds of ferries in Greece, not to mention the numerous foot passenger boats which independent travelers can use when putting together Greek island-hopping routes.
Travelling by sea and using the local ferries is part of the whole Greek experience, but it will take some planning from your side. If this sounds intimidating, you may prefer a cruise or sailing tour, where things have already been sorted out. Here is what to expect.
Related: Best time to go to Greece
Sailing around Greece
Sailing around the Greek islands is a popular option. Sailing boats normally fit between 6 and 12 people. You can either hire a boat for your own travelling party or join an existing trip.
These Greek island trips are great if you want to have freedom to explore the beautiful Mediterranean. You will see parts of the coastline that you won't be able to see if you are travelling by land. You will also visit remote beaches and hidden coves that are otherwise inaccessible.
Before you decide to book a sailing trip for several days, you should be aware that space on the boat is quite tight. The cabins, toilets, kitchen and other facilities are fully functional, yet much smaller than you may be used to.
When sailing around Greece, you will typically have a set itinerary to begin with. However, your captain might decide to change the route in case of strong winds. This is more often the case in the Aegean side, when the strong meltemi winds appear in summer.
Speaking of which, here is one last note. Sailing is definitely not the best way to travel in Greece if you are prone to sea sickness!
If you've never travelled on a sailing boat before, my suggestion is to try taking a sailing trip for a day or two and see how you feel. It offers a completely different perspective, and it's one of the best ways to see the Greek islands. Yet, it's not for everyone.
Exploring Greece by cruise ship
Another way to visit the Greek islands is on a cruise ship. There are all types of cruises, often including several countries around the Mediterranean.
Cruise liners vary a lot in size. Some of the biggest ones have a capacity of several thousand people. They typically have facilities like swimming pools, game arcades, shops and an array of restaurants, bars and lounges. Others are smaller and offer a more intimate experience.
These cruise ships have a set itinerary, which is decided months or even years in advance of the trip. They stop at some of the most famous destinations around the country, like Corfu, Athens, Santorini, Mykonos and Chania. This is because few ports in Greece are able to accommodate the bigger cruise liners.
Generally speaking, you will only have a few hours at each port. You can get a taste of each area and see the highlights, but you won't have too much time to explore. In order to make the most of your time, it will make more sense to take organized tours at some destinations.
This would be a good option for people who prefer to take it easy and have some relaxed time on an all-inclusive environment. However, you will have little time for independent exploration.
If you plan to land at Athens International Airport and want to get straight to the cruise terminal, check out my guide: How to get from Athens Airport to Piraeus – Taxi, Bus and Train Information
Island-hopping in Greece on a ferry
Independent travellers will probably prefer to island-hop using the numerous ferries in Greece. There is a very extensive network of ferries connecting the mainland ports and the islands.
Ferries range a lot in terms of speed, on-board facilities and prices. As a rule, the fastest ferries are also more expensive. Check my extensive guide on ferries in Greece for some more information.
When planning an island-hopping trip in Greece, it will help if you have some basic knowledge of Greece's geography. While some islands are easily accessible from each other, others can be impractical to combine. Here are the several groups of Greek islands.
For example, it's easy to go from Paros to Naxos, or from Milos to Santorini, as there are direct connections. On the other hand, combining Mykonos, Zakynthos and Crete in the same trip will be difficult, not to mention expensive.
To make the most of your trip, my suggestion is to stay at least 3-4 days on each island. You could definitely stay longer, especially on bigger islands like Crete, Rhodes or Naxos.
These days, search engines make it easy to plan your itinerary and book your tickets in advance. My preferred one is Ferryhopper, which I find very user-friendly and with great customer service.
I find that pre-planning an island-hopping trip in Greece is a major part of the fun. However, some people might find it too complicated. In this case, an organized trip would make more sense.
Buses in Greece
Buses in Greece are a hassle-free way to get around the country. If you are not planning to drive, they are usually the most inexpensive option.
There are several types of buses in Greece. In the bigger cities like Athens and Thessaloniki, you would typically use public buses. These are not always easy to navigate and find information for. My suggestion for Athens is to walk or use the metro or a taxi instead.
Most other areas are serviced by the so-called KTEL buses, which are run by dozens of different companies. These include inter-regional buses and local buses on the islands.
People travelling around mainland Greece will inevitably need to take a bus at some point. Athens has two main stations where inter-regional buses depart from, Kifissos and Liossion. Neither of them is close to a metro station, so it's probably best to get there by taxi or on bus X93 from the airport. Make sure you know which station you are departing from!
While on the islands, buses are a good way to get to the most popular areas. Itineraries vary according to season, with more services running during summer.
Information is normally available online, at least for the most visited islands like Mykonos, Santorini or Crete. If not, you can always ask your hotel owner or check out for any paper posters when on the island. Yes – Greece is an adventure!
Taking a train in Greece
People travelling around mainland Greece should definitely consider taking the train. The rail service is not as extensive as the bus network, but it's a great way to see some of the countryside.
There are currently three main railway routes. The first route connects Athens with central and northern Greece. You can easily get to cities like Larisa, Thessaloniki or Alexandroupoli. This is the service you would use if you wanted to visit the Meteora monasteries, changing at Paleofarsalos.
Another route connects Athens with certain areas in the Peloponnese. Trains currently terminate at Kiato but will be expanded in the next few years.
Finally, there are rail services to Chalkida in Evia island.
The rail network in Greece has definitely changed from what it was 20 years ago. These days, trip time has decreased a lot and the trains are much more punctual. As an indication, the travel time to Thessaloniki is just over 4 hours, and it will be further reduced in 2021.
If I had the choice, I would personally prefer the train over an inter-regional bus – even just because you can get up and move around.
Driving around Greece
If you want to be independent, the best way to travel in Greece is to rent a vehicle at some point in your journey. Cars, quads and motorbikes are relatively inexpensive, especially if you book them for several days.
Granted, not everyone is keen on driving in a foreign country. I can sympathise, however in my personal experience driving in most areas of Greece is quite enjoyable.
The main highways and national roads are excellent, though you will find several toll booths. Regional and local roads might not always in the best condition, but you should be fine overall. In addition, getting used to the Greek way of driving shouldn't take too long!
In my opinion, the most challenging areas to drive in Greece are the bigger cities, especially Athens. Most visitors would probably avoid driving around the centre.
If you are planning to drive in Greece, make sure that your driving licence is valid. Otherwise, apply for an International Driving licence in advance of your trip. Also, note that the standard cars in Greece are stick shift – though you might be able to find an automatic.
Google maps works well in most areas in Greece I've travelled to, though it might temporarily fail at some remote islands. Note that it won't show you the dirt roads, so it's always a good idea to have a local paper map with you.
Here are some more tips on how to drive in Greece.
With all that said, there are several places where you wouldn't need a car. Such examples are some of the smaller islands like Schinoussa or Iraklia. All you need here are your own two feet!
Domestic flights in Greece
Quite often, there will be no direct flights from your country of origin to your final destination in Greece. In this case, you can fly into Athens and then take a short domestic flight to the nearest airport.
Similarly, if you want to combine a few places that are far from each other, the best way to travel in Greece would probably involve a plane.
Before you book any flights, take a look at the map. While many of the Greek islands have airports, taking a ferry often makes more sense than a flight.
As an example, there's a short ferry ride connecting Paros and Naxos. If you wanted to use flights, you'd need to fly from Paros to Athens, then out to Naxos!
At the same time, flights definitely have their place when the islands are in different island groups. Let's say you wanted to visit Crete and then Corfu. The easiest way would be to fly from Crete to Athens, and then take another flight to Corfu.
Domestic flights in Greece can be surprisingly expensive, especially if booked last minute. My advice is to book your flight as early as possible. There are several types of fares, some of which are non-refundable, so think carefully before you book.
Cycling around Greece
Cycling in Greece is a great way to see this beautiful country, but it can be challenging. I've now cycled around many regions in Greece, including the Peloponnese, central Greece and the west coast. Based on my experience, here are some tips.
First of all – avoid cycling in Greece in summer if you can. Daytime temperatures can be around 30-35 degrees, so you won't enjoy it. Spring and autumn are much better for cycling.
For a country with such a long coastline, Greece is surprisingly mountainous. When planning your route, take that into account.
In terms of accommodation, there are plenty of campsites all around Greece. Many of them will rent you a tent if you don't have your own. Otherwise, you can often find cheap rooms to stay. I still remember a 25 euro room in Delphi with a huge buffet breakfast!
Now if you are not ready for a full-on cycling tour of Greece, you can always hire a bicycle for a day. While bicycles are not as popular as motorbikes and quads, you will definitely be able to rent one. In addition, cycling will give you an extra excuse to eat all the amazing Greek food!
How to get around Greece
As you can see from all the above, there is no single best way to travel Greece. In practice, a combination of the above is the best way to get around Greece.
I'll leave you with this last tip – decide where you want to go and take it from there. If in the process you realize that it's not practical to visit all destinations, consider changing some of them. After all, you are bound to return!
FAQ About Traveling around Greece
Readers looking for the best way to get around Greece often ask questions similar to:
What is the best way to get around Greece?
A lot depends on where you want to travel within Greece. if you want to go to an island, you normally have to take a ferry, although sometimes you can fly. On an island, or the mainland, you can drive, take a KTEL bus, a train, or hire another vehicle. You can even cycle around Greece if you're fit enough!
How do you travel around the Greek islands?
The only practical way to travel between in the islands in Greece is to use the Greek ferries. These are operated by many different companies, and so I prefer to use Ferryhopper as a means of getting all the information together in one place.
How easy is it to travel around the Greek islands?
It is very easy to travel around the islands of Greece once you understand a little of the geography of the country. For example, you can't travel between Zakynthos and Santorini because they are on opposite sides of the mainland! My advice is to look at a map of Greece, and then narrow down which island chain you want to travel in.
---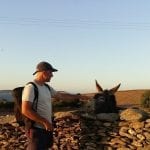 –
Dave Briggs
Dave is a
travel writer
who has been based in Greece since 2015. In addition to writing this guide about the best ways to travel around Greece, he's written hundreds more guides to other destinations in Greece. Follow Dave on social media for travel inspiration from Greece and beyond: