There are two or three ferries per week sailing from Syros island to Andros in Greece during the summer. The Syros Andros ferry route takes 3 hours or less.
How to get from Syros to Andros
Although the Greek islands of Syros and Andros are relatively close together, they are not particularly well connected by ferry. In fact, there are just two or three direct ferry services per week depending on the time of year.
These ferries usually go via another island first, typically Tinos, which means that the journey is not as quick as one might expect.
Syros Andros Ferry Timetable
The fastest boat from Syros going to Andros takes around 1 hour and 55 minutes. The slowest ferry boat sailing to Andros from Syros island takes around 3 hours.
These ferries to Andros from Syros are operated by SeaJets and Blue Star Ferries. Usually, the high speed ferry boats also have more expensive ticket costs.
Try using Ferryscanner in order to check timetables and book ferry tickets online.
Indirect Ferries to Andros from Syros
If the frequency of direct ferries is not often enough for your travel plans, you may be able to travel to Andros from Syros on an indirect ferry via another Greek island.
While taking a route via other islands would have a much longer travel time overall, it would mean that you could travel on pretty much any day of the week.
The best option would be to first get a ferry from Syros to Tinos which has connections at least once per day. You can then easily get a ferry from Tinos to Andros, as there are normally around four ferry services per day connecting these two islands.
Keep in mind that the trip duration for taking this route could be 6 hours or even more depending on if there is an available ferry connection.
Check the ferry schedule for travel times and connecting ferry trips at Ferryscanner.
** Travel Guide to Andros and Tinos now available on Amazon! **
Andros Island Travel Tips
A few travel tips for visiting Andros island from Syros:
---
---
---
---
---
---
How to go to from Syros to Andros FAQ
A few common question about traveling to Andros from Syros include:
How can I get to Andros from Syros?
The best way to take a trip from Syros to Andros is to use a ferry. There are between 2 and 3 ferries per week sailing to the island of Andros from Syros.
Is there an airport in Andros?
The island of Andros in Greece does not have an airport. The closest major airport to Andros island is in Athens.
How long is the ferry crossing from Syros to Andros?
The ferries to Andros from Syros take between 1 hour and 55 minutes and 3 hours. Ferry operators on the Syros Andros route may include SeaJets and Blue Star Ferries.
How do I buy ferry tickets to Andros?
The best place to look at Greek ferries online is Ferryhopper. I think it's better that you book your Syros to Andros ferry tickets in advance, you might also prefer to use a travel agency in Greece when you have arrived.
Which ferry operators sail the direct route from Syros to Andros?
Blue Star Ferries and SeaJets sail between the popular destinations of Syros and Andros in the Cyclades group during the high season.
---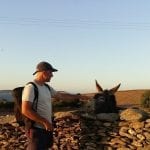 –
Dave Briggs
Dave is a
travel writer
living in and writing about Greece. In addition to writing this guide about ferries from Syros to Andros, he's written many more travel blog posts about destinations in Greece. Follow Dave on social media for travel inspiration from Greece and beyond: