One of the best ways to truly experience Greece is by taking an excursion or sightseeing tour. Here's my guide to the best day trips in Greece.
Sightseeing in Greece
For such a relatively small country, Greece has a lot to see and do. With over 200 islands, 13,780 kms of coastline, and an estimated 500 public archaeological sites, it's impossible to see it all.
Trust me, I've lived here 5 years and I've barley scratched the surface!
Whilst it's tempting to spend most of your vacation on the beach in Greece (and who can blame you!), I'd encourage you to get out and see some of the surrounding attractions. This way, you'll better appreciate the history, culture, and natural beauty of Greece.
Related: When to go to Greece
How to experience the main sightseeing attractions of Greece
The easiest way to do this for 99% of tourists, is going to be by taking an organized day trip. With a guide and transport all laid on for you, it takes away a headache when it comes to travel planning.
You can also do fun things you might not have otherwise tried, like this awesome kayaking trip in Mykonos we did in 2020.
Related: How to plan the trip of a lifetime – Step by Step Checklist
Best Tours In Greece
For booking day trips in Greece online, I highly recommend Get Your Guide. It's a company I use myself when traveling, and they're reliable with a very easy to use system. Try it out and see for yourself!
They offer day tours, activities and side-trips all over Greece, and no matter where you plan to take your vacation, you're bound to find a tour suitable for you.
As I've put this Greece excursion guide together, I've realised that tours and activities fall into two broad categories. These are day trips "from" a place, and tours or activities "in" a place.
To get you started, I've included some of the more popular Greece day tours below.
From Athens
Athens is a city of great historical significance and has a lot of sites that visitors will enjoy seeing. The Acropolis, Ancient Agora, the Temple of Olympian Zeus, and the Parthenon are must-see places in Athens.
Athens is one of the most popular places to take a day tour from. Significant historical places such as Delphi and Mycenae can be visited, and even a few Greek islands can be seen in a day from Athens.
What are the best day trips from Athens? Here's the most popular side-trips from Athens you can make in a day:
In Athens
As you might expect, there are plenty of guided tours in Athens to choose from as well. Whether you want to see the essential highlights such as the Acropolis, or want to take an Athens alternative tour, you'll find something that appeals.
Greek Islands
The Greek Islands are the country's most popular tourist destinations, so it's not hard to see why they are always on my list of places to explore.
They are located in the Mediterranean Sea and form a chain that stretches between the southern tip of Italy and the northwest coast of Asia Minor.
The Greek islands have always been popular destinations with visitors. The alluring beauty of Cycladic architecture, sandy beaches, and crystal clear waters are just some of the attractions!
Each island in Greece has its own highlights and points of interest. It would be impossible to list them all here (over 200 islands remember!), so instead I'll list the key islands along with their more popular day trips and tours.
Santorini
If there's a poster pin up of a Greek island it would be Santorini. Its blue domed churches, white-washed buildings and stunning views are simply amazing.
Consistently voted one of the best honeymoon locations in Europe, Santorini is simply magical.
To maximize your Santorini experience, you might consider taking a memorable tour or activity. Here's a few suggestions:
Mykonos
As another high profile destination in Greece, Mykonos also has plenty of guided tours and excursions you can take. While most people associate Mykonos with its vibrant party scene, keep in mind that it also has a UNESCO World Heritage site right next door in Delos!
You can check out my experiences of taking a day trip to Delos from Mykonos here.
Here's some of the best tours in Mykonos:
Crete
As the largest island in Greece, Crete has a lot to offer. Look beyond the hotel resorts, and you'll find great food, authentic culture, and the Cretan way of life that has people wanting to return for more.
Many people find themselves in Heraklion, Chania, or Rethymnon when in Crete. These are popular cruise stops, as well as places which have plenty of accommodation.
Here's a few day trips in Crete that might appeal:
Rhodes
This Greek island has a lovely combination of great weather, Venetian architecture, and nice beaches. If you plan to visit, try one of these day trips in Rhodes, Greece.
Naxos
The island of Naxos remains largely undiscovered by foreign visitors. That's not to say there aren't any – those that have found Naxos return again and again year after year.
I've often described it as a more authentic, genuine version of Mykonos with better food and better beaches. Am I right? I guess you'll have to visit Naxos to see for yourself! Here's some of the tours you can try: Best Naxos Tours.
Zakynthos
Sometimes known as Zante, Zakynthos is perhaps most famous for its shipwreck beach. There's more to the island of course, and the best way to discover it is on a day tour in Zakynthos.
Mainland Greece
There's more to Greece than just the islands! The various regions such as the Peloponnese, central and north Greece have highlights of their own.
Here's a look at some options you might like to consider:
Tours and Excursions in Greece
By now, you've got a taste of some of the day trips in Greece you can try when on vacation. Visiting somewhere I've not mentioned? Check out Get Your Guide for more!
Tourist Attractions Greece FAQ
Readers who want to see the top tourist attractions in Greece ranging from splendid beaches to Unesco listed Byzantine churches often ask questions such as:
What should you not miss in Greece?
Greece is a country with plenty of tourist attractions, from ancient ruins and monasteries, to pretty beaches and vibrant nightlife. Greece? The one thing you shouldn't miss out on, is not going to Greece in the first place!
What can you see in Greece in 7 days?
Many first time visitors to Greece combine a visit to Athens in order to see the historical sites such as the Acropolis, with a couple of islands such as Santorini and Mykonos.
Which is nicer Mykonos or Santorini?
Both islands are key destinations for tourist attractions in Greece, although they are very different in nature. Mykonos is known for its nightlife and beach scene, whereas Santorini is mainly known for the picturesque villages and blue sea filled caldera views.
Which is the most famous UNESCO World Heritage Site in Greece?
Greece has 18 sites listed on the UNESCO World Heritage list. Of these, the Athens Acropolis is perhaps the most well known and also the most visited ancient site in Greece.
Is it easy to go Greek island hopping?
One of the best ways to see Greece is to travel around the islands. This is easily done by using the Greek ferries that connect different islands, although it is important to first become aware of the geography of Greece.
Pin these day trips in Greece for later
If you are building up a pinterest board related to Greece travel, add the image below. That way, you'll easily be able to find this list of the best Greece day trips later!
---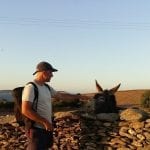 –
Dave Briggs
Dave is a
travel writer
originally from the UK, and now living in Greece. In addition to creating this travel blog post about where to stay on Folegandros island in Greece, he's also written hundreds more travel guides to Greek destinations all over the country. Follow Dave on social media for travel inspiration from Greece and beyond: