There is one Mykonos to Sifnos ferry a day, taking between 2 hours and 25 and 2 hours and 50 minutes. The Mykonos Sifnos route is operated by Seajets.
Sifnos island in Greece
A lovely island with gorgeous villages, Sifnos has long been a popular place for Athenians but hasn't quite managed to reach the international traveler's radar yet.
As a result, it's a chilled and relaxed place that doesn't suffer from over tourism. If you're visiting directly after Mykonos, it will certainly feel very different, and my money is on you actually preferring it out of the two.
Traveling there from Mykonos is pretty easy, although there's no airport in Sifnos, so you'll have to get there by ferry.
How to travel from Mykonos to Sifnos by ferry
During the height of summer, you may expect up to 1 ferry per day from Mykonos to Sifnos. These ferries to Sifnos from Mykonos are operated by Seajets.
The quickest crossing from Mykonos going to Sifnos takes around 2 hours and 25 minutes. The slowest vessel sailing to Sifnos from Mykonos island takes around 2 hours and 55 minutes.
You can generally expect faster ferries to have more expensive tickets prices, although in this case they will probably be around the same price.
If you find that there are no direct ferries when you want to travel, you could consider going via another island first. The two most obvious choices would be to go via Paros or Syros. From these islands, you would then get an onward ferry to Sifnos.
The simplest place to look at schedules for Greek ferries is at the Ferryhopper website.
Sifnos Island Travel Tips
A few travel tips for visiting Sifnos:
---
---
---
---
Ferries to Sifnos from Mykonos FAQ
Questions that people ask about traveling to Sifnos from Mykonos include:
How do we get to Sifnos from Mykonos?
In order to make the trip from Mykonos to Sifnos the best way is to take a ferry. There is normally 1 ferry per day sailing directly to the Cyclades island of Sifnos from Mykonos. There are various options for other indirect routes via islands such as Paros and Syros.
Is there an airport on Sifnos?
There is no airport in the Greek island of Sifnos, so the only way to take the journey from Mykonos to Sifnos is by the ferry services. The nearest airport to Sifnos is at Paros or Milos.
How long is the ferry ride from Mykonos to Sifnos?
The ferries to Sifnos island from Mykonos take between 2 hours and 25 minutes and 2 hours and 55 minutes. Ferry operators on the Mykonos Sifnos route may include Seajets.
How do I buy ferry tickets to Sifnos?
Ferryhopper is perhaps the easiest site to use when it comes to booking Greek ferry tickets online. Although I suggest you book your Mykonos to Sifnos ferry tickets in advance, you could also use a local travel agency in Greece.
---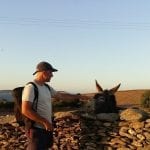 –
Dave Briggs
Dave is a
travel writer
from the UK but living in Greece since 2015. In addition to writing this guide about ferries from Mykonos to Sifnos, he's written hundreds more guides to other destinations in Greece. Follow Dave on social media for travel inspiration from Greece and beyond: