Despite their relatively close proximity, there's no direct ferry between Mykonos and Serifos islands. To travel between the two, you'd need to go via another island first.
Serifos island in Greece
When you look at a map, the islands of Mykonos and Serifos look quite close together, so you'd think there would be a ferry between the two of them.
This isn't the case though, and there is no direct ferry from Mykonos to Serifos. So, if you really want your next destination after Mykonos to be Serifos, you'll have to do a little travel planning and island hopping!
Typically, it's best to go via the islands of Syros, Paros, or even Naxos first. Which one you choose will largely depend on the next available connection going on to Serifos.
Then, from one of these islands you'd want to take a departure that heads to Serifos. If you're lucky, you'll get a crossing the same day. Maybe though, you'll need to spend a night on the island you've arrived at before continuing on to Serifos.
I suggest you take a look at the Ferryhopper website and play around with various routes to see which one looks best for you. If this year's timetables are not live yet, use last year's dates at openseas.gr in order to be aware of what you might expect.
Cyclades Islands Ferries
I've also got some dedicated guides about getting from Mykonos to other islands that you might like to check out.
Serifos Island Travel Tips
A few travel tips for visiting Serifos island:
Most of the accommodation on the island is in or around the port, Livadi and Livadakia. For apartments in Serifos, I suggest using Booking. They have a great choice of hotels in Serifos along with customer ratings. If you are traveling to Serifos in the peak months of summer, I advise reserving where to stay in Serifos a month or so in advance. You'll be pleased to know there are no high rise resorts or hotels in Serifos!
---
I find that the Ferryhopper website is the best place to book ferry tickets online. I suggest you book your Mykonos to Serifos ferry tickets in advance, especially during the height of summer. Play around with your dates, and be a little flexible as traveling from Mykonos to Serifos will involve a ferry connection.
---
---
---
How to take the journey from Mykonos to Serifos FAQ
A few of the frequently asked questions about traveling to Serifos from Mykonos include:
How do you get to Serifos from Mykonos?
In order to travel between Mykonos and Serifos, you'll have to go via another island first. Typically, you'd need to go from Mykonos to Syros, Paros or Naxos first, and then get another ferry on to Serifos.
Is there an airport in Serifos?
As there isn't an airport in Serifos, the only way to make the trip from Mykonos to Serifos is to use a ferry. The nearest airport to Serifos is at Syros.
How long is the ferry ride from Mykonos to Serifos?
This ferry route will involve a connection on another island such as Syros, Paros or Naxos. Depending on availability, you may get an onward ferry the same day, but you may have to stay a night. As such, there is no set time between Mykonos and Serifos.
Where can I buy tickets for the ferry to Serifos?
Ferryhopper is perhaps the easiest site to use when it comes to booking Ferry tickets online. Although I suggest you book your Mykonos to Serifos ferry tickets in advance, you might also go to a travel agency in Greece after you arrive.
---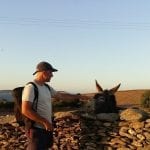 –
Dave Briggs
Dave is a
travel writer
based in Athens, Greece. In addition to creating this travel guide to ferries from Mykonos to Serifos, he's written hundreds of other insightful travel guides to Greek islands and destinations. Follow Dave on social media for travel inspiration from Greece and beyond: