There are no direct ferries between the Greek islands of Mykonos and Sikinos, so the only way to get between the two is via another island such as Ios or Naxos.
Sikinos island in Greece
Nestled between Ios and Folegandros, sleepy Sikinos island is one of the most overlooked Greek islands in the Cyclades.
You might be forgiven for thinking there is nothing there at all. After all, there is only one main road on the island, three beaches, less than a handful of places to eat out at, and a bookstore.
That's the entire point of visiting Sikinos though. You'll be far away from the tourist crowds, be able to relax, and you'll also catch up on any reading you needed to do!
It's hard to think of a more contrasting island to visit after Mykonos, but perhaps that's exactly why you should consider it.
How to get from Mykonos to Sikinos
There isn't an airport in Sikinos, so the only way to make a trip from Mykonos to Sikinos is by ferry. Whilst on some rare years there may be a direct Mykonos Sikinos ferry, be prepared to do a little island hopping to get there.
It's not as difficult as it sounds. All you have to do, is travel from Mykonos to another island first such as Ios or Folegandros. From either one of these islands, you would then get another ferry on to Sikinos.
I've a few dedicated guides here that will help you out:
You should also check out Ferryhopper when working out your Mykonos Sikinos ferry route. You'll find everything you need to look at which Greek ferry companies have suitable trips you can use.
I use this site all the time when island hopping in the Cyclades of Greece, as I find it the easiest place to put a route together. You can also book online at no extra cost.
Sikinos Island Travel Tips
A few travel tips for visiting Sikinos:
For hotels in Sikinos, take a look at Booking for their choices by the port area and the Chora. They have a great choice of places to stay in Sikinos and customer reviews. If you are traveling to Sikinos in the the busiest months of summer, I advise reserving where to stay in Sikinos a month or so in advance. I've previously stayed at a nice, affordable self-catering apartment right above Kapari taverna.
---
The easiest way to get hold of ferry tickets in Greece is by using Ferryhopper. I think it's better that you book your Mykonos to Sikinos ferry tickets in advance, especially during the peak months of summer. If you want to be flexible after leaving Sikinos, you can use a local travel agency to book onward ferry tickets.
---
---
---
---
How to take a trip from Mykonos to Sikinos FAQ
A few of the questions readers ask about traveling to Sikinos from Mykonos include:
How can you get to Sikinos from Mykonos?
The best way to travel from Mykonos to Sikinos the best way is to take a ferry. There are up to no direct ferries sailing to the island of Sikinos from Mykonos, so any route will involve going first to another island such as Ios.
Is there an airport on Sikinos?
There is no airport in the Greek island of Sikinos, so the only way to go to from Mykonos to Sikinos is by the ferry services. The airports most close to Sikinos is at Santorini, Milos or Naxos.
How many hours is the ferry from Mykonos to Sikinos?
The total travel time by ferry to Sikinos from Mykonos would be around 5 hours, but you should also factor that there will be some waiting time between ferries. At best, this might be a couple of hours, but at certain times of year, you may have to stay overnight and take another ferry in the morning.
Where do I buy ferry tickets to Sikinos?
Ferryhopper is perhaps the easiest site to use when it comes to booking Ferry tickets online. Tt's better that you book your Mykonos to Sikinos ferry tickets in advance. You could also wait until you are in Greece, and use a travel agency if you want more flexibility in your travel plans.
---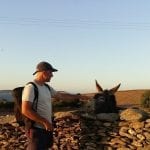 –
Dave Briggs
Dave is a
travel writer
who has been based in Greece since 2015. As well as writing this guide about ferries from Mykonos to Sikinos, he's written many more travel blog posts about destinations in Greece. Follow Dave on social media for travel inspiration from Greece and beyond:
Have you traveled from Mykonos to Sikinos in the Cyclades group before? Which ferry service would you recommend? Please leave a comment below to help out other visitors!