The quickest Santorini Paros ferry crossing takes just 1 hour and 45 minutes, and in July and August there are up to 8 ferries a day.
How to get from Santorini to Paros
Even though both the Cyclades islands of Santorini and Paros have an airport, there is no Santorini to Paros flight as no airlines currently fly between these two islands.
This means that the only way to travel from Santorini to Paros is by ferry, and ferry services on the Santorini Paros route operate all the year around.
During the winter there may be only the one ferry a day. From April onwards more and more ferries are added to the schedule, until reaching 8 ferries a day in the high season months of July and August. After this, it tapers down until entering the winter schedule once more.
I suggest using the Ferryhopper website to get up to date ferry schedules, prices, and to easily book Santorini Paros ferry tickets online.
Santorini Paros Ferries
A number of different ferry operators provide ferries on the Santorini to Paros route. These ferry companies include SeaJets, Blue Star Ferries, Golden Star Ferries, and Minoan Lines.
As you can imagine, visiting each of the ferry companies websites to check ticket prices is a bit of a pain.
Thankfully, Ferryhopper pull all the information about ferry routes into one place. This makes it easy to check timetables and prices so you can choose the best ferry from Santorini that suits your itinerary. The price is exactly the same as you would get from the ferry company website.
Take a look here: Ferryhopper


Santorini Paros Ferry Route
Some of the ferries from Santorini will go directly to Paros without stopping. Other ferries may make stops at a few islands in the Cyclades first. The most common islands to stop along the way before reaching Paros include Ios and Naxos.
Take a look at a map here.
The fastest ferry from Santorini going to Paros takes around 1 hour and 45 minutes, and the slow ferry sailing to Paros from Santorini island takes around 4 hours and 20 minutes.
Normally, the faster the ferry the more expensive the ticket, but on the Santorini Paros route this might not be the case due to the additional stops some ferries make.
Ferry ticket prices for traveling between Santorini and Paros range from 32.50 Euros to 55 Euros depending on the ferry operator, type of vessel, and length of the ferry ride.
As mentioned, the best place to see ferry timetables for boats going from Santorini to Paros is Ferryhopper.
Getting to Santorini Departure Port
Buses to Athinios Port (the main ferry port in Santorini) leave from Fira in Santorini. If you are staying in another part of the island, you'll need to get to Fira first. For example, if you are staying in Oia, you'll need to get the Oia to Fira bus.
The bus from Fira to the boat port in Santorini takes about 20 minutes and the cost is 2.30 Euro. You can also take a taxi, but in high season you should book these in advance.
You can pre-book taxis in Santorini here: Welcome Pickups
Whichever way you decide to get to the ferry port in Santorini, be sure to arrive there at least a half an hour before the Santorini to Paros ferry is scheduled to depart.
Taking a ferry from Santorini to Paros in 2023
Most visitors will sail travel from Santorini to Paros by ferry in July and August. Using August 2023 as a snapshot of what to expect in the peak of summer, here's a look at which ferry companies are making the journey from Santorini to Paros.
Blue Star Ferries: They operate two ferries per day which are the Blue Star 1 and the Blue Star Delos. Both vessels are conventional ferries, and have cheap ticket prices starting at 32.50 Euros for a foot passenger.
Golden Star Ferries: Their 'Superexpress' vessel makes the trip once a day with 14.15 departures. Expect a ticket price of around 49.00 Euro.
SeaJets: At the peak of summer, Sea Jets operate many different ferry crossings per day. Some of their vessels include Sifnos Jet, Power Jet, and Naxos Jet. Their ships are among the fastest, but the prices are also the more expensive.
Minoan Lines: The 'Santorini Palace' ferry is used by Minoan Lines to run the Santorini Paros ferry route three times a week on Friday, Sunday, and Tuesday. Expect ticket prices of around 49.00 Euros.
Fast Ferries : You'll find that the vessel Thunder, operated by Fast Ferries, also sails between Santorini and Paros some days of the week.
If you'd like to find out more information on Greek ferry companies and the types of boats they have, take a look at my guide to ferries in Greece. To look at a ferry schedule, use Ferryhopper.
Paros Island Travel Tips
A few travel tips for visiting the Cyclades island of Paros:
---
Ferryhopper is a great place to sort out ferry tickets for Paros and other Greek islands. It's easy to plan a journey, check fares, and see which departure might suit you best.
---
---
Welcome taxis offer a very reliable service to pre-book taxis to and from ports and airports in Greece.
---
What to see in Paros Greece
The best time to visit Paros is between May and October. The weather is at its best during this period, and there will be more frequent and reliable ferry connections.
Windsurfing and kitesurfing are popular activities when in Paros, so be sure to head out to Golden Beach and New Golden Beach if that sounds like your type of thing!
Some other ideas of what to see and do in Paros include:
Visit Panagia Ekatontapiliani (The Church of 100 doors)
Explore the labyrinth streets of Parikia
Head out to the gorgeous village of Lefkes
Take photos of the fishing boats at Naoussa Old Port
Learn about Ancient Greece in the Archaeological Museum of Paros
Spend a day or two in Antiparos
Try to visit every beach in Paros!
Check out my complete travel guide here: Things to do in Paros, Greece – The Complete Guide!
Love spending time on the beach? This guide to the best beaches in Paros is a must-read!
How to take the ferry from Santorini to Paros FAQ
A few of the frequently asked questions about traveling to Paros from Santorini include:
How do I get from Santorini to Paros?
The best way to make the trip from Santorini to Paros is by using a ferry. There are up to up to 4 ferries per day sailing to Paros island from Santorini operated by at least 3 different companies.
Is there an airport in Paros?
Although the island of Paros has an airport, taking a plane between Santorini and Paros is not possible. If you prefer to fly from Santorini to the Greek island of Paros you'd need to go via Athens assuming there are suitable flights.
How long is the ferry ride from Santorini to Paros?
The ferries to Paros from Santorini take between 1 hour and 50 minutes and 4 hours and 20 minutes. Ferry operators on the Santorini Paros route may include SeaJets, Blue Star Ferries and Minoan Lines.
Is Paros near Santorini?
In navigational terms, Paros is 43 nautical miles from Santorini, which is approximately 90 kilometres.
How can I buy tickets for the ferry to Paros?
One of the best places to look at ferry schedules and to book tickets online for ferries from Santorini to Paros is at Ferryhopper. I think it's better that you book your Santorini to Paros ferry tickets in advance, but you might prefer to wait and then use a travel agency in Greece after you have arrived.
You might also want to read these other Santorini ferry guides:
---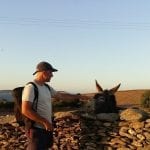 – Dave Briggs
Dave is a travel writer who's been living in Greece since 2015. He's written hundred's of travel guides such as this one about traveling from Santorini to Paros by ferry in order to help other travelers plan their own island hopping adventures in Greece.
Follow Dave on social media for travel inspiration and practical travel advice from Greece and beyond: